The Victrola Stream Carbon's wireless convenience cannot be underestimated – it's great to have such easy Sonos connectivity. But in the most simple terms, its sound quality doesn't match its asking price.
Pros
+

Robust, quite insightful sound

+

Complete wireless stability

+

Thoughtful design

+

Admirable build and finish
Cons
-

Lacks sonic drive and animation

-

Humdrum phono stage

-

Feels overpriced
Why you can trust TechRadar We spend hours testing every product or service we review, so you can be sure you're buying the best. Find out more about how we test.
Record players – they're all the same, right? Well, not quite. Certainly the Victrola Stream Carbon has one or two points of difference. And it's exactly the sort of product you'd like to think a company that's fast closing in on its 100th birthday (as America's Victrola is) might come up with: rooted in heritage and experience, but forward-looking and innovative at the same time.
Priced at $799 / £899 / AU$1,199, the Stream Carbon goes up against some of the best turntables on the planet, from some of the most dependable and high-achieving brands. The likes of Pro-Ject and Rega in Europe, and Audio Technica and Technics in Asia will sell you a hugely well-regarded alternative for very similar money. But, of course, those brands are 'only' selling you a classic wired record player, whereas Victrola is throwing in some very unlikely functionality for the money, in the form of wireless Sonos connectivity.
The Stream Carbon is a belt-drive turntable that can handle 33.3 and 45rpm speeds – speed-change is automatic, via a little button on its plinth. It's fitted with a straight, carbon-fiber tonearm that's 225mm long and comes with a very decent Ortofon 2M Red moving magnet cartridge already attached. It has an anti-skate control to adjust, and a counterweight that needs to be fitted – otherwise it's pretty much ready to go. And, up to this point, far from extraordinary, but all very welcome.
On the rear of the chassis, alongside an input for power, there is a pair of stereo RCA outputs. The Stream Carbon features an 'always on' phono stage, which means it can be connected to pretty much any system or wireless speaker you fancy. And there's also an Ethernet socket, which it's safe to say is quite a rare feature on a record player. The Victrola has Wi-Fi built in, too, and it has a control app. Use the app to get the Stream Carbon onto the same network as your Sonos system, and it will integrate itself into the Sonos S2 control app as a source of music. This, then, is what constitutes 'Works with Sonos'.
At the front of the chassis there's a big control dial with an illuminated section, the colour of which indicates a) power on, b) pairing to a Sonos system is available, and c) pairing is complete. After that, it works as a volume control.
The way the platter is sunk into the top of the chassis makes for a very clean, quite sophisticated look. Fitting the dust cover, which sits almost flush to the platter and has a tunnel to accept the tone-arm, undermines the aesthetic somewhat – but then you didn't buy a record player in order to look at it, did you?
It seems only reasonable to begin by listening to the Stream Carbon as it wirelessly streams to a Sonos Era 300 (and to a Sonos Arc a little later, just for variety's sake). The wireless connection is made in a trice, and proves flawless throughout my listening period – no drops, no wobbles. And with a selection of vinyl ranging from an elderly copy of David Bowie's Pin Ups to a fresh 180g reissue of The Cinematic Orchestra's Every Day playing, the Victrola proves a remarkably consistent listen.
It serves up a hefty, weighty sound with considerable low-frequency presence. But bass sounds are quite rapid and reasonably well controlled, so this chunkiness is not at the expense of momentum or rhythmic expression. Detail levels are acceptably high, even when we're talking about those fleeting, transient details that are gone almost as soon as they arrive – the Stream Carbon is beady-eyed in this respect, and lets very little escape.
It has quite neutral and natural tonality throughout the frequency range, which helps the consistency of its presentation no end. The soundstage it creates is reasonably spacious and well-defined, so the midrange projects well and allows a vocalist to express themselves to the full. The top end has a little of that crucial bite and shine, although ultimately treble sounds are rolled off and err on the side of caution.
Switch to a hard-wired connection to a stereo system and, in broad terms, the story is the same. Significant low-end presence, impressive detail retrieval, treble sounds that are definitely on the safe side, and a midrange that communicates well. The integration of the frequency range is smooth and, yes, consistent, and the Stream Carbon describes rhythms with square-edged precision.
Where the Victrola comes up short is when it comes to dynamics, intensity and any sense of engagement with the music it's playing. It sounds completely matter-of-fact, unwilling or unable to deviate from a set level of intensity no matter if the music demands it or not. The distance between 'gentle introspection' and 'eye-popping attack' just isn't any distance at all where the Stream Carbon is concerned.
There's next-to-no animation to the sound of the Victrola, and consequently no sense of engagement with the music it's playing – 'tedious' is perhaps only slightly too strong a way of describing it.
Victrola Stream Carbon review: Price & release date
The Victrola Stream Carbon was released in October 2022, and in the United Kingdom it's priced at a chunky £899. It's an altogether more acceptable $799 in the United States, while in Australia it sells for AU$1,199.
This, it hardly needs overstating, is Proper Turntable money – many credible brands have a record player to sell you at this kind of asking price. Mind you, none of them can do what the Stream Carbon can do…
Victrola Stream Carbon review: Specs
Swipe to scroll horizontally
| | |
| --- | --- |
| DImensions | 111 x 430 x 345mm |
| Drive | Belt |
| Battery life | ANC off: 9 hours (buds) 36 hours (case); ANC on: 7 hours (buds) 37 hours (case) |
| Weight | 6kg |
| Connectivity | Ethernet; Wi-Fi; stereo RCA |
| Speeds | 33.3rpm; 45rpm |
| Tonearm length | 225mm |
| Cartridge | Ortofon 2M Red |
Should I buy the Victrola Stream Carbon?
Buy it if...
You value convenience
The Victrola Stream Carbon is the most adaptable turntable around.
You're a Sonos believer
Integration of the Stream Carbon into your Sonos system is simple and reliable.
You like nice things
Tactile materials, thoughtful design and impressive finish are all yours here.
Don't buy it if...
You like to be transported by your music
The Stream Carbon is far from the most engaged-sounding turntable around for the price.
You've heard other turntables at similar money
The premium you're paying for 'Works with Sonos' functionality is obvious – if you don't need it, other turntables will offer better value.
Victrola Stream Carbon review: Also consider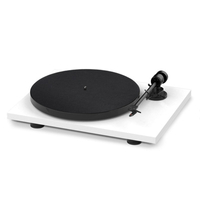 Pro-Ject E1 BT
No, it doesn't integrate itself into your Sonos system, but the Pro-Ject E1 BT does feature Bluetooth, so it can wirelessly connect to your Bluetooth headphones or Bluetooth speaker for painless, wire-free listening. And even though it's around half the price of the Victrola Stream Carbon, it sounds upfront, energetic and enjoyable. Just like every Pro-Ject turntable, in fact.
How I tested the Victrola Stream Carbon
Tested for over a week
Used in a listening room, on a dedicated support
Wireless stream to Sonos Arc and Sonos Era 300, hard-wired to a reference stereo system
The real beauty of the Victrola Stream Carbon, of course, is that you can hear it all over your Sonos-equipped home without having to make much effort at all. So once it was positioned on the top of my equipment rack, I connected it to my stereo system and listened to it via its phono stage. And then I listened to it on a speaker in the kitchen, and then on a soundbar in the living room.
At no point did it threaten to give up its wireless connection, and at no point did I find its sound compelled me to just put on record after record. Some record players can do that, but this is not one of them.
First reviewed: February 2023
Simon Lucas is a senior editorial professional with deep experience of print/digital publishing and the consumer electronics landscape. Based in Brighton, Simon worked at TechRadar's sister site What HiFi? for a number of years, as both a features editor and a digital editor, before embarking on a career in freelance consultancy, content creation, and journalism for some of the biggest brands and publications in the world.
With enormous expertise in all things home entertainment, Simon reviews everything from turntables to soundbars for TechRadar, and also likes to dip his toes into longform features and buying guides. His bylines include GQ, The Guardian, Hi-Fi+, Metro, The Observer, Pocket Lint, Shortlist, Stuff T3, Tom's Guide, Trusted Reviews, and more.