Apple HomePod 2 vs HomePod mini: the differences explained
How does Apple's latest smart speaker compare to the HomePod mini?
Speakers: 4-inch woofer, 5x custom tweeters
Connectivity: Wi-Fi, Bluetooth (smart home control only)
Size: 5.6 x 5.6 x 6.6 inches / 142 x 142 x 168mm
Colors: Midnight, White
We haven't completed our full review of the full-size HomePod 2 yet, but we've had a chance to try it with music, and it's an incredible-sounding thing. Bass is deep and controlled, mids have total clarity and convincing positioning of instruments, and treble is detailed and natural. But it's such a shame that you can only use this audio quality with AirPlay or Siri sources.
For
Huge and detailed sound
Dolby Atmos & lossless
Great smart home features
Against
Siri isn't that smart
No Bluetooth
Speakers: Full-range driver, 2x passive radiators
Connectivity: Wi-Fi, Bluetooth (smart home control only)
Size: 3.9 x 3.9 x 3.3 inches / 98 x 98 x 84mm
Colors: White, Yellow, Orange, Blue, Space Grey
The HomePod mini offers the best sound of any speaker of its size, and – being fully a third the price of the big HomePod – it may be the more tempting option for most people. It's balance is excellent, it's fun and energetic while still being detailed, and it offers nearly all the features of the big version – but without Dolby Atmos. Maybe that's fine with you.
For
Great sound for the size
Same smart home features
Much cheaper of the two
Against
Siri isn't that smart
No Bluetooth audio
The HomePod 2 is the latest addition to Apple's smart speaker line-up, joining the HomePod mini, which was released in 2020. (The original HomePod was released in 2018, and discontinued in 2021.)
The HomePod mini is one of the best smart speakers on the market for those in the Apple ecosystem, and is one of the best wireless speakers overall if you want something that's small and inexpensive – though, again, you need to be really Apple-focused.
The HomePod 2 is very similar to its predecessor in a lot of ways, including having a lot more speakers inside than the HomePod mini, in an arrangement that makes it possible to Dolby Atmos music with great Spatial Audio effects.
So what does that mean for how the latest speaker compares to the Apple HomePod mini for sound, and what about other features? Well, you can read our full HomePod 2 review, but stick around here and we'll explain all the further differences, so let's take a look at the Apple HomePod 2 vs HomePod mini.
Apple HomePod 2 vs HomePod mini: Price and availability
The HomePod mini was released in November 2020 and costs $99 / £99 / AU$149. At this price, it's had mass market appeal for years, and it's reasonable for such an impressive smart speaker.
The HomePod 2 was made available for pre-order on 18 January 2022, and will be released on 3 February 2022. It costs $299 / £299 / AU$479, which is around the same as the previous full-size HomePod's cost when it was discontinued.
This means the HomePod mini is much more affordable – it is the 'mini' version of the HomePod, after all. But as we'll see soon, that does have a big effect on the audio tech Apple is able to include.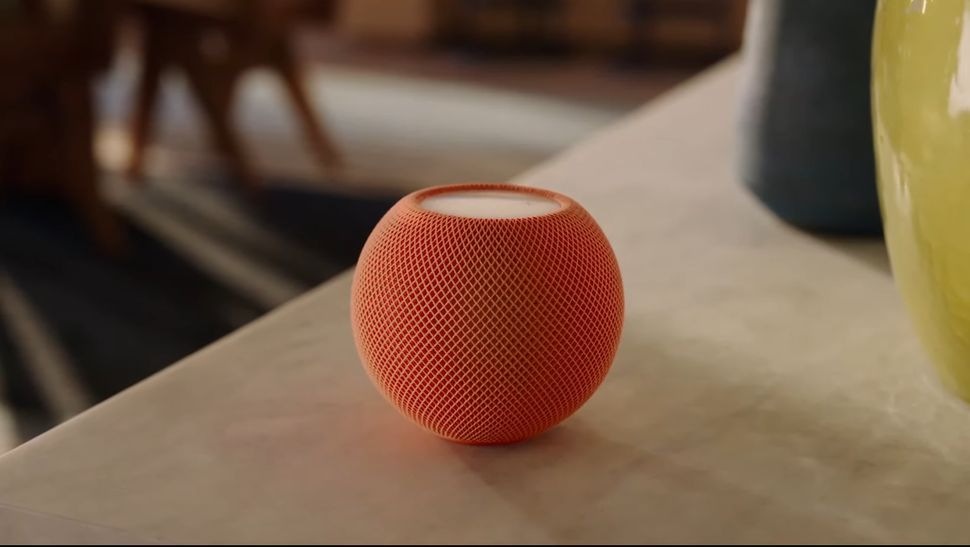 Apple HomePod 2 vs HomePod mini: Design
The HomePod mini is available in five colors: grey, blue, white, yellow and orange. It's small, measuring 3.3 inches (84.3 mm) in height and 3.9 inches (97.9 mm) in width, and light, at 345g. It has an understated, minimal and spherical design that allows it to pump out 360-degree sound.
The HomePod 2 is available in just two colors: 'Midnight' (ie, black) and white. It looks similar to the original HomePod with a cylindrical shape and mesh fabric-covered exterior (which is also like the HomePod mini). There's a backlit, colorful touch surface on the top, which is illuminated edge to edge, also like the HomePod mini. It's a design that happily blends into the background and would look the part in any home.
The dimensions of the HomePod 2 are similar to the original HomePod. It has a 5.6-inch (142mm) diameter and is nearly the same height. It's a little shorter at 6.6 inches (168mm) rather than 6.8 inches (173mm) and weighs in at 2.3kg.
Apple HomePod 2 vs HomePod mini: Features
When it comes to smart home features, there are a lot of similarities here between the Apple HomePod 2 and the HomePod mini.
You can do almost anything smart home-related with both speakers, such as stream music, radio and podcasts. You can also use Siri for voice controls, ask for news updates, and weather forecasts, schedule appointments, and loads more.
The HomePod 2 and HomePod mini have smart home automation support for Apple HomeKit, Thread and Matter, smart home protocols that work with more devices than ever and can trigger smart home automation when you're not in. They also have built-in temperature and humidity sensors, which are helpful for climate control smart home accessories.
Both smart speakers also use Ultra Wideband technology, which means you can hand off whatever you're playing on an iPhone, like a song, podcast or call, and play it to the HomePod simply by moving the phone close to the speaker – it can detect the distance between them. You can also pair two identical HomePods into a stereo set, or you can create a multi-room sound system with more of the best AirPlay speakers.
Apple HomePod 2 vs HomePod mini: Sound performance
The features of both smart speakers might be similar, but with five tweeters and a huge four-inch high-excursion woofer, plus a new S7 chipset providing more advanced audio processing power, the sound performance of the HomePod 2 is a major step up in sound compared to the HomePod mini, based on our experience with it so far.
The HomePod 2 is geared up for Dolby Atmos music support from Apple Music, which includes Spatial Audio. Room sensing tech bounces sound off your walls, creating the feeling of the music surrounding you – and we found this pretty effective with a single HomePod 2, and kind of mind-blowing with two in stereo. With Atmos or regular music, it delivers rich, deep bass, natural mid-range and clear, detailed highs – it supports lossless tracks from Apple Music, to ensure high-quality sound.
The Dolby Atmos support here is also nice if you have an Apple TV – you can use two HomePods as an alternative to one of the best Dolby Atmos soundbars, creating height and width to the sound.
The HomePod mini is a third of the price, so doesn't have the same audio tech. It has a single full-range driver to provide audio, but two bass radiators help to give the bottom end some impressive weight for its size. Clever physical design spreads the sound from the single driver out in all directions.
When we reviewed the HomePod mini, we thought the treble frequencies and vocals were clear in every song, punching through bassy tracks with ease. Everything we tested had a good balance, and even though the bass was often strong, it wasn't overpowering for any genre. There's an S5 chipset in the Mini, which is a step down from the HomePod 2's S7 but it still enables computational audio and analyzes the song playing, altering the speaker's response accordingly.
We found the mid-tones of the HomePod mini to be smooth, especially in pop songs, and cranking the sound levels didn't introduce distortion. If anything, the room-filling experience was enhanced at maximum volume.
The HomePod 2 is on another level when it comes to the detail and depth of sound it can produce, as well as the Spatial Audio effect – but the HomePod mini is the best-sounding speaker at its size.
Apple HomePod 2 vs HomePod mini: Conclusion
If you use an iPhone, already have Apple Music and use Siri, then we highly recommend one of Apple's smart speakers. But which one should you choose in the battle between the Apple HomePod 2 vs HomePod mini?
It's hard to say without testing the Apple HomePod 2 yet, but we know the HomePod is significantly more affordable. It's also smaller and much lighter. The HomePod mini is 345g compared to the HomePod 2, which is 2.5kg. So if you're looking to take a small step into the smart home space but aren't sure what you're looking for, it's a solid option.
If you want richer, clearer, more immersive audio, we expect the HomePod 2 to sound significantly better. This is the option to choose if you want room-filling sound or to use more than one HomePod 2 instead of one of the best soundbars.
Sign up to receive daily breaking news, reviews, opinion, analysis, deals and more from the world of tech.
Becca is a contributor to TechRadar, a freelance journalist and author. She's been writing about consumer tech and popular science for more than ten years, covering all kinds of topics, including why robots have eyes and whether we'll experience the overview effect one day. She's particularly interested in VR/AR, wearables, digital health, space tech and chatting to experts and academics about the future. She's contributed to TechRadar, T3, Wired, New Scientist, The Guardian, Inverse and many more. Her first book, Screen Time, came out in January 2021 with Bonnier Books. She loves science-fiction, brutalist architecture, and spending too much time floating through space in virtual reality.