The best Oculus Quest 2 accessories available right now
Upgrade your VR gaming with the best Oculus Quest 2 accessories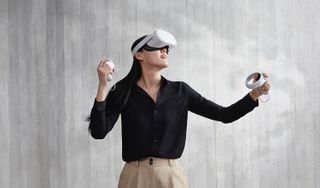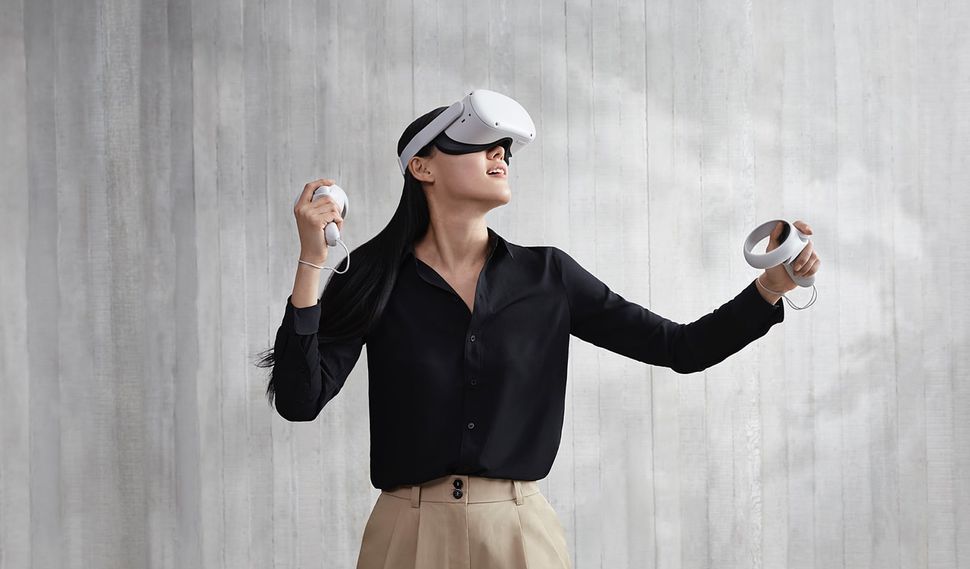 (Image credit: Oculus / Facebook)
Do you need Oculus Quest 2 VR accessories? Not to get started. If you've got an Oculus Quest 2 VR headset, it'll work perfectly well straight out of the box. You don't need a big set of accessories or extra kit to step into virtual worlds – just a bit of space, some of the best Oculus Quest 2 games and a couple of spare batteries for the controllers.
However, kitting your headset out with a few extras can significantly improve your experience with the Quest 2. For example, a new squishy, cushioned interface can make gameplay more comfortable, a pair of prescription lenses mean you don't have to squash your glasses inside the headset every time you want to play and an Oculus Link cable means you can play PC VR games with ease.
Below you'll find our pick of the best Oculus Quest 2 accessories you can buy right now, which will take your virtual reality gaming to the next level in style, comfort and performance.
With Black Friday 2021 sales coming up, many of the best Oculus Quest 2 accessories could be reduced in the lead up to the big day of discounts. Take a look at our guide below before you hunt for deals, it'll help you to decide which extras are must-haves if you see them in a sale and which are best left alone when panic buying clouds your judgement.
How to choose the best Oculus Quest 2 accessories
Why you can trust TechRadar We spend hours testing every product or service we review, so you can be sure you're buying the best. Find out more about how we test.
The best way to decide which Oculus Quest 2 accessories you need is to go slow. Try the Oculus Quest 2 for a week or two first to figure out what's important to you.
For example, if you find yourself dropping the controllers when something scares you or hitting your surroundings with them regularly, look at some extra grips or cases to keep them protected, like the Halo Controller Protectors from VR Cover – we also suggest moving your furniture to give yourself more room or sticking to stationary experiences.
If you enjoy working out in VR with a game like Beat Saber or FitXR, consider a foam or silicone replacement for the inside of your Quest 2 that's designed for sweating and can easily be cleaned.
If you experience the telltale face or headache of long VR gameplay, look at the foam or leather replacements that are big, squishy and built for comfort, like the options from VR Cover below.
Importantly, everyone has a different experience when they put on a VR headset. By trialling the Quest 2 without accessories first, you can prioritize which add-ons sound cool as opposed to which you really need.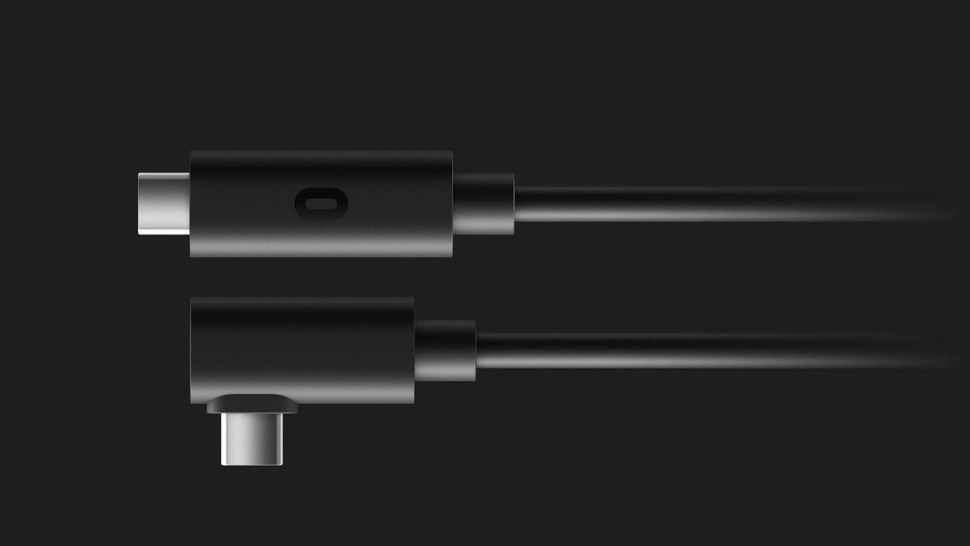 Oculus Link cable
Bring thousands more games to your Quest 2
Reasons to buy
+
Access a wide variety of VR games
+
Long for plenty of freedom
Reasons to avoid
-
Pricey
-
It means you play wired
We like to think of the Oculus Quest 2 as its own games console – it's just on your face, not tucked away under your TV.
The Quest 2 connects to the internet and you then log-in through your Facebook account to access a virtual storefront. This is full of games, which you can play directly on the wireless headset without the need for any other hardware.
However, if you want even more choice, this library can be expanded however with the Oculus Link cable, which unlocks access to computer-based VR titles for those with a PC.
Via the Oculus Link cable, you can connect your Quest 2 to your gaming PC or laptop to play PC-quality VR games such as Half-Life: Alyx, Sword and Sorcery, Asgard's Wrath, Lone Echo and much more.
By using the Link cable on a Quest headset, you're also given access to a wide range of PC VR games from the action-packed Oculus Rift library and beyond, provided you're happy to tinker with some settings to ensure the likes of Steam VR play nicely.
Plug the Oculus Link cable into a USB-3 port on your laptop or PC, and download the Oculus desktop app, which you'll find here. A big downside of this way of gaming is you'll be tethered by a lead when the Quest 2 is so great because it's wireless. But, for now, it's the price you'll need to pay access to hundreds, if not thousands, more games, making this accessory a must-have for VR gamers.
---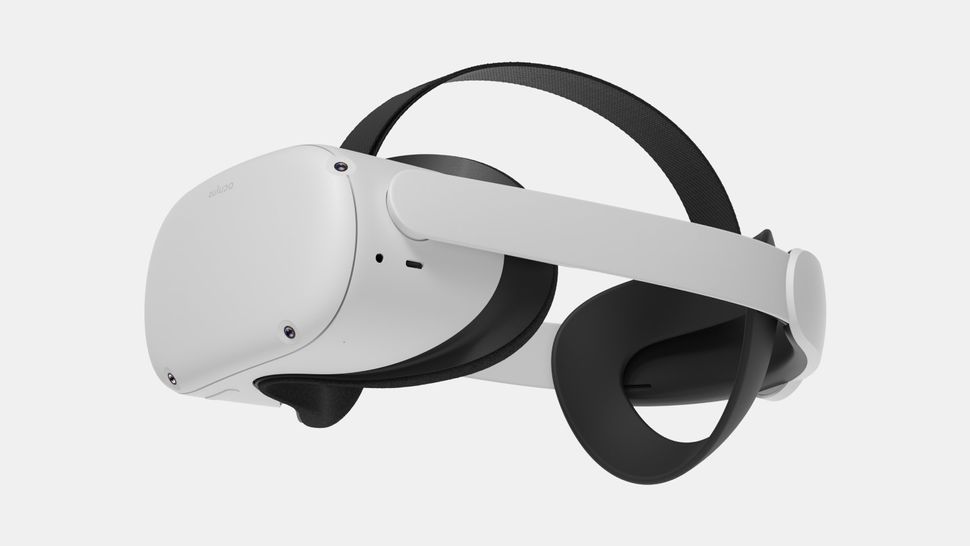 The Quest 2 Elite Strap
Upgrade the Quest 2 strap for extra comfort
Reasons to buy
+
Better than the Quest 2 strap
+
Easy to adjust
Reasons to avoid
-
Comfort depends on your head size
One of the things we love the most about the Quest 2 is it's light and comfortable – especially compared to the original Quest. However, if you wear it for long periods you can still experience some discomfort.
That's why we recommend that if you have headache after using your Quest 2, consider changing the strap first. The Quest 2 Elite Strap is a solid option that promises to make long VR sessions more comfortable.
It's designed to ensure the headset is equally balanced on your head and improves overall support, too. Plus, if you need to make any fit adjustments, you can easily do that with a quick twist of a wheel so you don't need to take it off.
The strap easily attaches to the headset and it also comes with a flexible brace that cradles your head, improving overall comfort levels while you play.
---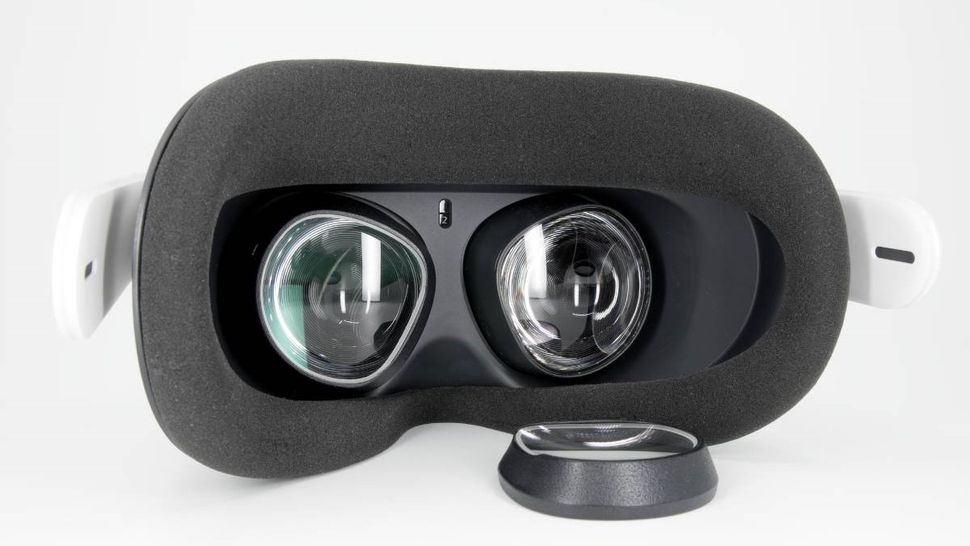 Oculus Quest 2 Prescription Lens Adapter
A great idea for anyone who wears glasses
Reasons to buy
+
Easy to use
+
Supports many prescriptions
Reasons to avoid
-
Takes up some room in the headset
If you wear glasses you can still use a VR headset, but it's tricky. The Oculus Quest 2 comes with a small plastic insert that you put inside the headset that adds more distance, meaning when you put the headset on your glasses don't get squashed.
However, this still isn't ideal, which is why we recommend anyone who can't make glasses and the Oculus Quest 2 play nice should buy some prescription lenses.
You can buy a Quest 2 Prescription Lens Adapter from VR Optician, which is fitted with lenses made to your own personal prescription – you will need to know what this is first by visiting an optician – so you can see games more clearly without your glasses.
All you need to do is find out your prescription from your optician and input your details. Once the adapter has arrived, it easily attaches to the lenses already in your Quest 2 headset.
The best part is that these inserts, unlike some others, support a wide range of prescriptions, making VR gaming a possibility for many more people.
---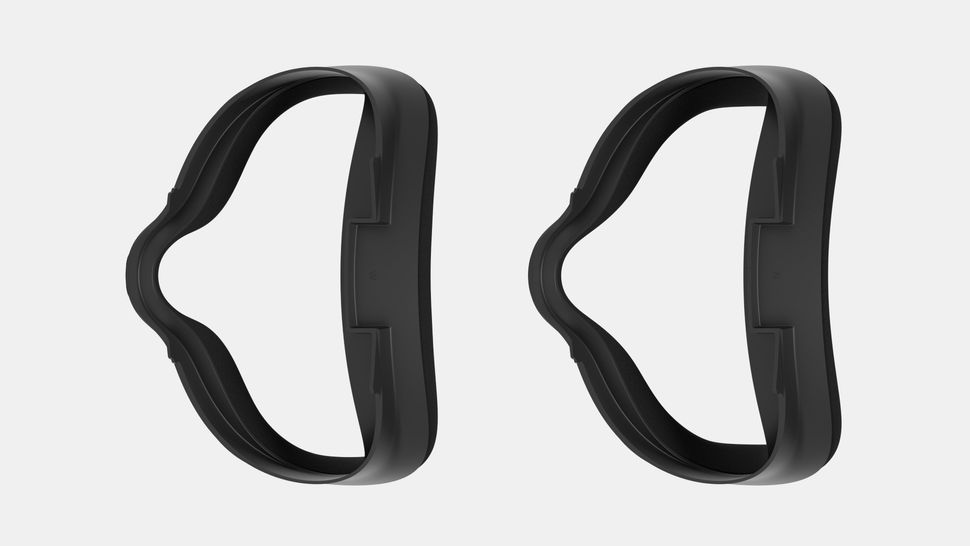 Quest 2 Fit Pack
Improve the fit of your Quest 2 headset
Reasons to buy
+
Increases comfort
+
Accommodates more face sizes
Reasons to avoid
-
Light blockers feel unnecessary
The Oculus Quest 2 can be uncomfortable for some people from the start – we all have different shaped heads after all.
If the headset doesn't feel right, grab yourself the Oculus Quest 2 Fit Pack, which includes a pair of light blockers and two alternative-width frames, allowing for a more comfortable fit no matter your face shape.
These snap into place within the headset, giving you more room. The wider frame, also known as an 'interface', reduces foam around the face for a more accommodating fit. The smaller, narrow interface provides more foam to allow for extra padding, structure and overall support.
The light blockers reduce light from entering around the nose area. Some people find these important for immersion, but others might not be bothered about a bit of light leakage.
Regardless, all parts are interchangeable, so you can play around for the combination that works best, especially if the standard interface supplied with the headset doesn't work so well for you.
---
VR Cover Facial Interface and Foam Replacement
For soft, pillowy comfort
Reasons to buy
+
Air vents for VR workouts
+
Wipeable design
+
Noise guard for light leakage
Reasons to avoid
-
Might be too big for some people
If you use your Oculus Quest 2 headset regularly it might be worth considering an upgrade of the whole inside of the device with this set from VR Cover, which includes a new interface (plastic insert to change the fit of the headset), soft leather replacement for the foam and a nose guard.
Not only will this make long gameplay more comfortable, it's a more hygienic solution too because the interface has passive air vents and the PU leather foam replacements are made from a breathable, wipeable material. If you enjoy VR workouts, this might work for you – we'd also recommend positioning a big fan directly in front of you.
The foam replacements come in two sizes, standard, which brings you closer to the lens and comfort, which is thicker and more cushioned.
This set also comes with a nose guard to minimize light leakage – this can make a huge difference to how immersed you feel in a game.
---
VR Cover Halo Controller Protector
Keep your controllers safe
Reasons to buy
+
Protects your controllers
+
Easy to clean
+
Tracking not affected
Reasons to avoid
-
Redundant if you don't play active games
If you play a lot of active games with your Quest 2 headset – and have been known to hit a lot of furniture – then consider safeguarding your controllers with this easy-to-fit set of protectors from VR Cover.
They fit snugly around the touch controller rings, which are the most vulnerable parts, but don't affect tracking because there are holes in them to let the sensors shine through. Another great option if you like VR workouts, as they can be cleaned with soap and water.
---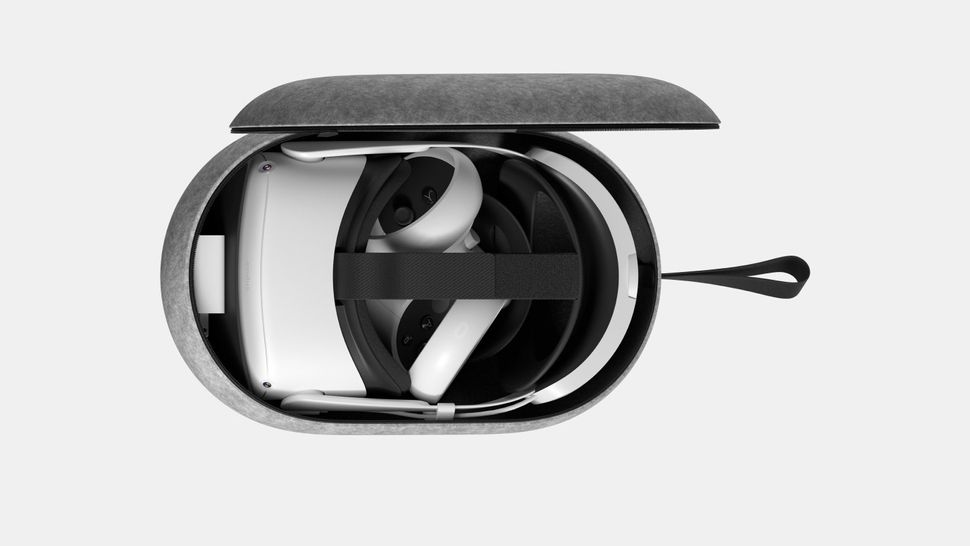 Quest 2 Elite Strap with battery and carry case
Make your Quest 2 portable
Reasons to buy
+
Extends battery life
+
Carry case is sturdy
Reasons to avoid
-
The only difference is a battery added to the strap
-
Case won't be useful for everyone
If you like the idea of the Elite Strap and have money to spare, this is a bundle with some essential extras.
Here, the strap comes with a built-in battery. This extends your play time, doubling what's on offer natively by the Quest 2 headset's own battery, whilst rebalancing the weight of the headset so it's more comfortable.
It also comes with a great carry case, which is sturdy and keeps your Quest 2 protected if you want to pack it up and take it to a friend's house or just keep it ultra safe when you store it.
It's a compact, pill-shaped design but it can fit the Quest 2 headset, the Elite Strap with battery, two Touch controllers, charging cable and a power adapter.
---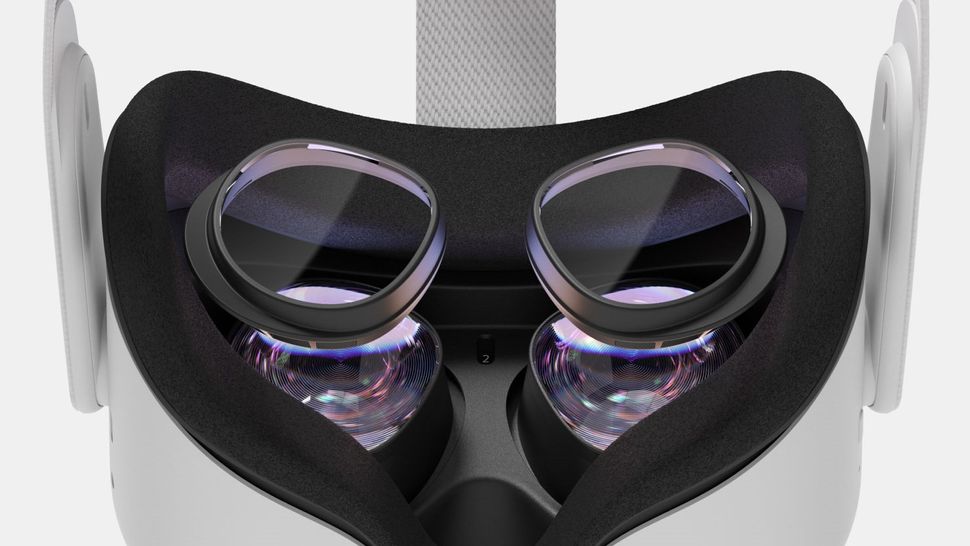 Oculus VirtuClear Lens Inserts
Prescription lenses for your VR headset
Reasons to buy
+
Available in 1.60 Hi-Index Essilor lenses
+
Glare reduction
Reasons to avoid
-
Limited prescription range
Another lens inserts option, but these come with an official recommendation from Oculus/Facebook for use with the Quest 2 – although they also come in at a higher price.
They work in exactly the same way, clipping into your headset to enable you to play VR games without needing your specs on too.
When you order them, you'll need to input your prescription. However, note that these lens inserts are only available for prescriptions in the following ranges: SPH: 0 to -8.0 | CYL: 0 to -2.0, where a minus SPH measurement denotes you are nearsighted and a plus means you're farsighted. This means these lens inserts are only suitable for those who are nearsighted.
---
VR Cover Silicone Cover for Oculus Quest 2
Make your Quest 2 (almost) sweatproof
Reasons to buy
+
Great for workouts
+
Medical grade silicone
+
Easy to clean
Reasons to avoid
-
Not as comfy as foam or PU leather
If you enjoy working out with your VR headset, then you'll need a cover specially designed for sweat that can be easily cleaned.
Other options in our list fit the bill, but this silicone cover from VR Cover is one of our favourites because it's a material that won't soak up any sweat, is non-slip (the PU leather options might not feel nice after an intense Beat Saber session) and better protects the foam and headset underneath.
Oiled silicone can sometimes cause skin reactions, so VR Cover also offers an unoiled version that's hypoallergenic.
---
VR Cover Minimal Foam Replacement Set
Slim cushioned inserts for a small comfort upgrade
Reasons to buy
+
Slim design
+
Extra comfort
Reasons to avoid
-
Not as comfortable as other options
-
Not ideal for workouts
If you want to upgrade the comfort levels of your Oculus Quest 2 experience but find the thought of big, chunky, cushioned inserts a little OTT, check out these slim options from VR Cover.
These two accessories replace the foam in your headset, but don't add too much unnecessary bulk. Ideal for those who want comfort, but know the shape of the Quest 2 is good how it is. You'll need VR Cover's facial interface to attach these to.
---
Sign up to receive daily breaking news, reviews, opinion, analysis, deals and more from the world of tech.