Best PS5 racing wheels: Quick Menu
1. The list in brief
2. Best overall
3. Best budget
4. Best premium
5. Best for beginners
6. Best mid-range
7. FAQs
The best PS5 racing wheels are an excellent way to fully immersive yourself in many of the top racing titles on the platform with simulation precision, realistic handling and impressive force feedback features. It's not just racing wheels that provide a benefit here, either; many sets will also pack in a set of pedals and a gear shifter for an even greater level or realism.
While we wholeheartedly recommend each of the best PS5 racing wheels in this list, it's unavoidable that they are not the cheapest options in terms of the best PS5 controllers. While we've endeavored to bring a balanced view of budget, mid-range, and premium offerings, you will be spending more than the cost of a standard DualSense Wireless Controller for that extra level of immersion in games like Gran Turismo 7, F1 23, and more of the best racing games.
If you're serious on building that full-fledged racing experience for yourself, we also recommend pairing the best PS5 racing wheels with one of the best monitors for PS5, particularly an ultrawide that supports a silky smooth high resolution. For a more general overview, our overall best gaming monitors list provides a deeper dive into other options. Otherwise, read on to learn our picks for the best PS5 racing wheels from Thrustmaster, Logitech and more top brands.
The Quick List
The best PS5 racing wheels in 2023
Why you can trust TechRadar We spend hours testing every product or service we review, so you can be sure you're buying the best. Find out more about how we test.
The best PS5 racing wheel overall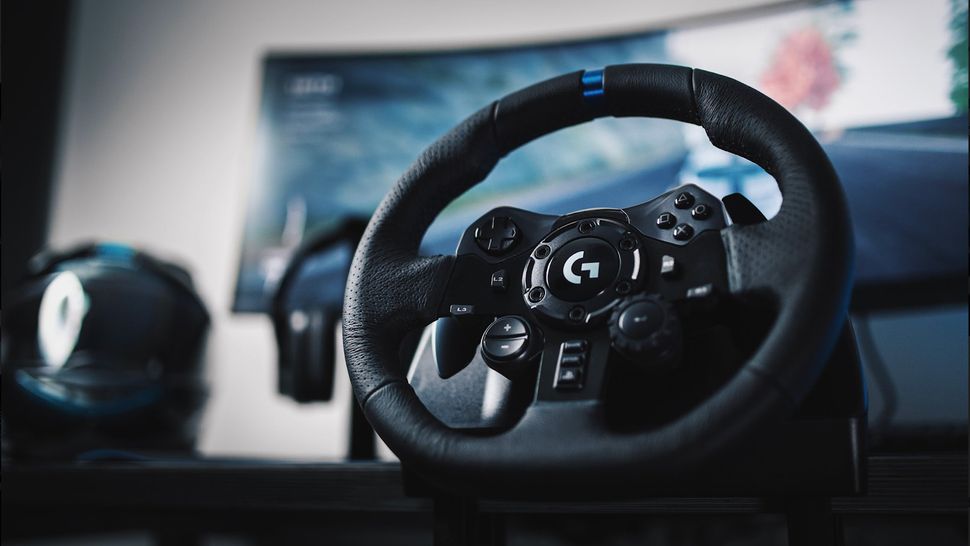 The best PS5 racing wheel overall
Reasons to buy
+
Superb build quality
+
Impressive Trueforce force feedback
+
Perfect for sim racing
Buy it if
✅ You value realism: The Logitech G923's Trueforce feedback is impressively immersive and almost worth the price of admission by itself.
Don't buy it if
❌ You're just getting started: For beginners, we'd recommend cheaper wheels on this list, even if it means sacrificing higher-end features.
Logitech tops the podium when it comes to the best PS5 racing wheels - as well as racing wheels in general. The Logitech G923 rules the roost in this console generation, with superb build quality, high responsiveness, and ancillary features like force feedback making it the first wheel you should consider on your path to purchase.
It is a fact, though, that the best comes with a premium price tag. Expect to pay around $299.99 / £299.99 for the Logitech G923. The good news here, though, is that the wheel's price has dropped by roughly $100 / £50 from its original retail price, and we've regularly seen it go for much less during notable sales periods throughout the year. If you're patient, then, we'd say it's worth waiting for a discount to secure the best PS5 racing wheel on the market right now.
For your money, expect peak racing sim performance. The Logitech G923 features a 900-degree lock-to-lock rotation, ideal for the tight hairpins at Monaco, or the precision required for those longer, faster turns at Spa-Francorchamps. The marquee feature here, though, is undoubtedly Trueforce that provides realistic haptic feedback that reacts to track surfaces.
The best budget PS5 racing wheel
2. Thrustmaster T150
The best budget PS5 racing wheel
Reasons to buy
+
Excellent value for money
+
Strong force feedback
+
1080-degree rotation
Reasons to avoid
-
Feels comparatively cheap
Buy it if
✅ You're on a budget: The Thrustmaster T150 provides excellent value for money at its relatively low asking price.
Don't buy it if
❌ You want more extra features: The T150 is fairly basic when it comes to features and performance.
Thrustmaster is Logitech's direct competitor when it comes to the best PS5 racing wheels, and the T150 is its best budget model. Despite its cheaper overall feel thanks to an abundance of lighter plastic materials being used for the build, it's one to consider if you're on a stricter budget.
Expect to pay around $200 / £200 for the Thrustmaster T150 at its retail price. However, as it's a budget model that's a couple of years old, you'll often be able to find it for much less at most big box retailers. Amazon, for example, tends to list the T150 for around $160 / £160, but prices here can vary.
Despite being a budget wheel, the Thrustmaster T150 enjoys some higher-end features. Force feedback is here, though it lacks the variability of Logitech's Trueforce tech. On-board buttons have a fairly simple, easy-to-grasp layout, but don't expect any kind of ancillary settings here beyond what you'd find on a standard controller.
The best premium PS5 racing wheel
3. Thrustmaster T-GT 2
The best premium PS5 racing wheel
Reasons to buy
+
Luxurious build quality
+
Intricate button layout
+
Top-notch force feedback
Buy it if
✅ You want the most realistic experience possible: The Thrustmaster T-GT 2's exceptional quality provides an experience that's just shy of the real thing.
Don't buy it if
❌ You don't have $800 to blow: It's the most expensive PS5 racing wheel on our list and a pretty unrealistic purchase for those on even mid-range budgets.
If you want something premium when it comes to the best PS5 racing wheel setup, then look no further than the Thrustmaster T-GT 2. Here, the manufacturer has provided the full package, bundling in a wheel and pedals of seriously high build quality and additional buttons and functions that provide a realistic racing experience.
Officially licensed for Gran Turismo 7, the Thrustmaster T-GT 2 is well-suited to the current market-leading racing sim. But given its eye-watering price tag of $799 / £699, we can only really recommend it to more serious GT7 players who find themselves higher up in the online Sport mode rankings and those with a very healthy budget. It also tends to hold its price quite consistently, with discounts being few and far between at retailers like Amazon.
If you have the cash, though, it's hard to find a racing wheel better than what the T-GT 2 offers. Its best-in-class force feedback provides one of the most realistic and reactive racing experiences going. You can even pair it with Gran Turismo 7's PSVR 2 support for some seriously next-level immersion, too.
The best PS5 racing wheel for beginners
4. Hori Apex Racing Wheel
The best PS5 racing wheel for beginners
Reasons to buy
+
Affordable
+
Easy to set up and use
+
Great for first-timers
Buy it if
✅ You're new to racing wheels: The Hori Apex is a great starting point if you're not quite prepared to spend a king's ransom on an expensive wheel.
Don't buy it if
❌ You want higher-end features and quality: Being rather basic and affordable comes at the cost of what could be an unsatisfying experience for many.
If you're looking to purchase a PS5 racing wheel for the very first time, and don't want to sting your wallet, then you should consider the Hori Apex racing wheel. While on the basic side, it's still well-built and comes with a pair of pedals for more immersive acceleration and braking.
As with all of the best PS5 racing wheels, however, you're getting what you pay for here. At just $119 / £119, the Hori Apex is mercifully on the cheaper side of the racing wheel spectrum, but that low cost means you'll be missing out on higher-end features.
For one, the wheel's rotation is just 270 degrees, meaning you may have a harder time with sharper corners and more precise racing lines. There's also no force feedback of any kind, which might feel a little unsatisfying for some. Still, as Hori demonstrates in our best fight sticks guide, it's still capable of creating quality products at low prices, and first-time buyers will be well-served with the reliable – if basic – Hori Apex.
The best mid-range PS5 racing wheel
The best mid-range PS5 racing wheel
Reasons to buy
+
Mid-range price bracket
+
Excellent build quality
+
Fantastic pedals
Reasons to avoid
-
Force feedback not as good as Logitech's
Buy it if
✅ You want a wheel that does everything well: The Thrustmaster T248 is a fantastic all-rounder that justifies its price with solid performance and higher-end features.
Don't buy it if
❌ You want better force feedback: While Logitech's Trueforce isn't supported by every game, it seriously helps to enhance your experience for those that do.
The final entry on our list is a real jack-of-all-trades. The Thrustmaster T248 boasts superb build quality for both its wheel and pedals, a nice range of features, and a price tag that's square in the mid-range. It is an excellent choice to fall back on if you want to meet your purchase in the middle when it comes to design, features, price and performance.
At $300 / £300, the Thrustmaster T248 finds itself costing about the same as the Logitech G923. This is a solid, middle-of-the-road price point if you're after higher quality than the Hori Apex, but aren't quite prepared to drop $700 / £700 on Thrustmaster's more expensive wheel.
You're also getting high performance here that's comparable to Logitech's best. 900-degree rotation and strong force feedback allow for an accurate, immersive racing sim experience. If you're not interested in the more situational Trueforce feedback of the G923, then Thrustmaster's strong alternative may be your preferred pick here.
The best PS5 racing wheels FAQs
Can I use PS4 racing wheels on PS5?
Yes. Peripherals made for PS4 are also compatible with PS5, though there may be instances where certain designed-for-PS4 features may not register with PS5 games. That said, if you're not quite ready to upgrade, your PS4 wheel will work just fine in most use cases.
Is a PS5 racing wheel worth it?
If you're looking for a more authentic experience with your favorite racing games, then the best PS5 racing wheels are a worthwhile investment. There'll be some getting used to and plenty of sensitivity tweaking if it's your first time using one, but the experience is much more immersive than using a standard controller.
Which PS5 racing wheel is the best?
For our money, the Logitech G923 rules the roost as the best PS5 racing wheel, largely thanks to its exceptional build quality and next-level Trueforce force feedback feature. Other top picks would be the Thrustmaster T248 if you're after a solid mid-range wheel, or the Hori Apex if you're on a stricter budget.
How we chose the best PS5 racing wheels
The best PS5 racing wheels in our guide were decided on by following a wide range of criteria. Firstly, we ensured to choose racing wheels that spanned a wide scope of budgets, while ensuring those cheaper wheels were still of a solid quality. We also take features like rotation and force feedback into consideration when deciding on which racing wheels to include from an immersion standpoint.
Our best PS5 accessories page will also help you get the most out of your current-gen system, and we always think that one of the best SSDs for PS5 is a great choice for storing and playing more of the best PS5 games.
Get daily insight, inspiration and deals in your inbox
Get the hottest deals available in your inbox plus news, reviews, opinion, analysis and more from the TechRadar team.

Rhys is TRG's Hardware Editor, and has been part of the TechRadar team for more than two years. Particularly passionate about high-quality third-party controllers and headsets, as well as the latest and greatest in fight sticks and VR, Rhys strives to provide easy-to-read, informative coverage on gaming hardware of all kinds. As for the games themselves, Rhys is especially keen on fighting and racing games, as well as soulslikes and RPGs.