The release of Samsung's latest flagship Galaxy smartphones is finally upon us, with the Samsung Galaxy S23, S23 Plus and S23 Ultra officially arriving on February 17.
As the premium option of the three, all eyes have been predictably on the Samsung Galaxy S23 Ultra to see just how powerful Samsung's top of the line new handset really is. And have no doubt, it's plenty powerful.
So, how does it compare to Apple's top premium smartphone, the iPhone 14 Pro Max? Below, we've put the two premium flagships head to head to see which one comes out on top.
Weight: 234g
Dimensions: 163.4 x 78.1 x 8.9mm
Screen size: 6.8-inch
Resolution: 1440 x 3088
CPU: Qualcomm Snapdragon 8 Gen 2
RAM: 8GB / 12GB
Storage: 256GB / 512GB / 1TB
Rear Cameras: 200MP + 12MP + 10MP + 10MP
Front Camera: 12MP
Battery: 5,000mAh

The Samsung Galaxy S23 Ultra is a true upgrade, delivering superior performance, better cameras and improved battery life to its predecessor. There have been few (if any) physical design changes, but the S23 Ultra feels like a heavyweight.
For
Bespoke Qualcomm Snapdragon 8 Gen 2 chipset
More base storage than predecessor
Functional refinements
Against
Faster charging would have been nice
Looks identical to predecessor
Seriously expensive
Weight: 240g
Dimensions: 160.7 x 77.6 x 7.9mm
Screen size: 6.7-inch
Resolution: 1290 x 2796
CPU: Apple A16 Bionic
RAM: 6GB
Storage: 128GB / 256GB / 512GB / 1TB
Rear Cameras: 48MP + 12MP + 12MP
Front Camera: 12MP
Battery: 4,323mAh

The iPhone 14 Pro Max is a generous upgrade over the previous generation's Pro Max thanks to its new CPU, and offers plenty of power and performance value. But it feels notably less premium than the newer S23 Ultra at this stage of its life.
For
Great design and build
Incredible camera quality
Dynamic Island is clever and innovative
Against
3x zoom leaves you wanting more
Still waiting for ultra-fast charging
Battery life is weaker than last year
Samsung Galaxy S23 Ultra vs iPhone 14 Pro Max price and availability
The iPhone 14 Pro Max launched in September 2022 priced from $1,099 / £1,199 / AU$1,899, firmly placing it at the higher end of the premium smartphone price bracket. The top iPhone model has had its share of production issues since launch, however, with manufacturing and availability of the iPhone 14 Pro Max having been impacted by disruptions due to Covid-19. At times, this has meant long waits of up to 4-5 weeks for prospective purchasers, although those issues now seem to be resolved.
The Samsung Galaxy S23 Ultra, meanwhile, arrives at prices from $1,199.99 / £1,249 / AU$1,949 – even more expensive than the iPhone 14 Pro Max, although not quite as high as was once feared.
In the current economic climate, some kind of a price hike for Samsung's new premium smartphone was always going to be inevitable, and it's anticipated that Apple will do similar with its follow-up to the iPhone 14 Pro Max when it arrives later this year. Still, the Samsung Galaxy S23 Ultra price at launch is surprisingly competitive considering that it comes with the S Pen stylus alongside offering upgrades to the CPU and image sensor.
Samsung Galaxy S23 Ultra vs iPhone 14 Pro Max design
Aesthetically speaking, neither the Galaxy S23 Ultra nor iPhone 14 Pro Max do a whole lot to distinguish themselves from their predecessors – at least at first glance.
With the Dynamic Island replacing the notch on the iPhone 14 Pro Max, there's a bit more screen real estate compared to prior iPhone Pro models on a handset that measures in at 160.7 x 77.6 x 7.9mm. In all the right ways, the iPhone 14 Pro Max looks like an iPhone, being sleek and clean even while not making too many drastic design changes.
The Samsung Galaxy S23 Ultra similarly makes few design changes, maintaining the same sharp corners but tweaking the display just enough to offer a greater overall surface area than its predecessor. That's particularly exciting when taking into consideration the extra space it grants the S Pen stylus to work in.
At 162.5 x 78.7 x 8.9mm, the Samsung Galaxy S23 Ultra measures as the bigger of the two flagships but weighs in just under 8 grams less than the iPhone 14 Pro Max, which is impressive in itself given its battery is close to 700mAh larger than that of its Apple rival.
Both handsets also include IP68 dust and water resistance ratings, and all things considered it's hard to choose a clear winner between the two when it comes to design.
Samsung Galaxy S23 Ultra vs iPhone 14 Pro Max display
Given its aforementioned dimensions, it's no surprise that the Galaxy S23 Ultra beats out the iPhone 14 Pro Max when it comes to screen size – though only just, as the former's screen clocks in at 6.8 inches compared to the 6.7 inches of the 14 Pro Max.
Beyond size, both the Galaxy S23 Ultra and iPhone 14 Pro Max boast dazzling displays.
The S23 Ultra's Dynamic AMOLED 2X panel is nothing short of stunning, topping out at a resolution of 3088 x 1440, which is superior to that of the 2796 x 1290 screen res of the iPhone 14 Pro Max. Both feature identical adaptive refresh rates of 1Hz to 120Hz but the iPhone 14 Pro Max display is capable of greater brightness levels at up to 2,000 nits compared to the S23 Ultra's 1,750 nits which gives its display a slight edge in bright settings.
Still the Galaxy S23 Ultra holds the slightest of edges overall over the iPhone 14 Pro Max when it comes to display, as the new CPU of the S23 Ultra elevates the experience of its screen just beyond what the 14 Pro Max can achieve.
Samsung Galaxy S23 Ultra vs iPhone 14 Pro Max cameras
Comparing the camera arrays for the two handsets is where things get truly interesting.
The addition of a 200MP sensor to the main camera for the S23 Ultra, up from 108MP for the S22 Ultra, clearly indicates Samsung isn't satisfied with merely competing with its rivals. The result is what Vice President of Mobile Product Management at Samsung Electronics America, Drew Blackard, calls "the most advanced camera ever on a Galaxy device."
As before, the quality of photos taken with the Galaxy S23 Ultra is as exceptional as ever, capturing rich details and still holding its edge over what Apple's Pro models are capable of.
Beyond the main sensor – which is a 48MP lens on the iPhone 14 Pro Max – the difference in camera hardware between the two competitors isn't as stark as one might think. Alongside the 200MP sensor on the S23 Ultra are a 12MP ultrawide lens and two 10MP telephoto lenses with 3x and 10x zoom respectively, while the Apple handset features a 12MP ultrawide and single 10MP telephoto lens with its 48MP main. The front-facing cameras on both are a match at 12MP.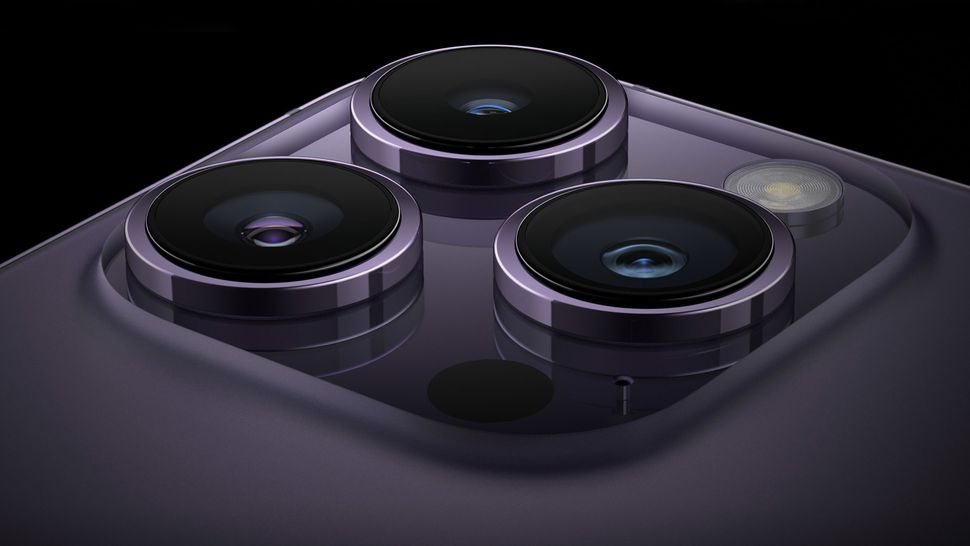 Thanks to the Cinematic and Action Modes on the iPhone 14 Pro Max, it's become the go-to for both amateur and professional filmmakers and videographers.
Cinematic Mode works by taking advantage of Dolby Vision HDR and implements focus transitions to keep the subject of a recording in focus, thus enhancing its visual appearance by employing depth-of-field techniques to blur the background, while Action Mode supports generous stabilization that allows for steady filming. The iPhone 14 Pro Max also offers ProRes as a means to support professional quality video capture, a technique that employs higher color fidelity and less compression.
To compete, the Samsung Galaxy S23 Ultra features the inclusion of Super HDR capabilities for a wider range of light and dark tones with superior color accuracy. Via its rear and front cameras the S23 Ultra is able to shoot 4K at 60fps Super HDR, or 8K at 30fps, while Samsung has further enhanced the sensors of the S23 Ultra to absorb 2.5 times more light for superior brightness.
Thanks to its addition of a new advanced image sensor, the S23 Ultra could well become the best camera phone we've seen yet.
Samsung Galaxy S23 Ultra vs iPhone 14 Pro Max battery and performance
The Samsung Galaxy S23 Ultra includes a 5,000mAh battery with 45W wired charging support, which gives it a clear leg up over the iPhone 14 Pro Max's 4,323mAh battery with wired charging support for a 20W adapter or above. Generally speaking, iPhone battery life has always been spotty at best, depending on usage, and the iPhone 14 Pro Max is no exception. Meanwhile, Samsung is suggesting the battery of the S23 Ultra is now 20% more efficient than before – and the gains made to battery life were certainly evident during our time with the new handset.
Performance is less clear cut in terms of comparisons between the two – the A16 Bionic CPU of the iPhone 14 Pro Max certainly can't be accused of being sluggish or lacking in power, while the same can be said of the Qualcomm Snapdragon 8 Gen 2 used in the Galaxy S23 Ultra. Both are fast with plenty of performance value aided by the generous capabilities of the two phones' respective displays. However, the S23 Ultra's use of a quicker, more efficient LPDDR5X memory and UFS 4.0 storage offers considerable promise on paper.
Samsung has also tinkered with the S23 Ultra's CPU to overclocked it to 3.36GHz rather than the standard 3.2GHz, and its speed and efficiency certainly impressed us. There are very little to separate the iPhone 14 Pro Max and Samsung Galaxy S23 Ultra from a performance point of view, but the S23 Ultra earns the win by a hair based on the gains it has made in efficiency that help its battery last longer.
Takeaway
The Samsung Galaxy S23 Ultra is the best Galaxy smartphone we've seen yet and the best Android phone, but is it also better than the iPhone 14 Pro Max? Comparing the two head to head, we'd say yes.
But is the S23 Ultra so much better that it is going to convince existing Apple users to jump ship? It's difficult to say, especially as the Apple ecosystem has become so expansive and all-encompassing as to be hard to consider drifting away from. But it's unlikely, and most Apple fans will probably prefer to wait and see what Apple has in store for later in the year.
Yet for photographers and videographers at the very least, the Samsung Galaxy S23 Ultra takes a slight edge, and the S23 Ultra offers the kind of performance gains over its predecessor to be worth considering an upgrade for those who have a Samsung smartphone already.