Canon EOS R Pro / EOS RS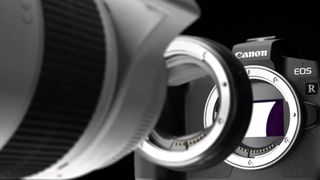 Could we see a pro-spec mirrorless equivalent of the EOS-1D X Mark II? Or will it have a super-high-res sensor to rival the likes of the Sony A7R IV?
Predicted specs: 75MP or 83MP full-frame sensor | RF Lens mount | 4K video to 60p | Dual Pixel CMOS AF

While Canon's first full-frame mirrorless camera, the EOS R is a very good camera, it's not the flagship many had expected. The subsequent EOS RP is a welcome alternative, with a lighter body and a cheaper price tag, but there's still a huge gap for a camera that either has outright resolution or sports and action as its primary focus.
CanonRumors had previously reported that we could see an EOS R Pro development announcement in January, although this never happened. However, in a recent interview, it confirmed a more senior camera was on the way – and since then, the names 'Canon EOS Rx' and 'Canon EOS RS' have been bandied around forums and rumor sites.
We reckon it'll be a natural successor to the professionals' favorite, the mighty Canon EOS-1D X Mark II (though that's not to say we won't see a Mark III version as well), with a launch next year enough time to establish itself ahead of the 2020 Olympics.
The strongest rumors suggest that Canon will focus on resolution first, and that a new pro model will pack a 75MP or 83MP full-frame sensor, considerably more than the 50MP EOS 5DS and EOS 5DS R.

Canon EOS M5 II
With the EOS M6 Mark II now with us, is there any call for a model with an integrated viewfinder to replace the EOS M5?
Predicted specs: New 24MP APS-C sensor | 4K video recording | DIGIC 8 image processors | 30fps Raw Burst shooting
While Canon's been focusing its attention on its new EOS R full-frame mirrorless camera, it doesn't seem the company's EOS M range is going anywhere.
A replacement for the EOS M6, the EOS M6 II, joined the EOS M stable quite recently. But does that means an EOS M5 II update to the EOS M5 won't see the light of day? After all, the EOS M5 was essentially an M6 with a built-in viewfinder – but a viewfinder is available for the EOS M6 II, so is there any need for another alternative?
If it does arrive, we expect its spec sheet to mirror that of the EOS M6 II in many areas. We expect an updated 32MP sensor that support 4K video recording, and we also expect this will record without a crop like the EOS M6 II manages.
One thing we really want to see is some new glass to make the system as a whole more appealing. This is one area Canon is lagging behind the likes of Fujifilm, Panasonic, Olympus and Sony.

Canon EOS 5D X
Could Canon launch a rival to Nikon's D850 and Sony's Alpha A7R IV?
Predicted specs: Full-frame 50MP sensor | 8fps burst shooting | Improved 4K video capture

When it was launched back in 2016, Canon's EOS 5D Mark IV was our favourite DSLR. A well-rounded camera, it was (and still is) an incredibly versatile photographic tool. However, 2017 saw Nikon release the mighty 45.4MP D850, before the 45.7MP Z7 last year, while Sony launched the 61MP Alpha A7R IV earlier this year.
All of these cameras offer more pixels while matching or bettering the performance of the EOS 5D Mark IV. So, unless you're a die-hard Canon user and heavily invested in the system, the EOS 5D Mark IV is hard to recommend over the other two.
Then consider that the 50MP Canon EOS 5DS was launched in 2015 and we reckon Canon might consolidate its two lines into a single, multi-purpose DSLR that offers a high pixel count and high performance to rival the D850 and Alpha A7R IV.
We're speculating here, but this new DSLR could potentially be called the EOS 5D X and feature a new and improved 50MP full-frame sensor that was used in the EOS 5DS, now with a much broader and improved ISO range, while burst shooting could hit 8fps.
We reckon video might also get a hike in performance - the 1.64x crop when shooting 4K on the EOS 5D Mark IV is a bit of a turn off to many videographers. To aid shooting both stills and video, maybe we might also see the inclusion of a vari-angle touchscreen display.

Canon EOS 7D Mark III
The EOS 7D Mark II was an excellent DSLR, but does the arrival of the EOS 90D scupper the chances of a third-generation EOS 7D Mark III model?
Predicted specs: 32.5MP sensor | Dual DIGIC 8 image processors | 11fps+ burst shooting

Announced back in 2014, the EOS 7D Mark II is one of the oldest, if not the oldest DSLR in the EOS line-up. Will we see an EOS 7D Mark III before the year is up?
With the EOS 90D unveiled just recently, it seems less certain. But if it does arrive, it will likely get the same 32.5MP sensor. It should also inherit the DIGIC 8 image processor, which means it should at least match the 10/11fps burst shooting mode of the EOS 90D.
The Canon EOS 7D Mark III should also see the inclusion of touchscreen functionality on the rear vari-angle display to real take advantage of Canon's Dual Pixel CMOS AF system for Live View.
What about video? 4K recording to 30p is now becoming a standard part of many Canon cameras, so we will no doubt see this here too, although quite to what standard we don't know. Of course, it's possible that Canon will focus elsewhere and will kill off the EOS 7D line, as has been reported.