Trying to choose the best GoPro for your next adventure can be tricky – not only are there four 2020 models to choose from, many older GoPros are still available and can offer great value. Luckily, we're here to help to decide which GoPro is the right companion for you.
GoPro is to action cameras what Hoover is to vacuum cleaners. First seen in 2004, the family of rugged recorders has since become the world's best-selling action cam brand. It's synonymous with extreme pursuits and known as the camera of choice for daredevils – and for good reason.
The latest models – such as the GoPro Hero 8 Black – are small, lightweight and capable of capturing silky smooth 4K footage, yet tough enough to perform in even the most challenging conditions. GoPro cameras can be taken anywhere and attached to almost anything, and their advanced stills and video recording features make it possible for amateurs and professionals alike to capture incredible footage, from slow-mo to time-lapse to striking HDR photos.
But what's the best GoPro camera? The line-up has always been a broad one, with specs and capabilities varying across the many models. Which one you should buy depends on what you want from your action camera, as well as your budget and expectations.
White, Black, Max: we'll look at each GoPro action camera below, highlighting the key features of each and who they are most suited to – and whether there's a slightly older model that might offer better value. Once you've selected the best GoPro for you, we'll also point out some of the best accessories you can attach to it.

Best GoPro cameras in 2020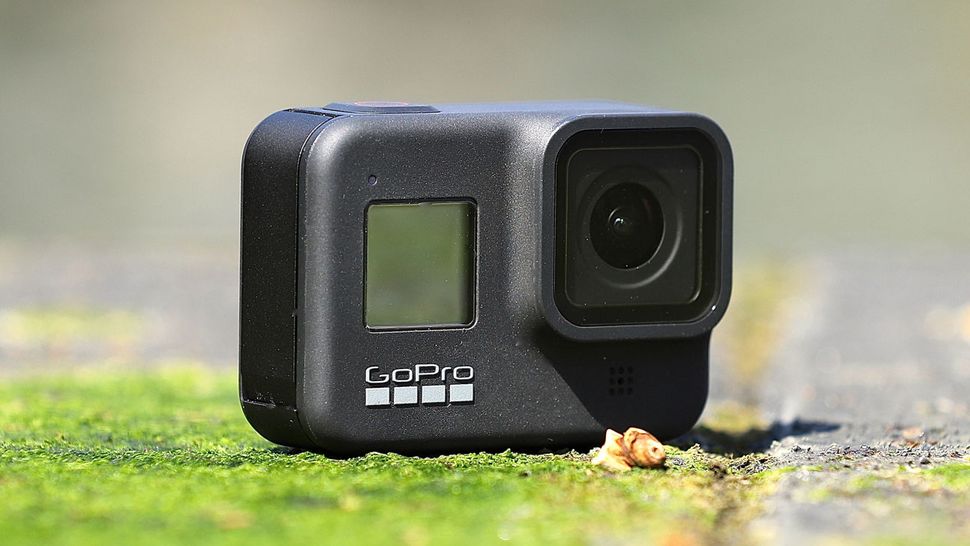 1. GoPro Hero 8 Black
The undisputed champ of action cams – made better with Mods
Weight: 126g | Waterproof: 10m | 4K video: Up to 60fps | 2.7K: Up to 120fps | 1080: up to 240fps | Stills resolution: 12MP | Battery life: 1-2hrs est
Supreme image stabilisation
New Media Mods add skills
Low-light performance needs work
Stills quality beaten by smartphones
Incremental though the upgrades might be, there's no disputing that the Hero8 Black is the best GoPro you can buy. More streamlined than the Hero 7 Black, the latest 4K flagship is twice as shockproof and ships with a new wind-resistant microphone and in-built foldable mount. HyperSmooth 2.0 stabilization is stunningly effective, while a raft of presets and shooting modes deliver remarkable results with minimal effort. Stills quality can't challenge the best smartphones and low-light processing could be better, but the sheer versatility of the Hero 8 Black – now with four digital zoom ranges – more than makes up for those limitations. Easy to use, the Hero 8 Black also packs a range of pro-friendly features: besides RAW output, accessory Mods introduce a new dimension of adaptability beyond the 2-inch touchscreen, from light rigs to mic arrays. The Hero 7 Black might trump it for sheer value, but in every other way this is the best GoPro ever made.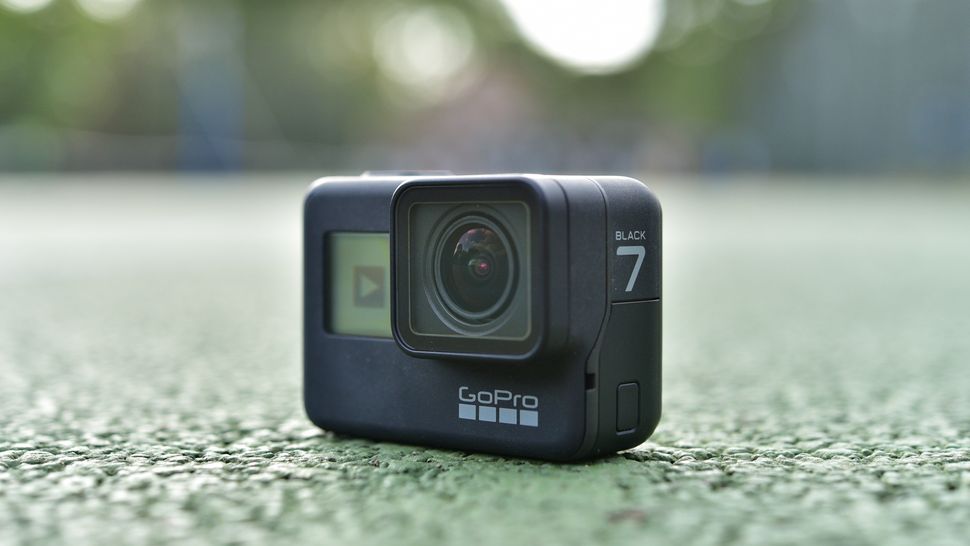 2. GoPro Hero 7 Black
No longer the king, but still action cam royalty
Weight: 118g | Waterproof: 10m | 4K video: Up to 60fps | 1080: up to 240fps | 720: up to 240fps | Stills resolution: 12MP | Battery life: 1-3hrs est
Great 4K video
Class-leading image stabilisation
Can struggle with voice commands
Screen can be unresponsive
It might have lost the hallowed top spot, but the Hero 7 Black remains one of the best action cameras in the business. In fact, if you can do without the Mods option offered by the Hero 8 Black, it might be the smarter – and certainly more affordable – buy. Its 4K footage is only fractionally inferior to its newer sibling, while the original HyperSmooth video image stabilization tech still impresses, serving up buttery smooth footage. Throw in 10-meter waterproofing, a 2-inch touchscreen, voice control and Raw output and you've got a GoPro that, even with its superior successor on the scene, is still well worth considering.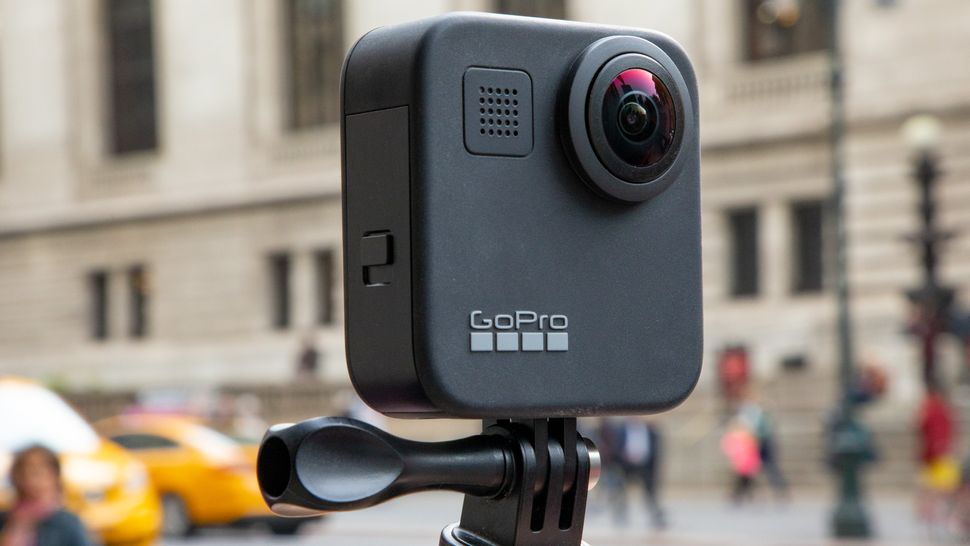 3. GoPro Max
A 360 action camera that's swell for capturing action in the round
Weight: 154g | Waterproof: 5m | 5.6K 360 video: Up to 30fps | 1440: Up to 60fps | 1080: Up to 60fps | Stills resolution: 16.6MP 360 | Battery life: 1hr est
5.6K 360-degree video
On-camera stitching
No slow-mo in 360 mode
Poor in low-light/underwater
Spherical video might sound like a gimmick, but the real benefit of software trickery from the likes of GoPro and Insta360 is being able to capture everything around you, then choose which traditional 'flat' frames you want to weave together into your final video. In other words, cameras like the GoPro Max let you capture an entire scene rather than one particular view of it – if that sounds up your street then, then the Max is the GoPro for you. On-camera stitching takes the pain out of processing, while editing tools in the partner apps make reframing footage a whole lot simpler. At 5.6K, video is nothing if not high-res, but there are limitations: because fisheye footage from the front-facing camera has to be flattened for 2D, the quality in this mode leaves something to be desired. Stitching can also become an issue in low-light conditions, while the 50-minute battery life limits how much you can shoot in 360. All the same, the GoPro Max makes it simple to capture striking and immersive shots – with 360 audio to match – that isn't possible on other GoPros, or most other action cams.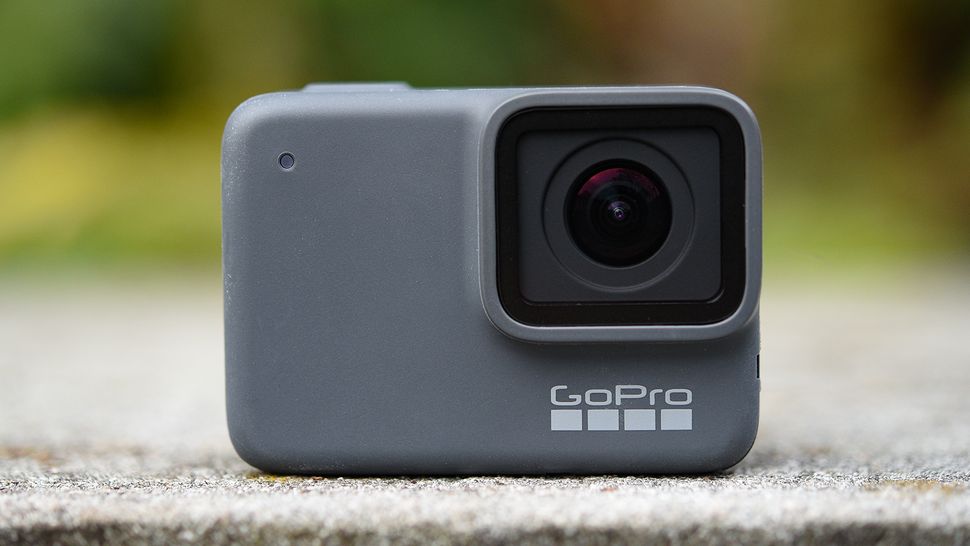 4. GoPro Hero 7 Silver
GoPro's mid-range marvel offers good value
Weight: 118g | Waterproof: 10m | 4K video: Up to 30fps | 1080: up to 60fps | 720: up to 60fps | Stills resolution: 10MP | Battery life: 1-3hrs est
Easy to use
Pleasing 4K video
Limited image capture control
Artefacts easily seen in images
The Hero 8 Black may now be top of the GoPro pile, but the Hero 7 Silver remains in the company's 2020 lineup, and with good reason. While it can't pull off as many fancy shooting tricks as its big brother (for example, HyperSmooth stabilization and TimeWarp timelapses), it still offers great value when you consider how much tech you still get. This includes stabilized 4K video recording, waterproofing down to 10m, together with a 2-inch touchscreen on the back and Voice Control that allows you to instruct the camera to perform almost all main functions without you raising a finger. A fine choice for first-time users.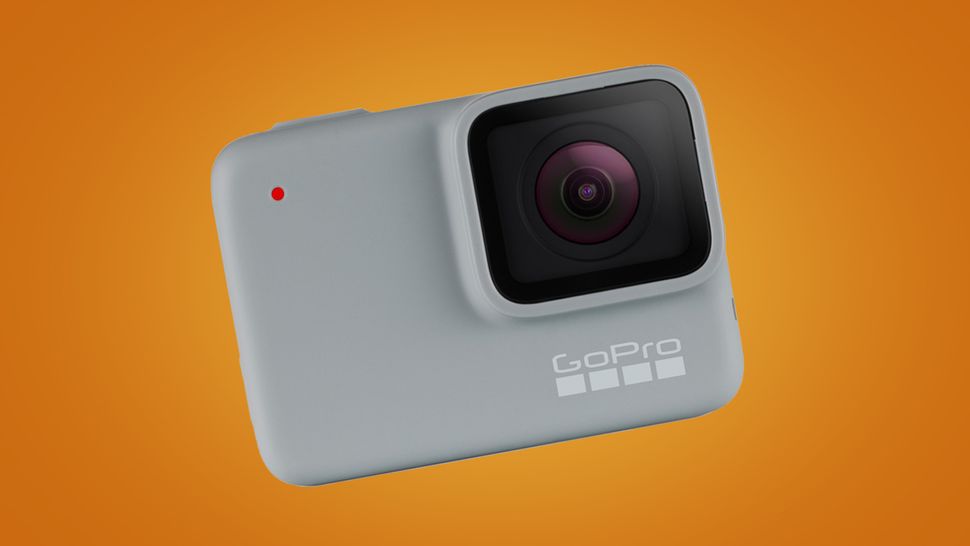 5. GoPro Hero 7 White
Officially discontinued, but one of the best bargain action cams around
Weight: 92g | Waterproof: 10m | 1440: Up to 60fps | 1080: Up to 60fps | Stills resolution: 10MP | Battery life: 1-3hrs est
Super simple to use
Now very good value
No 4K video
Non-removable battery
GoPro's entry-level Hero 7 White barely lasted a year before it was discontinued, but you can still find stock at even lower prices than its original launch price. Cheaper than both its Silver and Black siblings, it was never intended to be a flagship; rather, the Hero 7 White is all about nailing the action cam basics on a budget. There's no 4K, the battery isn't removable, the field of view is fixed and it doesn't have the HyperSmooth stabilization or fancier features of the other Hero 7 cameras (think TimeWarp, GPS or live-streaming). What it does offer, though, is high quality stabilized 1080p footage, a body that's waterproof down to 10 meters and a slick, easy interface that's a boon for beginners. If you're after an affordable, capable action cam that can deliver on quality with point-and-shoot simplicity, look no further.


6. GoPro Hero 6 Black
A former flagship that's available in good value bundle deals
Weight: 118g | Waterproof: 10m | 4K video: Up to 60fps | 1080: up to 240fps | 720: up to 240fps | Stills resolution: 12MP | Battery life: 1-3hrs est
4K at 60fps still looks good
Super slow-mo at 240fps
Stabilisation not as good as Hypersmooth
Controls can be tricky
If you're looking for a good-value GoPro that comes with handy accessories like spare batteries and a mini tripod, then it's well worth keeping an eye out for offers on the Hero 6 Black. Because this is an older model, it's often bundled together with accessories (sometimes in what's called the 'Black Holiday Club Bundle') for a very good price. Not that the camera itself is an afterthought – the Hero 6 Black doesn't have HyperSmooth stabilization, but it does have a precursor to that judder-reducing tech that remains very impressive. It also shoots 4K footage at 60fps, Raw stills and that same 2-inch touchscreen still found on the top models. Two other big bonuses over the newer Hero 7 Silver and White are the inclusion of ProTune – which lets you manually tweak your video settings to maximize quality in certain situations, like low light – and a removable battery, so you can swap in spare ones. Well worth a look if you need a versatile GoPro that comes with holiday-friendly accessories.

7. GoPro Hero 5 Black
A very affordable all-rounder, if you can find stock
Weight: 118g | Waterproof: 10m | 4K video: up to 30fps | 1080: up to 120fps | 720: up to 240fps | Stills resolution: 12MP | Battery life: 1-3hrs est
Easy to use
Great video quality
Eclipsed by newer models
IS not available at 4K/30fps
With the passing of time comes the inevitable descent from the top, but GoPro's Hero 5 Black – launched in 2016 – still deserves your attention, if you're in the market for an affordable action camera. While it can't shoot 4K at 60fps like the Hero 8 Black or offer the fantastic image stabilization of the latest models, most people should be plenty satisfied with the 4K 30fps footage the Hero5 Black captures. It's hardly short on features, either, with a 2-inch touchscreen, a waterproof rating of 10 meters without a case, voice control and GPS – all of which match the Hero 8 Black on paper. Like the Hero 6 Black, it also has a couple of handy features that you won't on the newer Hero 7 Silver or Hero 7 White – Protune manual controls, and a removable battery. So it's a great all-rounder of an action camera, with specs that should suit the needs and demands of most users, and all at a price that place it firmly in bargain territory. The only real issue is that it's not always easy to find brand new versions in stock.

Best GoPro accessories
Whether you're a professional videographer, photographer or simply someone enjoying the convenience of a small camera, GoPros have opened up new possibilities thanks to the help of innovative accessories. This means the market for accessories is huge, and the options available potentially more diverse than any other camera system. From camera mounts to lights to microphones to filters to 360° time-lapse and more, there are almost infinite ways to pimp your GoPro.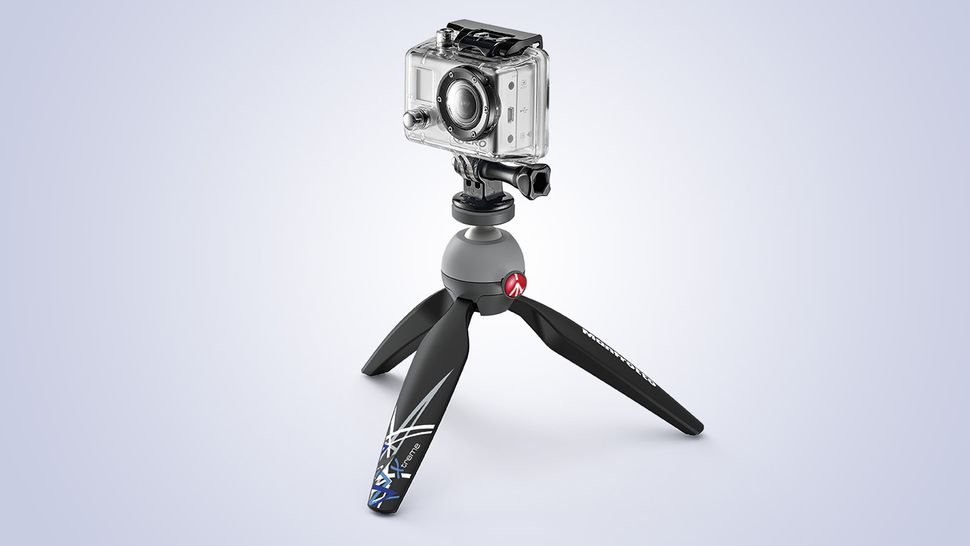 1. Manfrotto PIXI Xtreme Mini Tripod with head for GoPro cameras
Solid support in a small and lightweight package
Small and lightweight
Affordable price
Low maximum height
Single leg position
The Manfrotto PIXI Xtreme is a version of the popular mini tripod designed for use with GoPros thanks to the addition of a GoPro tripod mount adaptor. The PIXI Xtreme weights just 197g so you won't even know you're carrying it, and with a folded length of 21.5cm it will fit into almost any bag or even a pocket. The extended height of the tripod is 16.5cm, with simple ball head offering 360° rotation for positioning the camera. To get the height you need in some situations the PIXI Xtreme will need to be positioned on a wall or table.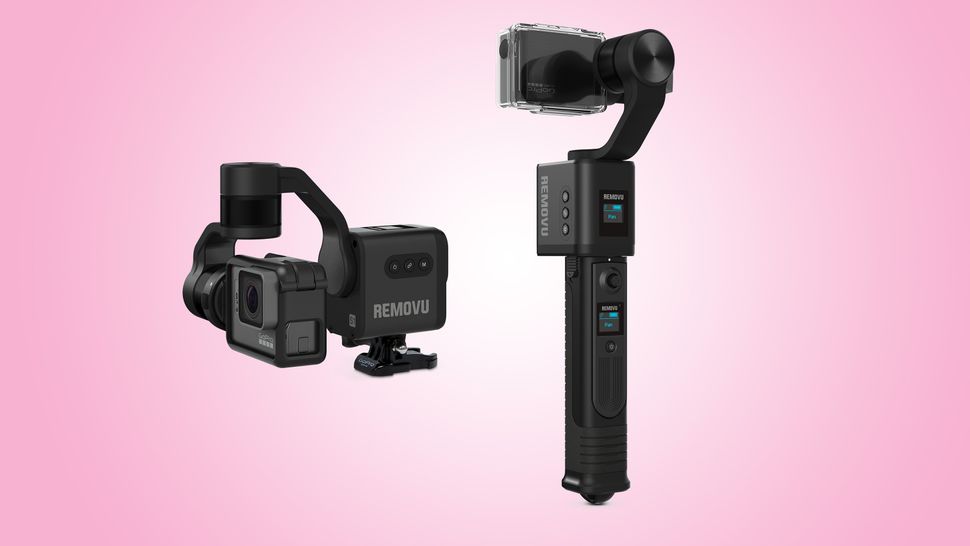 2. Removu S1
The world's first rainproof gimbal for GoPro cameras
Water resistant
Hand-held and mountable
Grip could be more comfy
No record button on grip
If you're fed-up getting shaky footage from your GoPro movies, you need a gimbal and the Removu S1 is a brilliant choice. The 3-axis stabilising gimbal is designed for use with GoPro's Hero3, Hero4, Hero5 action cams, as well as its Session cameras. Delivering super-smooth footage and offering three main control modes (Pan, Follow and Lock), the Removu S1 is also rainproof, so you can carry on using it when the elements turn against you. It features a detachable handgrip, a removable battery, wireless remote control and is fully compatible with the GoPro range of helmet, body and bike mounts.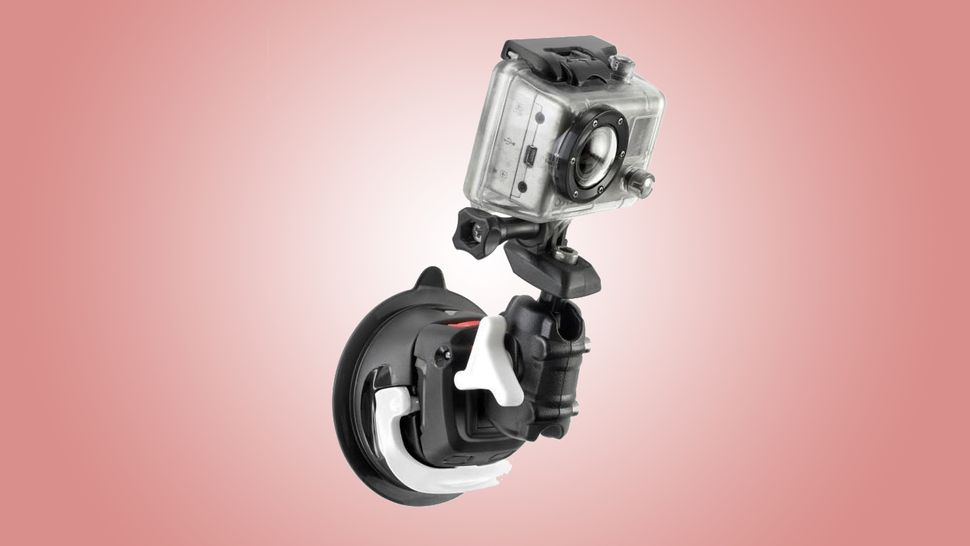 3. Rokk mini adjustable mount
A versatile and durable mounting system
Solid and versatile
Wide range of bases and plates
Quite bulky
Cheaper alternatives
One of the appeals of GoPro action cameras is that they can be mounted remotely. If you want a tough, durable and dependable system, then the Rokk Mini is a great option. At its core is this adjustable mount, which you can then attach a wide range of bases to, including this suction cup pictured here. We tried this combo when attaching a GoPro to the bodywork of a car, with the rigid hold of the cup securely holding the camera in place. To complete the system, you'll need to also invest in a top plate (there's a dedicated GoPro top plate).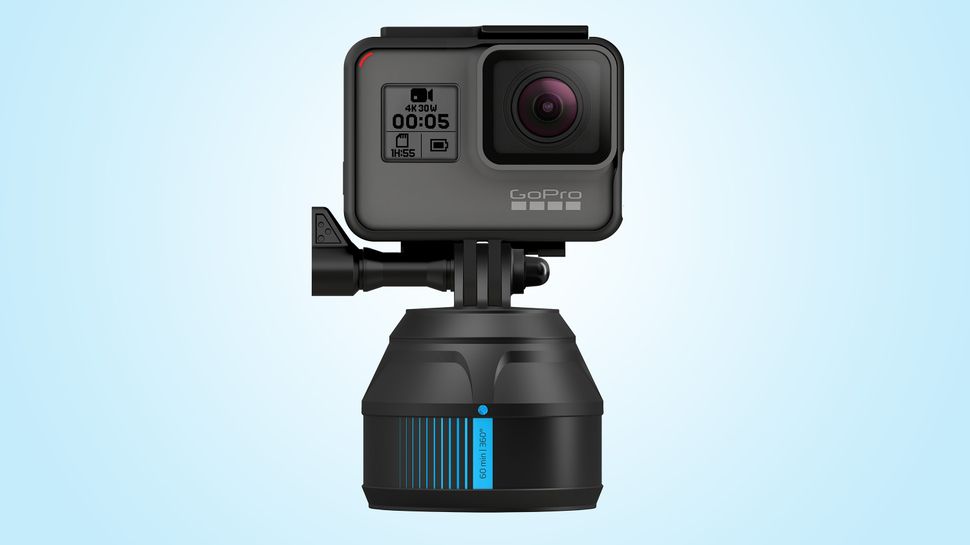 4. GoPole Scenelapse
Capture a 360° timelapse with unbelievable ease
Easy to use
Great effect
Limited controls
Best used with a tripod
With the fantastic options shooting timelapse stills and video with GoPro cameras, a simple way to create dynamic results is to make the camera rotate during shooting. The GoPole Scenelapse allows you to do just that, offering a rotation of 360° over the course of 60 minutes. Simply set up your GoPro, wind the unit and let it do its thing. The GoPole Scenelapse is fully mechanical so no batteries are required, and it features a standard tripod screw on the bottom allowing you to attach it to a mini or full size tripod. On the top is a removable GoPro mount with a high torque thumb screw, so you can attach your GoPro or even a small DSLR or mirrorless camera. The small and easy to use unit weighs just 85g/3oz and is compatible with all GoPro cameras.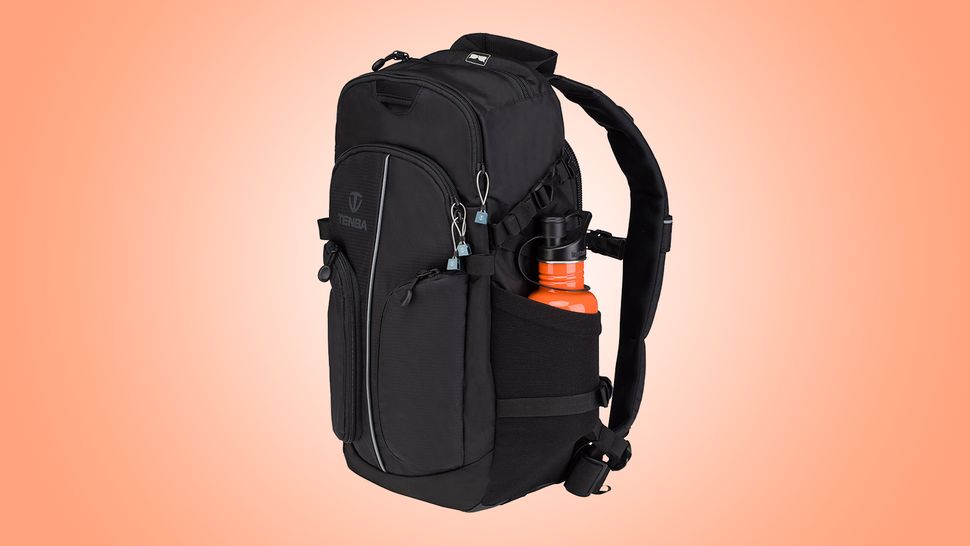 5. Tenba Shootout 14L ActionPack
Carry your GoPro gear in style with a dedicated backpack
Designed for action cameras
Rain cover included 
No space for a small DSLR or CSC
Limited space for non GoPro items
The Tenba Shootout 14L ActionPack is designed to allow you to comfortably carry a large GoPro system while you're participating in an action sport or simply exploring the city or countryside. At just 1.4kg the bag is lightweight and the padded straps with waist belt make it comfortable and secure. Inside the bag are four removable pods, and two wallets, so you can organise your kit and gain quick and easy access to exactly what you need. The capacity of the bag allows you to carry up to four GoPros, mounts, batteries, cables and other accessories etc. Plus there's enough room to carry a small hydration pouch and food. There's even a tripod attachment at the bottom of the bag large enough to accommodate a travel tripod.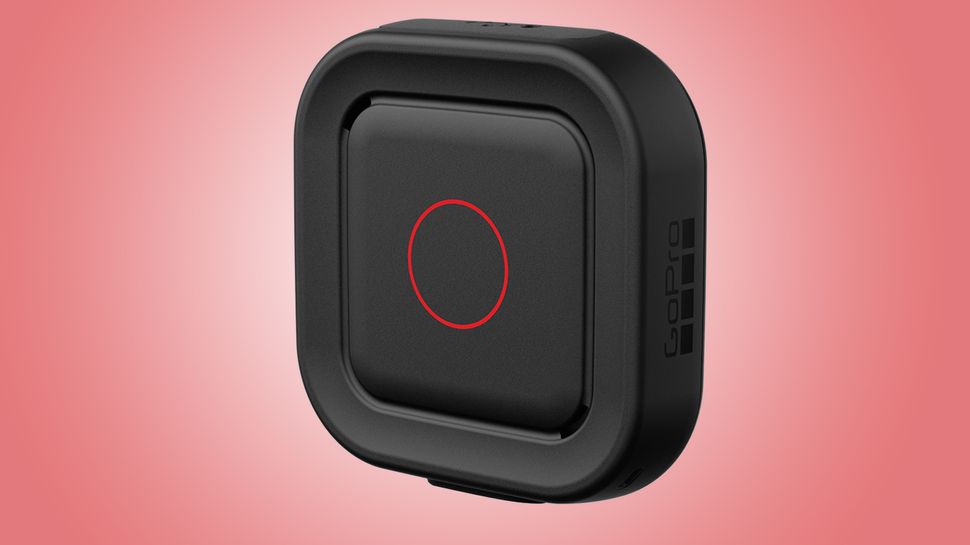 6. GoPro Remo
Voice activation at a distance from your GoPro
Voice activated remote
Small and convenient
No screen
Noise can affect voice control
The GoPro Remo is a waterproof (up to 5m/16ft) voice controlled remote for the Hero 5 Black and Hero 5 Session cameras. This means that while both cameras offer built-in voice activation, the Remo is said to improve voice activation in noisy conditions and allows you to activate the cameras from a short distance, or works as a one button remote from up to 10m/33ft away. The Remo comes with a strap allowing it to be worn on your wrist for convenience. It can also be clipped to clothing. With 13 commands available the Remo certainly adds convenience to shooting but it's not cheap for what it is. And unlike the older GoPro WiFi remote there's no screen so you rely on voice commands and scrolling through functions.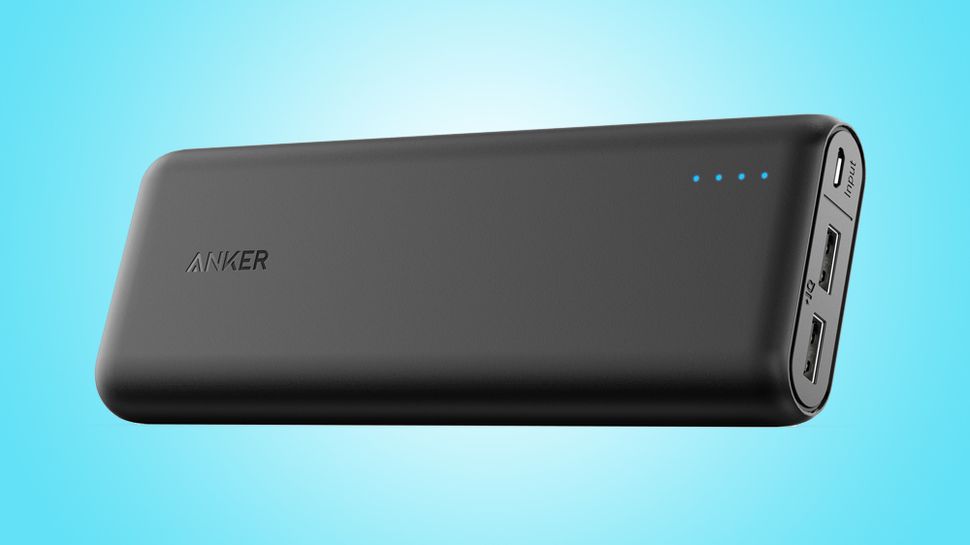 7. Anker Powercore 20100
A huge amount of power for a small price
High capacity battery
Can even charge MacBooks
Charging time can be slow
Not the most compact
One of the problems of travelling with a GoPro is that battery life is obviously finite. You can of course buy an extra battery or two, but if you're out in the field and away from a power outlet, charging can be difficult. Plus, if you're shooting a long time-lapse you can't change batteries part way through. While GoPro does manufacture its own portable power pack, the Anker Powercore 20100 provides a much higher capacity at a seriously low price in comparison. Anker claim the pack can charge smartphones up to seven times, and can even charge a MacBook using USB-C, so plenty of juice for GoPro cameras and you can even charge up to three devices at once! To ensure the safety of your devices the Powercore features smart-charging PowerIQ and current-stabilising VoltageBoost providing the fastest possible safe charge up to 2.4 A. Then there's surge protection and short circuit prevention.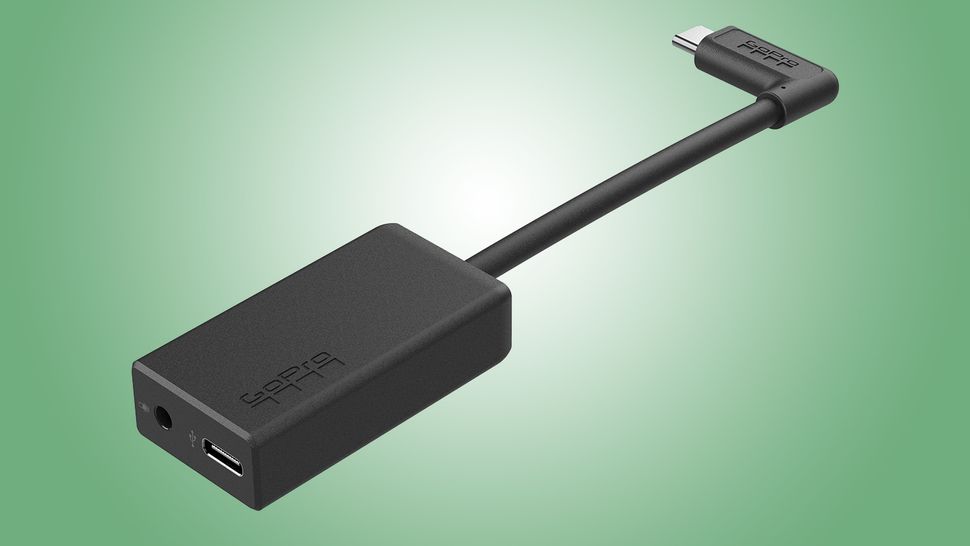 8. GoPro Pro 3.5mm microphone adapter
Use professional microphones with your GoPro
Improves sound quality massively
Creates a line input for mic or mixer
Bulky and awkward
Expensive for what it is
The GoPro Pro 3.5mm Microphone Adapter allows you to connect professional microphones with a 3.5mm jack to your Hero5 Black or Hero5 Session camera. This allows you to drastically improve sound compared to the camera's built-in microphone. So whether you want to use a lapel, condenser or shotgun mic etc. this is an essential accessory. The adaptor connects to GoPros via, and is powered by USB-C, allowing for stereo sound to be recorded. It also features a 106dB stereo analogue to digital converter. With the GoPro Pro 3.5mm Microphone Adapter in use the GoPro side door will be open so the camera will no longer be waterproof, but this accessory is geared more towards vlogging than capturing great action sound.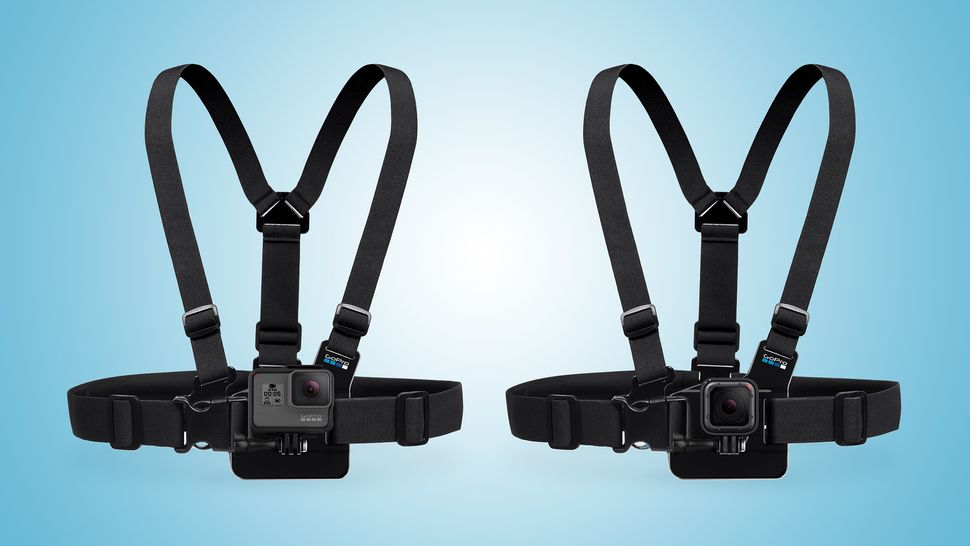 9. GoPro Chest Mount Harness
Get a completely immersive experience
Fully adjustable
Immersive experience
Need to turn whole body
Can pick-up unwanted wind noise
Whether you're skiing, mountain biking, white water rafting, or any other activity, GoPro's chest mount is a great piece of kit to not only capture the action. Fully adjustable to fit a wide range of adult sizes, the placement's great for getting some unique angled shots, though you will have to move your whole body to change the framing.