Best TV Buying Guide: TechRadar's guide to the best TVs on sale in 2018.
There's no worse feeling than staring down an aisle of TVs at Best Buy and thinking, "Huh, these all look good."
We know the feeling – it seems like every TV that has looks great with its brightness cranked up and colors beyond oversaturation. In places like this it can be really hard to tell which TV is really good and which ones ... well, aren't.
We understand money's tight, and you'd rather just have someone who's really tested TVs give you the insider knowledge you need to make the perfect pick.
The good news? You've come to the right place.
Some screens really do outperform others, offering better contrast, higher clarity and new technologies like Wide Color Gamut (WCG) and High Dynamic Range (HDR) that will dramatically improve your TV watching experience.
We've tested them for ourselves and can now say with utter certainty which screens you should buy and which ones you should avoid. Our picks are listed below from the best-of-the-best to the still-fantastic – and unlike perusing the TV aisle at Best Buy, you can't go wrong with any of them.
"So, should I buy a TV now or wait it out?"
This is a question we get a lot. Like most technology (cough, iPhones) TVs are getting incrementally better all the time – which means, yes, if you wait a year there will probably be a bigger, flashier TV out there for less money.
But while doing so will certainly net you a larger screen at a better price, some of the best panels are already being manufactured today. While tomorrow's screens might be a bit larger, a bit brighter and a bit cheaper, today's screens are just as competent in their own right.
We can say that with confidence knowing that most manufacturers have finally embraced the three most important standards in TVs: Ultra HD , Wide Color Gamut and HDR (HDR10 and, if you're lucky, Dolby Vision). If a TV you're looking at doesn't support at least one of these, you should probably look somewhere else.
Not sure where to start? Here are the best TVs we tested this year.
1. Samsung Q9FN QLED (2018)
The best TV ever? Could be!
65-inch: Samsung QE65Q9FN
Spectacular HDR picture quality
Powerful, well-rounded sound
Good smart system
Limited viewing angles
Editor's Choice
After an underwhelming debut, Samsung's QLED technology really needed to bounce back in style in 2018. It didn't surprise us in the least, then, to discover Samsung threw the kitchen sink in with its new Q9FN QLED Series of TVs.
As well as being even brighter and more colorful than last year's equivalent model, Samsung's 2018 flagship screens use a completely different lighting system to combat its predecessor's contrast problems: Full Array Local Dimming rather than edge-lit LED lighting. The FALD panel works in tandem with Samsung QLED Quantum Dots to produce a picture that's brighter and more colorful than near any we've seen come from the South Korean manufacturer.
Do those features alone make Samsung Q9FN the best TV on the market? No, but throw in technology like HDR10+ and Q HDR EliteMax – what Samsung bills as its maximum High Dynamic Range experience that's exclusive to the Q9FN – and there's very little doubt in our mind that this is Samsung's best TV ever.
Read the full review: Samsung Q9FN QLED TV (65Q9FN)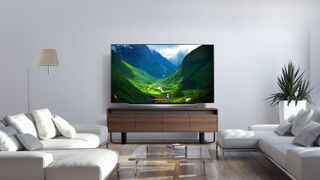 2. LG C8 OLED Series (2018)
LG sets a new standard with its 2018 OLED range
55-inch: LG OLED55C8 | 65-inch: LG OLED65C8
Superb picture quality
Comprehensive features
Highly effective smart platform
Limited peak brightness for HDR
No HDR10+ support
At the top of our list for 2018 is the LG C8 OLED – available in both 55 and 65-inch iterations. It's here because it combines an impressive picture, an extensive set of features, an attractive design and its unrivaled smart platform, to deliver one of the best TVs we have seen to date. It's not as bright as an LCD TV but those deep blacks make a huge difference to the dynamic range of the image. It's also capable of vibrant and gorgeous colors, not to mention an astounding level of detail with native 4K content.
There are other OLEDs worth considering this year (see: Sony's A1E and A8F OLED or LG's own E8 and W8 OLED models) but we think the OLED C7 offers the best price-to-performance ratio of any TV under the sun in the year 2018.
Read the full review: LG OLED C8 (OLED55C8, OLED65C8)


3. Sony XBR-Z9D Series (2016)
An LCD-LED TV for the history books
65-inch: Sony XBR-65Z9D | 75-inch: Sony XBR-75Z9D | 100-inch: Sony XBR-100Z9D
Stunning HDR picture quality
Ground-breaking backlight
Android TV feels sluggish
Pretty average audio
From the moment we laid eyes on the the XBR-65Z9D we've been desperate to get our hands on one. It is, hands down, the holy grail of television for 2018: a TV able to combine the extreme, high dynamic range-friendly brightness of LCD technology with a backlight arrangement capable of getting LCD closer than ever before to the stunning light control you get with OLED technology.
This backlight arrangement comprises more than 600 LEDs that sit behind the 65Z9D's screen that are capable of outputting their own light levels independently of their neighbors. This should enable the TV to produce more of the extremes of light and shade associated with new high dynamic range (HDR) technology while suffering less than other LCD TVs with distracting clouds, stripes or halos of unwanted, extraneous light.
As if this wasn't already attraction enough, the 65Z9D also sports Sony's new 'X1 Extreme' video processing system and the latest version of Sony's reliable Triluminos wide color technology for unlocking the extended color spectrums associated with HDR sources.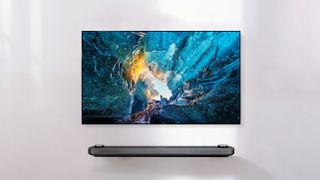 4. LG Signature Series W7 OLED (2017)
LG's W7 OLED is thinner than your smartphone
65-inch: LG 65W7OLED | 77-inch: LG 77W7OLED
Insanely slim design
Color, clarity and contrast
Future-proof HDR
Motion issues with TruMotion
The LG W7 OLED is truly something special. Not only is it one of the thinnest TVs to ever grace our vision (it's 2.75mm thin), but it's also one of the most gorgeous. When fed the right kind of content – in this case, 4K HDR10 or Dolby Vision video – it truly shines. A super-slim design alone wouldn't have been enough to warrant the extra cost to upgrade to LG's latest panel. But the thin frame on top of a Dolby Atmos soundbar on top of four types of HDR support on top of the magnetic mounting system on top of the new webOS 3.5 operating system surely did the trick. This incredibly gorgeous TV isn't without its faults (see: motion handling, its sticker price and soundbar issues), but in terms of sheer picture performance there's nothing else like it right now.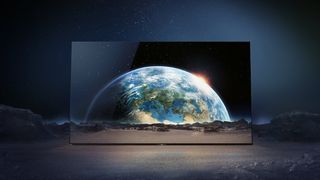 5. Sony Bravia A1E OLED (2017)
Sony's triumphant return to OLED is still one of its best
65-inch: Sony Bravia 65A1E | 55-inch: Sony Bravia 55A1E
Gorgeous picture quality
Startling, monolithic design
Innovative and excellent sound
It's not very bright
If LG's OLED isn't your thing, spend some time checking out Sony's new OLED.
The 55A1 – and the A1 OLED series overall – are crowd pleasers in just about every way. Their 'picture only' design has been beautifully realized, managing to be simultaneously subtle and dramatic. Their vibrating screen delivers a far more powerful and effective sound performance than I'd thought possible, too. The real stars of the show here, though, are the A1's exquisitely detailed, contrast-rich and colorful pictures. These prove emphatically what we've long suspected: More brands using OLED technology can only lead to good things.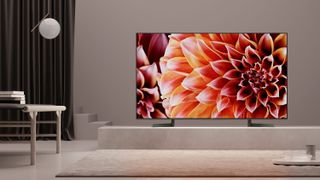 6. Sony Bravia X900F Series (2018)
This is the HDR flatscreen we've all been waiting for
65-inch: Sony Bravia X900F
Direct LED with local dimming
Excellent motion handling
Unfussy but elegant design
HDR is a bit dim
OK, so you don't want (or can't afford) Sony's new A1E OLED or the fantastic-but-pricey ZD9. So what should you buy? Check out the X900E series. With superb 4K image clarity, powerful SDR-to-HDR remastering, and a smooth direct LED backlight, Sony is offering something very different with the X900F. We loved the consistency of its images, the eye-popping vibrancy of its wide color gamut panel and its easy-to-watch HDR – you get spectral highlights without accompanying eye fatigue.
Given this set's high-but-fair price point, any niggles we have are negligible. The X900F is highly recommended and deserved our Recomendded award.
Read the full review: Sony Bravia X900F (XBR-65X900F) review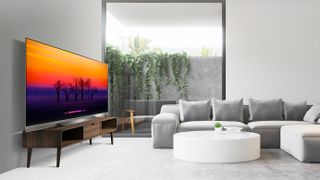 7. LG E8 OLED Series (2018)
A tiny processor makes a huge difference to the OLED range
55-inch: LG OLED55E8 | 65-inch: LG OLED65E8
Awesome picture quality
Opulent and beautiful design
Excellent operating system
Occasional picture noise
Lacks brightness vs LCD
Having potentially pushed the hardware capabilities of its current OLED screen technology as far as they can go, LG has for 2018 turned its attention to the software that drives these screens - and this shift in focus has yielded surprisingly impressive results, improving and even removing many of the residual niggles associated with 2017's already in truth outstanding OLED sets.
The OLED65E8 loses a bit of ground sonically from its predecessor, and there's some stiff competition this year from Samsung's new Q9FN flagship LCD TV, but all the growing legions of OLED fans will probably need to hear is that the OLED65E8 is comfortably the best OLED TV LG has ever made.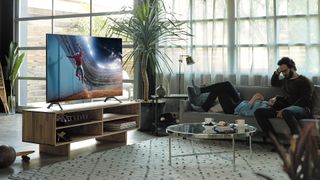 8. Samsung Q8FN QLED TV (2018)
Samsung's 2018 QLED TVs continue to impress
55-inch: Samsung QN55Q8FN | 65-inch: Samsung QN65Q8FN
Extremely bright HDR pictures
Exceptional contrast
Good smart TV system
Limited viewing angle
Some mild backlight blooming
Although it's clearly a step down from Samsung's all-conquering Q9FN, the Q8FN is still a fantastic TV. Phenomenally bright, colorful and ultra sharp - it has all the right stuff for getting huge impact from today's cutting edge picture sources.
Worth calling attention to, this is a fantastic TV for HDR content as its direct lighting system manages to produce a whopping 2,100 measured nits of light from a 10% white HDR window. This sort of brightness is unparalleled for the TV's price point, and ensures that it delivers the upper extremes of HDR's extended brightness range with spectacular effectiveness and punch.
So why isn't it higher on our list? If you watch the TV from an angle, color saturations reduce, and backlight blooming becomes much more noticeable. Second, Samsung's Auto motion processing system is a bit over aggressive, causing too many distracting side effects for comfort. Happily the image isn't too juddery if you prefer - as we did - to generally leave the motion processing off.
Also, by Samsung's usually high standards, the Q8FN is something of a plain Jane. It's deeper than most TVs round the back, it sits on two fairly basic feet rather than a swanky, centrally mounted stand, and all of its connections appear on the TV rather than on a separate connections box.
These are minor issues, obviously, and the picture quality is still top notch for an LED-LCD screen. But they do keep the Q8FN in the #8 spot on our list.
Read the full review: Samsung Q8FN QLED TV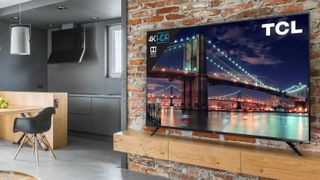 9. TCL 6-Series (R615, R617) (2018)
An exceptional 4K HDR TV for the budget-minded buyer
55-inch: TCL 55R617
Bright, colorful HDR
Supports Dolby Vision
Roku TV is amazing
Loss of darker details
Limited motion settings
If you had deep pockets and checkbook filled with blank checks, we'd tell you to reach deep and shell out for only the best TVs on the market - LG's crazy-thin OLED W8 or Samsung's ultra-bright Q9FN QLED (both featured on this list). But that's not realistic. For the vast, vast majority of us, our budget to spend on a TV is limited to somewhere under $1,000 - and often less than that.
To that end, it's absolutely fair to say that the TCL 6-Series is the best TV you can possibly get in this price range. Its performance per dollar is unmatched and its picture quality - despite a few minor flaws - will truly impress you.
Read the full review: TCL 6-Series (R615, R617)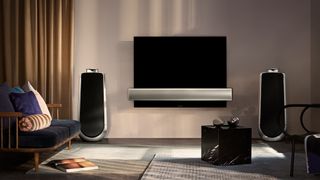 10. Bang & Olufsen BeoVision Eclipse
Great looks. Great sound. Beautiful design. But only worth buying if you've got money to burn
Outstanding picture quality
Dolby Vision HDR support
Rather reflective screen
Limited effective viewing angle
The B&O BeoVision Eclipse is the full package. It's smart, its picture looks awesome, and the sound-quality is stunning. But then there's the price - $9,995, and that's for the 55-inch model and doesn't include the floor mount. If you go for the larger, 65-inch model, and want the floor mount, you're looking at $15,595.
So should you buy it? Well, if you're absolutely loaded, and want a TV that looks and sounds great, plus it fits in your ultra-modern home setup, then it's not a bad option. If you're willing to put a little more time into your setup, however, you may be better served simply buying an LG OLED TV and a dedicated surround sound system.
Read the full review: Bang & Olufsen BeoVision Eclipse
Continue on to page two to read about what to look for when buying a TV!
Want better audio? Check out our guide to the best soundbars available.