What about more affordable TV options?
We realise that the best TV isn't always something most people can afford – that's why we've put together a list of the best cheap 4K TV deals in Australia. Whether you're after a small or large telly, you're likely to find a suitable option for your budget.
2022 is under way, but many of last year's models should still be considered the best TVs of 2022. So far, we've seen massive discounts on last year's top models, and in the coming months we expect to see a slew of new TVs from Sony, LG, Samsung, Hisense and TCL. Before long, those same tellies will start progressively cheaper as we lead into the second half of the year.
We've seen some fantastic new TVs out of CES 2022, but if you can't wait a few more months until new models arrive, there are plenty of amazing TVs from last year that are still well-worth buying – often at significantly reduced prices.
Below you'll find a list of TVs that we can wholeheartedly recommend to Aussies. That includes sets from the likes of Hisense, which offers great performance at a really good price, and high-end options like QLED TVs from Samsung and OLEDs from LG.
Best TV at a glance:
Samsung QN900A Neo QLED 8K TV
LG C1 OLED Series
Sony Bravia A90J
Sony Bravia X90J
LG Gallery Series OLED
Samsung QN90A Neo QLED 4K TV
Hisense U80G ULED 8K TV
Sony Bravia X900H Series
When it goes on sale in May, the Samsung QN900A Neo QLED 8K TV will usher in a new era of television technology. Samsung's Mini LED-sporting QN900A Neo QLED 8K TV offers stunning picture quality, exceptional color and brightness, terrific sound and outstanding blacks – all in a package that's unmatched in terms of design.
For the uninitiated, Samsung's 'Quantum' Mini LEDs are 1/40th the thickness of a regular LED, meaning thousands of smaller LEDs can be packed together in a much tighter fashion, allowing for far more accurate dimming zones and black levels that are practically indistinguishable from an OLED.
As the LEDs are far smaller, they're able to achieve far more precision and less blooming, so the act of seeing bright areas of the screen unnaturally bleed over into darker spots should be greatly reduced or not evident at all.
And because it takes advantage of Samsung's Multi-Intelligence AI upscaling, the QN900A is consistently able to produce images that looked better than their source.
Not only does the Samsung QN900A Neo QLED 8K TV offer the latest HDMI 2.1 and eARC features, it's also ideal for gamers who've recently invested in a next-gen console or beastly gaming PC thanks to support for 4K/120fps or 8K/60fps gameplay via HDMI 2.1, Game Motion Plus and AMD FreeSync Premium Pro.
In 2021 it was the flagship 8K TV to beat, and we expect it will hold up well in 2022.
Read the full review: Samsung QN900A Neo QLED 8K TV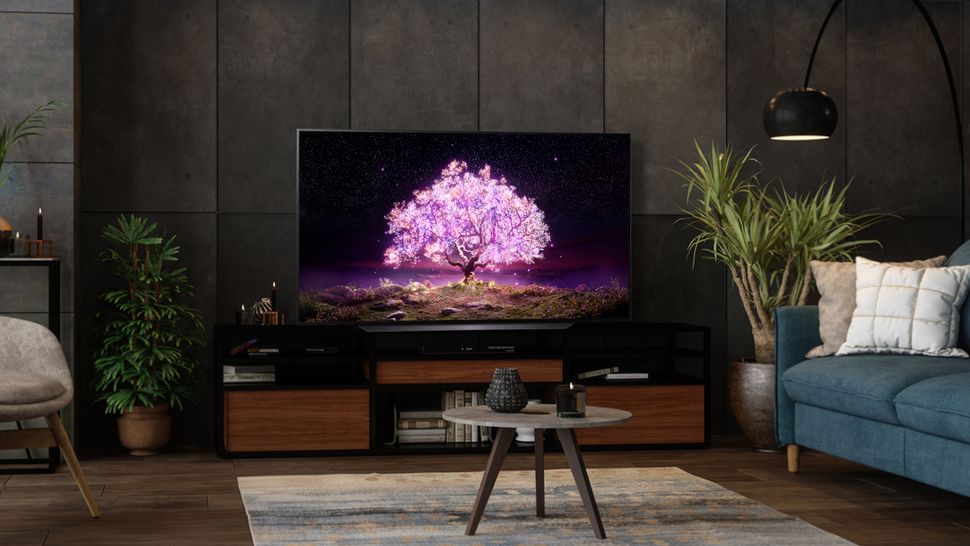 LG has made a number of small tweaks to last year's CX model: It's now using LG's Alpha a9 Gen. 4 processor for better upscaling and virtual surround sound audio, and with four separate HDMI 2.1 ports, it's ready for the PS5, Xbox Series X, Xbox Series S, and whatever next-gen consoles can throw at it.
Gamers will also appreciate the new Game Optimiser menu that gives you the option to quickly adjust brightness, contrast and VRR on the fly.
The LG C1 isn't flawless, as we did encounter issues around how the new Alpha a9 Gen. 4 upscales faces, and how reflective the all-glass screen is in the daylight, but the issues are few and far between.
There are, of course, higher resolution flatscreen TVs out there right now like the Samsung QN900A, which offers 8K resolution, and the new LG G1 Gallery Series that uses the coveted OLED evo panels that offer better brightness. However, we feel that the LG C1 OLED offers a near-unbeatable blend of price and performance and should be high up on your list of the best televisions TVs to buy in 2022 until the new models arrive.
Read the full review: LG C1 OLED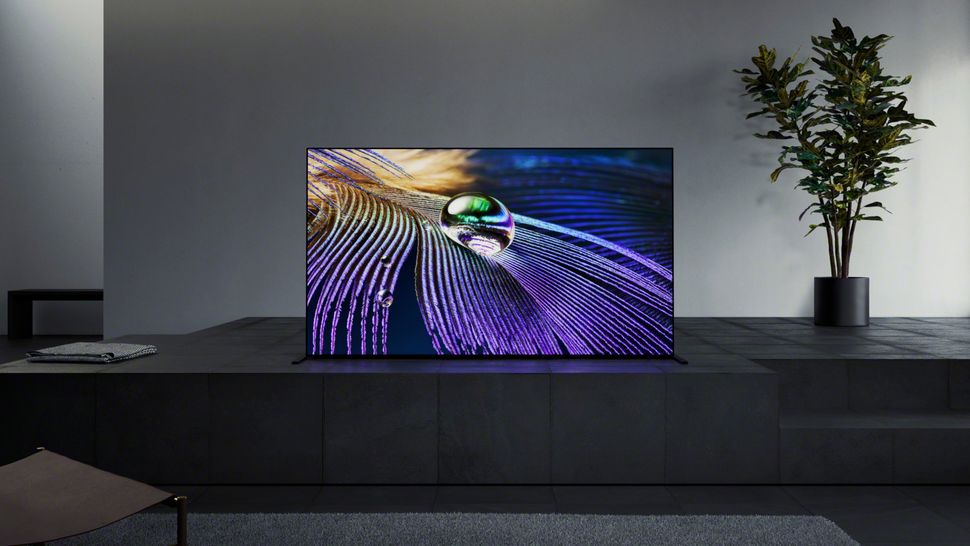 Sony hasn't held back in pricing the new A90J 4K HDR OLED TV, but we believe the performance does justify the hefty price tag.
Picture quality, from any source, is about as good as it currently gets from any 4K screen. In every meaningful department – motion control, contrast, edge definition, detail levels, you name it. For those moments when you're reduced to watching sub-4K content, it's great at upscaling, too.
The Sony A90J OLED is more than a few steps ahead when it comes to sound quality. Using the entire surface of the screen as a speaker is still novel and effective, and backing it up with two conventional bass drivers means the A90J sounds fuller, more direct and just, well, better than any alternative that doesn't feature an off-board sound system.
That combination of high-end picture quality and sound smarts – with the option to use the screen as the centre speaker in a larger sound system – makes it shoe-in for a home cinema centrepiece. You can also adjust the A90J's feet to accommodate a soundbar, while the remote is fantastically designed too.
Read the full review: Sony A90J OLED TV review

There's little doubt in our mind that, for gamers, the new Sony X90J is one of the best televisions out there.
It has excellent image quality, thanks in part to a new Cognitive XR processor rolled out to Sony's top sets last year, making for excellent upscaling and contrast control. The X90J also sports the new Google TV smart platform, for easy setup and broad app support as well as the perks of Google Cast from Android devices. There's Dolby Vision HDR and Dolby Atmos audio packed in too.
When it comes to gaming, the X90J has a 120Hz panel with 4K resolution and two full-spec HDMI 2.1 ports for your Xbox Series X and PS5, with VRR (variable refresh rate) and ALLM (auto low latency mode, for sub-10ms lag) to really up your gaming experience. Just be sure to head into the picture settings and switch on 'Enhanced format' for your selected HDMI port, otherwise you won't get the benefit of its 2.1 specification.
There are still a few lingering issues, including middling off-axis viewing and struggles with direct daylight – and the X90J will no doubt be beaten by the capabilities of its step-up X95J model for a small uptick in cost. Still, the Sony X90J succeeds in delivering stellar performance for a reasonable price.
Read the full review: Sony X90J 4K TV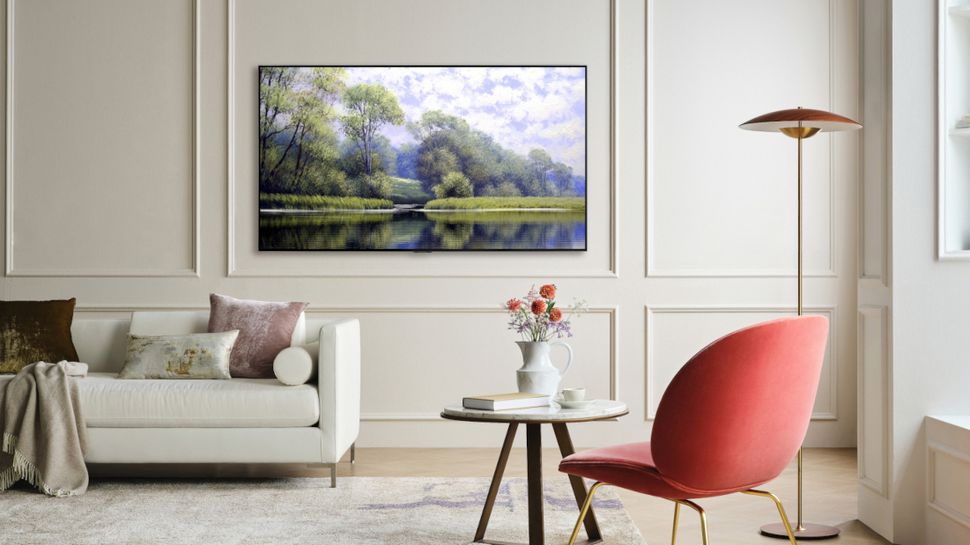 After a flatscreen TV that's a bit more stylish? The LG G1 OLED is a knockout television that builds on the sleek design of last year's Gallery Series OLED and somehow makes it better.
The real hero here is LG's new OLED evo technology, which updates the panel structure to eke out even more brightness – without increasing blooming effects or, we're told, the chance of burn-in. The LG G1 looks to be a real revolution for the OLED TV maker, then, and certainly offers an upgrade over the cheaper LG C1 OLED – unlike last year, when the CX and GX models were worlds apart in price but effectively offered the same picture performance.
It's an expensive set, and the Dolby Atmos sound system isn't the best for bass – something that will effect all the other LG OLEDs in this guide. But the breathtakingly slim design makes it a real centerpiece television, with the contrast and color benefits of OLED pushed to new, lighting-enhanced heights. The new a9 Gen 4 AI processor is even more capable of smartly upscaling and processing onscreen objects, too, with motion processing in particular getting an upgrade.
Watch out though: the G1 is really designed to be wall-mounted, and it won't come with a TV stand or feet out of the box. You can buy a floorstanding Gallery Stand alongside, or find a third-party solution for placing on a counter, though.
Read more: LG G1 OLED TV review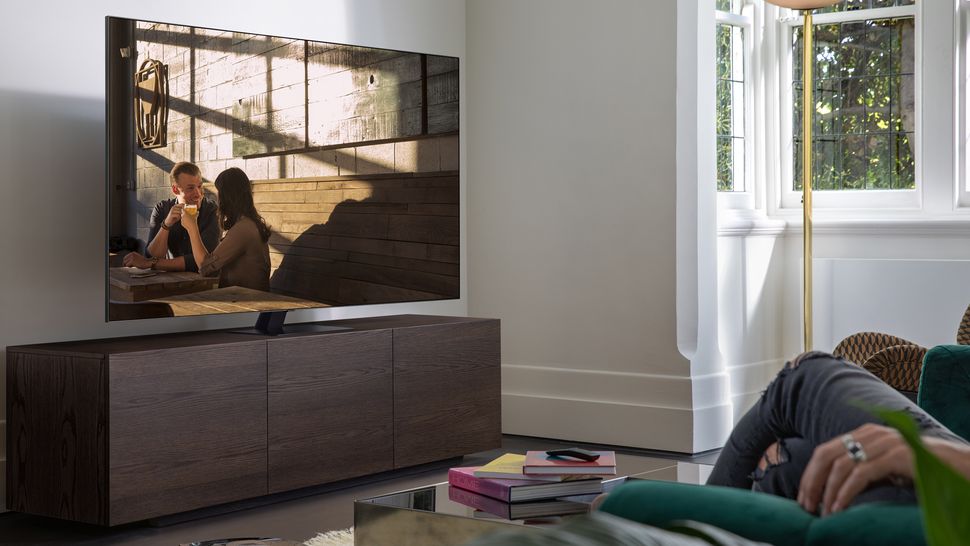 The Samsung QN90A is one of the first 4K screens in 2021 to use the company's hyped-up Neo QLED panels that sport a higher count of light emitting diodes per square inch than previous generations. The result is a brighter TV than before, if that's even possible with Samsung, and one that can display a deeply satisfying array of colors.
All Neo QLED TVs sport the higher-end Neo Quantum Processor 4K that uses a neural network to analyze images for better HD upscaling and Motion Xcelerator Turbo+ for better motion handling – all of which has really paid off for Samsung's flagship screen.
That said, there are a few looming issues this year that we can't ignore, like the slight wobble of the pedestal stand, or the surprisingly lackluster sound quality that doesn't befit a flagship 4K TV. There's also no support for Dolby Vision still, which means you're stuck with HDR10 on Netflix and HDR10+ elsewhere.
That's not a deal-breaker, but it does lower Samsung's 2021 4K flagship QLED TV to the number seven spot on our best TV list.
Read the full review: Samsung QN90A Neo QLED TV

After a few image scrambling problems on previous televisions, Hisense's flagship U80G ULED 8K TV delivers exceptionally smooth motion and picture quality without any processing woes.
Hisense's 75-inch U80G ULED is the Chinese company's first 8K television, and what a great debut it is. The television offers everything you would expect from a high-end model in 2021, including HDMI 2.1 and eARC support, built-in voice assistant functionality and excellent upscaling.
It's worth nothing that while Hisense's messaging around the 4K U8G has recently been updated due to its half-hearted HDMI 2.1 'partial compliance', the 8K U80G discussed here does offer full HDMI 2.1 support for two of its inputs (HDMI 3 and HDMI 4, to be precise).
Although the U80G ULED can't quite deliver the astonishing black levels of Hisense's own Dual Cell TV, or of the latest OLED and Mini LED panels, it does still achieve impressively deep blacks thanks to a full array local dimming system.
Another thing we love about the U80G is Hisense chose to use a more universal smart TV interface in Google's Android TV platform, rather than its own VIDAA OS, meaning users no longer have to miss out on any popular streaming apps, such as Disney Plus and Apple TV Plus.
Android TV also brings full support for Google Assistant, allowing you to simply ask your television for information which is then read back to you and also displayed on-screen.
If there's one downside to the U80G, it's that its speakers are just okay, not quite living up to the high standard set by Hisense's recent Dual Cell TV, which boasted a built-in soundbar and additional wireless subwoofer. That said, the U80G ULED marks a terrific 8K TV debut for Hisense – one which is quite reasonably priced for its category.
Read the full review: Hisense U80G ULED 8K TV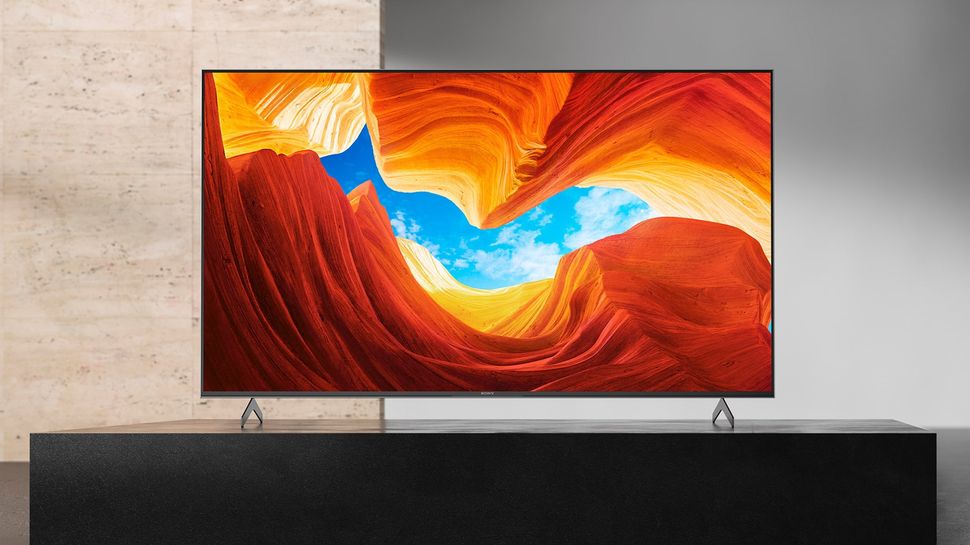 Sony's X900H Series does everything it sets out to do, and in some style. Its picture quality is quite startling in the right circumstances, its sound is more than adequate by prevailing standards, it's simple to use and it doesn't turn its nose up at content of inferior resolution.
The panel itself is a VA-type LCD, which in broad terms has to be considered an upgrade on the IPS edge-lit panel Sony deployed on last year's equivalent model. The higher brightness, greater color volume and improved screen uniformity promised by a full array VA panel ought to more than make up for the rather more restricted viewing angle when compared to IPS. It's noting, too, the X900H doesn't feature the X-Wide viewing angle technology Sony's flagship X950H range is toting.
In short, there's more than enough going on here to make you overlook the lack of HDR10+ and forgive Android TV its overconfidence. If you've this sort of money to spend on a TV of this sort of size, you absolutely have to audition it.
Read the full review: Sony X900H Series

Continue on to page two to read about what to look for when buying a TV!
Thinking of insuring your TV?
If you've just bought a new 4K or 8K telly for a hefty four-figure price tag, you might be wondering how best to keep that investment safe from damage or theft. You can protect against those scenarios with good contents insurance – to compare contents insurance in Australia, head to our sister site Mozo.com.au.