Last year produced some of the best TVs we've ever seen. Samsung, LG, Panasonic, Sony and more all vied to claim the top stop in home entertainment – and that's great, but it makes buying a bit difficult. With so much choice, how do you narrow down the best TV you can buy in 2022?
It's a tough task, because this is a fiercely competitive and fast-moving market. The likes of Samsung and LG announced major display upgrades at CES 2022, meaning more top TVs are just around the corner. And even without brand new releases and the prospect of 16K TVs on the far horizon, there's still the question of whether to get 4K or 8K before you even start to narrow down the list.
Buying a new TV can be a bit overwhelming, and that's why we've put together this authoritative guide. We'll help walk you through the best televisions currently on the market for any room and for any kind of viewing. That means we'll be focusing on all-round excellence; if you're looking for very high performance gaming TVs, we'd suggest you also check out our best gaming TVs guide.
We've tested a huge variety of the best smart TVs, from budget and mid-range to premium options. So no matter what you want to spend, what you want to watch and where you want to watch it, you should find the best TV for you right here.
Best TV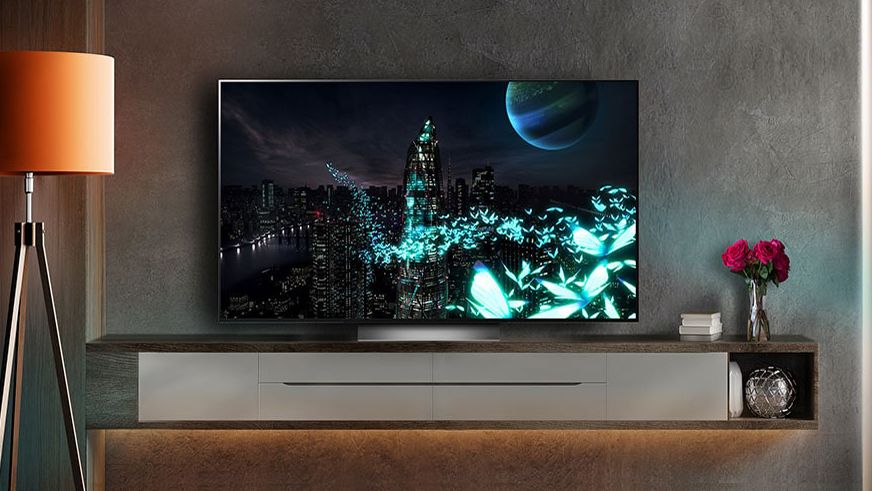 The LG C2 OLED reclaims LG's top spot on our list of the best TVs in 2022. That's due to a number of improvements LG has made to this year's model compared to the LG C1 OLED.
Those improvements include the new Alpha a9 Gen 5 processor, which is designed to offer better object enhancement and dynamic tone mapping than its predecessor. As well as that, you're getting 'virtual surround sound', with the TV upscaling stereo content into 7.1.2-channel sound. While we weren't convinced that the results were akin to genuine surround, we did find that the audio performance is good for a flatscreen TV. There are several different sound modes so you should be able to find an audio profile that suits your needs.
The C2 OLED has the same four separate HDMI 2.1 ports as the C1 OLED, meaning it's a great companion for the PS5, Xbox Series X and Xbox Series S.
The LG C2 isn't flawless, however. We found that off-axis color saturation diminishes a bit when you move to the left or right of the screen, especially compared to the new QD-OLED models. And LG doesn't support either the IMAX Enhanced or HDR10+ format.
There are, of course, higher resolution flatscreen TVs out there right now like the Samsung QN900B, which offers 8K resolution, and the new upgraded LG G2 OLED that has a slightly higher peak brightness. But for the price, this is the absolute best TV you're able to buy in 2022.
Read the full LG C2 OLED review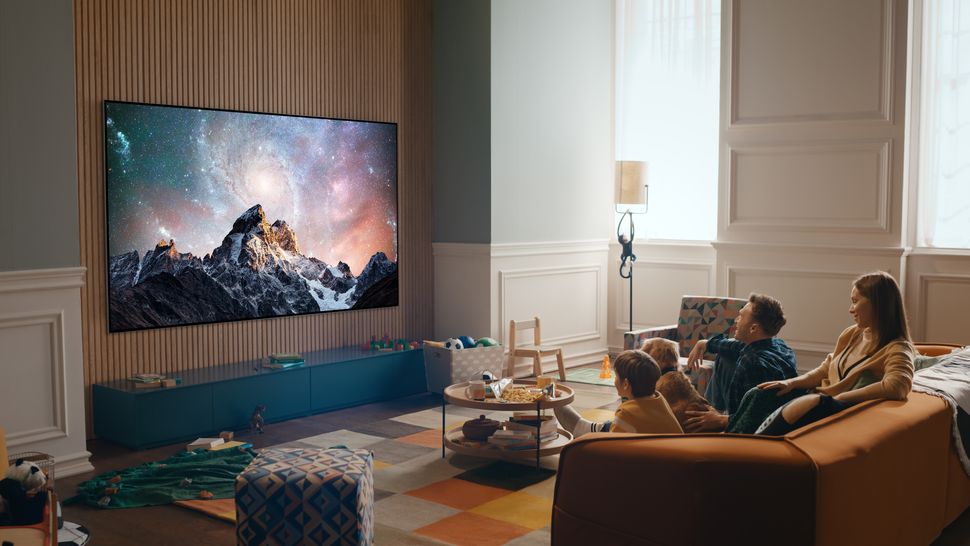 If money's no object, this is the TV for you. The OLED65G2 is significantly brighter than its predecessor and makes pretty much every frame of any source you care to mention look even more sublime than it has on any previous LG OLED.
The G2 OLED shares the same 'Gallery' design name as its GX and G1 predecessors, but it looks different: the dark frame and chamfered edges have been replaced with a nifty two-layer effect where a thin black rear 'slab' sits proud of and slightly narrower than the chunkier front tier. The screen is encased in a very fetching and opulent-looking silver metal coat.
All four HDMI ports are capable of handling the maximum 48Gbps of data supported by the HDMI 2.1 standard. This means that hardcore video gamers could simultaneously attach an Xbox Series X, PS5 and cutting-edge PC graphics rig to enjoy full-fat 4K at 120Hz, variable refresh rates and automatic low latency mode switching from all of them. And that still leaves an HDMI free for a 4K Blu-ray player or streaming box.
We're very impressed by this TV. The extra brightness the new heatsink unlocks makes a very big difference: it gives colors more volume and punch, regardless of whether you're talking about a very vibrant, rich tone, or a subtle, mild one. The only reason this TV isn't our number one is because its price puts it a bit out of reach for the average TV buyer. But if you're into your movies and have money to spare, you won't regret this investment.
Read the full LG G2 OLED TV review
8K may be overkill for many of us, but there's no doubt that this Samsung QN900B Neo QLED 8K TV takes TV to a whole new level. It delivers stunning picture quality, exceptional color and brightness, terrific sound and outstanding black levels in a beautifully designed package.
Quantum Mini LEDs are one-fortieth of the thickness of regular LEDs. That means Samsung can cram thousands more into the same backlight, delivering far more accurate dimming zones and black levels that we found almost indistinguishable from OLED TVs.
Those super-small LEDs deliver far more precision and less blooming; during our tests we didn't encounter any blooming or unwanted light leakage. And because this TV also has Samsung's Multi-Intelligence AI upscaling for HD and 4K content, the QN900A consistently delivers images that look better than their source.
So why is it all the way down here in our top TVs list? The short answer: the smart TV interface. While the hardware here is wonderful, we're less impressed by the new Smart Hub UI. Samsung's attempts to make the system better at recommending content and apps has the unfortunate side-effect of making everyday tasks such as quickly adjusting picture settings more complex. What used to take a couple of quick button presses now means quitting what you're watching to go and wade through menus. It's a minor issue and we're sure Samsung will take the criticism on board for a future software update, but for now it takes the shine of an otherwise excellent 8K TV.
Read the full Samsung QN900B Neo QLED 8K TV review
The Panasonic JZ2000 OLED is a force to be reckoned with. With its Master HDR OLED Professional Edition panel, an overhauled sound system that belts Dolby Atmos sound out of every corner, and a boost to gaming specs and HDMI 2.1 connectivity, this flagship 2021 screen is easily one of the best TVs we've ever had the pleasure of reviewing.
There are HDMI 2.1 inputs with VRR (variable refresh rate), ALLM (auto low latency mode) and a reduced input lag of just 14.4ms, which makes this TV a great option for owners of a PS5 or Xbox Series X console. The bellowing audio output is something to experience, too, even if it we found it to be louder than most people need or can get away with in the average living room.
The new auto picture and sound modes should do most of the menu-fiddling for you, but if you're a fan of tweaking and calibration those advanced settings still remain. Just make sure you turn off Intelligent Frame Creation before you get started: we found it added some video noise in places.
The combination of a custom OLED panel, huge built-in speakers, and a powerful HCX Pro AI processor makes the JZ2000 a truly knockout screen for 2022. It's one of the best TVs around.
Read our full review: Panasonic JZ2000 review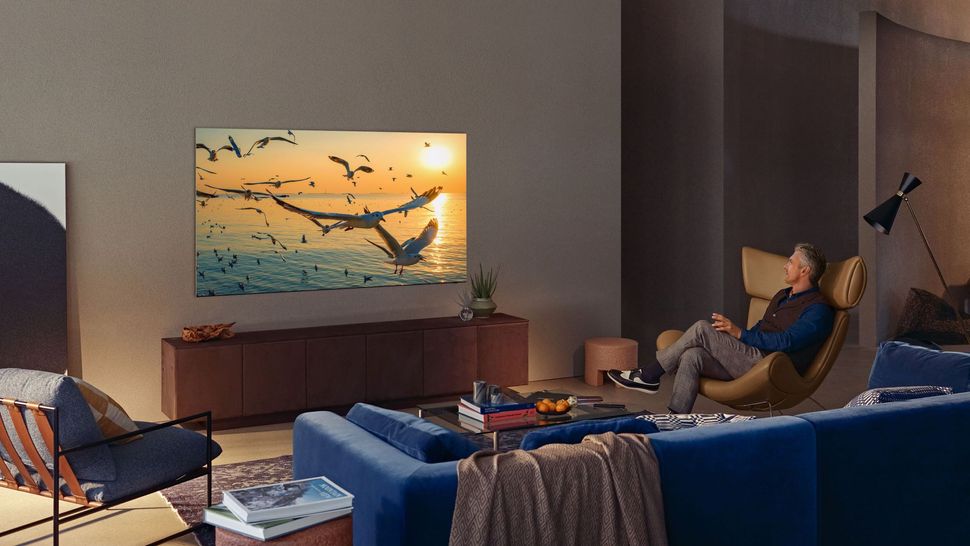 The Samsung QN95A was the company's flagship Neo QLED 4K TV for 2021, and the first to embrace a Mini LED backlight, resulting in a significant increase in dimmable zones and thinner panels. As with its Mini-LED stablemate above, it delivers superb SDR and HDR images that benefit from deep blacks and brighter highlight without blooming or loss of shadow detail. Samsung's quantum dot technology delivers saturated and nuanced colours, and thanks to the Filmmaker Mode these images are also extremely accurate.
The QN95A can deliver over 2,000 nits in its Dynamic picture mode, and over 1,600 nits in the more accurate Filmmaker mode. This means that for a lot of HDR content the TV doesn't even need to tone map, but when it does apply tone-mapping this is done correctly, ensuring detail is retained in the darkest and brightest parts of the image without overriding the creators' intent. The only downside is that like other Samsungs, there's no support for Dolby Vision HDR here; Samsung has thrown its weight behind HDR10+ instead.
We like this TV a lot. It's a great design with a minimalist but elegant shape, solid metal stand, and nearly bezel-less screen. It's not just one of the best TVs – it's also one of the best-looking TVs too.
Read the full review: Samsung QN95A Neo QLED TV
Sony's A90J 4K HDR OLED TV isn't cheap, but you can see every penny on that superb screen. Picture quality, from any source, is about as good as we've seen on any 4K screen. In every meaningful department – motion control, contrast, edge definition, detail levels, you name it – it delivers spectacular images. And for those moments when you're reduced to watching sub-4K content, it's great at upscaling, too.
The Sony A90J OLED also stands out thanks to its audio performance. It uses the entire surface of the screen as a speaker, backing it up with two conventional bass drivers to deliver a full and hefty sound. It's the best audio we've heard from any TV's internal speakers.
This Sony's combination of high-end picture quality and sound smarts – with the option to use the screen as the center speaker in a larger sound system too – makes it shoe-in for a home cinema centerpiece, even if the Panasonic HZ2000 above may beat it for sheer audio power. You can also adjust the A90J's feet to accommodate a soundbar, and the remote is fantastically designed too.
Read the full review: Sony A90J OLED TV review
The Philips OLED 805 is a winning combination of excellent picture quality, powerful processing, and lovely build quality – but it's the Ambilight feature that's the real star of the show here. Ambilight projects a cornucopia of colors around the edges of the television, and this 805 model can do so from three sides – not quite the four-sided Ambilight of the flagship OLED+935, but still plenty to create an immersive light show.
The difference Ambilight makes is very impressive not just in TV shows and movies, but in gaming too: when we tested it with some old-school arcade action in titles such as Resogun, it turned our entire living room into an arcade game cabinet. It can be as sledgehammer or as subtle as its source, gently washing the walls with ambient light in nature shows or neon in gritty future-set thrillers.
Even without Ambilight this would be a great TV. Philips' beefy P5 Picture processor delivers impressively punchy OLED images with excellent contrast and spectacular colors – even when it's upscaling from HD/SDR. This Philips improves on last year's 804 model by offering both Dolby Vision and HDR10+ support, so you won't have to choose between a dynamic HDR format.
There's no Apple TV app, the Android interface can feel unwieldy at times and the lack of Freeview Play can be frustrating for UK viewers, because it means you don't get catch-up provision for the likes of ITV and BBC. Overall, though, it's a small sacrifice for an otherwise excellent smart TV.
Read the full review: Philips OLED 805
The Samsung QN900A Neo QLED 8K TV ushers in a new era of television technology in one of last year's best displays. Its mini-LED backlight delivers truly stunning picture quality, exceptional color and brightness, terrific sound and outstanding black levels. It's quite the looker on the outside, too.
As with the other TVs in Samsung's mini-LED range, this TV uses LEDs that are 1/40th of the thickness of regular LEDs. That means a backlight with thousands more LEDs to deliver much more accurate local dimming and more precise light. The colours are more vivid, the black levels are deeper and the HDR performance is spectacular – albeit only in HDR10+, because Samsung doesn't support Dolby Vision HDR.
Samsung's Multi-Intelligence AI upscaling for SD/HD produces images that look better than their source, and there is a good selection of gaming features including HDMI 2.1 and eARC, 4K/120fps and 8K/60fps passthrough, and Game Motion Plus and AMD FreeSync Premium Pro for those connecting to a PC.
Read the full review: Samsung QN900A Neo QLED 8K TV
Best smart TV FAQ
What can smart TVs do?
Smart TVs are internet-connected televisions. That means you can use them to browse through your favorite streaming apps as well as do a few other things such as control smart home devices or browse the internet. A TV that does not have smart capabilities is referred to as a 'dumb' TV because it requires a set-top box or streaming stick to use streaming apps.
What channels are on smart TVs?
This varies between country, and also your TV manufacturer. On Samsung smart TVs you'll get the Samsung TV Plus app that has over 100 channels, while Vizio TVs come stocked with the Pluto TV-powered WatchFree app that has some 200 channels. Most smart TVs come stocked with at least a few services that offer some free content, however; UK viewers will get 12 HD channels and 60 standard channels through Freeview, with more available through paid-for entertainment packages like Sky Q.
Do smart TVs have Netflix?
Yes. All major smart platforms support Netflix so you won't miss out here. Some TVs even have remotes with dedicated Netflix buttons. You will need to subscribe to the service though.
Do you need Wi-Fi for smart TVs?
Not necessarily. Some TVs also have Ethernet ports for connecting your TV physically to your router or modem. You'll need some kind of internet connection to use internet services on your TV though. Casting from your phone to the TV is one way around this.
When should I buy a smart TV?
With all technology, there's always something new around the corner such as 8K. Simply put, you should buy a smart TV when you need one.
If your existing TV has failed or you want to upgrade, check out our guides for more information on what would work best for you.
Almost every new set – aside from small TVs – will be 4K resolution too, and come with some form of HDR capability, if not support for dynamic HDR formats like Dolby Vision and HDR10+.
It's worth considering whether you also want to go for a QLED or OLED TV too.
While new TVs are launched quite regularly amongst the main brands, it's often worth hanging back and buying last year's models. They're usually available for a lower price and the improvements are typically incremental rather than substantial.
As ever, it's worth looking at the differences between a new model and the version it's replacing. The introduction of Samsung's Ultra Viewing Angle technology was a big boon for its high-end QLEDs – as is the implementation of Mini LED on new Samsung TVs – but other updates aren't nearly as notable.
Useful links