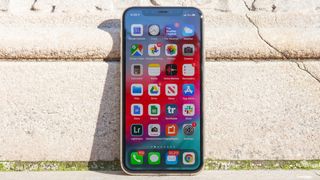 6. iPhone 11 Pro
The iPhone if you need a bit more
Release date: September 2019 | Weight: 188g | Dimensions: 144 x 71.4 x 8.1mm | OS: iOS 13 | Screen size: 5.8-inch | Resolution: 1125 × 2436 | CPU: Apple A13 Bionic | RAM: 4GB TBC | Storage: 64/256/512GB | Battery: 3046mAh TBC | Rear camera: 12MP + 12MP + 12MP | Front camera: 12MP + 12MP
A big step up for the camera
New matte finish
Similar design to last phone
Only a few upgrades
Want something a bit more from your iPhone? You're in luck with the iPhone 11 Pro as it features some improved spec including a more high-end rear camera that can compete with the very best.
It'll cost more than the iPhone 11 did on the page before, but if you're after one of the top iPhones this is the best option with a smaller display than the iPhone 11 Pro Max.
Screen: It's not the largest screen on the market, but it looks great compared to the iPhone 11 and will suit you if you're looking for an iPhone with a smaller display.
Battery life: The battery life is slightly longer than the last few generations of the iPhone, but don't expect anything game changing here when it comes to the length your phone will last for.
Camera: Apple has put most of its focus into the rear cameras on this device, and while the design of the rear of the phone has been controversial these cameras can create some truly stunning photography that competes with the very best camera phones.
Mini verdict: You'll have to spend a bit extra to get the iPhone 11 Pro, but it's well worth it if you want a phone that sports iOS 13 but comes with top-end features.
Read our in-depth iPhone 11 Pro review
Price comparison: The best iPhone 11 Pro deals