10 most exciting PS4 games Sony showed off at E3 2017
Sony's no frills E3 2017
Sony's E3 2017 was much like its last - a no frills event that cut away all the big on-stage monologues and guests in favour of game demos and trailers.
While there certainly weren't enough live demos for our liking (and a few too many edited trailers), its clear PS4 has a lot of content heading its way.
And Sony is looking to cement its decisive lead by investing in exclusivity. God of War. Days Gone. Uncharted The Lost Legacy. Spider-Man. Detroit: Become Human. Shadow of the Colossus. It's a powerful lineup, so sit back and let us give you the best of Sony's E3 banquet...
Days Gone
Bend Studio's open-world zombie playground is looking more and more like a sandbox The Last of Us with a pinch of Sons of Anarchy for good measure.
Naughty Dog's impact on action-adventure is hard to unsee here, and everything from stealth kills to combat feels very familiar. (Even the footprint tracking feels old.)
What sets Days Gone apart are the enemies you'll encounter in the beautiful apocalypse outside - humans turned into ravenous zombies move as one, World War Z-style horde so taking them head on is suicide.
There's the option to distract them or play them off against hostile survivors, opening up new paths that were previously blocked. Oh, and there's zombie wolves and bears, too. Yikes.
Shadow of the Colossus
Wildly rumoured, especially with Sony renewing its trademark just days before E3, the Shadow of the Colossus remake on PS4 is real and it's coming in 2018.
The original PS2 game, and its first HD release on PS3, remain a firm favourite among the PlayStation faithful, and it's not hard to see why. A poignant and haunting tale of one hunter and his horse taking down a land of giant Colossi.
Sony is keeping very tight-lipped, at least for now, on the particulars of this remaster. Is it another graphical upgrade on the PS3 version or from-scratch remake? We'd imagine it's somewhere between the two, but either way it's presence on PS4 will only help its following grow ever larger with a new generation.
God of War
One of the most talked about reboot-cum-sequels coming to PS4, the reimagined God of War shows a series maturing to suit the story-driven human drama that's made the likes of The Last of Us so immensely popular.
Kratos returns, only he's now living in the world of Norse Gods (presumably because there aren't any Greek ones left alive).
Interestingly, God of War now has a buddy movie feel to it, with Kratos venturing into the dangerous winter of Norse mythology with his young son as a warrior's trial of sorts. We get a taste that the frenetic combat of old is there, it's just going to be balanced out with some feels and unconventional father-son bonding. Expect God of War release date in early 2018.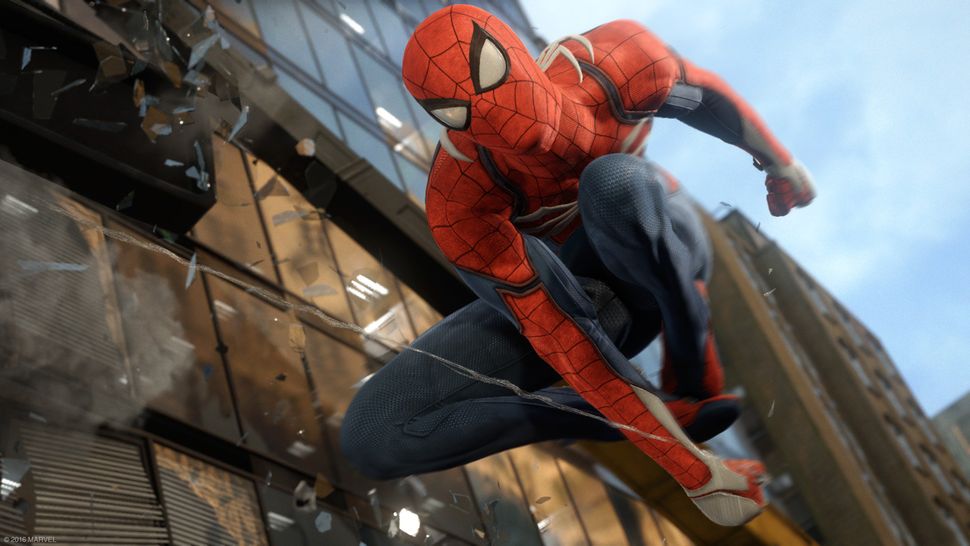 Spider-Man
With Ratchet & Clank developer Insomniac Games at the helm, Spider-Man on PS4 could well be the first bona fide hit for Marvel in the world of video games.
Even a few minutes with its take on Spidey, you can see the studio gets it immediately. His acrobatic movement is slick, with combat just taking enough cues from the Batman Arkham FreeFlow model before adding in a speed and motion that's all Spider-Man.
We're loving the clean, bright art style (one that's just comic book-y enough to feel legitimate), while Spider-Man's maneuverability rewards quick-thinking parkour minds. You can sprint up the sides of buildings or leap into a web swing seamlessly.
There are even QTEs, but Insomniac fit them so well into action set-pieces just don't notice the lack of agency. Insomniac may have made the best Spider-Man adaptation yet. It'll swing into action in 2018.
Horizon Zero Dawn - The Frozen Wilds
We were expecting Guerrilla Games to unveil some sort of story-driven expansion for its blockbuster hit of 2017 and it hasn't disappointed.
Aloy's story continues with The Frozen Wilds, as our intrepid heroine - dressed in some rad-looking Shield Weaver Armour, we might add - enters a corner of the world gripped in the vice of a Game of Thrones-style snowfall.
Looks like we might be seeing some new mechanical beasts to hunt, but we're also going to be heading to that mysterious mountain that makes the robotic creatures starting acting so edgy? Is that convulsing mountain top the home of the Metal Devil referenced so heavily in Horizon lore? It's shrouded in mystery, but we're still super hyped for The Frozen Wilds DLC when it arrives later this year.

Monster Hunter World
Monster Hunter is coming back to PlayStation! It's been a long while since Monster Hunter was proving one of the few must-have hits on PSP, but it's preparing to return to the brand with its most unusual and visually striking entry yet.
Usually constrained to old gen or handheld hardware, seeing Monster Hunter running on PS4 (it's also coming to Xbox One and PC) is a revelation as you stalk creatures through lush forests that glitter, shimmer and shine.
That classic MH gameplay has been overhauled as well - there's a greater focus on stealth, using local fauna to create camouflages that enable you to approach big beasties without getting spotted.
We see a very useful grappling hook and other tools that will no doubt prove just as useful as that giant sword on your back. While we didn't see it, you can expect to carve new armor and weapons from the monsters you slay when it arrives in early 2018. It wouldn't be MH without it.
Call of Duty WWII
There weren't many on-stage demos at this year's Sony keynote - in fact, Days Gone and Spider-Man were the only ones to get anything close to a proper gameplay showing - but that doesn't mean Activision and Sledgehammer Games were going to give us nothing but a logo and a blubby monologue about the cost of war.
Okay, we got both of those, but we did also get to see some of the action from the list of real-life battles.
That intensity of trench warfare - including all that current-gen flamethrower fire - proves this is going to be the most visually stunning CoD we've ever seen. Acti has always been striving for cinema-quality visuals and it might just have got its wish when Call of Duty WW2 drops on 3 November.
Uncharted The Lost Legacy
Since its reveal at the PlayStation Experience last year, most of the footage we've seen of Uncharted's sidestepping new installment has taken a measured pace.
It's all been about establishing fan favourite Chloe and her new partnership with Uncharted 4 badass Nadine. Well, The Lost Legacy's E3 2017 showing changed all that by injecting a whole lof of action into a handful of minutes.
The Indian setting is stunning and proves both a great way to showcase PS4 Pro's extra graphical output and provides a fitting backdrop that feels emphatically suited to an Uncharted adventure.
This might not be a full fat Uncharted game, but it's still got to live up to the set-pieces of A Thief's End so expect Chloe and Nadine to be throwing themselves into danger on loop. It arrives on PS4 on 22 August.
Detroit: Become Human
David Cage's games are certainly divisive, mainly because his stories are so self-indulgent and needlessly convoluted, but you can't argue with the man's eye for engaging stories and characters.
Detroit, the PS3 tech demo that could, has evolved into the grandest extension of his multiple pathed, consequence-driven narratives.
The E3 trailer shows a rather familiar revolution as the androids of Detroit's reality begin to shake off the shackles of their servitude and embrace their consciousness.
The trailer teases a huge web of branching decisions - passive, violent and everything in between - so we're curious to see just how deep such choices have on the world around you. Sadly, the trailer didn't come with a release date so we'll be stuck with our musing for a little longer...
Moss
There were a good handful of second generation VR titles given an airing for PlayStation VR at E3 2017, but it was the rather charming Moss that caught our attention.
Both Bravo Team and The Inpatient look fun, but military shooters and first-person horrors have already been done to death on VR. Moss, on the other hand, offers something entirely different in both tone and presentation.
You play a spirit who's been tasked with helping a brave young mouse travel the world to face a foreboding darkness (in the case of the demo, a giant snake). We love the environmental puzzles and the unusual use of both the PSVR headset and the PS Move controller. Moss' MouseGuard-esque quality could make it one curio to keep an eye on.
E3 is the world's largest exhibition for the games industry, stuffed full of the latest and greatest games, consoles, and gaming hardware. TechRadar is reporting live from Los Angeles all week to bring you the very latest from the show floor. Head to our dedicated hub to see all the new releases, along with TechRadar's world-class analysis and buying advice about the next year in gaming.