The hottest TVs to watch out for in 2023, from OLED to microLED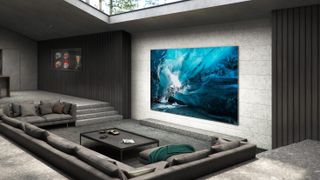 (Image credit: Samsung)
After a top-tier TV in 2023? As good as this year's television crop has been, there's always room for improvement, and potential shoppers eyeing a TV upgrade in the coming year will have plenty of interesting options to choose from – whether a 98-inch display or transparent screen is likely to catch your eye.
OLED TVs are ten-a-penny these days, but they keep getting better, and you can expect both new iterations to existing models (like the LG C2) and further developments into new technologies entirely – we saw the beginnings of QD-OLED from Samsung and Sony this year, and there are sure to be other surprises ahead.
The next fleet of TV screens is also sure to see premium specifications come down to lower prices than ever before, whether it's the availability of mini-LED backlights or how many HDMI 2.1 ports are available on mid-range TVs.
If you've bought a 2022 TV, of course, you likely won't need an upgrade for a while yet – but anyone curious about the next generation of TVs and bestselling screens can check out our forecast of notable televisions we expect to see in 2023. And if you want to see what's available now, head over to our best TVs guide instead.
1. LG C3 OLED
LG's C Series OLED is commonly found in our best TV guide, and for good reason – the LG C1 and LG C2 of previous years have managed to bring premium picture quality and performance at a very fair price, offering the 4K OLED experience for many around the world. LG's webOS smart platform and Magic Remote make those screens easy to navigate, with excellent app support and top-of-the-line specifications around VRR, HDMI 2.1, and the like.
So it's no surprise that LG is bringing out a successor in 2023. The South Korean company has already registered an LG C3 OLED in a 65-inch size, and we're sure to get the usual spread of 42-88 inch options alongside it. Improvements in the C Series OLED tend to be incremental, but you can expect an even brighter screen, thanks to LG's ever-improving OLED.EX technology, which uses a hydrogen isotope to increase the lighting capabilities of OLED's self-emissive panels, and which will be coming to every LG OLED TV next year. We expect the LG C3 to be a bestseller, so do keep an eye out for it – new C Series screens usually drop in the second quarter of the year.
2. Wireless Displace TV
US-based start-up Displace has announced a wireless 55-inch OLED TV that runs on rechargeable batteries instead of plugging into a mains socket via a cable, and lasts a month at a time between charges. It's not often we're actively surprised by a TV's design like this – they tend to cleave pretty close to each other – so we're excited to see where a wireless OLED display could really catch on.
Displace claims that their TV's vacuum attachment technology does without the need for a wall bracket, allowing you to simply stick the screen onto the wall with a push – a little nerve-wracking, perhaps, but far less disruptive than drilling in a bracket, and we're curious to see how well the concept works in practice when it launches in late 2023 (US only, for now). We're told that you can even combine four of these screens into one massive 110-inch display, too.
3. Samsung and Sony QD-OLED
After years of speculation, we finally saw the long-hyped QD-OLED hybrid panel come to commercial TVs. This year's Samsung S95B and Sony XR-A95K heralded in the age of QD-OLED with aplomb, with both TV makers offering brilliantly capable screens that combined the best of OLED and quantum dot – the self-emissive properties of the former, and a brightness boost courtesy of the latter.
It hasn't been a perfect marriage, with some minor complaints about gray tones in place of the deep blacks usually expected of OLED, but these TVs still mark a massive technical achievement, with top-tier picture quality, and the follow-up screens we see in 2023 should only take the technology further.
We're yet to hear of exact models, but a Samsung S95C seems likely, as does a Sony A95L, hopefully taking this QD-OLED experiment closer to its ideal completion. We know that Samsung is planning 1.5 million units of these screens for 2023, and expanded sizing options should certainly help spread the word of QD-OLED, with Samsung expected to release a 77-inch model next year too.
4. Samsung 89-inch micro-LED TV
If you can fit an 89-inch screen into your home, this is your opportunity to do so. Samsung's high-tech micro-LED screens work by shrinking down LEDs (usually used as backlights) to the size of individual pixels, meaning they emit colored light directly with per-pixel control. This makes for incredible brightness capability, but with the contrast and pixel control usually only found on an OLED screen, alongside a hefty lifespan and low power consumption needs. Unfortunately, they tend to be very pricey, and very big screens.
They have been steadily shrinking for years now to almost-reasonable levels, from the 292-inch sizes of years past to the 110-inch display we saw last year. We're still waiting for that long-promised 76-inch model, which might actually fit in some living rooms, but recent reports indicate that an 88-inch micro-LED should be launching in 2023, likely at around $80,000 (around £66,000 / AU$120,000).
5. LG 55-inch transparent OLED
Could it finally come to pass? TV makers have been showcasing transparent OLED prototypes for years, but it sounds like LG may be moving forward with a commercial release for its transparent OLED tech in 2023, according to sources speaking to TWM.
LG already sells transparent OLED displays for transport and retail uses, to use as digital signage, but we're yet to see a see-through LG OLED screen intended for the home. The transparent background does impact contrast, meaning you don't get the same deep blacks as with traditional OLED, so it's unlikely to catch on for home cinema enthusiasts after the perfect movie night; however, it may have some uses in the home, allowing for visibility on both sides of the screen, and effectively becoming a window when not in use.
We'll also be keeping an ear out for any news on the bezel-free, floating frame prototype that LG and design studio Jei Design Works unveiled back in November; it's certainly striking, but given that LG retired its 'floating' glass display range after the LG E9 OLED, we don't expect much on that front.
6. TinyTV Mini
What do you get the cinephile who has everything? This diminutive Kickstarter-backed device packs in a 64x64 pixel screen, and can play videos through its built-in 8GB of storage.
We wouldn't recommend watching a blockbuster Nolan movie on this miniature display, but for a fun party trick or some bedside ambience, the TinyTV Mini is a very unique device. Powered by Raspberry Pi, the TinyTV Mini has a USB-C port for charging and data transfer, a single front-facing speaker, and an hour-long battery life – with some basic functionality to loop videos or apply static effects.
The company behind the TinyTV, TinyCircuits, hopes to send out models to backers in March 2023 – and you can find out more on their Kickstarter page.
Sign up for Black Friday email alerts!
Get the hottest deals available in your inbox plus news, reviews, opinion, analysis and more from the TechRadar team.
Henry is a freelance technology journalist, and former News & Features Editor for TechRadar, where he specialized in home entertainment gadgets such as TVs, projectors, soundbars, and smart speakers. Other bylines include Edge, T3, iMore, GamesRadar, NBC News, Healthline, and The Times.