The LG C2 OLED is a fantastic TV that brilliantly showcases the screen technology's best attributes: high contrast and excellent brightness. For your money, you're getting vivid colors, a comprehensive smart TV platform, and a slick design that'll look great in any home. LG may have not made a huge overhaul of its C1 OLED with this 2022 model, but the incremental improvements are useful, and the connectivity options you get are unbeaten.
Pros
+

Superbly bright screen

+

Sleek, minimal design

+

Excellent connectivity options
Cons
-

Lack of cable management

-

No HDR10+ support

-

Virtual surround sound isn't super convincing
Why you can trust TechRadar We spend hours testing every product or service we review, so you can be sure you're buying the best. Find out more about how we test.
One-minute review
The LG C2 OLED has some big shoes to fill. Its predecessor, the C1 OLED topped many tech reviewer's lists of the best TVs you could buy in 2021, including ours. However, we're happy to report that LG's latest OLED doesn't disappoint, with the company making useful, incremental changes to its popular set rather than going for a complete overhaul.
With a razor-thin design and super thin bezels, the C2 OLED offers a whole lot of screen - and that screen showcases the best of OLED technology, delivering excellent contrast levels, intense brightness, and vivid colors. Having tested it with everything from regular SD shows to Dolby Vision blockbusters, the C2 OLED has proven itself more than capable of handling pretty much any content you can throw at it, and one of the best TVs you can buy today.
Improvements for 2022 include the new Alpha a9 Gen 5 processor, which is designed to offer better object enhancement and dynamic tone mapping than its predecessor. As well as that, you're getting 'virtual surround sound', with the TV upscaling stereo content into 7.1.2-channel sound. While we weren't convinced by the claims of virtual surround sound, the audio performance is good for a flatscreen TV, and a number of different sound modes means you should be able to find an audio profile that suits your needs.
The LG C2 OLED's upgraded webOS 22 smart TV platform delivers all the streaming services you would expect, all corralled into an easy-to-navigate home screen. This home screen can now be personalized for each member of your household, making it even easier to find new shows and films to watch.
While all these upgrades are very welcome, we're not sure we'd recommend buying the C2 OLED if you have the C1 OLED at home already - these improvements are incremental, though not insignificant, and may not warrant buying a new set entirely.
However, if you're in the market for a new OLED TV, the LG C2 is an excellent example of the technology, offering brightness levels that are significantly better than prior years' top OLED TV models.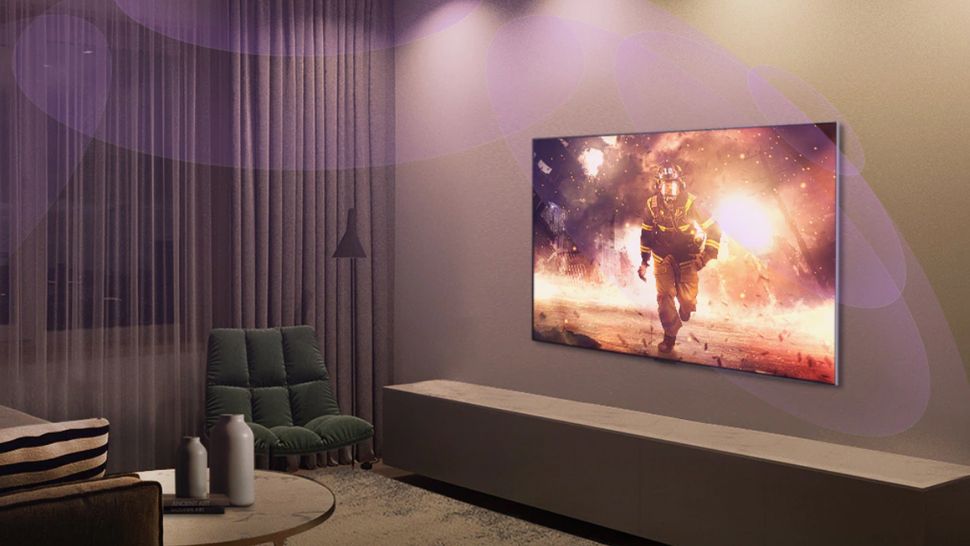 LG C2 OLED: price and availability
Some sizes available now
Similar prices to 2021
Australian price and release date TBC
The LG C2 OLED is part of the LG 2022 TV lineup with most models in the range having been released in March 2022 and a few sizes coming a bit later. To start off, we had the 48-, 55-, 65- and 77-inch models released in March, with the 83-inch model coming later in April, and finally the long-awaited 42-inch screen size in May. Some of these sizes are already available in the UK.
In terms of pricing, we're looking at similar prices to 2021:
The 42-inch OLED42C2PUA is $1,399 / £1,399 (about AU$1,800)
The 48-inch OLED48C2PUA is $1,499 / £1,399 (about AU$1,960)
The 55-inch OLED55C2PUA is $1,799 / £1,898 (about AU$2,350)
The 65-inch OLED65C2PUA is $2,499 / £2,699 (about AU$3,270)
The 77-inch OLED77C1PUA is $3,499 / £3,699 (about AU$4,590)
The 83-inch OLED83C2PUA is $5,499 / £5,499 (about AU$7,200)
You'll notice the price for the 48-inch and 42-inch models is roughly the same. This could be due to stock shortages for the 42-inch model, as this is the first time LG has made an OLED panel of this size - we wouldn't be surprised if the price of the smallest C2 OLED panel was reduced in the coming months. Saying that, it's worth bearing in mind that some 42-inch models have already shipped, but without the new OLED EX panel due to stock shortages - so it might be worth holding on until these issues are resolved.

Australian pricing and availability is still to be confirmed, and we'll update this review as soon as we have the official prices for this region.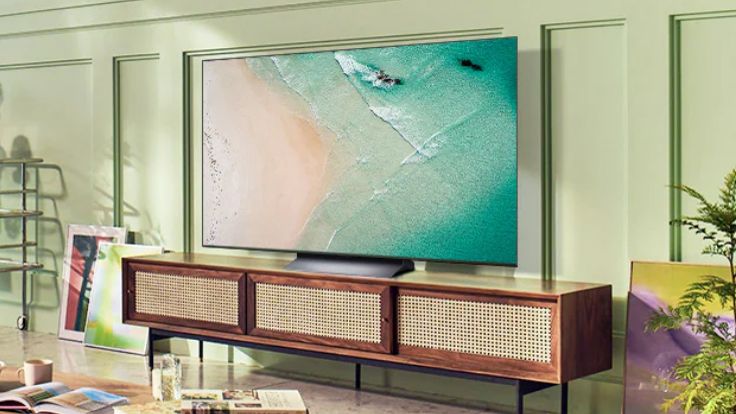 LG C2 OLED: design
Very light and slim build
4x HDMI 2.1, 3 x USB, eARC, Optical out, LAN
New 42-inch screen size
The LG C2 OLED is incredibly light and slim; according to the company, the 65-inch model is 50% lighter than 2021's C1 OLED, made possible by using a new composite material that LG says is just as durable as the previous model.
The TV's super-thin bezel means that, if you choose to wall-mount the C2 OLED, you'll pretty much only see the screen. If you're into the minimalist look, this could be the perfect TV for you.
You can also sit the C2 OLED on the stand included in the box. This sloping silver stand gives the TV a low center of gravity and a good sense of stability, though its relatively large footprint could be an issue if you want to place a soundbar in front of the TV. If you're not interested in using a soundbar at all, you could opt for one of LG's rather attractive minimalist stands; the C2 OLED works with both the Gallery Stand and the Floor Stand, which are cool options for anyone who doesn't want a regular TV cabinet.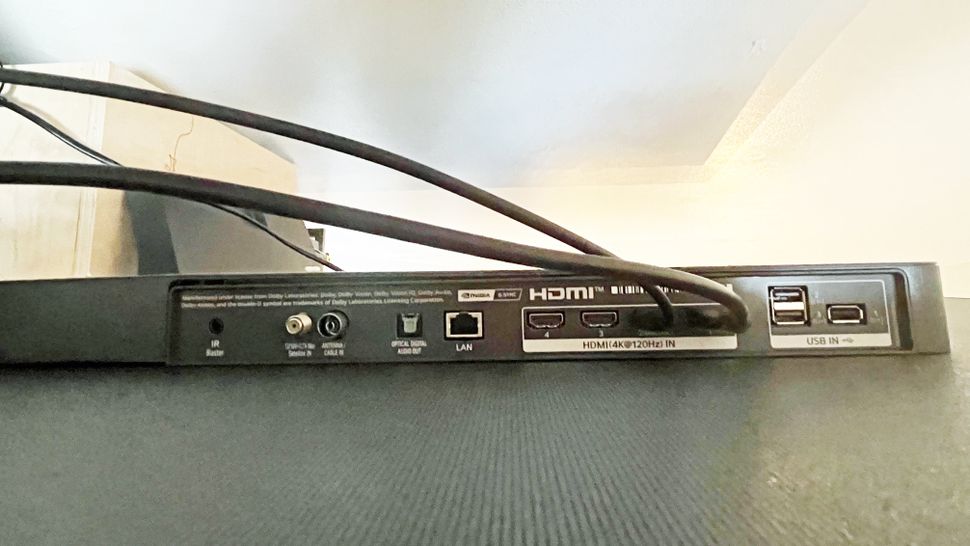 The panel itself is razor thin - it's about half as thick as our iPhone 13 mini - with a thicker section around the back that houses the TV's speakers and components.
Made of a glass substrate, the LG C2 OLED's panel is slightly reflective, which means you might see your own image staring back at you when you're watching darker scenes. It's not a problem when you're watching bright, colorful scenes and facing the screen head on (and we don't think the panel is as reflective as the C1 OLED), but it's worth bearing in mind that you'll need to shut your blinds for uninterrupted viewing of night or space scenes. If you're really dedicated to your home theater setup, a set of blackout curtains wouldn't go amiss.
Around the back of the TV is where you'll find all your connectivity options. Like its predecessor, the LG C2 OLED will come out of the box with four HDMI 2.1 ports that all support 4K/120Hz. There's also support for G-Sync, FreeSync and regular VRR, plus an upgrade to the game bar, which you'll enjoy if you ever connect your PC to your TV. Like last year's design, there's not a great way to manage cables around the back - which means you'll be looking at a G2 OLED if you want some way to keep cables out of sight.
The good news is that, unlike its predecessor, the LG C2 OLED has an all-new screen size: 42 inches. This is LG's first 42-inch OLED that straddles the line between gaming monitor and full-on TV. Taken in tandem with the gaming-centric specs we just mentioned, this is going to be a very enticing option for gamers.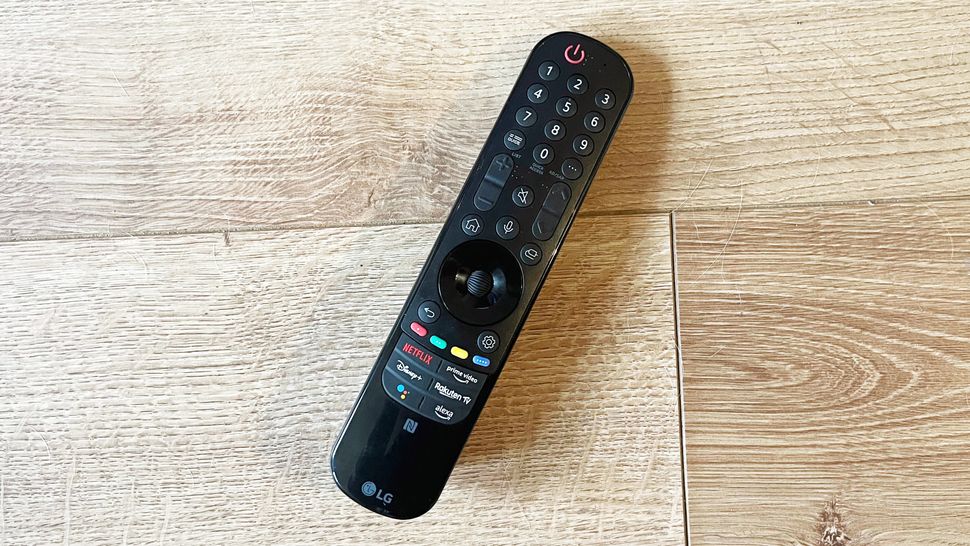 The only downside to choosing one of LG OLED's smaller OLEDs, according to LG's Tim Alessi, is that there's no major gains in brightness vs. non-Evo models, due to the pixel pitch. You're still getting the 120Hz OLED panel and all the design advantages we've talked about above, but you won't see some of the advantages in performance that we'll talk about below.
You get LG's Magic Remote included in the box, which comes with a built-in microphone that allows you to search for content with your voice. There are buttons to take you straight to Netflix, Disney Plus, Prime Video, and Rakuten TV, and buttons to summon Google Assistant and Alexa.
Powered by two AA batteries, the remote feels light and easy to handle, and we love the ability to use the Wii-style motion controls and the more traditional directional pad to navigate the TV. It's worth noting that the motion controls don't work in every app (BBC iPlayer only works with the directional pad, for example), so it can be a little jarring to switch between the two on the fly.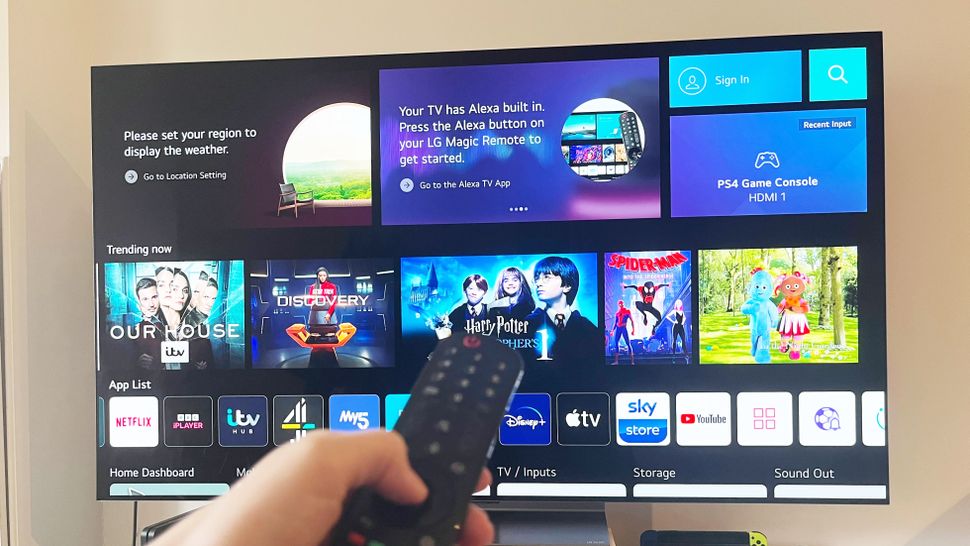 LG C2 OLED: smart TV (webOS 22)
webOS 22
New personalized home screens
Easy navigation
As with the new LG G2 OLED, the C2 model comes with the company's webOS smart TV platform - and now thanks to a new naming convention that's based on its year of release, it's now referred to as webOS 22 (the previous version was called webOS 6.0).
The home screen is very easy to navigate, and includes a number of helpful widgets, including weather, updates, and recent inputs. Below this, you'll see a carousel of 'trending' shows and films, followed by a list of apps. Here is where you get access to pretty much all the major streaming platforms, including Netflix, Disney Plus, Apple TV, Prime Video, and HBO Max, as well as LG's own Sports Alerts, Web Browser, and Media Player apps. Some of LG's own apps are expanded lower down on the home screen; for example, a carousel for the Web Browser gives you a handy list of recommended sites, including Google, BBC.com, and Wikipedia.
Beneath this is where you'll see an overview of your connectivity options, and a display of all your connected devices. Finally, right at the bottom of the homepage, you'll find an overview for some of the major streaming platforms, giving you a quick way to find content without opening the apps individually.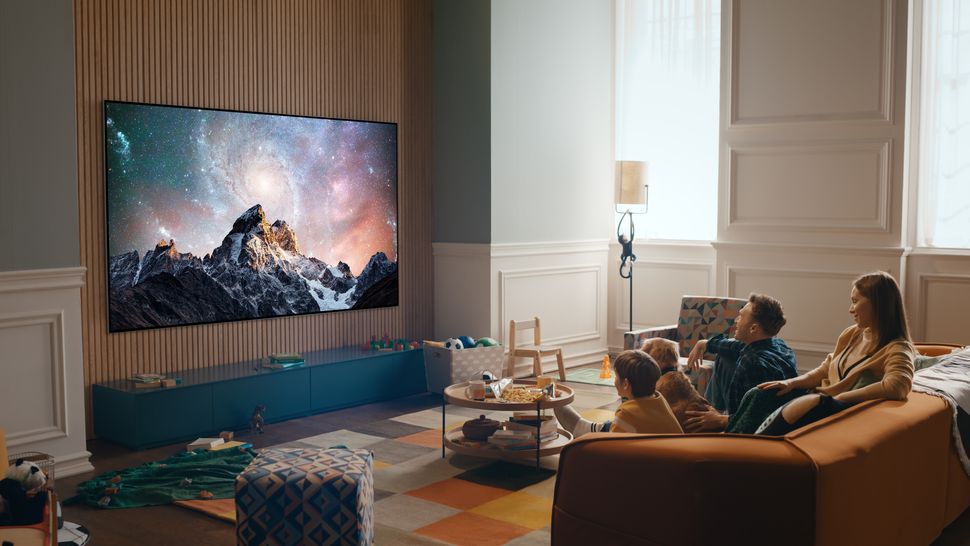 The smart TV platform hasn't been given a huge overhaul compared to its predecessor, but it does come with some new, family-friendly features that make it easier for everyone in the household to enjoy a personalized experience.
For starters, you now have the ability to set up profiles for each member of your household, which gives you unique home screens that display recommended content based on your preferences. There are also new Family Settings, which allow you to monitor and limit screen time, adjust eye care settings, and set volume limits.
Another new feature worth mentioning is Always Ready, which we used extensively during our tests. When you're not actively watching the TV, this feature displays artwork or weather and news reports, while keeping the voice recognition tech active, so you can easily ask the TV to do things like play music without touching your remote.
Generally speaking, webOS 22 is extremely easy to use and navigate, and it gives you a neat, concise overview of all your content in one place. And, with the ability to customize it for each household member, it represents an incremental (but not insignificant) improvement upon the previous version.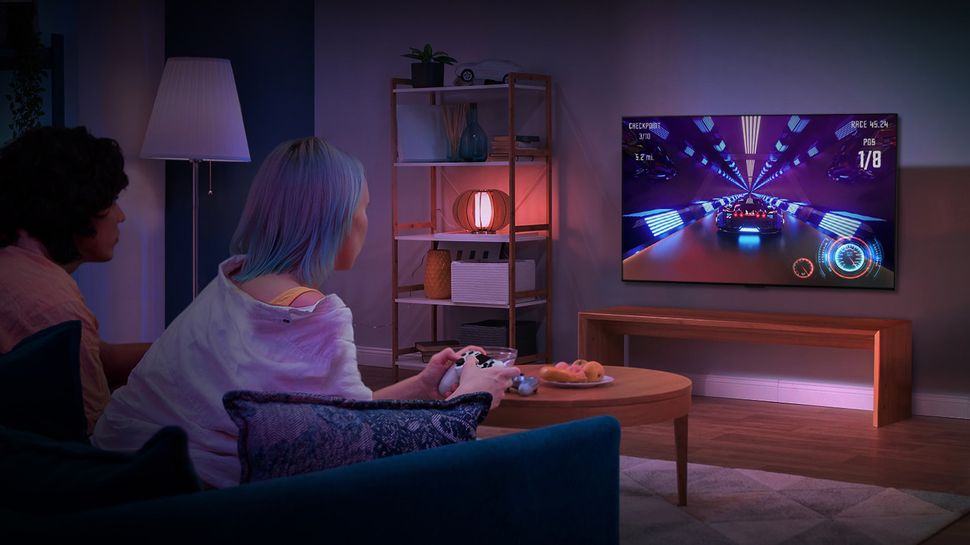 LG C2 OLED: picture quality
Excellent brightness and contrast
Dolby Vision, HDR10, HLG
Capable AI upscaling
The LG C2 OLED is a great-looking TV, with excellent brightness and contrast - in fact, it's one of the best OLED panels we've ever seen.
It uses LG's OLED Evo technology, which we first saw in 2021's LG G1 OLED, which adds additional brightness through a new lighting element in the self-emissive pixels. Compared to the previous model, the C1 OLED, the increase in brightness and color was immediately apparent - and because this is still an OLED TV, you're getting incredibly deep blacks and piercing whites. As we mentioned, the glass screen does introduce a small amount of glare, which eats into those deep black levels, but it's not so reflective that your content will suffer.
Key specs
Screen size: 42-,48-, 55-, 65-,77-, and 83-inch
Resolution: 4K
Panel technology: OLED
Smart TV: webOS 22
HDR: HDR10, Dolby Vision, HLG
The color saturation has also been increased thanks to the new Evo panel, to around 100% of the DCI-P3 color space. That's not quite as much as you'll get from QD-OLED models that have blue OLEDs and quantum dot filters, but the effect is noticeable compared to last year's model.
We did notice that colors desaturated slightly when we moved around the room as a result, but if your living room is laid out in a way that everyone sits directly in front of the TV, this shouldn't be an issue.
Another new feature for the C2 OLED is the Alpha a9 Gen 5 processor, which is designed to offer better object enhancement and dynamic tone mapping than its predecessor. In other words, the picture looks more realistic, with improved contrast and detail.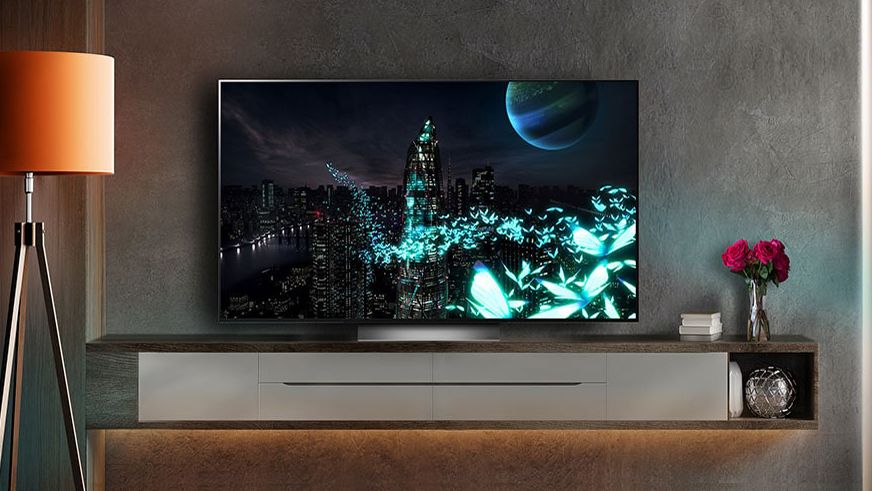 The C2 OLED also comes with a few features designed to address burn-in and image retention. A screen saver feature turns on automatically when the TV detects a static image has been displayed on screen for around two minutes - and you can set the TV up to display a rolling artwork gallery if you prefer. There's also the Clear Panel Noise feature that preserves the quality of the image by resetting the TV so that it clears the pixels, and the Screen Shift feature that moves the screen slightly at regular intervals. Finally, Logo Luminance Adjustment detects static logos on the screen and reduces the brightness in these areas to decrease permanent image retention.
You have support for HDR, HDR10 Pro, HLG and Dolby Vision - the only notable omission is HDR10+. However, with most streaming services offering titles in Dolby Vision, you probably won't miss it.
Gamers, on the other hand, will appreciate the inclusion of FreeSync, G-Sync and standard VRR right out of the box. With a native 120Hz refresh rate and HDMI 2.1, PS5 and Xbox Series X owners can get the maximum resolution and frame rate from their new hardware, while high-end PC owners will have a solid option should they decide to connect their PC to their TV via HDMI. Also appreciated is the new "Prevent Input Delay" setting that can be set to boost for an incredibly low 1.5ms delay.
Out of the box, and using the standard picture settings, the C2 OLED looks fantastic, but there are a number of picture settings to choose from that'll suit different types of content and sources.
We started off with a 4K Dolby Vision stream of Shang-Chi and The Legend of the Ten Rings on Disney Plus. The C2 OLED handled the extra-large picture well, with the action filling up the entire screen for a super immersive experience. Toggling through the different Dolby Vision modes, we settled on Cinema Mode; the warmer picture gave the most natural-looking skin tones and made the motion of fast-moving fight scenes look smooth and lifelike. By contrast, watching in Vivid mode made the action look a little janky, with some of the more fast-paced scenes almost making us feel motion-sick.
During dark scenes is where the brightness of the OLED panel really shined. As we watched a particularly intense fight scene that saw the characters battle it out on the face of a skyscraper, every detail of Simu Lui's jet-black hair was visible, and the dark clothes of his assailants never looked gray or dull.
It's also worth checking out the Cinema Home mode if you're watching Dolby Vision content in a regular living room - this mode is a little brighter than the regular Cinema mode, which is handy if you're watching in an environment with lots of natural light.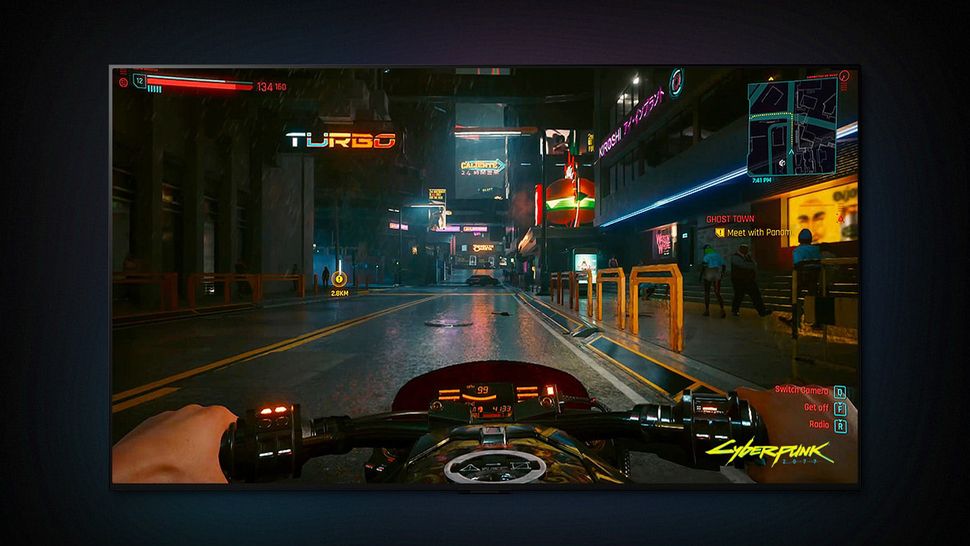 Moving onto a regular 4K stream of Spider-Man 2 on Netflix gave us the chance to try out the TV's native viewing modes. While the contrast levels are a little less pronounced than they are with Dolby Vision content, you're still getting the benefit of the OLED panel's self-emitting pixels and the picture looks very clear and bright as a result.
We'd recommend watching this kind of content using LG's Filmmaker mode, which delivers a very naturalistic image that is supposed to closely replicate the director's vision. As such, all picture enhancements, such as sharpness, noise reduction, and motion interpolation, are disabled, with the mode following the same industry standards used in content creation. In other words, you should be seeing content as it would have been viewed by the director, producer, and director of photography when it was made.
Like the Cinema mode for Dolby Vision, this warmer picture made skin tones look very natural, adding a slight yellow tinge that felt very lifelike. As we watched the scene in which Dr Octopus and Spider-Man duke it out in the bank, the colors looked accurate and the contrast levels were well balanced.
As the action ramped up, we didn't notice any distortion around the edges of the characters, and the movement looked realistic and natural. Filmmaker mode is definitely the easiest on the eye, and it feels well suited to blockbuster films - it's worth bearing in mind that, while you'll be able to experience it for SDR, HDR10, and HLG content, this mode isn't available with Dolby Vision, which has its own viewing parameters.
Filmmaker mode (as well as ISF Expert, Game Optimizer and HDR Cinema) does come with one caveat, though: you don't get LG's TruMotion feature, which increases sharpness, smoothness, and reduces judder in fast-moving scenes. In a 24p movie, four frames are artificially created in between the original frames, increasing the frame count to 120.
That's not an issue if you want a really naturalistic viewing experience, but for really seamless cinematic viewing, you'll need to use Cinema or HDR Cinema Home. Otherwise, you could opt for the Sports mode, which delivers the smoothest motion of all - ideal for focussing on speedy players zooming around a pitch.
If there's one mode we'd recommend avoiding, it's Vivid mode. When we switched this mode on, the colors looked completely blown out, with way too much sharpness and noise reduction that looked obviously digital. The deep red of Spidey's suit became a garish, almost pink color, while skin tones looked artificially rosy and details were lost in the high levels of grain on screen.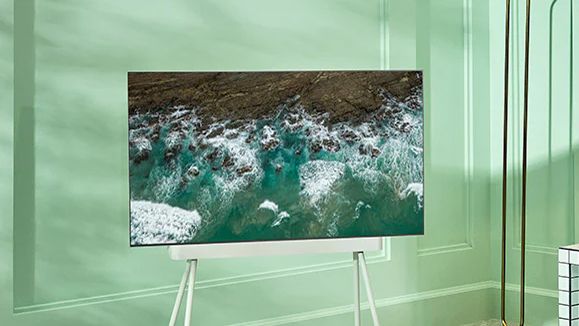 The other modes are much more inoffensive. Standard and Eco give you an anytime viewing mode that looks decent enough for most types of content (although very colorful scenes did look overly noisy). Cinema mode looked softer by comparison, adding in an extra level of detail and smooth movements that suit fast-paced scenes.
ISF Expert mode looks very similar to Cinema mode, but adjusts the brightness of the screen based on the time of day, just like the Cinema Home mode for Dolby Vision. In every mode except for Vivid, the graduation between different colors - the shades of a sunset sky, for example - was really subtle, without any of the color banding that you get from lesser TVs.
While we're sure you'll want to put your OLED TV to the test with lots of 4K Dolby Vision films, we were keen to see how the LG C2 performed with regular SD content. We stuck on an episode of Louis Theroux's Weird Weekends on BBC iPlayer, and we were impressed by the amount of detail that still came through.
The image never looked blurry or smeared, and while the screen did struggle with bright highlights in dark scenes (it seemed as though the upscaling technology warped some of these brighter images), SD content was very watchable, especially in the TV's Standard mode.