Having made its high-end G series of OLED TVs relevant again in 2021 by giving them a clear picture advantage over the ever-popular C series, LG has repeated the trick - with knobs on - with 2022's G2 range. The G2 OLED's big story is that it takes the latest (WRGB-type) 'Evo' OLED panel and adds in a new heat sink element not present in 2021's G1 series. This might sound like a mere technicality on paper, but it actually allows LG to bring enough extra brightness to the table to take OLED picture quality to places we once never imagined it would be able to go.
Pros
+

Gorgeously bright, vibrant pictures

+

Beautiful premium design

+

Outstanding gaming support
Cons
-

Optional stand costs extra

-

No HDR10+ support

-

The existence of LG's C2s
Why you can trust TechRadar We spend hours testing every product or service we review, so you can be sure you're buying the best. Find out more about how we test.
One-minute review
The new LG G2 OLED is full of surprises - all of them positive. As soon as you get the G2 out of its box you can see that LG has moved the dial on from previous G-series generations. The old black, chamfered-edge 'Gallery' design has been replaced with a much cooler, much more outwardly opulent 'two layer' design that finds the main layer clad in a seriously strokable silver metallic finish.
What's inside this fancy new design is also unexpected. For alongside LG's latest brightness-enhancing Evo OLED panel is a new heat sink element designed to help the TV reach new brightness heights LG's OLED standards.
There's a new processor, too, designed to unlock the full capabilities of this new OLED breed, while LG's webOS smart platform gets a host of new features instead of the usual small evolutions. Even the G2 OLED's sound suddenly and unexpectedly fixes a couple of big problems that have plagued previous LG G1 OLED.
The best surprise of all, though, is the way the OLED65G2 uses its extra brightness to make pretty much every frame of any source you care to mention look even more sublime than it has on any LG OLED before.
We've been taking a closer look at this new range-topper, which boasts a number of interesting improvements over the less-expensive LG C2 OLED, and can now say that it's a formidable competitor to incoming QD-OLED (Quantum Dot OLED) models like the Sony A95K QD-OLED TV and Samsung S95B range.
Read on to learn exactly how this year's G-Series screen differs from last year's model, and what sets it apart from its red-hot rivals…
LG G2 OLED price and release date
The G2 range of OLEDs represent LGs flagship 4K TVs for 2022. They cost around £600 or so more than their same sized equivalents in the step-down C2 series - though if you want to place them on a stand rather than hang them on a wall you'll have to add a couple of hundred pounds or so extra for the optional desktop stand.
The G2s do, though, ship with a flush wall mount and installation kit, so if you definitely want to wall hang your TV then the G2 saves you from having to buy an optional wall mounting set up like you would for most other TVs - including LG's own more affordable C2 range.
The G2 OLED's pricing makes it very much a premium TV range, sitting in the same ballpark as the mini LED-based Samsung QN95B and OLED-based Sony A90J/A80K series.
The OLED65G2s are available on a global basis, and will all feature the same fundamental features, design and picture quality in every territory. Depending on where you live, the OLED55G2 has a retail of $2,199 / €2,500 (approximately £2,081, AU$3,668).The OLED65G2 comes in at $2,999 / €3,600, (approximately £2,996, AU$5298). Finally, the OLED77G2 sits at $3,999 / €6,000 (around £5,000, AU$9160).
If you want anything bigger, you'll need the OLED83G2 that's priced at $6,499 / €9,000 (around £7,500, AU$13,740). There's been no pricing details yet for the giant 97-inch G2, but let's assume it'll not be heading for the bargain aisles anytime soon.
All models were released in late March or April 2022.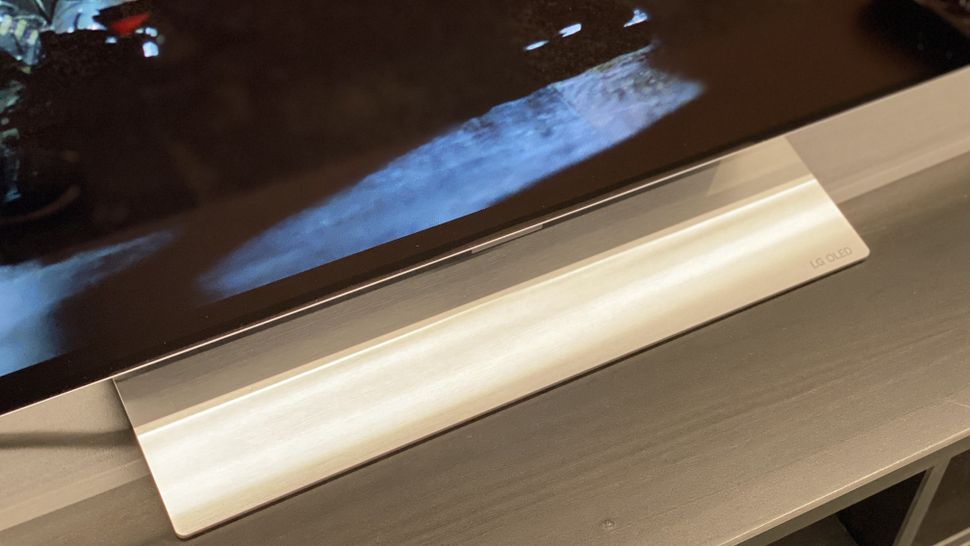 LG G2 OLED review: design
65-inch WRGB OLED screen
New Gallery design
Optimized for wall hanging
Although the OLED65G2 shares the same 'Gallery' design name as its GX and G1 predecessors, it actually looks completely different: gone is the dark frame and chamfered edges, in is a nifty two-layer effect where a thin black rear 'slab' sits proud of and slightly narrower than a chunkier front tier housing the screen that's encased in a very fetching and opulent-looking silver metal coat.
The results look sleeker, cleaner, and - crucially! - like they cost a lot of money. Suddenly the previously attractive G1 series looks rather ordinary.
If you're thinking of plonking - or rather, very carefully placing - the G2 on a piece of furniture, it's worth noting that LG's robust, centrally mounted stand option costs extra. Though, it's nice to find that LG has at least done a proper design job on it this year - no more are you expected to make do with a couple of spindly legs like you had to with 2021's G1s.
The minimalist elegance and wall-hanging preference of the OLED65G2 had us thinking that it might not be a bad idea if LG shipped future generations with an external connections box. Having cables hanging out of a TV this pristine feels almost criminal. Though I guess decent DIYers could always channel all their cables into a wall with some help of an installer.
The quality of the G2 OLED's connections is beyond reproach. In particular, all four of its HDMI ports are capable of handling the maximum 48Gbps of data supported by the HDMI 2.1 standard. This means that hardcore video gamers could simultaneously attach an Xbox Series X, PS5 and cutting-edge PC graphics rig to enjoy full-fat 4K at 120Hz, variable refresh rates and automatic low latency mode switching from all of them. That, plus you'll still have one HDMI left for adding a 4K Blu-ray player or streaming box.
The G2 OLED's seriously distinctive design package is rounded out by one of LG's Magic remote control handsets. These are nicely weighted and balanced, but their biggest innovations by far are its spinning wheel control for making it easier to whizz up and down long submenus, and the way they let you select onscreen options just by pointing the handset at the right part of the screen and hitting 'Select'.
The point and click feature can be a little fiddly to use with some menus, but you get better at it the more you use it.
LG G2 OLED review: smart TV (webOS 22)
Carries most major streaming services
Introduces profiles and family settings
Now named after its year of introduction
The G2 OLED's smart system is called webOS 22... which comes as a bit of a shock considering last year's was called webOS 6.0. Has LG somehow brought back a webOS version from 16 years in the future? Sadly not. Rather more prosaically the brand has decided to start numbering webOS iterations in line with the year they first appeared.
WebOS 22 doesn't radically re-invent the whole webOS interface again. It does, though, introduce some useful new features. The best one is support for profiles, so that different family members can set up their own home screen preferences and have the TV recommend content based on just their viewing history.
Also handy, though, especially now LG is encouraging more family engagement with webOS, are new Family Settings that let you monitor and limit screen time, as well as call in volume limit and eye care settings.
Another new feature that took a bit of getting used to but which we ultimately ended up using pretty much all the time was Always Ready. This lets you keep the set running in a number of 'laid back' scenarios rather than just turning it off when you're not actually watching it. So, for instance, you can leave digital artworks playing on the screen, or have the screen show weather and news reports, while leaving the TV's voice recognition features active so that you can talk to it and get it to deliver features - even streaming music - much like you would a regular Alexa device.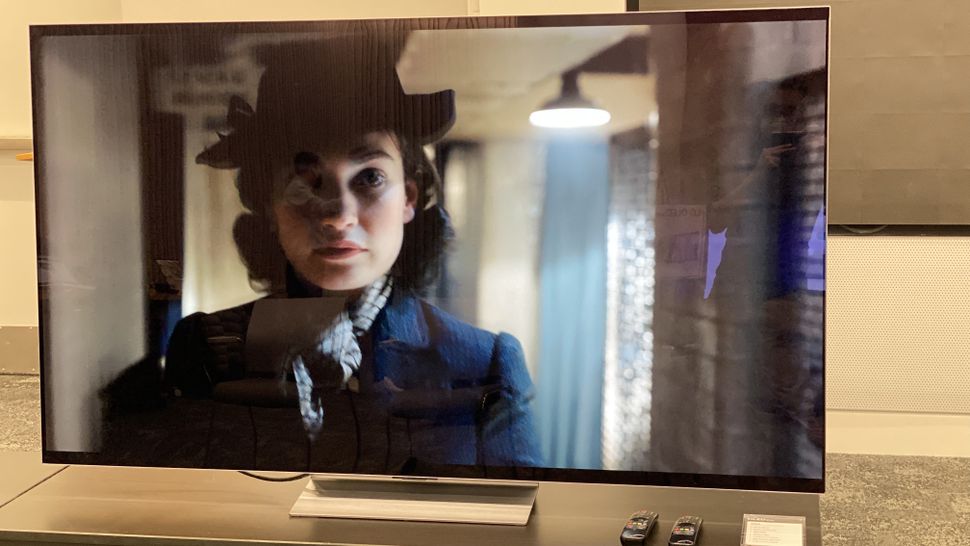 LG G2 OLED review: picture quality
Extra brightness boost
Brilliant color and contrast
Improved motion, clarity and upscaling
While 'adding a heat sink' might not sound particularly exciting on paper, in the flesh it turns out to be pretty much revolutionary.
To anyone familiar with LG's OLED TVs over the years, the impact made by the extra brightness the heat sink unlocks is instantly obvious in at least four different ways. Perhaps the most impressive of which is how much extra brightness the G2 OLED finds for HDR images that fill the screen with bright content. This helps them look more lifelike, more intense, and more three-dimensional.
This clearly noticeable increase in a light image's median brightness holds good for all sorts of bright content too, be it a naturally lit desert scene or an internal or external scene lit using the gaudiest of artificial lights.
The G2's heat sink-inspired punch makes a difference, too, in the brightest peaks of HDR pictures. These highlights of an HDR image - candles fluttering on a background window ledge, direct sunlight reflecting off a car windscreen, pure white text on a dark backdrop and so on - might be much smaller and less consistently visible than the full screen brightness increase we've just talked about, but they are no less important to a convincing HDR experience. And the extra intensity the G2 gets out of them with the heat sink on hand to dissipate what might otherwise be panel-damaging brightness in such punchy areas is spectacular.
Despite the new intensity extremes the OLED65G2 hits by LG OLED standards, the newly ramped up HDR highlights typically avoid clipping - that is, the loss of subtle shading details. In fact, it suffers less with clipping than any other LG OLED TV to date.
An early UK demo of the TV in action had suggested that its extra brightness might come at the expense of some color richness and vibrancy. Happily, though, the finished OLED65G2s show no such color issues. On the contrary, the extra brightness gives colors more volume and punch, regardless of whether you're talking about a very vibrant, rich tone, or a subtle, mild one.
As if all these benefits of the OLED65G2's new brightness kick weren't already tempting enough, its pictures also look slightly more detailed, especially with native 4K HDR sources, than those of any previous LG OLED. Or this year's new C2 series. This must be a result, we assume, of the way the extra light range of the new premium TV in combination with OLED's natural pixel-level light controls enables it to add more emphasis to small light and contrast changes.
In fact, if anything the OLED65G2 handles dark scenes and dark picture areas even better than previous LG OLED generations. They look less noisy, they typically contain slightly more shadow detail, and they almost completely avoid the flickering instability during very dark scenes that very occasionally crops up with older LG OLEDs.
The quality of the OLED65G2's black tone reproduction merely enhances the impact of its extra brightness, making OLED's peerless local contrast capabilities all the more starkly beautiful.
LG's new Alpha 9 Gen 5 process delivers a few extra improvements to LG's picture quality for good measure. Upscaling of sub-4K sources is much better, for one thing. LG has actually removed a step from its upscaling system after finding that it could add noise to upscaled pictures, and the results really do look remarkably more polished and sharp.
Motion handling is also much more sophisticated, with both LG's Cinematic Movement and default Natural motion settings now able to gently massage away excess judder while generating far fewer distracting unwanted processing 'glitches'.
The G2's stunning picture talents apply at least as obviously when you're gaming, too, as they do with TVs and movies. The set also takes just 9.4ms to produce received image data on its screen.
Problems with the OLED65G2's pictures are as rare as hen's teeth. Oddly our sample showed signs of mild shadow detail loss and brightness fluctuations in Dolby Atmos mode that didn't show up in regular HDR10 mode.
There's no support for the HDR10+ mode developed as a rival for Dolby Vision, either, and as always when we're talking about OLED technology, we're duty bound to point out that some top-price LCD TVs - including a few of LG's own models - can reach brightness levels much higher than that achieved by even the G2. For instance, while the OLED65G2 manages to hit around 1000 nits in its Vivid mode (up around 15% on LG's previous LG OLEDs), Samsung's mini LED 65QN95B gets up close to 3000 nits in its Dynamic preset.
For many home cinema fans, though, the OLED65G2's immaculate black levels and the precision you get from being able to put a picture's brightest and darkest pixels side by side without compromise will still be enormously persuasive.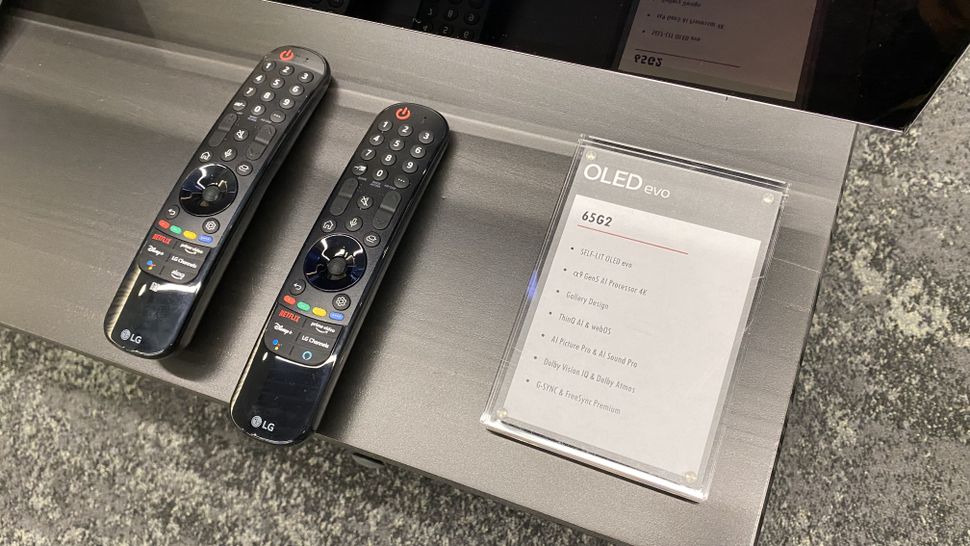 LG G2 OLED review: audio performance
Although it's still not up there with the best TV sound performers, the G2 OLED is a handy improvement sonically over the past few LG TV generations.
For one thing, its 60W, 4.2 speaker system manages to project sound over a wider area while also delivering more well-positioned detailing than its predecessor. It can go louder without distorting, too, and holds on to a more dynamic sound stage, with greater range between its highest treble and deepest bass sounds. The new speakers are much less likely to generate buzzing or crackling than those of its predecessor, too.
Maybe the single best improvement, though, is how much powerful and dynamic Dolby Atmos movie soundtracks get than they have for the past few LG OLED generations. Particularly welcome is a new resistance to the sound slipping down a gear in density and power, as happened on the OLED65G1, just when a Dolby Atmos track most wants a sound system to shift up.
LG's AI Sound Pro processor still delivers more aggression and room-filling power even with Dolby Atmos sources than the G2's Dolby Atmos mode does. Now, though, the Dolby Atmos mode does at least have a few sound placement strengths of its own, giving you a genuine choice over which sound mode you prefer.
The last feature worth mentioning here is the new 7.1.2 upmixing of lower-channel sources - even basic stereo - made possible by the TV's new Alpha 9 Generation 5 processor. While we struggled to make out every one of those 7.1.2 channels, we had no trouble appreciating how intelligently the processing remixes the source audio for more channels, and how much more immersive, large and detailed the resulting sound stage becomes.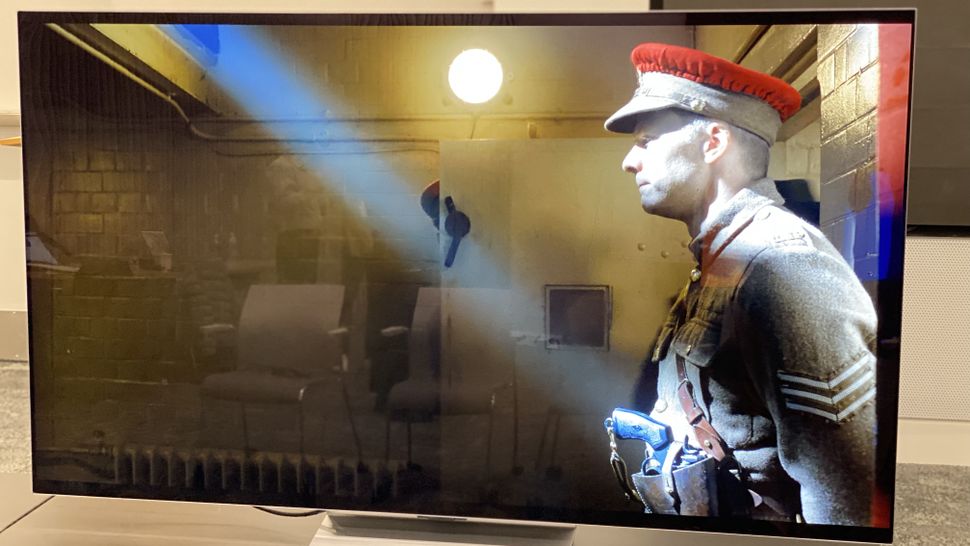 Should you buy the LG G2 OLED 4K TV?
Buy it if...
You want the best picture quality, and don't mind paying for it
If you simply have to have the very best picture quality LG OLED - maybe any OLED TV, period - has ever produced, your buck needs to stop with the the G2 range.
You love gaming as well as movies
As well as its brighter pictures being well suited to video game sources, the G2 handles all the very latest gaming features brilliantly - across all four HDMI ports.
You want to wall hang your TV
The G2 OLED's ultra-slim design and supplied flush-fit mount make it unusually well-suited to wall mounting.
Don't buy it if...
You think the OLEDC2 range might be good enough
While the G2 OLED delivers consistently better picture quality than the improved midrange LG OLEDC2s, if money's tight you may feel the extent of the difference isn't enough to justify the price difference - we certainly wouldn't blame you.
You don't want to wall mount your TV
Just be careful: the G2 only ships with a wall mount, with the optional desktop mount adding hundreds more to the asking price.
You want HDR10+ support
While some rival TVs these days support both of the premium HDR10+ and Dolby Vision formats, LG still only supports Dolby Vision.
AV Technology Contributor
John has been writing about home entertainment technology for more than two decades - an especially impressive feat considering he still claims to only be 35 years old (yeah, right). In that time he's reviewed hundreds if not thousands of TVs, projectors and speakers, and spent frankly far too long sitting by himself in a dark room.