Are you searching for a truly brilliant Black Friday soundbar deal to deliver a major upgrade to your TV audio for less this year? If so, we're here to help – Black Friday is officially done, but Black Friday deals are still happening, even if the annual sales event has come and gone.
We've seen a flood of great offers, ranging from surprisingly cheap options to Dolby Atmos marvels at budget prices in the US and UK.
This year, mid-range soundbars are where it's at. There are simply more mid-range options available in 2022 (more so than ever), so there's a real appetite from you and others to make that all-important purchase and upgrade your home entertainment system.
If you've already invested in one of the best TVs, then one of the best soundbars – or, indeed, best Dolby Atmos soundbars – is the natural next step. Below, then, we'll take you through everything you need to take advantage of this year's remaining Black Friday soundbar deals.
Oh, and if you need to upgrade your screen, read our guides on the best Black Friday TV deals and Black Friday OLED TV deals.
Black Friday soundbar deals (US): Quick Links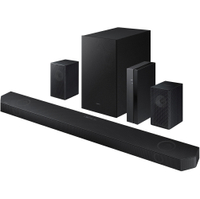 (opens in new tab)
Samsung HW-Q750B Dolby Atmos soundbar: was $799 now $479.99 at Best Buy (opens in new tab)
This is an incredible amount of Dolby Atmos sound for this price. This is basically the Samsung HW-Q700B soundbar and subwoofer, but with two rear speakers bundled in. Considering the Q700B alone costs the same as this bundle, you're getting a phenomenal package. It creates a 5.2.1-channel system, with three channels from the soundbar, two rear channels, two real upfiring channels, and the subwoofer. Samsung's SpaceFit tech does a great job of tailoring the sound to your environment, too. This is the best-value soundbar package with rears we've seen this year so far – its size is great TV of 48-75 inches.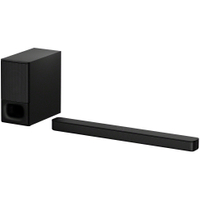 (opens in new tab)
Sony HT-SD35 soundbar: was $229 now $149.99 at Best Buy (opens in new tab)
Looking for a simple soundbar that delivers a big sound upgrade for a low price? This stereo soundbar from Sony should be ideal – there's a generous 320W of power, so you get bigger and clearer sound than any TV can provide. There's Bluetooth to play music on it, and an HDMI passthrough port, so you don't lose the use of that port on your TV. At 35 inches wide, it's great for TVs from 43-55 inches. It's possible to find soundbars with more features under $200 but, if you don't need rear speakers, we doubt anything will sound better than this Sony option.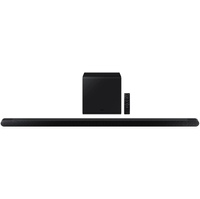 (opens in new tab)
Samsung HW-S800B Dolby Atmos soundbar: was $897 now $597.99 at Amazon (opens in new tab)
This 33% saving is one of our favorite AV deals of Black Friday so far. We were blown away by how strong the Dolby Atmos effect from this soundbar is when we reviewed it – and yet it's a quarter of the size of the Sonos Arc. Even the subwoofer is good-looking and compact. Its low profile is ideal for a TV with a short stand, or just for anyone who want the most mimimalist soundbar possible. The overall sound quality and detail is excellent for this low a price – nothing else at this price delivers such great Dolby Atmos positional sound. It's suitable for TVs of 55 inches and up, and it's available for the same price in white too (opens in new tab).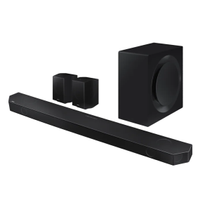 (opens in new tab)
Samsung HW-Q990B 11.1.4ch soundbar: was $1,899 now $1,399.99 at Samsung (opens in new tab)
Samsung went Black Friday crazy this year with deals on loads of products, including $600 off its top soundbar system. When we reviewed the 11.1.4-channel Q990B, we found it delivered fantastic Dolby Atmos immersion from a reasonably compact system. It's certainly not the cheapest soundbar, but it's now more affordable than ever.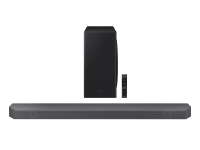 (opens in new tab)
Samsung HW-Q800B 5.1.2ch soundbar: was $999 now $899.99 at Samsung (opens in new tab)
Samsung unleashed some great Black Friday 2022 soundbar sales, including $100 off this midrange model. That's a good deal for the Q800B, which is the successor to the Q800A system we previously reviewed. For this new version, Samsung has upped the channel count to 5.1.2, and now supports a wireless Dolby Atmos connection from the TV. This is a great deal on a feature-packed bar.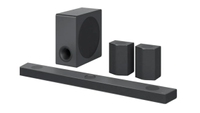 (opens in new tab)
LG S95QR 9.1.5ch soundbar: was $1,799 now $1,296.99 at Amazon (opens in new tab)
This high-end LG soundbar system has already dropped to this price a few times in 2022, but it's nonetheless a great opportunity to save over $500 on the company's best bar. We were wowed by the S95QR when we reviewed it, with praise getting heaped on its powerful sound and elegant design.
(opens in new tab)
Polk Audio MagniFi 2 Soundbar: was $499 now $219.99 at Amazon (opens in new tab)
Polk Audio's compact Magnifi 2 soundbar system is now selling for well over half off at Amazon. As a speaker company, Polk knows about good sound, and the Magnifi 2 includes a wireless subwoofer, an HDMI connection for a TV, and streaming via Chromecast built-in. Stock on this soundbar appears to be limited, so it's a deal you'll want to jump on quick.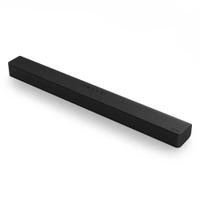 (opens in new tab)
VIZIO V-Series 2.0 soundbar: was $129 now $59.99 at Target (opens in new tab)
Only $60 for a soundbar? That's the case right now at Target, where the Vizio V-Series 2.0 model is being let go for more than 50% off. Vizio makes good budget soundbars and the DTS Virtual X processing that this budget model packs will make it sound bigger than it is, and certainly better than your TV's built-in speakers. A deal like this one is a no-brainer, so get over to Target.com.
Black Friday soundbar deals (UK): Quick Links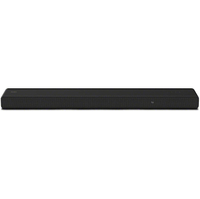 (opens in new tab)
Sony HT-A3000 Dolby Atmos soundbar: was £599 now £499.99 at Currys (opens in new tab)
Looking for a compact single-box soundbar without a separate subwoofer? This Dolby Atmos bar is suitable for TVs between 58 inches and 65 inches, and features 3.1 channels of sound. That means it doesn't have 'true' Dolby Atmos, but Sony's audio processing is the best in the world for adding 'virtual' height and width, and it's stunningly effective. This soundbar was only released a couple of months ago, so any discount is impressive. You get a lot of power and precision for a mid-range price.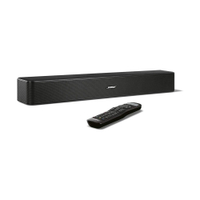 (opens in new tab)
Bose Solo 5 soundbar: was £239 now £149.99 at Amazon (opens in new tab)
This super-small soundbar is great for TVs from 24 inches to 43 inches. You don't get giant Dolby Atmos sound here – it's all about the simplicity: it just promises clearer, richer sound for small TVs. It connects over optical digital or 3.5mm jack, which all TVs have. It's been slightly cheaper than this in the past, but not for the past 12 months. You can find cheaper soundbars, but not with the pedigree and reliability of Bose.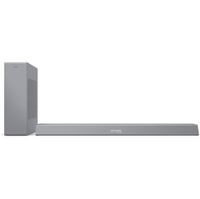 (opens in new tab)
Philips B8505 Dolby Atmos soundbar: was £349 now £229.00 at Amazon (opens in new tab)
A Dolby Atmos soundbar for £229? You don't get the upfiring or sidefiring drivers of a more expensive and elaborate soundbar, but you get virtual Atmos width and height thanks to smart processing. The subwoofer adds extra weight to soundtracks, too.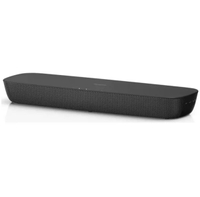 (opens in new tab)
Panasonic SC-HTB208EBK soundbar: was £99 now £49.99 at Currys (opens in new tab)
This super-compact soundbar has a good set of features for the price. You can connect it to your TV using optical or HDMI ARC – the latter is ideal, because it means your TV remote controls the soundbar automatically, no setup needed. It also includes Bluetooth for playing music. Its tiny size means this bar is good for TVs between 24 inches and 50 inches. Don't expect a huge home cinema effect, but if you want clearer speech and punchier sound than a small TV can deliver on its own, this is a great price for an easy upgrade.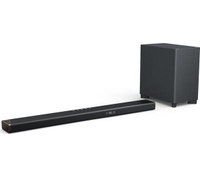 (opens in new tab)
Philips Fidelio B95 5.1.2 wireless soundbar: was £849 now £699 at Currys (opens in new tab)
Currys is in on the Black Friday deals, with this impressive Philips soundbar system being let go for $150 off. This B95 system comes with a wireless subwoofer and has 13 total speakers contributing to the immersive Dolby Atmos and DTS:X effect. DTS Play-Fi is also onboard for high-res multiroom streaming and there's an HDMI eARC port for connection to your TV.
Should you wait for a Black Friday soundbar deal?
We expect Black Friday to be more of a season than a day this year. The cost of living crisis means that many people need to spread their spending out over a longer time, and the big retailers all know this. In any case, they've been starting their holiday season sales earlier and earlier for the last few years, and in 2022, you're likely to see lots of promotions from individual retailers starting in October and leading us through November.
So that means you might find an excellent soundbar deal before Black Friday, and if that's the case – go for it.
However, if you're looking for the biggest discount possible, it might be worth hanging on. While we saw TV prices start to fall from early October last year, it wasn't until a week before Black Friday that they dropped dramatically. According to a report from Adobe (opens in new tab), the average TV price hit a low over Black Friday, then rose again, before dropping to its lowest point in mid-December. That data isn't about soundbars, but soundbars usually follow TVs very closely, because the two are so connected, so we think it's relevant.
We think soundbar prices are likely to fall faster than last year, but the overall pattern is likely to be similar. We're not saying you should wait all the way until Black Friday to buy a soundbar, or even past it to December – you might miss the perfect deal if you do that. But we're expecting to see a larger amount of good deals closer to Black Friday, and if you don't find the right one then, you may have another chance in December.
Black Friday soundbar deals: our predictions
When will the best Black Friday soundbar deals start in 2022?
Black Friday is over for another year, but there are still lots of deals available - we're rounding them up in our best soundbar deals page, which also provides buying advice to help you score the best soundbar at the best price.
How good will this year's Black Friday soundbar deals be?
Probably: real good. During the pandemic, lots of people bought TVs, for obvious reasons. This has meant that fewer people are buying TVs than in previous years… but lots of people have lovely new TVs that could maybe do with a sound upgrade. Perhaps that's exactly why you're here.
The soundbar companies (many of which are the same as the TV companies, don't forget) know all this, and are hoping that all the people who can't be tempted by a new TV can be tempted by an audio upgrade.
And at the same time, Dolby Atmos has broken out in 2022 to become a much better-known feature, and soundbar companies are competing to deliver the most affordable Atmos option. Between these two things, there's going to a real battle to get your attention, and that means bargains.
What Black Friday soundbar deals do we expect to see in 2022?
The really hot action is going to be in two areas: under $100/£100, and under $500/£500. In the cheaper category, you'll have lots of low-price brands vying to give you decent soundbars for just $50/£50, and those will be massively popular. Look for brands such as Majority and Philips. And then coming just under the $100/£100 mark will be affordable soundbars with subwoofers from the likes of Samsung, LG and Sony.
In the $250/£250-$500/£500 region, things will get interesting. At the lower-end you'll get some great options from the likes of Yamaha, Sony and Samsung. At the higher-end, you'll get some very capable Dolby Atmos soundbars dropping down from more like the $750/£750 region – Samsung, LG and Philips will probably be the hottest names here.
And we're seeing something quite rare: it looks like there'll be discounts on Sonos soundbars. Price drops on these have been very rare in the past, but even now, months before Black Friday, we're seeing some money off. Don't expect big 40% discounts, but it looks like there will be Sonos Black Friday deals action this time.
Tips for buying a Black Friday soundbar deal online
1. Keep track of your favorites
There are a few things you can do to make the most of Black Friday 2022. For starters, sign up for an Amazon account if you don't already have one and create a wishlist of soundbars you have your eye on.
Make sure you do the same for other big electronics retailers – Best Buy and Currys, for example, are likely to make some hefty reductions across their home audio ranges over the day. It's also worth reading the reviews of a few different soundbars so you know which will suit you.
2. Work out what features you want
Do you want a soundbar with Dolby Atmos 3D audio wizardry? Or are you happy with just more powerful and clear stereo sound? Will you need an HDMI passthrough port so that you can still connect just as many consoles/set-top boxes to your TV? Will you need Bluetooth or Wi-Fi for streaming music?
When you know what boxes you want to check, you'll have a much more manageable list of options.
3. What size will you need?
One of the things that people often don't consider with soundbars until they're about to click the 'buy' button is sizing – you don't want one that's too small or large.
Soundbars come in roughly three sizes: small, for TVs of 32-50 inches; medium, for TVs of 50-65 inches; and large for TVs of 55 inches minimum.
Getting a soundbar that's too big means it'll extend past the edges of your TV and look weird. The sound will be overkill too. Getting one that's too small will mean the movement and width in the sound doesn't quite have the same scale as what's on-screen, so it'll feel disconnected and a bit disappointing. So take a look at the dimensions when you're considering your options.
4. What kind of package will you get?
Are you getting a one-box soundbar with no other boxes? A soundbar-with-subwoofer combo for extra power? A soundbar surround system with subwoofer and wireless rear speakers? Because if you get more boxes than you bargained for, you might have trouble fitting it all in the space.
This will also tie into what we said about working out what features you want – once you know what form you want and what features, you'll probably have a nicely refined list of options to keep your eye on.
3 best soundbars to watch out for on Black Friday
This is a relatively new soundbar from Samsung, but it's already had a significant price cut to make it one of the best home theater deals around, because it gives you a soundbar, subwoofer and two rear speakers, creating a stunning dome of Dolby Atmos sound that nothing else matches for the price.
We hope to see it drop to about £700 in the UK, and around $999 in the US – for that price, it'll be an incredible upgrade.
Read more: Samsung HW-Q930B review
This hits an excellent sweet spot for features compared to price: it uses Dolby Atmos for a very tall and wide soundscape with impressive positional audio, features an HDMI passthrough port, and has Bluetooth for streaming.
It's another one that's lowered in price over time, but we'd expect another $50/£50 off its current $400/£300 price – it's an older model, and Sony has newer soundbars, so its in prime position to get a Black Friday push.
Read more: Sony HT-G700 review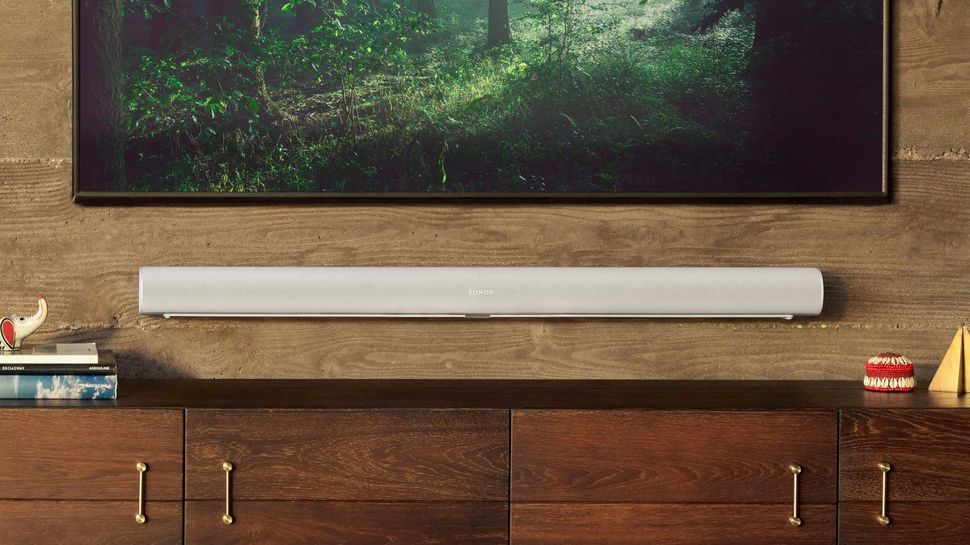 The Sonos Arc delivers excellently dynamic sound with reasonable bass in a single-unit, meaning no subwoofer or rear speakers (but you can add both from Sonos' range in the future, if you want). It supports Dolby Atmos and has upfiring and sidefiring speakers to deliver really immersing sound, and its balance is excellent – and it's the only one we've mentioned that's as good with music as it is with movies.
Traditionally, Sonos products don't get much of a discount – but right now we're seeing over $100/£100 off it, and that could go higher over Black Friday.
Read more: Sonos Arc review