The Apple Watch 8 has just tumbled back down to its lowest-ever price in the UK today, with Amazon (among other retailers) offering this excellent wearable for just £369 (was £419).
First listed back in February, today's £50 price cut is a match for the best deal we've seen yet on this latest flagship wearable and a great opportunity to bag a discount.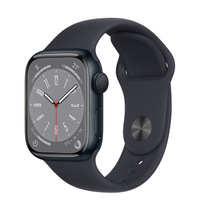 Apple Watch 8 (GPS, 41mm): was £419 £369 at Amazon
OS: watchOS 9
Display: 41mm Always-on Retina
Processor: Apple S8
While it's not the first time we've seen this particular Apple Watch 8 deal crop up at Amazon, today's £50 price cut brings this excellent smartwatch back down to its lowest-ever price. A couple of new features with this model include a handy always-on display, upgraded S8 chipset, and new ECG, pulse oxygen, and temperature sensors - all of which enable some of the most advanced health tracking features you'll find anywhere on a smartwatch.
Deal rating: ⭐⭐⭐⭐⭐
Note, this Apple Watch 8 deal is also available at Argos, Currys, and John Lewis.
Reasons to buy
A first-rate smartwatch that's packed with features
Our Apple Watch 8 review pointed out that this latest flagship wearable from the brand is an iterative update at best. That, however, is by no means a bad thing when you consider how Apple's flagship wearables have always been up there with the best smartwatches you can buy
The Apple Watch 8 in particular features a gorgeous OLED display with super-thin bezels, a very speedy S8 chip inside, and some new sensor tech that enables crash detection and menstrual tracking. With the exception of the incredibly niche (and pricey) Apple Watch Ultra, the Apple Watch 8 is easily the best Apple Watch on the market right now.
Avoid if...
You only need the basics...
We're a big fan of the Apple Watch 8 here at TechRadar but even we'll admit that some of its features are overkill for those who just want the basics. Things like the ECG or temperature sensor are handy, but surplus to requirement if you just want to track your workouts or sleep routine.
A great (and cheaper) alternative to consider is the latest Apple Watch SE 2022 - which is essentially like a stripped-down version that keeps all the most useful lifestyle and health apps while cutting down on some of the more advanced bells and whistles. For a detailed look at this device, and how it differs to the Apple Watch 8, head on over to our comprehensive Apple Watch SE 2022 review. If you're interested, this more budget-friendly device is also on sale today too with an excellent promotion at Currys.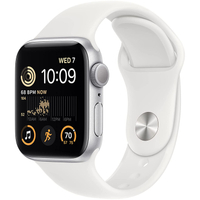 Apple Watch SE 2022 (41mm, GPS): was £239 now £189 with trade-in at Currys
OS: watchOS 9
Display: 40mm Retina
Processor: Apple S8
Currys is offering a £10 upfront discount on the new Apple Watch SE and a minimum of £50 off with a qualified smartwatch trade-in. Note, according to the T&Cs this applies to any working smartwatch, so this is a very, very flexible trade-in offer. With an excellent display, full host of fitness and lifestyle apps, and a speedy chip, bagging the latest Apple Watch SE for under £200 is an absolute steal.
Deal rating: ⭐⭐⭐⭐⭐
If you're joining us from outside the UK, you can see today's best prices on Apple Watches in your region just down below. Also worth checking out is our main Apple Watch deals page, which is packed to the brim with handy buying advice and a comparison between each model.
---