Cyber Monday iPad deals 2022: best sales happening now
Deals
Contributions from
last updated
The best Cyber Monday iPad deals 2022 available now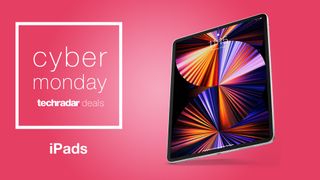 (Image credit: Future / Apple)
Cyber Monday iPad deals are still live on new and refurbished units. That means that you can still get your hands on one of Apple's class-leading tablets for a fraction of the cost.
You can get the iPad Mini (2022) with a Logitech Crayon stylus, for example, for $399.99 at Target. Meanwhile, some iPad Pro 12.9 (2021) models are $300 off, starting at $799.99 at Best Buy.
Many of the deals we featured last week during Black Friday still stand as Cyber Monday deals, with offers on older iPads and iPad Pros taking up the bulk of the reductions, even if you might find the odd offer on one of the company's latest and greatest 2022 iPad Pro models.
Apple also launched its Apple Gift Card event, which finishes today, but offers those looking to buy direct from the iPads' creator the opportunity to shave a bit of cash off after the fact, however, it's retailers like BestBuy who have consistently offered up some of the best iPad deals this season, which you'll see for yourself below.
Instead of cutting prices on new models for Cyber Monday, we're also seeing deals on 'renewed' iPads from Amazon, although suspicions are, there's the potential to receive a box-fresh device, regardless of how they're billed.
So, whether you want the cheapest base model, or the maxed-out, 2TB iPad Pro. We don't expect to see better deals before the holidays, so if you find a Cyber Monday iPad deal you like, now is the time to grab it.
Best Cyber Monday iPad deals
The best early Cyber Monday iPad deals
Should you buy an iPad on Cyber Monday?
It seems logical to hope for discounts on some of the older iPads, given that Apple recently launched three new tablets, including the iPad Air (2022) earlier this year.
However, since the M2-powered iPad Pro and the tenth-generation standard iPad hit shelves on October 18, prices of the ninth-gen iPad actually went up in some countries. With prices rising, we didn't see many great iPad deals on the newer models this year.
Last year, Apple's Black Friday deals were paltry and underwhelming generally, as were Apple's Cyber Monday deals. The biggest discount in the US was a $200 saving on the iPad Pro 12.9-inch 2021 (1TB), which went for $1,599 instead of $1,799. In the UK, the iPad Pro 12.9-inch 2021 (512GB) was reduced from £1,299 to £1,149.
So, is Cyber Monday the best day to buy a new iPad? If you've waited until now, we recommend finding a deal. We don't expect to see price cuts or better deals before the holidays.
We will keep an eye on all the deals as retailers update sales for Cyber Monday. Keep checking back for the best prices throughout the day, on whichever iPad you'd like to buy.
Cyber Monday iPad deals: the best sales advice
Where are the best places to find Cyber Monday iPad deals?
Here's the million-dollar question: where to look for iPad Cyber Monday deals. Unlike Black Friday, Cyber Monday is primarily online, so don't go in-store expecting great tablet discounts; instead, we'd recommend checking big retailers in your region like Walmart and Best Buy.
Don't forget that some stores will price match against select retailers, so you don't necessarily have to buy from the discounting store.
Of course, whenever a great iPad deal hits the web on Cyber Monday, we're making sure to report on it; so keep this page bookmarked and check back throughout the day for the best discounts.