Black Friday Oculus Quest 2 deals: the best VR headset discounts still going
Deals
Contributions from
last updated
You can still get the best Black Friday Oculus Quest 2 deals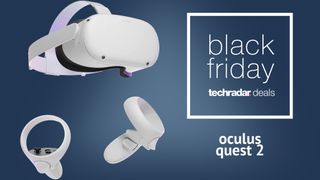 (Image credit: Oculus Quest 2)
The sales period may be done, but the Black Friday Oculus Quest 2 deals are still out in full force. We're seeing discounts on headset bundles, games, and accessories, but the window to pick one up is rapidly closing.
Following a price hike earlier this year, these Black Friday Oculus Quest 2 deals make one of the best VR headsets more affordable once again. The hardware remains a great entry point for VR, as it needs no PC or console to run. Just switch it on, strap it to your head and you're playing the best VR games with minimal messing around.
The best Oculus Quest 2 deal launched ahead of Black Friday, seeing it reduced to $349 / £349 and bundling in two of the machine's best games, too.
The best Black Friday Oculus Quest 2 deals in the US
Oculus Quest 2 bundles and headsets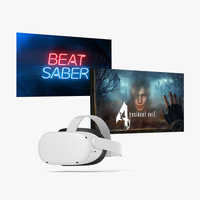 Oculus Quest 2 (128 GB) Black Friday bundle: was $400 now $349.99 at Amazon
Save $50 - If you've been after an Oculus Quest 2, this is the perfect time to pick one up. In our four-and-a-half-star review we commended the Quest 2's solid specs and easy-to-use nature, plus there are some great games on the platform (this bundle includes Beat Saber and Resident Evil 4 VR).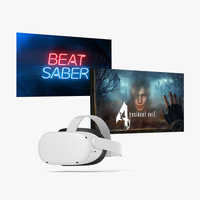 Oculus Quest 2 (256 GB) Black Friday bundle: was $590 now $429 at Amazon
Save $71 - If you like the deal above but want a VR headset with more storage, this bundle with the 256GB Quest 2 is the way to go. That said, we've found that you need a lot of VR games to fill even the old 64GB Quest 2, so the 128GB model above should be fine if you're on a budget – especially since the specs are otherwise identical.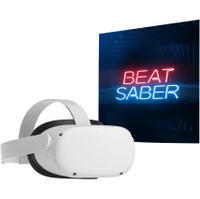 Oculus Quest 2 Beat Saber bundle (128GB): $399.99 at Best Buy
While the Meta Quest 2 isn't cheaper than usual, this deal does include a bundle. Along with Meta Quest 2, you get a Beat Saber game, so you can start the VR fun right away.
Oculus Quest 2 accessories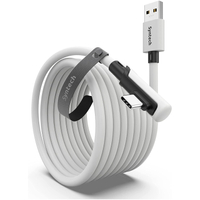 Syntech Link Cable 16 FT: was $30 now $19.99 at Amazon
Save $10 - Do you need a really long cable for all your potential Oculus Quest 2 needs? Well, Syntech has your back as this high-quality 16-foot USB A to USB C lead is all you could want at the $20 mark.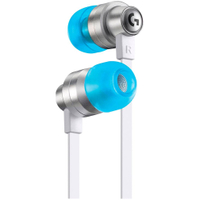 Logitech G333 VR: was $50 now $29.99 at Best Buy
Save $20 - Who says that encompassing VR headphones have to be pricey? That's the mission statement of the Logitech G333 VR specially engineered for Oculus Quest 2. Now it's available at just over half price!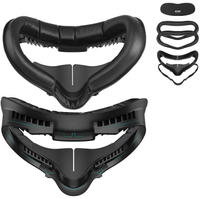 KIWI design Face Cushion Pad: was $40 now $32.79 at Amazon
Save $7 - This is a great price on the Kiwi face cushion which is compatible with Oculus Quest 2. If you're someone who uses glasses or wants a more plush feeling on their face then this small upgrade could be it.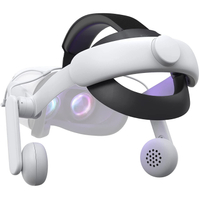 KIWI design Headphone Head Strap: was $80 now $63.99 at Amazon
Save $16 - Are you someone who finds the standard Quest 2 head strap a little uncomfortable over time? Well, this third-party one could be just the trick at an aggressive price given all on offer here.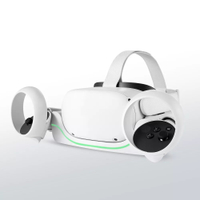 Oculus Quest 2 charging dock: Was $50 now $35.99 at Target
Save $14 - This high-speed charging dock is currently on sale and is a great deal to snap up. While the price may drop as we get closer to Black Friday, this deal is still worth the purchase.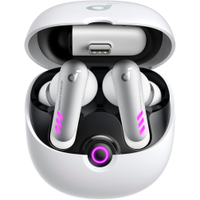 Soundcore VR P10 Wireless In-Ear Earbuds for Meta Quest 2: was $100 now $69.99 at Best Buy
Save $30 - While this isn't quite an Oculus Quest 2 deal, we still think that these earbuds are a great companion for the coveted all-in-one VR headset itself at a great price.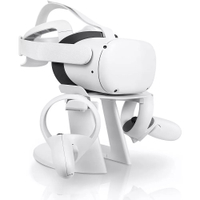 Oculus Quest 2 Headset and controllers stand: Was $50 now $39.99 at Target
Save $10 - This deal is a great incentive to get the Quest 2 headset and controllers stand that will take care of your VR headset. While it may go lower, the price as it stands is a comfortable deal that is worth the product.
The best Black Friday Oculus Quest 2 deals in the UK
Oculus Quest 2 bundles and headsets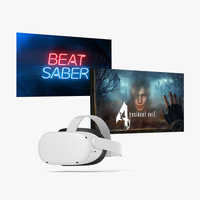 Oculus Quest 2 (128 GB) Black Friday bundle: was £453 now £349 at Amazon
Save £51 - In our four-and-a-half-star review, we celebrated the Oculus Quest 2's easy-to-use design, as well as its good visuals and specs (especially for its price). This deal doesn't make it as cheap as it used to be (£299 before a price hike) but it's still an amazing bundle offer that includes a lot of bang for your buck.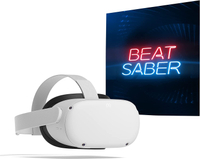 Oculus Quest 2 Beat Saber bundle: £399 at Amazon
It would be best if you waited a little longer to get the best deal on this VR headset on Amazon. Even with the included VR game, this is not worth the price. However, as Black Friday gets closer, it may mean the price drops.
Oculus Quest 2 accessories
Interested in more Oculus Quest 2 details no matter where you are in the world? Our price comparison technology pulls through all the latest rates on the coveted headset this side of the sales.
Should you pick up a Black Friday Oculus Quest 2 deal?
If you want to get the best possible prices for Oculus Quest 2 bundles and accessories, then Black Friday is definitely the best time to buy, as, even though the actual day is behind us, we're still seeing some fantastic discounts on bundles right now. Following a price increase earlier this year, the Oculus Quest 2 is even more expensive, so these discounts help adjust that price hike. Just don't expect prices to drop as low as they've been in previous years. And we're unlikely to see the price drop further in Cyber Monday Oculus Quest 2 deals.
If you're on the fence, however, between whether or not to pick up an Oculus Quest 2 or the upcoming PSVR 2 – and don't mind waiting a bit longer for a great discount – then we advise holding off until Black Friday 2023, when you can decide between deals on the two VR headsets.
When the PlayStation VR 2 releases in on February 22, 2023, it will be significantly more expensive than the Oculus Quest 2, selling for $549.99 / £529.99, however it will be a more advanced piece of kit, combining eye tracking, headset feedback, 3D Audio, and the PSVR 2 Sense controller to make for an immersive experience. It will, however, be limited to just playing PlayStation games, whereas the Oculus Quest 2 is a more versatile device.
But if you're sure the Oculus Quest 2 is for you, then don't hesitate this Black Friday/Cyber Monday weekend. We'll bring you the best discounts right here, so you don't miss the biggest bargains.
Black Friday Oculus Quest 2 deals: our predictions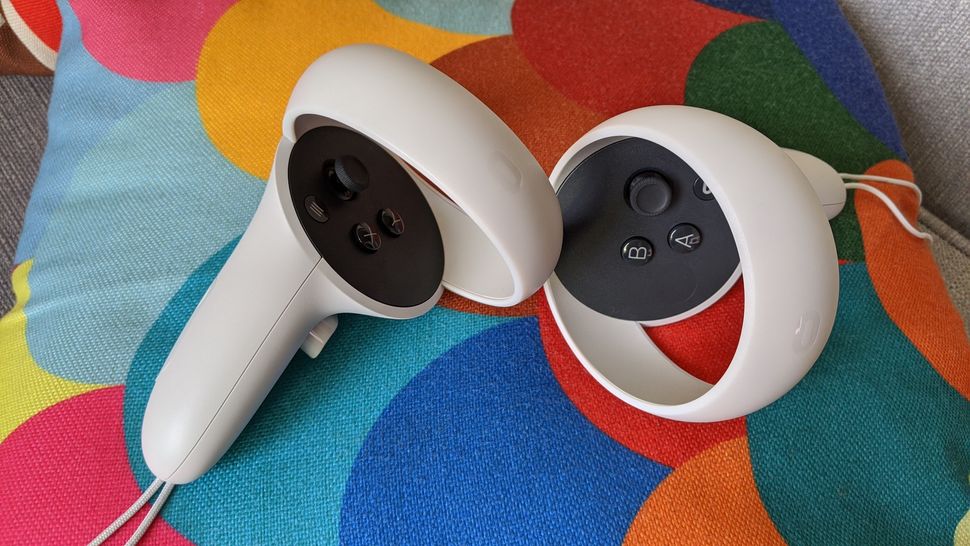 When did the best Black Friday Oculus Quest 2 deals start in 2022?
Black Friday is now behind us, but many Oculus Quest 2 deals went live in the week leading up to the big day.
What Black Friday Oculus Quest 2 did we see?
The best deal we saw reduced the Oculus Quest 2 to $349 / £349 and bundles it with Beat Saber and Resident Evil 4 VR, two of the best games on the headset.
TIPS FOR GETTING THE BEST BLACK FRIDAY Oculus Quest 2 DEALS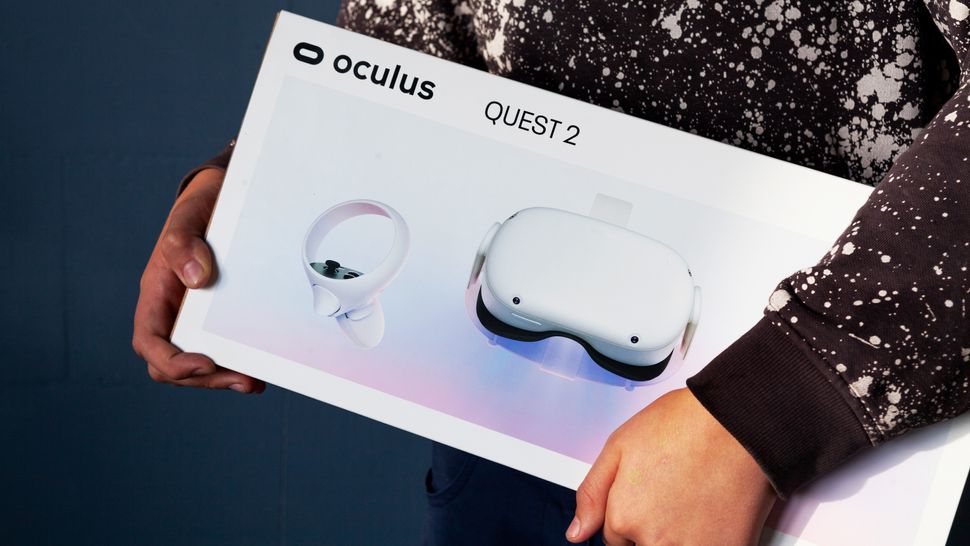 1. Look for bundles
Oculus Quest 2 bundles will often reap the biggest discounts, certainly the current best deal, which sees the headset reduced to $349 / £349 is a great bundle and will likely remain the best of the Cyber Monday Oculus Quest 2 deals, too.
It's worth noting that some Black Friday Oculus Quest 2 bundles will seem like good deals when, in actuality, they're the same price as buying each product separately. That's why we add up the individual price of each bundle before we recommend it. So if you want a great Black Friday Oculus Quest 2 bundle deal, keep this page bookmarked.
2. Shop around
Most people have their go-to retailer for gaming hardware, accessories, and games, but when it comes to Black Friday, it's time to throw away your allegiances.
That doesn't mean shopping with untrustworthy third parties; it just means don't settle for the first deal you see. Make sure it's the best deal around before you put you spend your hard-earned money. Remember, the day itself is when you're likely to bag the biggest bargain. We'll be scouring the web and sharing the top deals throughout Black Friday, so you can count on us to find you the best discounts.
If you want to look for yourself, these retailers are a good start.
US retailers
UK retailers
3. Consider an alternative
We've mentioned this briefly, but it's worth considering whether you're dead set on an Oculus Quest 2. After all, it's arguably the worse time to buy an Oculus Quest 2 as Meta gears up to release the Meta Quest Pro and Sony prepares to release PSVR 2. By next year, the Oculus Quest 2 could be out of date. So, it could be worth holding fire if you want to be at the cutting edge of VR technology.
But if you want a great VR headset and don't need the latest bells and whistles, you can't go wrong with the Oculus Quest 2. Likewise, the Valve Index and HTC Vive Pro 2 are options if you don't mind splashing a bit more cash for a more "premium" headset.
4. Is it right for you?
While the Oculus Quest 2 is a fantastic purchase for VR fans, this comfortable headset has a couple of drawbacks that you should consider. First, you need a Facebook account to use it, so if you avidly avoid social media, it may not be for you.
The second consideration is whether or not VR generally is for you. Some people get motion sickness very severely, and while most VR headsets are designed to minimize this, there's no guarantee you won't feel sick. It's worth assessing whether you'll get motion sickness before dropping all that money on a headset, maybe by trying out a friend's headset if you can.
3 BEST VR HEADSETS TO WATCH OUT FOR
The best standalone VR headset
Availability : Out now | Price: £299 / $299 / AU$479 | Wired? : No | Additional Equipment Needed?: No, standalone
Incredibly immersive experiences
Comfortable weight
Easy to use compared to other headsets
Requires Facebook account linking
Can still cause motion sickness
The Oculus Quest 2 (now Meta Quest 2) will be one of the best VR headsets for most people. It doesn't need to be wired to an expensive PC, offers movement and freedom, and it's easy to set up and use.
It's a significant improvement over the original Quest. We found it was a more responsive experience thanks to improved RAM and chip specs and a higher resolution display that's 50% sharper than its predecessor.
Developers have the option to make their games run at 90Hz (important for increased comfort and realism while playing), and we found the headset itself is lighter than before, too. Hand tracking – which came to the original Quest via a firmware update but is baked into the Quest 2 from the off – is also impressive.
We found there's nothing quite like the thrill of wire-free VR. Games like Robo Recall and Beat Saber should still amaze, and turning YouTube VR or BigScreen VR into your own personal cinema screen is a welcome distraction from the madness of the outside world.
The original Oculus Quest is still a great choice if you're looking for an untethered VR headset. The Meta Quest 2 might bring a significant upgrade, but the original still boasts an OLED display panel with 1440 x 1600 per eye resolution and is powered by a Snapdragon 835 processor.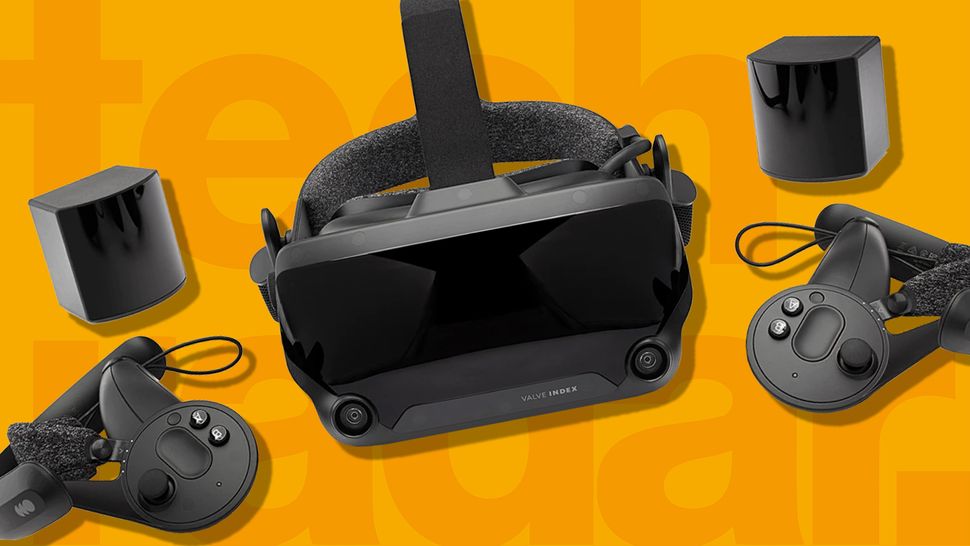 The best VR headset overall
Availability: Released, but often out of stock | Price: $999 / £919 / about AU$1,425 | Wired?: Yes | Additional Equipment Needed?: Yes, PC
Widest field of view
'Knuckle' controllers great for tracking
Requires a high-end GPU
Still expensive compared to competition
The Valve Index is an excellent VR headset representing a next-gen system compared to its predecessors. We found it has a crisp display that runs well even with older GPUs, a wider field of view, a higher refresh rate, and Valve's 'knuckle' controllers, which can track the movement of every finger.
It's a significant upgrade to the HTC Vive and runs much smoother than the Vive Pro, a powerful VR headset that really struggled to deliver on the promise of high-end, room-scale VR. However, it isn't without its snags. During our testing, we found setting it up can be tricky, updates can cause connection issues, and there are often errors. You'll also need a space where you can be near a powerful desktop or laptop, because – this isn't a standalone headset like others in this list.
This is a fantastic VR headset if you can look past those issues. Its higher-resolution screen and better refresh rate allowed us to use it for more extended periods without discomfort, and the Index Controllers are a natural step up from the ones that ship with the Vive.
Although we think this is the best VR headset for 2022 and our top pick for PC owners, it's worth mentioning the Valve Index can sometimes be hard to track down as manufacturing slowed down during the pandemic.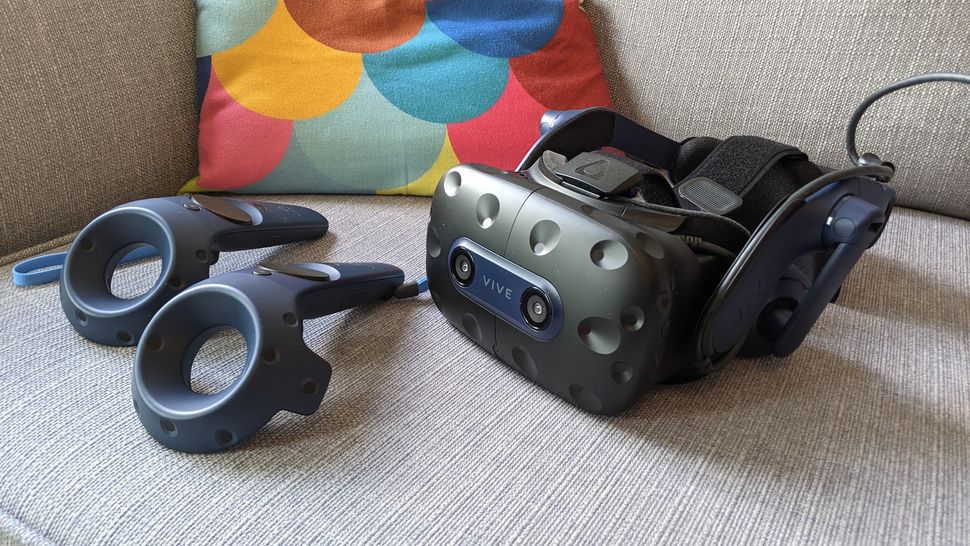 Availability: Out now | Price: $1,399 / £1,299 | Wired?: Yes | Additional Equipment Needed?: Yes, high-spec PC
Very high resolution
Wide field of view
Access to great games
Expensive
Can get hot
Lots of cables
It doesn't come cheaply, but if you're after the very best in PC VR visual fidelity, the HTC Vive Pro 2 should sit near the top of your list.
The latest evolution of the HTC Vive range, the Vive Pro 2 boasts a ridiculous '5K' resolution (2448x2448 pixels per eye), a 120-degree field of view and a 120Hz refresh rate. Provided you've got a powerful gaming PC to back it up, this is as clear and lifelike a display as you can find in the consumer VR space right now. After hours of testing, we still found ourselves stunned by how good games looked on this device.
But the HTC Vive Pro 2 has its faults, too. We found during testing that the screen can get hot after prolonged use, and the controllers haven't changed much since the very first Vive headset was released. Furthermore, the external tracking stations and tethered cabling can be a hassle to set up compared to standalone devices like the Oculus Quest 2.
Still, if you want your VR gaming sessions to look their absolute best and have the cash to afford the headset and accompanying high-end PC, this is an enthusiast's dream.
Sign up to receive daily breaking news, reviews, opinion, analysis, deals and more from the world of tech.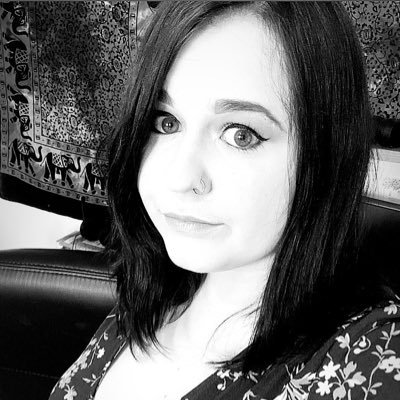 Associate Editor, TechRadar Gaming
Vic is TechRadar Gaming's Associate Editor. An award-winning games journalist, Vic brings experience from IGN, Eurogamer and more to the TechRadar table. You may have even heard her on the radio or speaking on a panel. Not only is Vic passionate about games, but she's also an avid mental health advocate who has appeared on both panels and podcasts to discuss mental health awareness. Make sure to follow her on Twitter for more.