If you're in the market for a VR headset you need to buy the Meta Quest 3. At this price its VR and MR performance can't be beaten, and the Quest Store's VR software catalog is superb.
Pros
+

Vastly better graphics than Quest 2

+

Improved mixed reality

+

Incredible suite of software
Cons
-

Pricier than the Quest 2 at launch

-

No eye-tracking

-

The design is good, but not yet perfect
Why you can trust TechRadar We spend hours testing every product or service we review, so you can be sure you're buying the best. Find out more about how we test.
Two-minute Meta Quest 3 review
People often ask me "What VR headset should I get?", and since its launch in October 2020 I've said the Oculus Quest 2. It does a great job of delivering virtual reality experiences, especially when you consider how affordable it is, and the Quest Store is home to an awesome library of software.
That was then, and this is now; and from now, and for the foreseeable future, I'll only be recommending the Meta Quest 3.
Simply put, the Meta Quest 3 is the best VR headset out there for most people. Sure, not going to offer the same performance as the Apple Vision Pro, or a headset powered by a computer or console, such as a Valve Index or a PSVR 2 headset. But it's significantly cheaper than those options and, like the Quest 2 before it, it punches above its weight in terms of what it offers for the price.
Its new Snapdragon XR2 Gen 2 chipset delivers 2.5x better graphical performance compared to the Oculus Quest 2. In practice this translates to crisper visuals (text is now very legible) and vastly improved lighting effects in VR experiences that have a Quest 3 visual update. The higher-resolution displays and extra RAM are also solid upgrades.
Design-wise the Quest 3 fixes many of my biggest Quest 2 bugbears. It's now easier to adjust the headset without taking it off, and thanks to the 40% slimmer design and improved strap it feels more comfortable and secure on my head. I just wish it had a slightly better strap like the Meta Quest Pro, and that it came with a silicone face cover that's easier to clean than the fabric one it does have.
The controllers are great though – it turns out that, with the right hardware and AI trickery, you don't need annoying tracking rings after all.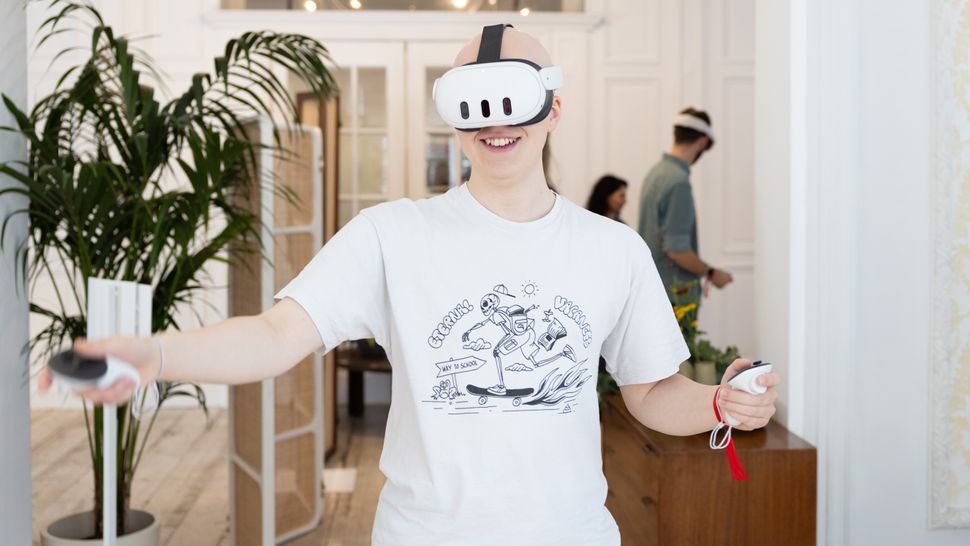 We also can't overlook this headset's mixed-reality capabilities. It's still not perfect (especially in lower lighting), but the full-color passthrough quality puts the Meta Quest Pro's mixed reality to shame. And with its new depth sensor and automatic room mapping, mixed reality experiences can inhabit your space much more realistically than on the Quest Pro.
The Quest 3 has finally made me love MR, and I'm turning it on as often as I can.
The Oculus Quest 2 still has a place as a very affordable gateway to VR, but I'd strongly suggest saving up that bit extra to get the Quest 3 if you can. I think it's already a fantastic gadget – and Meta has announced several software updates that will be arriving in the coming months that will make it even better.
Meta Quest 3: Specs
Swipe to scroll horizontally
| Header Cell - Column 0 | Meta Quest 3 |
| --- | --- |
| Dimensions | 184 mm x 160 mm x 98 mm |
| Weight | 515g |
| Display | Two LCD displays |
| Display resolution | 2064 x 2208 pixels per eye |
| FOV | 110 degrees horizontal, 96 degrees vertical |
| Refresh rate | 72Hz, 80Hz, 90Hz, 120Hz |
| Chipset | Qualcomm Snapdragon XR2 Gen 2 |
| RAM | 8GB |
| Storage | 128GB or 512GB |
| Battery life | 2 hours 12 minutes |
Meta Quest 3: Price and availability
Meta unveiled the Quest 3 at its September 27 Meta Connect event. There are two Meta Quest 3 models, and the only difference between them is the amount of on-board storage. The 128GB headset costs $499.99 / £479.99 / AU$799.99, and the 512GB model costs $649.99 / £619.99 / AU$1,049.99.
Based on my experience, the file sizes for VR software are generally fairly small, so even if you opt for the 128GB Quest 3 you should have more than enough storage space for plenty of games and apps – and if you somehow do fill up 128GB, it's fairly easy to delete and redownload software quickly, as long as you have a decent internet connection.
The only reason to opt for the 512GB headset currently is if you want to be able to access your entire VR library at all times, without having to swap titles in and out.
Those prices make the new headset pricier than Meta's Oculus Quest 2 – which currently starts at $299.99 / £299.99 / AU$509.99 for the 128GB model – although as you'd hope for from a newer gadget the Quest 3 does offer some solid improvements to justify its cost.
Meta Quest 3: Performance
Powerful new Snapdragon XR2 Gen 2 chipset
Significantly better graphics than the Quest 2
Average battery life of two hours and 12 minutes
Compared to the Quest 2, the Meta Quest 3 offers a night and day performance upgrade. Thanks to its new Snapdragon XR2 Gen 2 chipset from Qualcomm (the Quest 2 was powered by the Gen 1 XR2), the Meta Quest 3 has received a substantial boost to its graphics. Frankly, I don't know how I ever found the Quest 2 immersive – although I guess these things are relative, and the experience seemed impressively immersive, at least until now.
VR text is no longer afflicted with the blurry edges that make it a challenge to read; in fact all virtual objects appear more well-defined than on the Quest 2. Shadows and reflections behave much more realistically too. The performance won't match the quality of graphics on a current-gen console like the PS5, but the Meta Quest 3's performance is a huge leap forwards.
For this review, I played Red Matter 2 on both the Quest 2 and Quest 3, and the enhanced version on the new hardware looked significantly better in every way. The space station I was exploring not only had sharper-looking details, but the more accurate shadows and lighting made the experience feel significantly more real. It felt like a whole new game.
The graphics are also helped out by the Quest 3's new pancake lens optical system – which suffers from much less distortion than the Quest 2's fresnel lens design – and its high-resolution displays. The Meta Quest 3 boasts two new displays that provide a resolution of 2064 x 2208 pixels per eye – beating the 1832 x 1900 pixels per eye offered by the Quest 2's single display.
I also noticed that the Quest 3 seemed to stutter a bit less, with its 8GB of RAM giving it a slight power boost over the Quest 2's 6GB. Unfortunately, for this longer review, I didn't get access to Assassin's Creed Nexus, which I got to play a level of in my pre-announcement trial of the Meta Quest 3, but I can still remember how impressed I was by that experience. The section of Venice I explored was full of responsive NPCs and interactable items in a scene that felt busier than anything I'd seen on the Quest 2, and the Quest 3 handled it all like it was nothing.
I'm very excited to see what VR experiences developers are able to achieve with the power of the Meta Quest 3 at their disposal.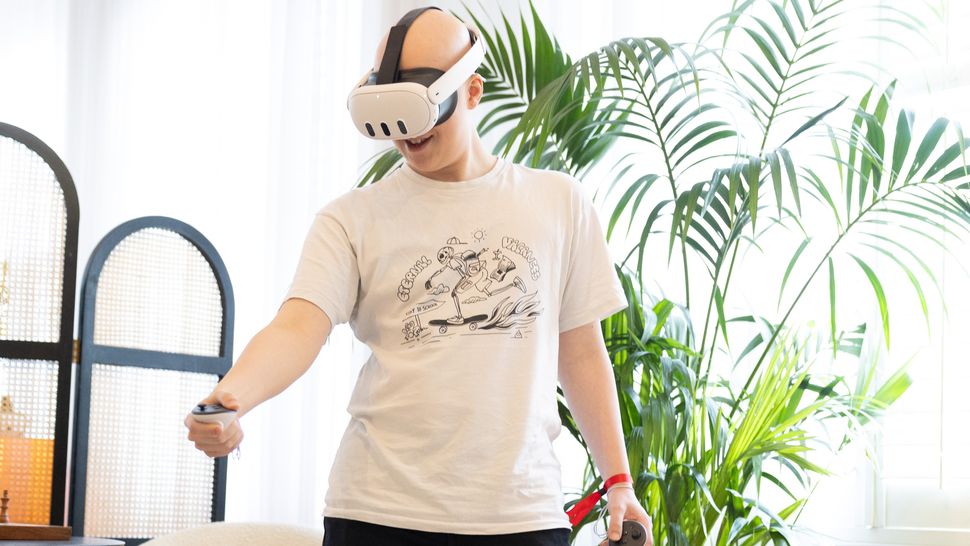 You'll be able to stay immersed in these experiences for a decent chunk of time too. Meta says the Quest 3's battery can last for two hours and 12 minutes on average, and based on my experience with the headset this is about right. When it does eventually run out of juice you can use the included 18W charger to get the headset from 0% to 100% in roughly two hours.
Meta Quest 3: Design
More comfortable to wear than its predecessor
Controllers work well
No silicone face cover included
On their own, each of the Meta Quest 3's design changes are fairly minor upgrades. But as a whole, the many annoyances they eliminate offer a significant improvement over wearing and using the Oculus Quest 2.
Firstly, the Quest 3 is about 40% slimmer than the Quest 2. This means that while it is a little heavier than the Oculus Quest 2, coming in at 1.14lbs / 515g compared to 1.10lbs / 503g, it feels less bulky. The weight is sitting closer to your face, and I've found that it feels slightly more comfortable – though I still generally prefer the comfort of the Meta Quest Pro, which is heavier again at 1.59lbs / 722g, but uses its battery as a counterweight to great effect along with a sturdier strap.
Speaking of which, while the Meta Quest 3 uses an elastic strap like its predecessor, the design has been altered very slightly; the tightening loops at the back are now integrated into the over-the-head strap. The end result is a strap that's a little easier to adjust while you're wearing the headset, and it feels a little more secure than my Quest 2's – though I can't say for certain if this more secure fit is because the Quest 3 strap is better, or just that it hasn't become a little worn down after two and half years of use like my Quest 2's strap.
I also really appreciate that IPD adjustments (which let you set how far the lenses are apart) are now managed by a little scroll wheel underneath the headset's visor. Unlike with the Quest 2, you don't need to remove your headset to make adjustments, plus you're not limited to three predetermined presets: you can scroll between a much wider range of options, so you can set the Quest 3's lenses to suit you perfectly.
For those of you who wear glasses, the Meta Quest 3 doesn't have a plastic spacer insert like the Quest 2 to give you enough room for your specs. Instead, by pressing a button inside the visor, and gently pulling the padding and headset apart, you can extend each side to make room for your specs. Both this and the IPD adjustment change should make it a lot easier to pass the headset between multiple users without much hassle.
You'll also see from some of the images here that the Meta Quest 3 doesn't only come in white; you can swap the strap, and some of the plastic casing, for orange and blue options. Unfortunately these color options cost extra, but if you fall in love with your Quest 3 and want to personalize it they could be fun add-ons to pick up in the future.
There is one slight downgrade from the Quest 2 however, at least for people who love using VR for workouts and fitness. Unlike the Quest 2, the Meta Quest 3 doesn't have a silicone cover for its face padding; instead, it has soft fabric padding around its front face. This fabric padding is harder to clean than silicone if it gets super sweaty, so if you plan to use VR apps like Supernatural and Les Mills Body Combat I think you'll want to pick up a different facial interface. Meta sells an official one for $39.99 / £39.99 / AU$69.99, but you may be able to find a good third-party option for less.
Before trying out the Meta Quest 3 I was concerned that the controllers would be an issue. They don't use a tracking ring, but unlike the Quest Pro's controllers, which also lack tracking rings, they don't have internal cameras to replace them. Instead, the Quest 3's handsets rely entirely on the headset's cameras, IR LEDs in the controllers, and AI for tracking.
I wasn't convinced that this would be a suitable alternative, but having used the Quest 3 controllers I'm happy to report that they work just fine. Throughout my testing, I found that they were functionally identical to the Quest 2's controllers; in fact, I'd say they're better, because I no longer had to worry about a tracking ring bumping into something.
As expected they aren't as accurate as the Meta Quest Touch Pro controllers that come bundled with the Quest Pro – the Quest 3 handsets suffer from some tracking issues if they're out of sight of the Quest 3's sensors. If you want to can pick up a pair of Meta Quest Touch Pro controllers and connect them with your Quest 3 headset you can, but I'm not sure the $299.99 / £299.99 / AU$479.99 you'd pay is worth it unless you have some very specific use cases that would justify the cost.
As with the Quest 2, the Meta Quest 3 supports hand-tracking (as do many apps). So you can also enjoy VR without using any controllers at all.
Meta Quest 3: Software and features
Access to entire Quest software catalogue
Many games and apps getting Quest 3 upgrades
Mixed reality is good – though not quite perfect
The Meta Quest 3 supports every game and app currently on the Quest store, so if you own an Oculus Quest, Oculus Quest 2, or Meta Quest Pro you'll be able to bring your entire software library to the new headset. What's more, Meta has said that several titles are getting free improvements that take advantage of the new headset's capabilities.
This will include raw performance and graphical upgrades thanks to the power of the new Snapdragon XR2 Gen 2 chipset, and new mixed-reality modes that rely on the Quest 3's full-color passthrough.
The Quest Store is home to many of the best VR games out there and provides the Quest 3 and Meta's other headsets with the best suite of VR software available for any headsets. Plus, as with other Quest headsets, you can use Air Link or a Link Cable to use your Quest 3 for PC VR (provided your PC has the specs to run a VR title).
But VR is so last-gen. With the Quest 3, Meta wants to get more people into mixed reality and has outfitted the headset with new hardware to this end. This includes two RGB cameras that can capture your real-world space in full color. By combining this footage with its new depth sensor – and a little bit of software trickery – the headset is able to create experiences that blend the real and virtual worlds.
Full-color mixed reality isn't new to Meta headsets – it first launched with the Meta Quest Pro – but the Quest 3 is the first headset in the affordable Quest line to get the feature. Plus, the Quest 3 does it better than the Pro. The picture quality is significantly less grainy, and the colors look more vivid than what the Quest Pro's passthrough produced. While the real world still doesn't look exactly true to life – and there is quite a bit of distortion if you get too close to real-world objects – the Quest 3's video feed is leaps and bounds ahead of the Pro's, which I found helped to sell mixed-reality experiences.
Another boost to MR is the headset's improved AI, and new depth sensor, and other external cameras, which can not only automatically map out your floor, but detect walls and objects in the room. Not only does this make it easier to avoid hitting something while you're flailing your arms in VR, it also allows mixed-reality experiences to interact more realistically with the space around you.
When blasting holes in my living room wall while playing First Encounter, I noticed the holes took notice of corners, and formed slightly differently compared to blasts made in the middle of a wall. In Drop Dead: The Cabin's MR mode, virtual objects were placed on top of my sofa and desk, occupying the space so realistically that I forgot they weren't real for a minute.
Previously, I've ignored mixed reality outside of the periods when I'm reviewing a new headset, but on the Quest 3 I can see myself turning it on as often as games and apps allow.
Annoyingly, I haven't yet been able to try out Augments, which is the mixed reality software feature I was most excited about following the headset's announcement. Think of Augments as mixed reality widgets; they're virtual objects that you can place in your home that offer a variety of benefits. One might serve as a portal to your favorite game; another could provide live weather updates for your local area; and a few might be digital trophies you're proudly displaying.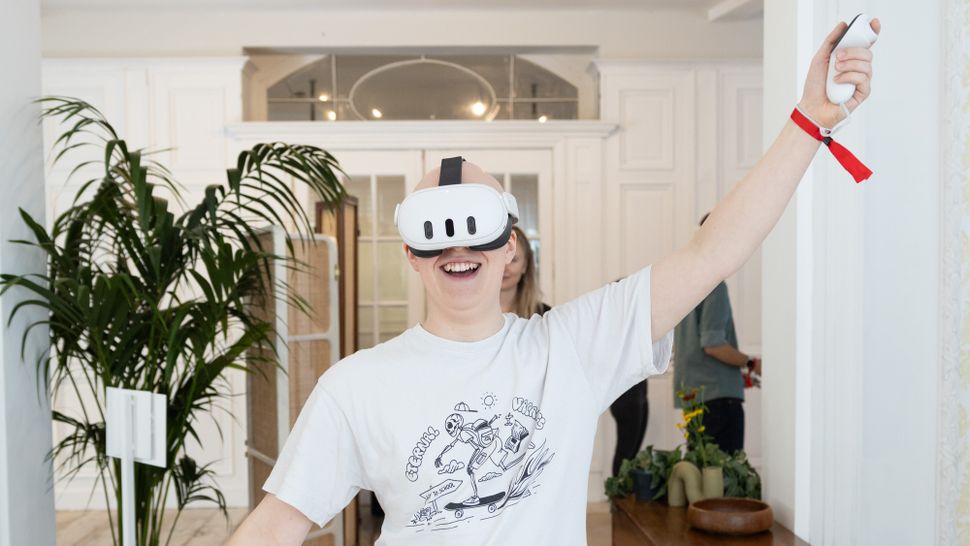 Meta says these Augments will stay where you put them, so if you decorate your space with Augments during one session and then enter mixed reality in the same space on another day, everything will be just how you set it up before. Unfortunately, Augments are coming via a future software update, so I'll have to wait a little longer to give them a go.
Lastly, and still on the topic of mixed reality, I love that it's now a lot simpler to swap between virtual reality and mixed reality. You just double-tap the right side of the headset (with some forcefulness) and you'll change your view. It's super handy, and makes it a lot easier to see what's happening around you without needing to take the Meta Quest 3 off.
Should you buy the Meta Quest 3?
Swipe to scroll horizontally
| Attributes | Notes | Rating |
| --- | --- | --- |
| Performance | The Meta Quest 3 is a massive performance upgrade over the Quest 2 in every possible way. For the price you can't beta it frankly. | 5/5 |
| Design | The headset has a much better design than its predecessor. It's not quite perfect in a few areas though, I really wish it came with silicone covers and a slightly better strap. | 4/5 |
| Software and features | The Meta Quest software library is fantastic and mixed reality is so much better on the Quest 3 than other MR headsets I've tried. Mixed reality still isn't quite perfect but Meta has announced several updates are coming soon to add new features and improvements (such as Augments). | 4.5/5 |
| Value | The Quest 3 might not be as affordable as the Oculus Quest 2, but you still get great value for your money with this new and improved VR headset. | 5/5 |
Buy it if...
You want a mixed reality machine
Mixed reality isn't perfect on the Quest 3, but it is very good (especially when you're in a bright room). If you're after an affordable headset that delivers VR and MR content then this is the headset for you.
You love your Oculus Quest 2
If you love your Oculus Quest, or your Quest 2, the Meta Quest 3 offers substantial upgrades that you'll likely appreciate. Best of all, you can bring all of your favorite VR software with you to the new headset.
You can afford it
The Quest 3 is far from the priciest VR headset, but it's also not as cheap as the Quest 2 was at launch. That said, it justifies its price, and is the VR headset most people should get if you can afford one.
Don't buy it if…
You have a Meta Quest Pro
In terms of mixed reality, the Meta Quest 3 is a substantial improvement over the Meta Quest Pro; however, it doesn't offer much of an upgrade in other areas (and even has a few downgrades, such as 4GB less RAM). If you already have a Meta Quest Pro then splashing out on the Quest 3 might not be worthwhile – I'd maybe wait for a Quest Pro 2 or a Quest 4.
You're tight on space
While you don't need oodles of free space for every VR and MR experience, if you live in a cramped home that offers next to no space (even if you try and rearrange the furniture), you aren't going to get the most out of this headset.
You demand super high-end performance
The Quest 3 is a step up for affordable standalone VR headsets in many ways, but it still can't hold a candle to the performance you'll see from some more expensive headsets, like the upcoming Apple Vision Pro, and devices powered by a PC or console like the Valve Index and PSVR 2. Don't get me wrong; the performance is good, but if you want a VR gadget with zero compromises, the Quest 3 isn't it.
Also consider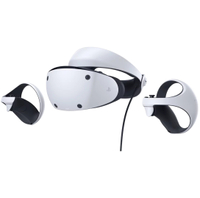 PlayStation VR 2
Our sister site TRG called the PSVR 2 headset "an experience that'll be well worth your hard-earned cash." If you have a PS5 already and want a VR headset this is one to check out, though the software library isn't quite as large as Meta's.
Check out TRG's PSVR 2 review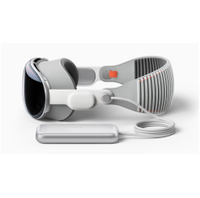 Apple Vision Pro
The Apple Vision Pro isn't out until 2024 and will be much more expensive than the Quest 3 (it starts at $3,499, around £2,800 / AU$5,300) but it could be one to pay attention to if you demand a high performance and love Apple tech.
Check out our hands-on Apple Vision Pro review
How we test
For this Meta Quest 3 review I've not only spent hours each day trying the VR headset out; I've been swapping between it, the Oculus Quest 2 and Meta Quest Pro to get a sense of how much of an upgrade the Quest 3 is for virtual reality and mixed reality.
Where possible I've used the exact same software on all three headsets to see the differences first-hand – and I've also dived head-first into a mix of Quest 3-exclusive tiles to see what new possibilities the headset offers.
First reviewed October 2023