The Oppo Find X is all about two things. Its pop up cameras and its screen. The latter is unavoidable, as almost the whole of the phone is taken up by it.
Update: We've spent more time with the Find X, and we've updated this hands on with more thoughts and findings, as well as a host of new images.
In fact, 93.8% of the front of the Find X is screen - meaning that the bezels are completely gone from three sides, with the 'chin' at the base of the screen a slender affair.
Just a week after the Vivo Nex launched with a 91.24% screen-to-body ratio, the Oppo Find X takes the 'closest to an all-screen smartphone' title away from it.
Like the Nex, the Oppo Find X also adopts up a pop-up camera feature, but it takes things to a new level with all three cameras rising out of the top of the handset, rather than just the selfie snapper.
It looks fantastic, but is there enough substance behind the screen to make the Oppo Find X more than just a two-trick pony? We've been hands on with the handset at its Paris launch to find out.
Design and Display
The Oppo Find X is a striking handset. There's no denying that the (almost) all-screen design looks fantastic when it's powered on, and it's easy to ignore the slender chin bezel at the base during use.
With a top bezel of 1.91 mm, side bezels of 1.65 mm and a bottom chin measuring 3.4 mm, you get a 93.8% screen-to-body ratio on the Find X.
The large, 6.42-inch OLED display is bright and colorful, although it lacks the clarity of rival handsets from the more established names.
That's because the Find X has a full HD resolution stretched across its super-sized screen, while the likes of Samsung, LG and HTC can boast QHD resolutions across smaller displays on their flagships.
After a few minutes using the Find X we got used the lower quality, but it'll likely be more noticeable when it comes to video playback and gaming.
The sides of the Panoramic Arc Screen are curved, like we've seen on the Galaxy S9 and co., which allows this large device to sit a little more comfortably in the hand.
The glass front and rear, and the metal frame provide a premium look and feel, and we found that the Find X was surprisingly easy to handle considering its size. If you have smaller hands, it'll still feel big, but it's not too overly heavy in the hand.
Oppo Find X hands on gallery
Image 1 of 14
Image 2 of 14
Image 3 of 14
Image 4 of 14
Image 5 of 14
Image 6 of 14
Image 7 of 14
Image 8 of 14
Image 9 of 14
Image 10 of 14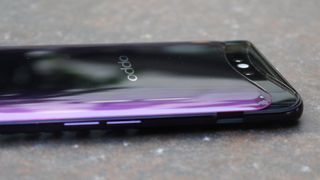 Image 11 of 14
Image 12 of 14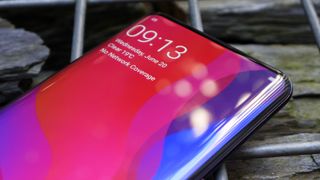 Image 13 of 14
Image 14 of 14
The glass is a total fingerprint magnet however, and during our extended time using the Find X we were constantly having to wipe down the rear of the phone. It's a common issue with all the glass-clad handsets these days, and it does detract a little from the premium finish.
Round the back you'll notice there is no fingerprint scanner, nor is there one embedded in the display, which means there's no digit reading smarts to be found on the Find X.
Instead, for those who need their biometric fix, you'll be forced to used the face recognition feature - which Oppo is calling O-Face.
It's not quite as quick as a fingerprint, as you need to hit the power button on the right and then wait (less than a second admittedly) for the camera bar to rise up and get a good look at you.
While it does take a little longer, it is fun to see the camera peek out from the top of the phone, before sliding smoothly back into the body of the handset. There's an IR (infra-red) sensor built in too, allowing O-Face to work in the dark.
During our tests with the phone, we tried out O-Face and we were impressed with just how quickly the camera popped up, recognized us and then hid itself.
Oppo claims that the failure rate of O-Face is one in a million, while a fingerprint scanner is one in 50,000, and that it's tested the unlock feature to offer five years of use without failure.
On the bottom of the Oppo Find X you'll find a USB-C port and a single speaker - the latter of which isn't particularly well position as it's easily muffled when the phone is held landscape.
An omission here is a headphone jack, which will disappoint fans of the 3.5mm connection - but it won't be a deal breaking for many in 2018. The Find X will be available in two colors; Bordeaux Red and Glacier Blue.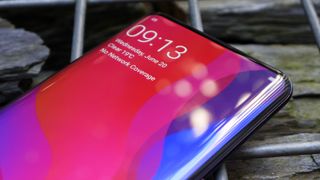 Camera and battery
As we've already mentioned, there cameras on the Oppo Find X are no where to be seen when you first pick it up.
That's because they are hidden in a block at the top of the handset, which rises up, out of the body when the camera app is launched (or when use unlock the handset using O-Face).
It takes less than a second for the cameras to rise from the top of the phone, so it doesn't leave you feeling like you're waiting ages for the cameras to fire up.
On the back of this motorized segment you'll find a primary 16MP sensor alongside a 20MP secondary offering, with OIS (optical image stabilization) including. The two cameras work together to provide extra depth information on your images, allowing you to create Bokeh (blurred background) effect photos.
There's also AI scene recognition which can identify 21 different scenarios, automatically adjusting the camera settings, giving you better photos. It's a similar offering to Hauwei's and LG's AI cameras.
Meanwhile, the 25MP front facing camera (that Oppo is calling the Stealth 3D camera) also boasts 3D modelling which helps if offer an improved beautification mode as well as the O-Face unlock feature.
They all seem to work reasonably well, but during our brief time in the awkwardly lit demo area it was hard to really gauge how good the Find X cameras are.
Keep an eye out for our in-depth Oppo Find X review to see how the cameras stack up against the competition.
There's a sizable 3,730mAh battery sealed inside the Find X, and it features Oppo's VOOC fast charging technology allowing you to give it a quick blast before heading out the door, via the USB-C port.
You don't get wireless charging here though, which is a flagship feature Oppo has left out, we expect, to keep the cost down.
Power and performance
The Oppo Find X comes with a great deal of power under the hood, with the flagship Snapdragon 845 chipset sitting alongside 8GB of RAM.
We're still not sold on the need for that much RAM inside a phone, but what it does mean is Android 8.1 Oreo runs smoothly on screen, although it has been coated in Oppo's Color OS 5.1 interface.
The interface isn't as clean and tidy as stock Android, which means it's not quite as user friendly, but you'll likely get used to it after a while.
On the plus side, the Find X is due for a global launch, which means it's already loaded up with Google's suite of apps - something the Vivo Nex is sorely lacking.
It also supports the Android P Beta program, allowing you - if you want - to try out the next version of Android before it's officially launched. But beware, it's likely to have a variety of bugs.
There will be a few storage options on the Find X, with the largest option being 256GB, providing plenty of space for your apps, games, photos and more.
Price and release date
The Oppo Find X price is €999 (around £870, $1,100, AU$1,500) for the 256GB model.
That's rather expensive, especially when you consider the lower resolution display (only full HD vs QHD) is has compared to the similarly priced Android competition.
There's also a special edition Lamborghini Find X, with a carbon fiber-effect rear, engraved Lamborghini logo on the rear, 512GB of storage and Oppo's new Super VOOC flash charge with can refuel the handset from 0% to 100% in just 35 minutes. And it costs an eye-watering €1,699 (around £1,500, $1,900, AU$2,600).
The Oppo Find X release date is set for August, and we already know that it will be available in Spain, France, Italy, the Netherlands, China, Taiwan, Australia and India. Oppo has also confirmed that the Find X will find its way (see what we did there) to North America as well.
As for the UK, Oppo hasn't ruled out a Find X launch, but it also isn't committing to anything for the time being.
Early verdict
The Oppo Find X is a feature-packed, premium smartphone with all the bells and whistles to ensure it fits in with the best phones from Apple, Samsung and co.
However, its lofty price tag is a little harder to justify when you consider the screen is 'only' full HD and there's no wireless charging, stereo speakers or even a headphone jack. There's also no word on any type of waterproofing.
The price has likely been kept high thanks to the pop-up cameras, and while that's a fun novelty it remains to be seen if they are actually worth the money. Keep an eye out for our in-depth Oppo Find X review soon to see if it can live up to its price tag.