We know why you're here. With Black Friday coming up, why wouldn't you be curious about the best laptop we've gotten our hands on two years running? There are a million notebooks to choose from, but if you can only buy one, the Dell XPS 13 is the one we've recommended most highly. You're probably wondering why that is, and the truth is a lot simpler than you might expect.
This is a well-built machine with a lot of history to back it up. As this is only the 2016 iteration of the Dell XPS 13, you can tell the company behind it has spent years working to perfect its precious flagship. That's right, if the Inspiron laptops are budget class notebooks then the XPS 13 is Dell's most primo flavor clamshell.
It's the one to buy if you're fed up with Apple's industrial reductionism and don't care to abandon macOS in favor of Microsoft's continually improving Windows 10 operating system. If you've decided that getting rid of USB ports and SD card readers isn't necessary for building thinner, lighter and more powerful devices, then keep reading. Otherwise, we'd say you've already made up your mind anyway.
Price and availability
There are various avenues for buying the Dell XPS 13, so stick with us. While it starts at $799 (£999, AU$1,899), that only fetches you a dual-core Intel Core i3 CPU, 8GB of RAM and 128GB of SSD storage paired with a full HD, 1,920 x 1,080 InfinityEdge screen. That's for a non-touch screen, too, if that matters to you.
Meanwhile, the UK and Australian versions of the Dell XPS 13 base model come sporting an Intel Core i5 processor – sorry, US readers, it looks like you'll be given the short end of the stick.
Still, you can always configure your laptop with upgrades and, in classic Dell fashion, there are a multitude of these in tow. You can add a touchscreen, for instance, bearing a 3,200 x 1,800-pixel resolution. However, there's a steep price difference in doing so, as this Core i5-equipped model also requires that you shell out a grand total of $1,299 (£1,249, AU$2,499).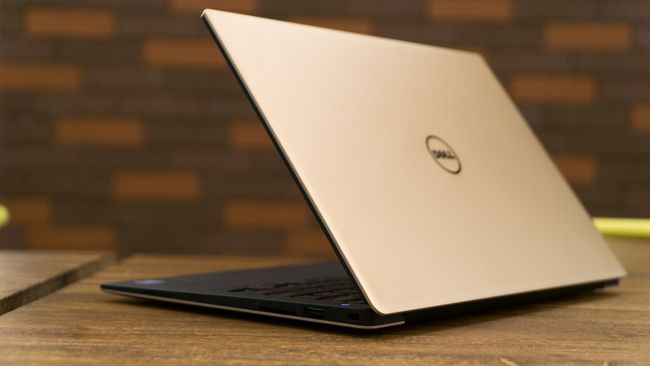 Spec Sheet
Here is the Dell XPS 13 configuration sent to TechRadar for review:
CPU: 2.7GHz Intel Core i7-7500U (dual-core, 4MB cache, up to 3.5GHz)
Graphics: Intel HD Graphics 620
RAM: 8GB LPDDR3 (1,866MHz)
Screen: 13.3-inch QHD+ (3,200 x 1,800) InfinityEdge touch display
Storage: 256GB PCIe SSD
Ports: 1 x USB 3.0, 1 x USB 3.0 w/PowerShare, 1 x USB-C (Thunderbolt 3), SD card reader, headset jack
Connectivity: Killer 1535 802.11ac (2.4 & 5GHz); Bluetooth 4.1
Camera: 720p widescreen HD webcam with dual array digital microphones
Weight: 2.9 pounds (1.29kg)
Size: 11.98 x 7.88 x 0.33 – 0.6 inches (W x D x H) (304 x 200 x 9 – 15mm)
Design
To be fair, there isn't a lot to be said of the XPS 13's design this time around, as very little, if anything, has changed. You still have the 13.3-inch display as sharp as QHD+ (3,200 x 1,800 pixels) with optional touch controls tightly packed within an 11-inch-wide frame.
And, you still have the beautiful, machined aluminum lid and base that beset a comfy, carbon fiber keyboard deck coated in soft-touch paint. Only this time, the lid and base come in rose gold – the salmon shade that's all the rage in tech products these days – as well as the traditional silver option.
The machine somehow measures even thinner than the previous generation, though only by a hair: 0.33 inches (9mm) at its thinnest point to 0.6 inches (15mm) at its thickest. For those keeping score, the previous model came in at two hundredths of an inch thicker at the nose.
Dell has also lowered the weight of its leading laptop, but by such a small degree it would be impossible to notice: from 2.93 pounds (1.32kg) to now just 2.9 pounds (1.29kg) even for the touchscreen model. Short of a major breakthrough in the materials used to construct the XPS 13, we're likely looking at the thinnest and lightest Ultrabook from Dell for a while. (Please, prove us wrong.)
All told, we're still smitten by the XPS 13 design, and frankly we're happy it hasn't changed much, because it doesn't have to. One small request: if Dell could at least center that bottom bezel-oriented webcam like it has on the new Dell XPS 13 2-in-1, that would be clutch.
More 'pro' than the MacBook Pro?
During our time with the new XPS 13, we came to a crucial realization: this laptop can match and even surpass the 13-inch MacBook Pro in almost every regard. For 100 bucks less than Apple's latest laptop, the XPS 13 offers a sharper screen, a stronger processor and the same amount of RAM and storage.
Oh, and this guy has a full-size SD card slot.
The MacBook Pro? You'll get one more Thunderbolt 3 port – one of which needs to be used for charging – and little else for its starting price. On paper, it seems like the XPS 13 will give you a better time editing photos and video than its archnemesis. Well played, Dell.
Gabe Carey and Nick Pino have also contributed to this review.
First reviewed January 2017