If you're looking for a great deal on a new laptop you've come to the right place! That's because every week we trawl through all of the biggest and best UK laptop retailers to find what look like the best deals on decent laptops.
Whether you're after a cheap laptop for browsing the web and doing other simple tasks, or you need a new laptop for school or work, or if you're after a really awesome laptop for as little money as possible, we have you covered.
At the top of the page you'll find our selection of the best cheap laptop deals of the week. We always focus on finding the best discounts, and try to avoid recommending a laptop we think you'll be disappointed with.
Underneath that you'll find our pick of the best laptops currently available and the best deals available for each one. Highlights this week include top discounts on all rounder laptops, a collection of the best priced 2-in-1 laptop/tablet hybrids and even some powerful Intel Core i5 models.
If you'd prefer to skip straight to the laptop deals section at the big retailers you can do so using the below links, otherwise here are our cheap laptops of the week...

Where to find the best laptop deals in the UK:

Cheap laptop deals of the week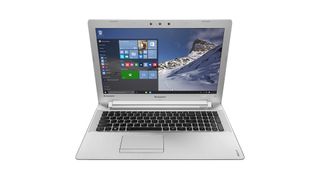 1. Lenovo Ideapad 500
A powerful and stylish 15.6-inch laptop
8/12GB RAM
Windows 10
1TB HDD with 8GB SSD options
There have been some generous offers going of late for this popular Lenovo series. Both the 8GB or 12GB RAM options should run multiple reasonably-demanding standard applications at once. Drive sizes vary from 256GB to 1TB hard drives. There's a generous two year guarantee too if you buy from John Lewis.

2. Asus Transformer Book T100CHI
Build quality
Display
Battery life
One of the cheapest brand new 2-in-1 laptops we've seen in a while and an ideal entry point to casual users wanting to try out the world of these higher function tablet/laptop hybrids. Specs include 2GB of RAM, 64GB of storage, a 10-inch 1080p screen, Windows 8.1 and an Intel Atom processor.

3. HP Pavilion Notebook 15-ab271sa
This all-rounder is great value for money
Looks fantastic
8GB RAM and 1TB storage
Modest gaming capabilities
With purple accents, this laptop will stand out of the crowd in a good way. Cramming a fifth-generation Intel Core i3 processor with 8GB of RAM and a 1TB hard disk drive, it hits all the right notes if you're looking for an affordable laptop within a reasonable budget. It's the Iris graphics sub-system that powers it which is the stand-out component of the lot however. It's even faster than some discrete graphics cards.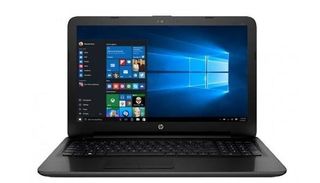 4. HP 250 G4
4GB/8GB RAM
Windows 10
Intel Pentium processor
There's some hefty grunt under the shell of this HP 250 G4 and there are some great prices this week. The Intel Pentium processor and 4GB/8GB of RAM mean this laptop will whip through pretty much any day-to-day activity you can throw at it without the juddering performance of cheaper laptops. Hell, it'll even have a decent crack at playing a few of the less demanding games out there.

5. Lenovo N22 Chromebook
Semi-rugged design
14 hour battery life
Water-resistant keyboard
If you find yourself increasingly relying on Google's impressive array of programs and apps, then this super cheap Chromebook could be the perfect excuse to cut the cord with the world of Windows. The semi-rugged design makes this ideal for people on the go and the water-resistant keyboard protects against spills.

6. Asus X555LA
A great all-rounder laptop
i3/i5 processors
1TB hard drive
Stylish finish
From afar, this laptop might be mistaken for a MacBook Pro which tells you a lot about its level of quality. Don't expect a full metal chassis at this price, but this is probably one of the best looking plastic bodies in its category. There are plenty of ports (old and new), 4GB of RAM and a massive 1TB hard drive. The cheapest models have a respectable i3 processor, but you can get the more powerful i5 versions for not much more if you need that extra kick. Asus saw it fit to include a DVD writer as well as a 15.6-inch full HD screen. Despite this large display and the presence of a numeric keypad, it's just a tad thicker and heavier than an Ultrabook.

7. Asus X541UA
Asus model has the looks and the guts to win
With a massive 8GB of RAM, an i5 processor and a 1TB hard drive there's not much the Asus X541UA can't handle. This is one of the best looking laptops in our cheap laptop deals page thanks to its stylish brushed steel design. Currys has knocked £200 off the price this week, so don't miss out on this powerhouse laptop bargain.
View this deal: ASUS X541UA £399 @ Currys

8. Acer AO1 Cloudbook series
A budget buyer bargain?
If you don't need a laptop to perform any particularly taxing activities then there's not much point spending loads on one. Which makes Acer's AO1 Cloudbook series worth a look for you web browsing, email and document editing activities .
Deal price: 14-inch model £159 at Tesco

9. Toshiba CB30
One of the best Chromebook laptops around
If you live most of your online life in Google land then there are plenty of reasons why you should get a Chromebook and this refurbished Toshiba model from Laptops Direct provides a great experience at a great price. Chromebooks get automatic updates and are less prone to malware. It comes with a quad-core CPU, has 2GB of RAM and a full HD 13.3-inch display. A larger-than-average display and higher-than-average resolution means that it is equally at ease for gaming or productivity tasks. We love its MacBook Air-esque look, its 802.11ac Wi-Fi connectivity and its expandability options.
Deal price: £212.97 + £4.95 delivery (refurbished)
View this Toshiba CB30 deal at Laptops Direct

The best deals on our favourite laptops...

We've reviewed loads of laptops over the years: we've seen the good ones, the great ones and the ones to avoid. Sometimes the best laptops pop up online at some truly deal-tastic prices. So in this section, we list the very best laptops out there and the best deals on each one.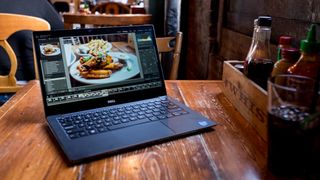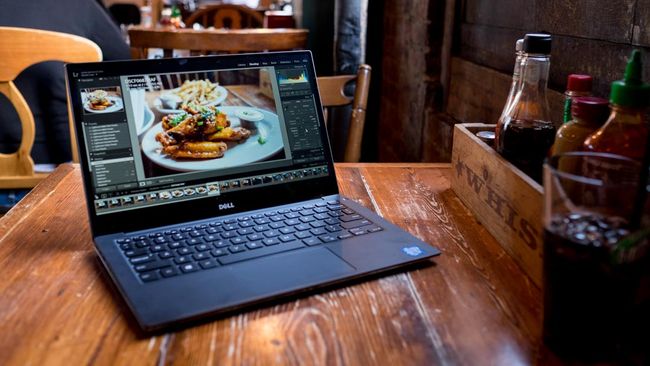 1. Dell XPS 13
Dell's latest Ultrabook is simply the best laptop in the world
CPU: 2.3GHz Intel Core i5-6200U | Graphics: Intel HD Graphics 520 | RAM: 8GB | Screen: 13.3-inch QHD+ (3,200 x 1,800) | Storage: 128GB SSD
Gorgeous bezel-less display
Skylake processors
Lightweight, compact frame
The Dell XPS 13 is, bar none, the best laptop you can buy today. It features a revolutionary design that's astonishingly thin and light. Fitting a 13.3-inch screen into such a small frame means Dell has created a nearly borderless Infinity display. It's a powerful and long lasting machine even by today's Ultrabook standards. The XPS 13 comes outfitted with Intel's latest Skylake processors plus lighting, quick storage and memory, all while coming in at a very affordable starting price. For these reasons, it easily takes the top slot as the best Ultrabook, the best Windows laptop and the best overall laptop.

2. Asus Zenbook UX305
A brilliant laptop that should cost a lot more than it does
CPU: 900MHz Intel Core M3-6Y30 (dual-core, 4MB cache, up to 2.2GHz) | Graphics: Intel HD Graphics 515 | RAM: 8GB DDR3 | Screen: 13.3-inch FHD 1920 x 1080 | Storage: 256GB SSD
Incredibly thin and light
Vibrant, glare-free screen
Excellent keyboard and trackpad
This is one of the best value Ultrabooks on the market and has been on our shortlist for a few months already. Its price has gone up marginally because of the exchange rate but with a gorgeous finish, a full HD display and a Core M CPU for under £600, it's the one to beat.

3. HP Pavilion x2
The most affordable Windows 10 touchscreen convertible laptop
CPU: 1.44GHz Intel Atom x5-Z8300 | Graphics: Intel HD graphics | RAM: 2GB | Screen: 10.1-inch, 1280 x 800 WXGA WLED IPS touchscreen display | Storage: 32GB eMMC
Long battery life
Absurdly affordable
Detachable keyboard
This 10-inch hybrid comes packing a surprising amount of goods considering its small size. It's outfitted with an HD screen and more than enough power to get you through a simple day of web browsing and even image editing. When you're ready kick back with some media streaming, you can pop off the 10-inch tablet.

4. Dell Inspiron 15 7559
This is the best value-for-money laptop for gamers
Decent performance
Great price
Not the most powerful
It is expensive but this Inspiron 7559 absolutely nailed it when it comes to value for money especially for hardcore gamers. It is even out-prices Dell somehow and manages to beat laptops that costs a third more when it comes to specifications. A quad-core desktop-grade Core i7 CPU, full HD display, a GTX960M with 4GB of memory and a 1TB (models vary) hybrid drive.

Image 1 of 4
Image 2 of 4
Image 3 of 4
Image 4 of 4
5. Lenovo Yoga Book
Is this the netbook of the future – the ultra netbook?
Insanely thin and light
Halo Keyboard surprisingly accurate
Excellent display
Clever Create Pad
Lenovo has crafted a brilliant, forward-thinking device that could very well create a subcategory in computing all of its own. The modest specs hold it back from taking on the big boys in terms of raw power, but the innovative digital touchpad keyboard and drawing surface look like trendsetters to us. The Android version is currently about £100 cheaper than the Windows one.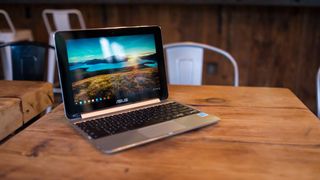 6. Asus Chromebook Flip
A flipping premium Chromebook for almost nothing
CPU: Rockchip 3288-C | Graphics: ARM Mali T624 | RAM: 2GB – 4GB | Screen: 10.1-inch, WXGA (1,280 x 800) IPS multi-touch | Storage: 16GB eMMC
Fully metal construction
Terrific value
Excellent battery life
The Asus Chromebook Flip isn't perfect, but it's an impressive little piece of kit. Plus, it's so affordable that you might want to pick one up just to have a Chromebook on hand – even if you already own a MacBook or Windows laptop. Aside from the budget price tag, the Flip is one of the best-built Chromebooks to blaze the trail onward for more convertibles. Touchscreen functionality feels more logical, with a screen that actually rotates. The Flip meets all the core tenants of an ideal Chrome OS device.

7. Microsoft Surface Pro 4
The tablet that can replace your laptop
Weight: 766g/786g | Dimensions: 292.10 x 201.42 x 8.45mm | OS: Windows 10 Pro | Screen size: 12.3-inch | Resolution: 2,736 x 1,824 | CPU: Various | RAM: 4GB/8GB/16GB | Storage: 128GB | Battery: up to 9 hours | Rear camera: 8MP | Front camera: 5MP
Larger, sharper screen
Vastly improved Type Cover
Built in kickstand
Can a tablet really replace your laptop or home PC? That's still up for debate, but the best tablet trying to make that happen is the Microsoft Surface Pro 4 - and it does a fine job with the full blown version of Windows 10, an integrated kickstand and optional keyboard attachment. Great for for creative professionals, students and everyday folks alike - it's only the premium price that push it down the list, but if you're willing to pay for it, you're getting a lot of power. A LOT.
Not quite what you're looking for? Maybe our other laptop articles will have what you need: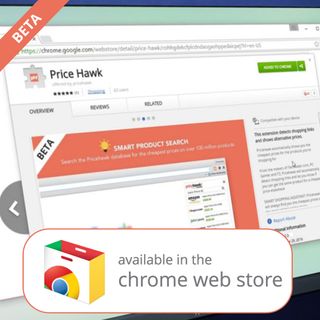 Try our new Google Chrome add-on and never pay more than the cheapest prices ever again!
Pricehawk is a Chrome extension that will automatically find you the cheapest deals for the tech and games items you're shopping for online. It'll also let you know if there are voucher codes you can use to save even more money!
Visit Pricehawk: in the Google Chrome Store