Back to school sales 2023: the best deals right now
Back to school deals on laptops, backpacks, AirPods, clothing and more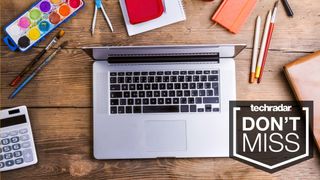 (Image credit: Shutterstock)
The back to school sale season is in full swing, with huge savings from Amazon, Walmart, Apple, and Best Buy on laptops, backpacks, headphones, clothing, and more. To help you find all the top deals in one place, we've created this guide with all the best back to school sales and stand-out deals happening right now.

Below, we've categorized the best back to school sales into easy-to-navigate sections, including electronics, supplies, clothing, and dorm-room essentials. We've also hand-picked today's stand-out deals on laptops, Apple devices, small kitchen appliances, TVs, and more. Whether you're shopping for a new laptop, lunchbox, or coffee maker, our back to school sales guide has something for everyone.

Some of today's top deals include cheap laptops at Best Buy with prices starting at just $149, up to 40% off backpacks, lunch boxes, and school supplies from Amazon, and record-low prices on Apple devices, including the best-selling AirPods Pro 2 down to $199.99 (was $249) and the 2020 MacBook Air on sale for $749.99 (was $999).

See the complete list of back to school sales below and more of today's best deals on laptops, tablets, headphones, appliances, and more. You can also look forward to more tech bargains at the 2023 Labor Day sales event.
Today's best back to school sales
Back to school sales 2023: Tech
Back to school sales 2023: Supplies
Back to school sales 2023: Clothing
Back to school sales 2023: dorm room essentials
Back to school sales: today's best deals
Back to school sales 2023: small appliances
Back to school sales 2023: Apple devices