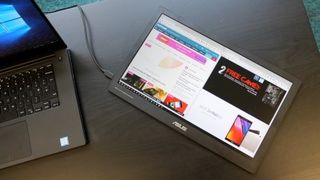 Goodbye clutter, hello USB Type-C
Out with the old and in with the new, USB-C is the only versatile, reversible port capable of handling everything from video output to data transfers. It's not only found its way to the latest MacBook Pro and HP Spectre, but also to flagship smartphones such as the Google Pixel.
It's a jack of all trades that may one day replace HDMI, USB Type-A proper and even the sacred headphone jack (gasp) in everything from your laptop to your Samsung Galaxy S8. When you find out that your favorite devices are now limited to just one or two ports instead of five, USB-C is to blame – or to thank, depending on your stance.
The USB-C port has been around for a short while now, making room for an overflow of compatible accessories to drop by. These include not only massive external hard drives and tiny thumb drives, but docks, hubs and monitors as well. In fact, there's an ever-growing list of nifty peripherals design