Why you can trust TechRadar We spend hours testing every product or service we review, so you can be sure you're buying the best. Find out more about how we test.
One of the key points to make content-wise is that every app that works with the earlier Chromecasts also works with the Chromecast Ultra (and vice versa). The Chromecast Ultra doesn't really do anything the originals don't – it just does it faster and (sometimes) in a higher resolution.
But just because the Chromecast Ultra inherits its content library from its predecessors doesn't mean that you won't find anything to watch. Chromecast apps you can use include Netflix, Stan, YouTube, 9Now, Spotify, ABC iview and Twitch here in Australia to name just a few, as well as Google's suite of apps. It's also worth noting that Netflix, Stan and YouTube all offer 4K streams, making the Chromecast Ultra invaluable for Ultra HD enthusiasts. But this is just the tip of an ever-expanding iceberg.
The only app sorely missing from Chromecast's arsenal is Amazon Prime Video, which the company has reserved for their own line of streaming products, the Fire TV and Fire TV Stick. You'll be able to stream Amazon's video service from a PC or Mac (which we'll touch on shortly), but the absence of a native app means that some people who watch Amazon's service exclusively might feel like they have no place using Google's streamer.
The Chromecasts do have exclusive, noteworthy apps of their own. We've rounded up our favorites elsewhere (here's the 20 best Chromecast apps for Google's streaming stick) but a few others that we feel are worth checking out are Plex, Artkick, Big Web Quiz, Deezer and AllCast.
While you won't find one spot to find apps and content on the TV itself, you can always check out the Google Home app on iOS and Android. This has absorbed the old Chromecast app and is the perfect place to find TV, movie and music apps to download and install for your Chromecast Ultra.
Google's app promises a universal search function that, as with Roku or Android TV, allows you to either type in or say the name of a movie and TV show and pull up a list of every source for that content.
This can ultimately save you money by showing you content on the services you already pay for, instead of making you go into every app individually or accidentally drop money on something you already paid for on another platform.
But how, exactly, do you take content from your mobile device and send it to your streaming dongle? You can always expect one vital feature to be a part of any and all Chromecasts from now until the end of time: that familiar Cast button.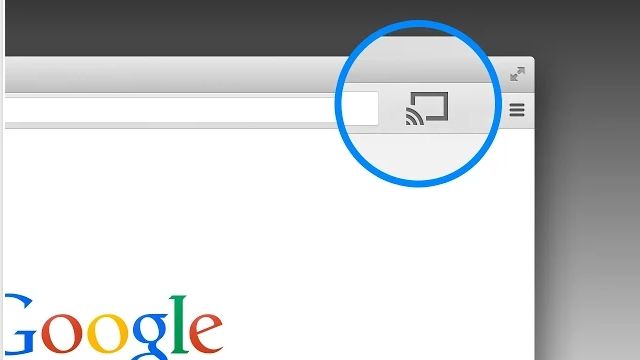 Chromecast Ultra: the Cast button
You'll need it to do almost everything
You can cast from PCs and Macs as well
The Cast button is the rectangle with broadcasting bars (it looks like the Wi-Fi symbol) in the corner of most mobile apps. Anytime you want to take content from your phone or tablet and send it to the big screen, press the button and select your Chromecast from the dropdown list.
When the Cast button is pressed, the Chromecast Ultra takes the location of the video's URL and plays it on your TV, leaving you mobile device free to browse the web, check emails and use data without affecting the on-screen content's performance. You can also pause and stop playback of course.
But that's not the only trick Google's taught its dinky streamer. Also interesting is "fast play," a sort of prediction algorithm in the Chromecast app that determines what you might watch next based on your previous choices. The feature then starts to pre-buffer the video before you start it, eliminating the loading time before each video. If you're browsing Netflix, for instance, it might pre-load the first few seconds of the show you've been bingeing all week.
All the talk of apps aside, the true beauty of the device is that it's not limited strictly to your phone or tablet. Install Google Chrome on any PC or Mac, and you can send any web page to the streaming dongle. Video quality using the Chrome browser on Netflix is better than average, and for the most part looked quite good to us, minus the one or two times it needed to stop and buffer.
LFG? Don't look to the Chromecast Ultra
The Chromecast Ultra really isn't great for gamers
However, while Google has certainly figured out how to make the Chromecast Ultra an appealing destination for video lovers, it hasn't found out how to embrace gaming in the same way its competition has: Chromecast games are few and far between, and generally feel like shovelware put out by third-party developers.
If you're looking for a casual gaming experience like the one you'll find on your phone, Amazon Fire TV and Apple TV offer that in spades. Heavy gaming fans should also consider the Nvidia Shield console for its on-demand game-streaming service, GeForce Now.
The Chromecast Ultra? Not so much. It's a sore point, but one we're ultimately able to forgive, thanks to Google doing so much else right on the product.
So how does the Chromecast Ultra perform in the living room? We're glad you asked...
Chromecast Ultra: performance
Snappy performance loading content
Doesn't drop out, especially when wired to your router
Works well with Google Home
By and large, performance across the board is excellent on the Chromecast Ultra, especially when compared with the Chromecast that came before it.
1080p videos load up in a snap and rarely crash in apps like Netflix and YouTube, while songs switch with less dead air while using Deezer, Pandora and Spotify. Not to mention the fact that Chromecast Ultra is probably the cheapest – and arguably one of the best – ways to watch 4K content.
Let's start, though, with 1080p performance.
If you're using an HD screen you can expect slightly faster load times and slightly less buffering than if you were to use the older, 2nd-gen Chromecast. The Chromecast Ultra isn't built to upscale content in any way, so there's no real tangible benefit for buying one if you own a 1080p TV, save for the slightly better internals.
For testing, we watched shows like Anthony Bourdain's Parts Unknown on Netflix and a dozen YouTube videos, none of which suffered from buffering issues for more than a few seconds. There was a minor hiccup once where we couldn't change the video on the Chromecast Ultra despite closing and re-opening the YouTube app, but there's no evidence to suggest that will be a common problem everyone will encounter.
The biggest draw to Google's latest Chromecast device, however, is 4K and HDR functionality, both of which you'll be missing out on if you're stuck with a 1080p screen.
What makes the Chromecast Ultra a better buy than, say, the Roku Premiere+ which also handles HDR and 4K, is that the Ultra does both versions of HDR – HDR10 and Dolby Vision. With more and more HDR content arriving, you know you'll be covered for some years yet.
In terms of 4K HDR content, you can pick from a few different services, including Netflix, Google Play Movies and TV, and YouTube.
There are a few caveats that come with each service – Netflix subscribers will need to up their account to the highest paid tier to access 4K content, for example – but it's nice to have so many options to choose from right out of the gate.
For those inclined to wonder about video and audio codecs, Chromecast Ultra supports H.264 1080p, H.264 720 x 480, MPEG-4, VP8 video and AAC-LC, AC3, eAC3 (Dolby Digital Plus), FLAC, MP3, PCM/WAV, Vorbis audio files. (A full list can be found on Google's Chromecast support site.)
One last point worth mentioning here is that the Chromecast Ultra really plays nicely with the Google Home smart speaker. Along those lines, there are few better indications that we're living in the future than saying "OK Google, play the latest episode of Clueless Gamer on Chromecast" and having Conan O'Brien appear on your TV.
Google Home in many ways works as the remote control Chromecast Ultra so desperately needs, allowing you to play, pause and completely skip videos on demand.
Right now the functionality only works with YouTube videos and Netflix, but that's a solid start, and we'd say there's a good chance that functionality will expand to other streaming services further down the road. You can also use a Google Home speaker to throw your Nest camera feeds up on the big screen.
Nick Pino is Managing Editor, TV and AV for TechRadar's sister site, Tom's Guide. Previously, he was the Senior Editor of Home Entertainment at TechRadar, covering TVs, headphones, speakers, video games, VR and streaming devices. He's also written for GamesRadar+, Official Xbox Magazine, PC Gamer and other outlets over the last decade, and he has a degree in computer science he's not using if anyone wants it.