Editor's Note: November 2022
There's been quite a few amazing gaming keyboards that hit the streets the last few months, including a couple of low-profile keyboards like the Corsair K100 Air Wireless and a few compact offerings from SteelSeries and Corsair like the SteelSeries Apex Pro Mini Wireless and the Corsair K70 Pro Mini Wireless.
So, we've updated our best gaming keyboards list to accommodate these impressive entries, not just adding them to the list but expanding the list itself from 10 to 15 so you have more to choose from – just in time for Black Friday, which is coming soon.
Michelle Rae Uy, Buying Guides Editor
The best gaming keyboards are created to handle your most demanding gaming needs. Regular keyboards may see you through your typing needs just fine, but when it comes to gaming, you need something speedier, much more accurate, and more robust.
Gaming keyboards, on the other hand, are designed to help you win, touting faster refresh rates, shorter key travel, and often more satisfying presses. They're also made to register every single press with a feature called N-key rollover (NKRO), which allows it to correctly register several keystrokes, no matter how fast in succession you've pressed them.
Many of them also offer customizable RGB lighting, programmable keys you can remap or create macros for, and adjustable actuation. Such features combined with their lighting-fast performance make these peripherals – whether you're looking at a membrane one or a mechanical keyboard – help you get to the top of the leaderboards.
We have tested and reviewed many keyboards over the years including top offerings from Corsair, HyperX, Razer, and SteelSeries, including the best mini keyboards and the best wireless gaming keyboards, taking into consideration factors like performance, value, and design. And, we gathered the best of them below.
If value is the most important factor, early Black Friday deals are live now, so you can buy a lot of excellent gaming keyboard deals for less. Especially the cheapest gaming keyboards, which pack a punch in performance but at a more affordable price point.
The best gaming keyboards 2022
Why you can trust TechRadar Our expert reviewers spend hours testing and comparing products and services so you can choose the best for you. Find out more about how we test.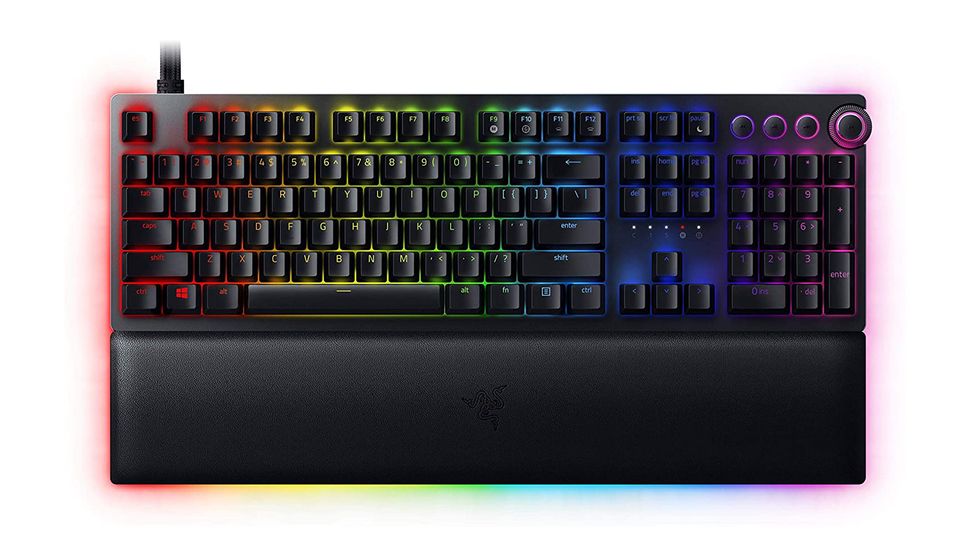 Combining the latest optical technology and Razer's analog mechanical key switches, the Razer Huntsman v2 Analog is good enough to get a five-star rating from us. That's under-selling it.
This gaming keyboard delivers the best typing and gaming experience of any keyboard we've tested in the last few months, with extremely satisfying tactile feedback and a wrist rest that's designed to let you game for longer. It allows actuation point adjustments between 1.5mm to 3.6mm in increments of 0.1mm, which is a blessing for any competitive players. And, it boasts dual-macro ability so you can program two actions on a single keypress across different pressures.

Rounding those features out are the most comfortable wrist rest we've ever used and a built-in twin-cable. As far as keyboards go, it is sitting on the expensive side of things, but it's definitely worth it.
Read our full Razer Huntsman v2 Analog review
The Roccat Magma isn't as robust as its pricier counterparts, but when it comes to budget gaming keyboards, there are sacrifices that have to be made. Luckily, it makes up for that in a massive way with surprisingly fast and accurate performance.
During testing, this membrane gaming keyboard delivered an incredibly (and surprisingly) punchy performance, thanks to its fast, accurate keys. We found moving and performing actions were swift and responsive, a boon during intense multiplayer gameplay, while keeping all that button-mashing quiet so you can play all night long without annoying your roommates.
If you're an RGB fan, you'll love the semi-transparent top plate with five RGB lighting zones underneath that simply light up the whole thing. Best of all, it's incredibly cheap, making it the best gaming keyboard for gamers on a tight budget.
Read our full Roccat Magma review
The Corsair K100 Air Wireless might have blown away the likes of the Logitech G915 and Razer Deathstalker V2 Pro in terms of performance and features. It isn't going to be for those who need something kitted out or want to save money on gaming peripherals, but as a premium option, it certainly gives you a lot of bang for your buck.
It's not just thinner and better to type on; it's also a lot faster with that 8,000Hz refresh rate, making it terrific for esports. Feature-wise, it boasts media keys, hotkeys, and dedicated macro buttons, as well as its ability to layer different RGB lighting effects (via the iCue software).
Performance-wise, we found it to roll out incredibly fast responses, even when you're "slumming it" at 2,000Hz. Combine that with the pre-travel of 0.8mm, and your key presses are registering long before the key bottoms out. You'll find this low-profile keyboard to be incredibly responsive, whether you're a casual gamer or a pro.
Read our full Corsair K100 Air Wireless review
Razer fans' wait is over with the brand's first low-profile gaming keyboard finally hitting the shelves. Razer Deathstalker V2 Pro, the first in Razer's low-profile line, muscling its way into this form factor market with impressive specs – including a short travel distance of 2.8mm and short actuation of 1.2mm (if you get the linear optical version). You might say it's a badder, better version of the beloved Logitech G915.
Although we're still in the process of testing this keyboard, we're already impressed by how comfortable it is. True to Razer tradition, it's also robust and extremely versatile, thanks to its three connectivity options (Bluetooth, USB wired, and 2.4GHz wireless), quick-access buttons to quickly go from one input to the other, and a full-key programmable design.
The low-profile design is a treat as well; as are the floating low-profile keycaps that really bring out the best in that highly-customizable Chrome RGB lighting. Finally, this may be one of the best gaming keyboards right now, but it's also a pleasure to use for productivity.
Read our full Razer Deathstalker V2 Pro review
Asus' untapped wealth of gaming keyboards have proven to be among the best out there, with the Asus ROG Strix Scope showcasing its mechanical prowess without needing all those cheap thrills that rivals offer. This doesn't have much in terms of superfluous features, but where it counts – the essentials – it delivers.
On test, it proved to be incredibly comfortable, quieter than other mechanical gaming keyboards we've tested but just as satisfying to button-mash on. And, it's performance is impressively responsive.
It isn't as stunning as other options on here, as Asus chose a simpler design. But, it does have customizable RGB lighting as well, and it comes in white if you're tired of the same old black color. Plus, if you're invested in the Asus ROG peripheral ecosystem, it will fit right in.
Read our full Asus ROG Strix Scope review
Optical-mechanical keys are the new mechanical. They've got the longevity and speed of optical switches and the satisfying tactile feedback of mechanical keys, making gaming keyboards like the formidable Corsair K100 RGB the best of both worlds.
This kitted-out gaming keyboard is fast, long-lasting, and a pleasure to use. During our tests, its 4,000Hz polling rate, high actuation point and consistent keypresses make it ideal for twitchy gameplay. That blend of gaming performance and quick shortcuts may be enough reason, especially for streamers, to pick it up.
Of course, there's more here to enjoy. Features abound include USB passthrough, six dedicated macro keys, a multi-function iCUE control wheel, and that epic RGB lighting. It's not a cheap gaming keyboard, but it sure packs a lot in for your money.
Read our full Corsair K100 RGB review
Customizable actuation points and dual actuation aren't something you'll find on most gaming keyboards. Except for SteelSeries' Apex Pro line. One of the newest addition is its Mini Wireless, which boasts both those unique and epic features in a compact, albeit expensive, form factor.
The SteelSeries Apex Pro Mini Wireless' gaming performance is truly impressive. Its adjustable actuation (3.8 to 0.2) really worked impeccably during our tests, as did the dual actuation feature – its per-key ability to have two actions at different actuation points. And, while they may seem like overkill, we found them to be incredibly useful and convenient.
Rounding those out are the customizable RGB lighting that's very bright and a thinner, more compact footprint than rivaling mini keyboards. It's definitely one of the best gaming keyboards, hands-down, as long as you're prepared to spend a lot of money.
Read our full SteelSeries Apex Pro Mini Wireless review
Who needs a full-sized keyboard when TKL gaming keyboards such as the Roccat Vulkan TKL Pro exist? This compact gaming keyboard is among the best in performance, comfort, and looks, touting a classy brushed gunmetal finish and floating keys that brilliantly showcase its customizable RGB lighting.
Roccat's Titan optical switches are not only fast and accurate, but satisfying, quiet and robust as well. During testing, its performance was impeccable. It proved to be very responsive and speedy, and that 1.4mm actuation meant there was no need for fatiguing finger workouts. Gamers with light fingers will appreciate the fact that they don't have to press all the way down for the keys to register.
And, let's not forget that optical switch long-life guarantee. Rated at 100 million keystrokes and combined with the deck's aircraft-grade aluminum reinforcement, this gaming keyboard will last you a long while. It'll set you back quite a bit, but it's so worth it.
Read our full Roccat Vulkan TKL Pro review
For a mini keyboard, the Corsair K70 Pro Mini Wireless sure boasts a ridiculous amount of personalized customizability options. Like many 60% gaming keyboards on the market, it comes at a hefty price. However, there's a ton of value packed into the package, from its features right down to its performance.
On test, we found that its battery life of up to 200 hours, depending on the connection, is comparable to Razer's BlackWidow V3 Mini Hyperspeed, and its performance is excellent, proving it can keep up with fast-paced shooters like Doom Eternal. Not that it's surprising, considering its 8,000Hz polling rate.
When it comes to features, you're getting swappable switches, up to 50 programmable profiles on-board, and compatibility with Microsoft and Sony's current-gen consoles. That's on top of the usual RGB customizations and macro programming that these mini keyboards typically offer. So yes, it's expensive, but it's also worth every penny.
Read our full Corsair K70 Pro Mini Wireless review
The G915 TKL lives up to its name, delivering the speed you need for epic gaming while keeping things cable-free. With a 1,000Hz polling rate and 1.5 mm actuation distance, it can keep up with its wired setup.
It performed incredibly fast, responsive, and accurate during testing, and it was a pleasure to button-mash on. That's due to the keys only requiring an actuation force of 50g while also having a short actuation distance so you don't have to work hard for all your presses to be detected.
It also has a long wireless range and decent battery life considering its stunning RGB lighting. Best of all, it's a gorgeous keyboard with its low-profile floating keys and brushed aluminum deck. Small desk and travel friendly, this is without a doubt among the best gaming keyboards out there.
Read our full Logitech G915 TKL Lightspeed review
Even if you're getting one of the best gaming keyboards, it can be hard to swallow a high price tag on a gaming keyboard, and it gets even harder when it's as small as the Razer Huntsman V2 TKL. But, what you're missing in extra features that a full-sized keyboard might offer, you gain in reliability and speed.
The Razer Huntsman V2 TKL takes the second-generation Razer Optical switches that makes all of its keyboards so good, and puts it into an easy-to-carry package. And, we found it to be a dream to game on, especially with that incredibly fast performance and the fact that its keys are very customizable.
It's still wired, sure, but when you're counting lag in the milliseconds to win a Counter-Strike match, you want that anyway. This keyboard is a dream, and would fit nicely on the desk of any PC gamer.
Read our full Razer Huntsman V2 TKL review
HyperX's contender, for example, the Alloy Origins 60, is the best option if you're looking for a mini keyboard that's affordable yet extremely reliable. Some corners are cut, yes. At the same time, you're getting a premium build and excellent performance so it's still worth every penny.
During our testing, the HyperX Red (linear) key switches proved to be very responsive. We found that their 45g actuation force and 1.8mm actuation point offers you an edge even when you need to press the same key multiple times in quick succession.
When it comes to design and build, the keyboard body is crafted from aircraft-grade aluminum while the keycaps are made of durable PBT material. Plus, the RGB lighting is well implemented and there's plenty of key customizations to make it truly yours. All that without charging you a premium makes this a budget-friendly choice to gamers who want to switch to a mini keyboard.
Read our full HyperX Alloy Origins 60 review
Do gaming keyboards make a difference?
Yes, gaming keyboards make a difference! The best gaming keyboards are not only designed to have a fast reaction time, but they are engineered with gaming comfort in mind. Some keyboards have extended wrist rests so you can game for longer and without extra strain on your wrists. If you plan on gaming for hours at a time, you need a comfortable keyboard to accommodate your hands.
Whether you enjoy narrative-driven single-player games or competitive online games, using the best gaming keyboard will make a difference in your gaming experience. The best PC games will benefit from being played with a gaming keyboard and you'll have a more enjoyable time doing so.
If you want to make the switch to the best gaming keyboard, check out our list below. We're no stranger to gaming keyboards, having tested many over the years, and will help you find the one that best suits your gaming needs and setup. Plus, we've got a price comparison tool to help you find the best keyboard deal available.
Which keyboard is best for gaming?
This really depends on what kind of gaming you want to use your gaming keyboard for.
If you are an MMO player, the best gaming keyboards are going to have plenty of options for macro recording and even different profiles for different games.
If you're a competitive esports player, you'll want a keyboard that is extremely responsive, and one that has 2.4GHz wireless connectivity rather than Bluetooth, or even a wired connection for the best responsiveness.
Today's best gaming keyboard deals