Moto Mods: Every module you can clip to your Motorola phone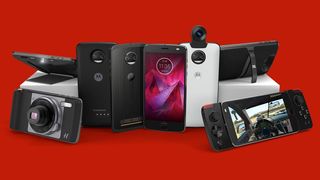 Moto Mods Introduction
Update: Motorola has just launched its latest MotoMod, the Moto smart speaker with Amazon Alexa. Click through the gallery to find out more.
Motorola's Moto Mods are snap-on extensions that can greatly expand what the Moto Z family of phones can do today...as well as tomorrow.
Initially launched in 2016 alongside the flagship Moto Z, Motorola has since added more Mods to the lineup - plus a number of third party manufacturers are developing modular attachments for the Z series of handsets as well.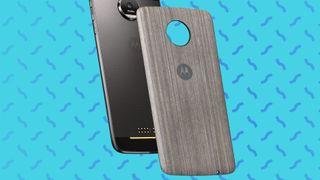 Moto Style Shell
Price: from $19.99 | £16 | AU$29
The Moto Z family of phones boast a slick, aluminum chassis, but in case you want to switch up your style from time to time you can customize your own design to slap right onto the phone.
These are the cheapest, and thinnest MotoMods available, which makes sense since they don't add any functionality to speak of.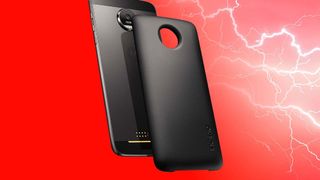 Incipio offGRID Power Pack
Price: $79.99 | £59.99 | AU$119
This one was a given: a MotoMod that increases battery life. Whereas a battery-boosting case might have previously been a bulky addition to any phone, the Incipio MotoMod is surprisingly slim-fitting.
In addition to fitting the styling of Moto's latest, it adds 2,220mAh of juice onto the battery already inside the Moto Z phones.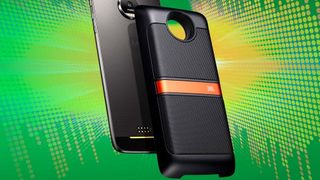 JBL Soundboost Speaker
Price: $79.99 | £69.98 | AU$159
In terms of sound quality, JBL's MotoMod is the equivalent of slapping a Bluetooth speaker onto your phone.
In addition to giving your jams a boot in the pants, it puts a kickstand on the Moto Z phones and gives them up to an extra 10 hours of battery life thanks to its 1,000mAh of battery capacity.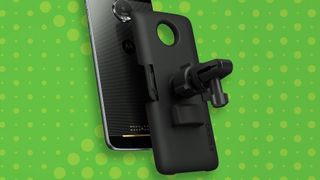 Incipio Vehicle Dock
The Incipio Vehicle Dock MotoMod gives you an easy way to mount your handset to an air vent in your car.
It's compatible with Android Auto and features a fast charging adapter to ensure you're always topped up and your hands are free to drive.
It's nothing that really adds a great deal of functionality, but it's a great example of how modularity in smartphones should work, with multiple options that let you rejig how you use the phone.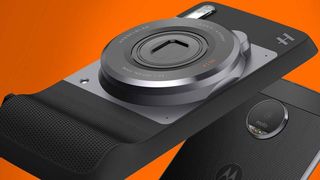 Hasselblad True Zoom
Price: $299.99 | £199.99 | AU$399
No smartphone currently on the market can boast a 10x optical zoom, but if you own a Moto Z handset you can make that claim if you're willing to splash the cash on the Hasselblad True Zoom Mod.
This MotoMod puts a proper camera lens on your phone, complete with an optical zoom - which means you don't lose quality when you zoom in.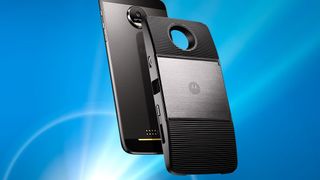 Moto Insta-Share Projector
Price: $299.99 | £249.98 | AU$429
This is the moment where you can see parent company Lenovo's DNA mix with that of Motorola's.
We've already seen Lenovo put projectors into its mobile products, including the Lenovo Yoga Tab 3 Pro tablet, but it's still a little surprising to find see the tech making its way to the Moto Z family.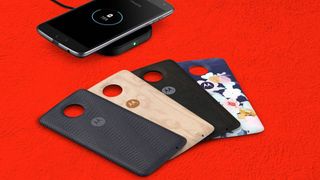 Moto Style Shell with Wireless Charging
The Style Shells earlier in this gallery may be slim and cheap, but they don't offer anything in terms of functionality. Thankfully Motorola has realized this and now offers Style Shells with Wireless Charging built in.
They remain slender at just 3.25mm, and are compatible with all wireless charging standards, which means they'll work with any wireless charger.
In reality, they're almost identical to the standard shells, and only a marking on the inside says any differently.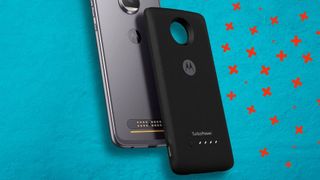 Moto Turbopower Pack
Price: $TBC | £TBC | AU$99
We said earlier than the Incipio Power Pack may be phased out, and that's because Motorola has launched the Moto Turbopower Pack.
This offers an additional 3,490mAh battery on top of the one already inside your Moto Z handset, and at 6.58mm it doesn't add an excessive amount of bulk to the phone. It still fits in a pocket, but it's fair to say you - and others - will notice it's there.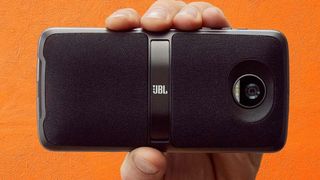 JBL Soundboost 2
Another Mod on the rocks is the original Soundboost, and that's thanks to the newer JBL Soundboost 2.
It sports a thinner 14.5mm body, a more rounded design making the phone easier to hold when it's attached and a new water resistant finish to protect it against life's little spills.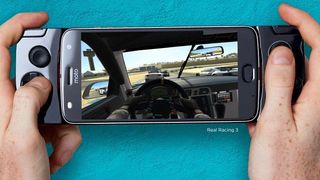 Moto Gamepad
If you're into gaming on your mobile, the Moto Gamepad mod will be right up your street.
It gives you two analogue sticks, a D-pad and face buttons and is compatible with any game that already supports Bluetooth controllers - such as Real Racing 3.
Oddly enough, the Moto Gamepad is now available in the US exclusively at Verizon wireless. We're currently trying to figure out if and when availability will spread outside of the US.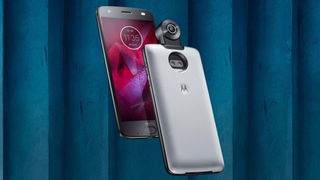 Moto 360 camera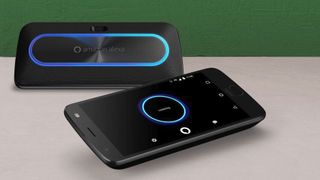 Moto Smart Speaker with Amazon Alexa
Price: $149.99 | £99 | AU$TBC
What happens if you combine an Amazon Echo Dot with a smartphone? The answer, it seems, is the Moto smart speaker with Amazon Alexa.
This mode, launched in October 2017, brings the retail giant's voice assistant directly to your handset, allowing you to pose questions, ask for news, weather or jokes and control your smartphone by simply barking commands at your phone.
The mod includes its own speaker for improved audio - perfect when it comes to playing music - and a battery which can last up to 15 hours, so it shouldn't drain your phone's power pack.