Cyber Monday 2019 laptop sales in Australia: the best prices on the latest machines
Find your perfect notebook for less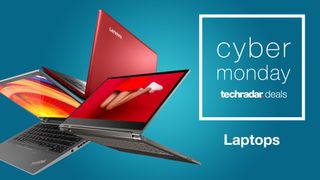 (Image credit: TechRadar)
Purchasing a new laptop or MacBook can be a daunting task, not to mention an expensive one. That's why when you have the chance to save some cash on a laptop, you should jump on it. However, if you're not well versed in the jargon surrounding a laptop, finding a suitable machine during Black Friday can be difficult.
That's where the TechRadar team comes in: we spend entirely too much time obsessing over the little details of the latest and greatest laptops – from Ultrabooks to MacBooks, and even the elusive Chromebooks that are only just making their way into the mainstream Australian market.
We'll help you understand what all the jargon means so you can figure out the specs you want, and whether a machine that powerful will fit into your budget.
So, whether you're looking for that new gaming laptop that will let you play all the latest and greatest PC games or you're just looking for an Ultrabook for work, we've got your back. All we want is for you to save a few dollars through these Black Friday laptop deals.
Best Cyber Monday 2019 laptop deals
Gaming laptops
Laptops
Ultrabooks
2-in-1s & tablets

When is Black Friday and Cyber Monday 2019?
Black Friday is the Friday immediately after the Thanksgiving holiday in the US, so this year it will fall on November 29, 2019.
Cyber Monday, as the name may suggest, is the Monday immediately after Black Friday. So Cyber Monday 2019 will fall on Monday, December 2.
Although the two days are, on paper, individual sales, it's become hard to distinguish between them. More often than not, retailers begin their Black Friday sales on the Monday prior, meaning you should see offers starting on November 25. These will end on Cyber Monday itself, giving shoppers an extended week of excellent bargains.
How to score the best laptop deals on Black Friday 2019
If you can't decide which laptop is best for you, we're here to help you figure out how to get the best laptop for your needs for the best price possible.
There are usually so many laptops being discounted during the Black Friday sale period, chances are you'll be bombarded with a lot of jargon. And while some machines might seem like a steal, they could be older models that don't have enough power to keep them running for years to come. Laptops like that could fall short of your needs.
To help you avoid this, we've put together a short guide to help you make an informed decision and get the best laptop deals when the 2019 Black Friday sale period arrives.
Features to look for
So, what specifically should you keep an eye out for when buying a laptop on Black Friday?
Start with the brand name. Something like the Microsoft Surface Laptop is a pricey option, but there are other, more affordable 2-in-1 convertible options also available if you have the time to look around.
Be careful not to run into the dark with a brand name you neither know nor trust simply because there's a cheap device on offer.
If you want a machine that will last you a few years at least (and gives you the satisfaction of money well spent on quality and technical support) you should make a purchase from well-known PC manufacturers you recognise, like Acer, Apple, Asus, Dell, Lenovo, HP, or indeed Microsoft.
If you want to dig a bit deeper into the individual brands and the products they sell, our extensive library of laptop reviews is a fine resource, as is our constantly-updated list of the best laptops currently available in Australia.
It's also worth looking into the websites you're purchasing from. Many websites will have customer reviews, and we'd particularly recommend steering clear of stores where customers have complained about long shipping times. Remember to avoid any sites you're not too sure about giving your credit card information as well – if in doubt, shop elsewhere.
Sizing things up
If you already have a particular PC manufacturer in mind, you'll need to consider the overall size of the machine you want. The most common sizes for laptops are 13 inches, 14 inches, 15 inches and 17 inches.
Smaller notebooks are not only more portable, but are often cheaper as well. Larger devices, on the other hand, offer more screen real estate and, with the increase in