Two-minute review
The Samsung Galaxy S21 Ultra lands a month early this year, setting a new bar for all 2021 flagships to follow. In fact, it is currently the best phone in India if Android is what you're after.
Samsung's new 'everything phone' gets a lot right this time: more and better cameras, beefier specs, reliable battery life and even S Pen compatibility, leaving little room for us to complain about. That's starkly different from its predecessor, the S20 Ultra, which had similar ambitions but fell short on many fronts.
While Snapdragon 888 phones are yet to land here, the new Exynos 2100 finally closes the gap and makes the S21 series feel powerful and efficient — just how a super-premium phone should! Gone is the subpar performance and unreliable battery backup, which had been the Achilles heel of Galaxy flagships of the yesteryears.
What else is new, you ask? five cameras led by a 108MP sensor, two telephoto cameras, 100x zoom and 40MP selfies, plus 5G, and up to 16GB of RAM – all packed into an Android phone with a 6.8-inch 120Hz Quad HD display and an upgraded in-screen fingerprint sensor that has a 1.7x larger surface area than the one on last year's phone.
The S21 Ultra also addresses the autofocus issues that plagued the S20 Ultra by adding a dedicated laser module to assist that exercise. The retooling makes it a comfortable camera phone to recommend, and the new telephoto lenses put it in a league of its own that no other readily-available phone can currently compete with.
The big on-paper specs translate very well into real-life results with lovely images at all focal lengths. Photos have a great quality till almost 30x, post which things get a little muddy. Low light performance, selfies and video recording are much better too, as is Samsung's camera app which balances features and ease of use.
The new Phantom Black finish will be daunting at first, but it makes a bold statement that turns heads and the new design screams premium. Though, that comes at a cost as the phone gets fairly thick and heavy. If you're unwilling to perform hand gymnastics, this might not be the phone for you.
What's on the front is even better: using Samsung's best display to date, the phone offers an incredible viewing experience, regardless of the content or the environment. It is plenty large, pixel-dense, smooth and adequately bright for all scenarios. If that wasn't enough, it also supports the S Pen from Samsung's other devices, making it a productivity powerhouse too.
So, what's the catch? Firstly, as you must've guessed, it is pretty expensive at a starting price of Rs 1,05,999. Then, it no longer supports Micro SD storage expansion, so you might have to spend even more money to get ample storage. MST functionality is also gone, so it can no longer be used as a virtual credit card at payment terminals. Lastly, it also gets rid of the charging adapter from the box in for environmental reasons.
Samsung Galaxy S21 Ultra price in India
Launched in India on January 14, the Samsung Galaxy S21 Ultra is available in two variants. The 12GB + 256GB model is priced at Rs 1,05,999 and the 16GB + 512GB variant is priced at Rs 1,16,999. Colour options include Phantom Black and Phantom Silver.
HDFC Bank customers will be eligible for a cashback of up to Rs 10,000. Samsung devices usually get significant price cuts just months after their launch, so might be worth tracking its price for a bit before committing to the purchase.
Design and display
Large phone with a great 6.8-inch display and 120Hz refresh rate
Contour Cut camera has proven divisive, but looks unique
227 grams heavy, 8.9 mm thick, IP68 rated
Image 1 of 2
Image 2 of 2
The Galaxy S21 Ultra is one gorgeous-looking smartphone with a strong design and a finish that doesn't catch fingerprints or scratches. In addition to the deep, Vantablack-like Phantom Black colour, there's also a Phantom Silver colour. Whatever hue you choose, the matte finish of each is a significant improvement over last year's S20 series, which had a reflective sheen that looked a little plasticky and cheap.
The back is pretty minimal though, with the cameras confined to a large housing that blends in with the frame. Samsung calls it 'contour cut' and it goes a long way in making the phone seem seamless and durable in more ways. The entire back surface is actually a layer of Corning's new Gorilla Glass Victus, making it pretty invincible to scratches and cracks.
Image 1 of 2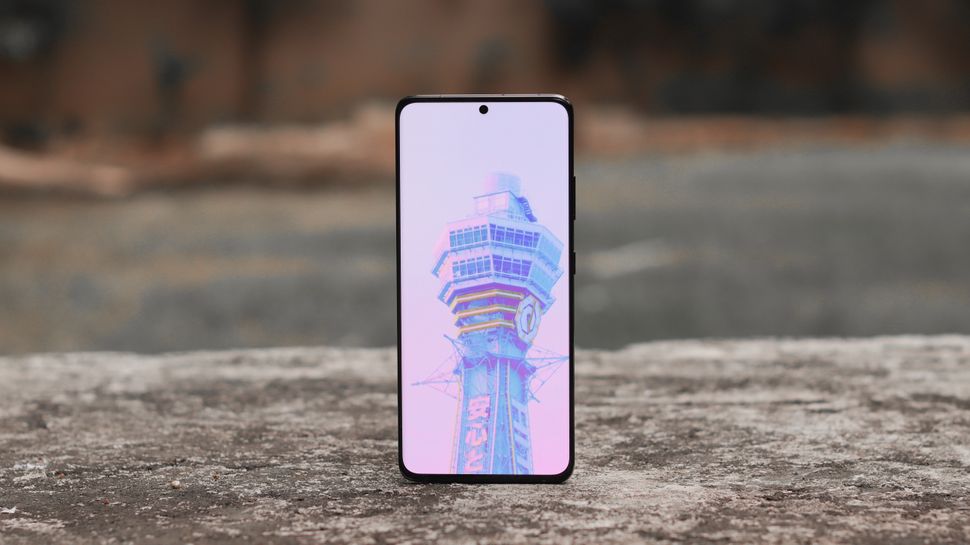 Image 2 of 2
We've been finding the S21 Ultra to be big where it needs to be while minimizing everything you don't want to see. For example, its large display stretches the hand at 6.8 inches, yet the curved edge-to-edge screen means that bezel is almost non-existent and that 40MP front camera hides behind a tiny punch-hole that's easy to ignore after a few minutes of watching a video.
The Galaxy S21 Ultra screen is Samsung's first (among smartphones) that's capable of running at a smooth 120Hz refresh rate while in a pixel-packing Quad HD resolution. This was long due, as every other previous Samsung flagship forced us to choose between a higher resolution or a higher refresh rate.
This is still Samsung's best screen, but for many other reasons. We found the 6.8-inch body to be easier to grasp than the 6.7-inch iPhone 12 Pro Max, and that's in large part thanks to the curved display and overall narrowness of Samsung's device. The curved edges are subtle on the S21 Ultra, and not quite as pronounced as on past Samsung devices, and that means fewer errant presses. However, palm-rejection could still be better.
It has every possible spec imaginable, with HDR10+, adaptive refresh rate, excellent outdoor visibility thanks to the 1,500 nits of peak brightness, perfect black levels and just the right amount of punch.
We also see the debut of Qualcomm's new ultrasonic in-display fingerprint scanner, which is about 1.7x bigger, making it easier and faster to unlock. It's still no OnePlus but at least it doesn't feel irritatingly slow. Face unlock still has only about a 70% success rate, with masks taking it much lower.
Wallpapers from Elora Pautrat
Specs and performance
Exynos 2100, 12GB of RAM
5G-capable
Runs on One UI 3.1 over Android 11
Image 1 of 1
We don't usually need to go in-depth to discuss the performance of flagships – they just work. But things are a little different with Samsung. Each year, the company skips the latest chip from Qualcomm in favour of its in-house Exynos platform. The S21 Ultra is no different by going for the Exynos 2100, but the experience is much better this time.
Historically, there has been a considerable delta between the performance and battery life of the Exynos and corresponding Snapdragon chipsets. The Exynos 2100 closes that gap to negligible levels, bringing incredible performance for the most part and improved efficiency.
Built on a 5nm process, it is an octa-core processor with one high-performance Cortex X1 core, three Cortex A78 cores and four Cortex A55 cores. This combination allows it to be neck and neck with the Snapdragon 888 in day-to-day tasks, sometimes even beating it.
However, not everything is rosy, as it still suffers during heavy tasks such as gaming. There's a fair bit of heating too, which is soon followed by throttling. It's unclear if this is a chipset bottleneck or just a lack of developer optimization, but gaming isn't a very enjoyable experience. Lighter titles such as Pokemon Go can also take its temperature to alarming levels, quickly dropping from 120fps to below 15fps levels.
Results are much better in instances such as video or photo editing, without any discernible stutters.
Memory management was extraordinary on our unit which has 12GB of RAM. Apps opened in the morning would also maintain their state later in the day sometimes. We can't recall any instance where an app had to reload on us, which is always a great sight.
The SoC also has an integrated 5G modem. While we can't really test that, we found the 4G performance to be unsatisfactory. After having tested dozens of phones with the same SIM card and Wi-Fi connection, the S21 Ultra stands towards the bottom of the pack, with significant load times and crashes. WhatsApp's "Check for new messages" error notification was almost perenially present, as was waiting for Instagram Reels or Snapchat stories to buffer. If you happen to be in a place with great connectivity, this will not be an issue, but it deserved a mention.
Many people have been turned off by the fact that the S21 series doesn't include a microSD card slot for expandable storage, and, frankly, we're with you on that. The inclusion of microSD slots always made it easier for us to recommend Samsung over Apple when things were neck-and-neck, as you could go for the lower storage size and upgrade later. Not anymore. Thankfully, the base variant in India has 256GB of storage.
Part of the reason the S21 Ultra seems snappy is the fact that Samsung has further streamlined its software interface. With the OneUI 3.0 interface, menus now throw fewer unnecessary windows in your face before executing what you want to do. Turning on power save mode, for example, makes adjustments immediately.
Samsung's never-dying Bixby Assistant (the 21st century Microsoft Clippy) is still present on the S21 series, but there's no more dedicated Bixby button thankfully, so you won't accidentally trigger Bixby Voice. Bixby Today, former the leftmost menu on Samsung phones, is gone, too. It's been replaced by Google Assistant cards (formerly Google Now) that have a knack for surfacing more relevant information to your day.
S Pen
Image 1 of 1
The Galaxy S21 Ultra is Samsung's first non-Note phone that's compatible with its S Pen stylus, and it's a trend we like seeing. However, things work a bit differently here: there's no S Pen included with the phone and, even when you make the separate purchase, there's no way to embed the stylus into the body of the phone.
There's a folio case that holds a newly designed S Pen that's slightly larger and more comfortable to hold than the version that tucks inside of the body of Galaxy Note phones. It neatly slots into the inner spine of the case and feels secure there, so you'll want a Galaxy S21 Ultra case for more than protection. Exactly what you're supposed to do with the stylus without buying this folio case is unclear.
We were able to jot down quick notes and bring up all of the Air Command options, which include a variety of features you can use without touching the phone's screen. Though you can use any old Note stylus with your phone, we appreciated the fact the new S Pen is larger and easier to grasp than the toothpick-sized Note S Pen.
Missing from the new S Pen we tested ahead of launch were the Bluetooth shortcuts for triggering the camera and other apps. You could customize actions and remotely command the Galaxy Note 20 like a magician with a wand. We may be able to go all Harry Potter in front of our smartphone again when the even more special S Pen Pro model launches later this year, but details are scarce on its extra functionality.
Even with all of the hype around the appearance of an S Pen on an S phone, we fully expect to see the Note 21 Ultra in the next six to seven months (six if it comes early and seven if Samsung sticks to its usual August time frame). There's still a demand for that phone – and for being able to embed the stylus inside the handset, though recent rumors suggest that Samsung may do away with the Note series.
Battery
Image 1 of 2
Image 2 of 2
Samsung has put the large body of the S21 Ultra to good use by equipping it with a large 5,000mAh battery. Combined with the 5nm chipset, it providees the best battery life we've seen on a Samsung flagship in years, easily lasting an entire day. Most of our testing was done at FHD+ resolution at 120Hz refresh rate, and we were able to achieve 5-6 hours of screen-on-time regularly.
Also helping is the fact that the 120Hz refresh rate is variable. It's technically 'up to 120Hz', so it won't be so high if it doesn't need to be, sparing your battery. Samsung's backend software will automatically adjust between 11Hz and 120Hz, depending on your activity: reading an eBook (low) vs playing a 3D game (high).
The situation is nowhere as exciting on the charging front though. Firstly, a charger is not included so you will have to resort to using another adapter that has a USB Type-C output. Secondly, the fast charging tops out at just 25W, which is much lower than what we're used to seeing from Android smartphones.
Our best match was using the Note 20's charger, which has a 25W output. With it, charging takes about an hour and a half, even if the on-screen estimates suggest optimistically lower figures. Unlike high current fast charging, this one will definitely slow down when you start using the phone. Completing the trifecta, there'll almost always be some bit of heating, with higher temperatures based on what you're doing.
Samsung doesn't support 45W charging on the S21 series whatsoever, something that may seem like a step backwards – the Note 10 Plus and entire S20 series were compatible with this optional charger. The company told TechRadar that 25W has been optimized enough to the point that 45W matters very little, although we'd also suspect few people went out and bought the special 45W charger.
Camera
Image 1 of 3
Image 2 of 3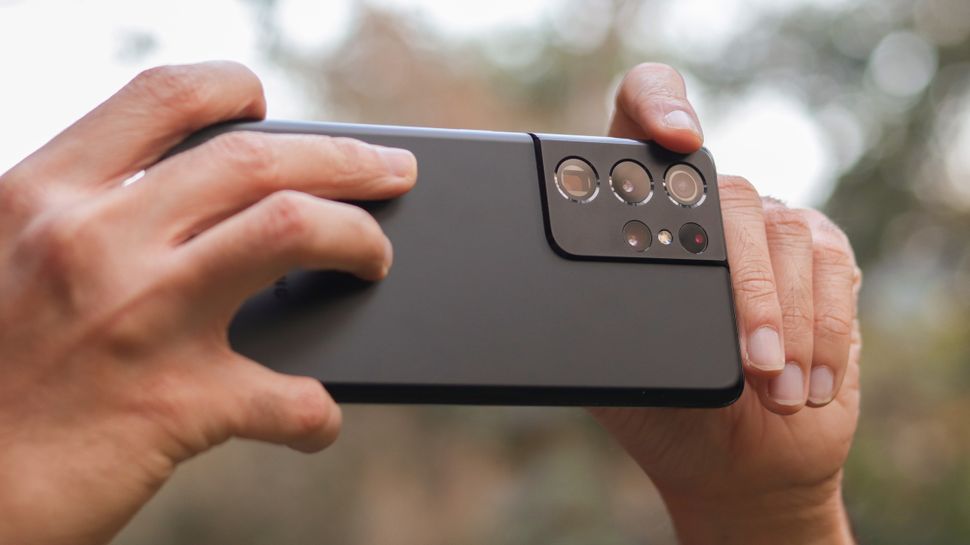 Image 3 of 3
This time, Samsung stands apart from the competition by offering four cameras on the back at different focal lengths with usable photos each step of the way. The two telephoto lenses really put the S21 Ultra ahead of the rest of the pack when it comes to zooming, even if grainy 'Space Zoom' photos continue to not meet our quality threshold. Huawei's latest flagships could pose a threat but those are no longer available in India.
Image 1 of 10
Image 2 of 10
Image 3 of 10
Image 4 of 10
Image 5 of 10
Image 6 of 10
Image 7 of 10
Image 8 of 10
Image 9 of 10
Image 10 of 10
It's the 3x, 10x and, occasionally in well-lit conditions, 30x photo zooms that nail the shot with breathtaking clarity. What helps most at the 30x (and 100x) ranges is the new 'tripod lock' feature, which prevents the viewfinder image from jumping around, something that could be jarring when zooming in that tightly on the S20 Ultra. After a second, the S21 Ultra camera fixes onto a subject that it outlines in yellow on the small zoomed-out corner reticle, and the shakiness is magically dialed down.
Yes, having two telephoto cameras does seem downright ridiculous, but they offer different perspectives: 3x and 10x, all without having to go digital and hybrid in between. The zoom functionality on both is optical, though Samsung's camera software oftentimes has a mind of its own. We've found it can overwrite your decision and pick which camera gets used (likely based on their different apertures and the lighting in your environment). So it may take 'zoomed-in' photos with the main sensor and then just crop to simulate that zoom. It's a bit unpredictable, but most of the shots turn out okay. All you have to do is press the shutter button.
Image 1 of 10
Image 2 of 10
Image 3 of 10
Image 4 of 10
Image 5 of 10
Image 6 of 10
Image 7 of 10
Image 8 of 10
Image 9 of 10
Image 10 of 10
Yet, what impressed us the most was the improvements with the primary camera. Implementing the new 108MP ISOCELL HM3 image sensor, the S21 Ultra is much better than its predecessor which was dogged with autofocus issues at launch. Further, it brings improvements in the dynamic range, RAW image capture and processing speeds. The result is photos that were very close to reality, with just the right amount of saturation and detail without going overboard.
A smart new feature is 'focus enhancer', which switches to the ultra-wide lens while taking close-ups to ensure clarity throughout the frame and not suffering from an unusable thin plane of focus that the primary camera has.
Image 1 of 9
Image 2 of 9
Image 3 of 9
Image 4 of 9
Image 5 of 9
Image 6 of 9
Image 7 of 9
Image 8 of 9
Image 9 of 9
All Galaxy S21 series phones now record video at 4K at 60fps from all cameras, and 8K at 24fps returns. But it's the new Director's View mode that caught our eye this year: you can capture video with both the front and back cameras simultaneously. It joins last year's video-focused additions, like zoom-in microphones for better capturing the subject you're zooming into, and an improved Single Take mode for recording video and taking photos at the same time.
Verdict
Image 1 of 1
Buy it if...
You want the best zoom cameras
Samsung cameras are the most fun for us to test due to the epic shot variety. Two telephoto lenses are the big highlight with the S21 Ultra, and the 100x zoom will impress your friends, even if the standard image quality only ties the iPhone 12 Pro Max.
You consume a lot of media
The big, beautiful display, paired with stereo speakers and a large battery makes it a perfect companion for binge-watching sessions or reading.
You're looking for a premium aesthetic
The S21 Ultra is quickly becoming a recognizable phone with its dark black finish, bold design and substantial body that looks futuristic and minimal yet means business.
Image 1 of 2
Image 2 of 2
Don't buy it if...
You're on a budget
Even if it is a great phone, there's no denying that it is an expensive one. Luckily, Samsung flagships drop in price pretty quicky, so a little wait could help you save a lot.
You prefer petite phones
At 227 grams at a thickness of 8.9mm, the S21 Ultra is not an easy monster to tame. You'll need big pockets, large hands and strong forearms to not hate using it all the time. It's not a phone you should hold over your head in bed.
You want advanced stylus features
The S21 Ultra is compatible with the S Pen, but it doesn't outright replace the Note 20 Ultra. Some features, like Bluetooth shortcuts and a spot to embed it in the body of the phone, remain exclusive to the Note 20 Ultra. Avid note-takers, take note.
---