If you're looking for one of the best iPhones on the market, the iPhone 12 Pro Max is still worth checking out: it's powerful, has the longest battery life on an iPhone we tested in 2020 and the camera is top-notch. You'll need to be ready to carry the extra heft, as this is a large iPhone indeed, and the cost isn't to be sniffed at, but we're adding an extra half star for all those iPhone fans that just want the best Apple can bring – the iPhone 12 Pro Max manages to do that rather well.
Pros
+

Great screen

+

Longer battery life

+

Powerful camera
Cons
-

Feels almost too large

-

The most expensive iPhone

-

Camera not hugely better than the 12 Pro
Why you can trust TechRadar We spend hours testing every product or service we review, so you can be sure you're buying the best. Find out more about how we test.
Two-minute review
The iPhone 12 Pro Max was the biggest iPhone Apple had ever made when it launched and it was easily the best. It was also very expensive at $1,099 / £1,099 / AU$1,849 although it's now a touch trickier to track down as Apple no longer sells it directly.
Sure, this iPhone 12 Pro Max review is now a little old given that the iPhone 13 Pro Max is here, but for cost or availability reasons, you might still be considering Apple's top-end mobile of 2020.
While Apple keeps around older basic models in its lineup, it typically quietly retires the larger versions, meaning you'll be able to find the iPhone 12 Pro Max at other retailers, probably at a discount, but not directly from Apple.
The design of the 12 Pro Max mirrors that of the other handsets in 2020's iPhone 12 family: there's a new flat-sided frame, which looks more industrial, and is a little less comfortable to hold than last year's model. It's a whole new look that's actually a bit old, given it debuted in the iPhone 4 a decade ago, but made a comeback in recent iPad Pro models.
Given how incremental the upgrades are on the iPhone 13 Pro Max, though, we'd still recommend the iPhone 12 Pro Max as a top choice for fans of big Apple phones. The arrival of iOS 15 also adds plenty of new functionality, from improved Apple Maps to more nuanced Messages functionality to watching or listening to media with others via SharePlay.
The iPhone 12 Pro Max is decked out in premium-looking, more muted colors though, and we're fans of the shiny metal rim around the edge (despite the fact that it's a real fingerprint magnet). It gives the big phone a modern and industrial look.
While the iPhone 12 Pro Max is actually only a very small amount bigger than 2019's 11 Pro Max, the bezels around the OLED display have been shrunk to allow Apple to increase the screen size to 6.7 inches – and it's a compelling reason to pick up the new larger iPhone.
Images are clearer and more visible on the larger display, you can see more of a web page or image in daily use – and as a movie-watching machine it was the best iPhone ever at launch. It's one of the best displays on the market, able to render both colorful scenes and more subtle tones with ease.
The headline feature on the new iPhone 12 Pro Max is the camera array: there are three cameras, all upgraded with a better image processor. While the camera block protrudes from the rear of the phone more than on recent iPhones, the main 12MP sensor has been upgraded to capture a lot more light, and enhancements have been made to the image processing too – some of the photos we took were really impressive.
However, the 12 Pro Max wasn't that far ahead of the iPhone 12 Pro's camera performance in our tests, which was surprising – images were, on the whole, clearer and brighter from the 12 Pro Max, but not by a huge amount.
If you're a budding movie-maker, we'd say it's definitely worth looking at the 12 Pro Max – it's packing Dolby Vision recording at 4K and 60 frames per second, so if you're a content creator looking for a phone that can record high-quality footage, the 12 Pro Max can definitely do that.
HDR will also make your movies look better, with improved brightness and color; however, it can look a little artificial, and clips will take up more storage space on your phone. It's not a feature that most should look to upgrade for.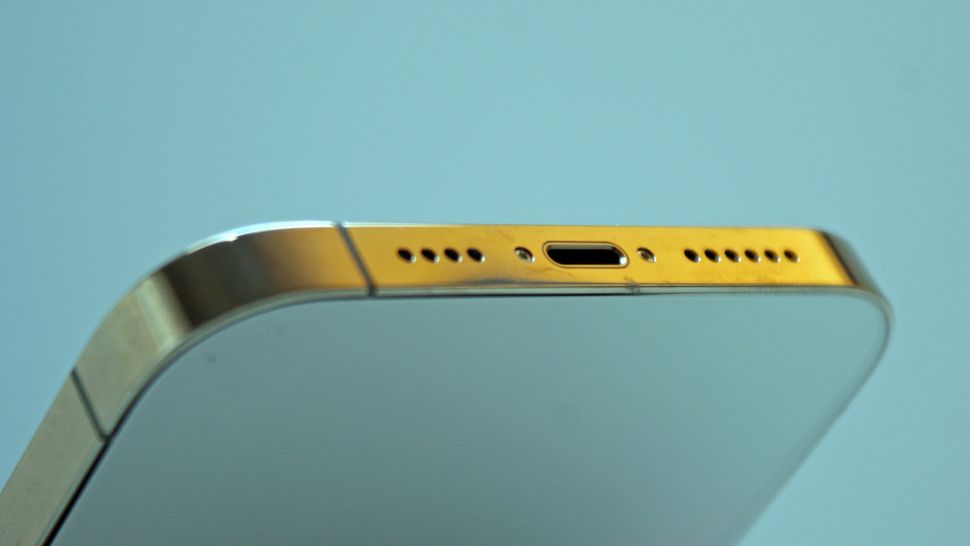 The 12 Pro Max starts at 128GB of storage, which is the bare minimum we'd expect, as the cameras will fill it up quickly – and with 5G on board you'll be able to download content faster, making it easier to fill up your phone with movies and music too.
5G is the future of mobile connectivity, but it's not in itself a reason to buy the iPhone 12 Pro Max... yet. Many parts of the world still don't have 5G coverage, so many users will find this feature redundant for now. In the next few years connectivity will become much more widespread though, so buying a 5G iPhone is more about future-proofing than enjoying next-gen speeds right now, unless you live in the heart of a major city.
And 5G mostly just brings faster speeds (though it's faster than even Wi-Fi for most), so you might not feel like that's something that's missing from your life right now.
Apple has also added the innovative MagSafe tech to the iPhone 12 Pro Max, which enables you to magnetically clip chargers, cases and accessories to your new iPhone. We like this addition, and more accessories are appearing all the time right now; MagSafe will only get better as time goes on, and getting the iPhone 12 Pro Max will future-proof you as more accessories appear on the market.
Along with the larger display, one of the big reasons to go for the iPhone 12 Pro Max is the battery life – it has the biggest battery of all the new iPhone 12 range thanks to having the largest chassis. We easily crested a day of use in our testing, and even on days when we really pushed the battery hard we got to 7:30pm before we needed the charger – if you've read our iPhone 12 Pro review, and have concerns about whether it'll last long enough, we advise moving up to the Max.
If you want the best of all things in an Apple smartphone, the iPhone 12 Pro Max is it. The large and bright display, the enhanced camera, the longer battery life and awesome grunt inside make this a compelling smartphone. If your hands can cope with the extra heft (and your wallet with the heftier price), this is the model to go for.
However, if the Pro Max feels a bit more than you need, or is beyond your budget, the iPhone 12 Pro offers a similar feature set and performance for less (although without the extended battery life) – and the difference between the cameras isn't as marked as we expected.
If you're open to Android then there are also a few other top-flight phones to consider, most notably the Samsung Galaxy S21 Ultra, which at the time of writing tops our list of the best smartphones. You might also want to take a look at the OnePlus 9 Pro, which matches or beats the iPhone 12 Pro Max in many areas while coming in at a slightly lower price.
iPhone 12 Pro Max release date and price
Went on sale November 6, 2020
Started at $1,099 / £1,099 / AU$1,849 for 128GB storage
Went up to $1,399 / £1,399 / AU$2,369 for 512GB storage
iPhone 12 Pro Max specs
Weight: 228g
Dimensions: 160.8 x 78.1 x 7.4mm
Display size: 6.7-inch
Resolution: 1284 x 2778
Chipset: A14 Bionic
RAM: 6GB
Storage: 128/256/512GB
Rear camera: 12MP + 12MP + 12MP
Front camera: 12MP
Pre-installed software: iOS 14
Battery: 3,687mAh
Charging: 15W wired, 7.5W wireless
After an October 13, 2020 announcement, Apple confirmed that the iPhone 12 Pro Max would be coming a few weeks after launch; while the iPhone 12 and iPhone 12 Pro were available on October 23, the company opted to release both the iPhone 12 mini and iPhone 12 Pro Max at a later date.
iPhone 12 Pro Max pre-orders opened on November 6, 2020, and you're still able to buy the phone around the world.
The iPhone 12 Pro Max price started at $1,099 / £1,099 / AU$1,849 for 128GB of storage, rising to $1,199 / £1,199 / AU$2,019 for 256GB, and $1,399 / £1,399 / AU$2,369 for 512GB.
It's now no longer available directly from Apple, but you should still be able to find it at third-party retailers with discounts highly likely.
iPhone 12 Pro Max design
Really big for an iPhone
Uncomfortable-to-hold flat edges
Prominent camera bump
The iPhone 12 Pro Max is big. It remains one of the biggest iPhone that Apple's ever made, if only by a few millimeters. However, as it also has the new squared edges of the iPhone 12 and 12 Pro Max, aping the brutal, industrial design of the new iPad Pro range, it feels larger in the hand.
That's not to say this is a bad thing – if you're not buying the 12 Pro Max because you want a massive iPhone, then you're kind of missing the point.
Those angular edges mean the phone isn't as comfortable to hold as the more rounded iPhone 11 Pro Max, the curved sides on which folded more softly into the palm.
One of the key characteristics of the Pro Max is the more 'mature' colors it comes in – the outside is a shiny stainless steel band, and this, the front accent and the rear of the phone now come in Graphite, Gold, Silver and Pacific Blue.
That shiny outer rim looks fancy, but it's also a magnet for fingerprints – get ready to polish it a fair bit if you want to keep it looking new and premium.
Given the price tag, you'd expect an expensive-looking phone, and the iPhone 12 Pro Max definitely looks the part, especially in the Gold color we reviewed.
Essentially, the design of the 12 Pro Max is just a larger version of the iPhone 12 and 12 Pro, and despite the size it still fits well in the hand, and it's easy to hit the Siri / screen lock button on the left and the volume keys on the right.
However, there's one big difference: the three-camera setup on the rear of the 12 Pro Max protrudes much further than on the iPhone 12 and 12 Pro, as there's a larger sensor underneath to pull in more light (we'll get to whether that's worth it in the camera section, but – spoiler alert – it's not bad at all).
This means that when you're putting the iPhone 12 Pro Max down on a table, it really rocks from side to side if you're tapping away on the screen – it's almost fun to play with absentmindedly, such is the protrusion. It's really noticeable, and will make most people think about putting a case on the iPhone to just flatten off the bump.
As mentioned, this is the largest iPhone Apple has ever made, with dimensions of 160.8mm x 78.1mm x 7.4mm, and despite being thinner than 2019's 11 Pro Max, it actually feels slightly larger in the hand, thanks to the square edges.
Be ready for something that might annoy you before you buy: Apple has dropped the charging block and Earpods from the box. You're now just getting a charging cable at purchase – and it's USB-C to Lightning, rather than standard USB-A to Lightning cable that Apple's been putting in boxes for years.
The USB-C cable does charge the iPhone more quickly – but you'll need to go out and buy a charging block at $19 / £19 / AU$29 from Apple to use it.
It makes no sense for Apple to do this – it says it's making this move to reduce electronic waste, as everyone has charging blocks and headphones already, but while that's true barely anyone will have the right block to allow them to use this new cable – it would have made far more sense to do this when Apple had been supplying this charging lead for a few years.
If you don't have the right block, or if you've never owned an iPhone before, you'll need to factor in the cost of a new charging block on top of the already-high price tag of the 12 Pro Max.
The key takeaway: if you want a huge iPhone, and all the benefits that brings, then you'll enjoy the design of this bigger model – but you certainly won't be able to reach all around the screen with your thumb.
iPhone 12 Pro Max display
Big 6.7-inch screen
OLED screen with 1284 x 2778 resolution
Ceramic Shield offers extra protection
The iPhone 12 Pro Max has the largest display of any iPhone ever created – that in itself is a good reason to upgrade.
In keeping with new technology that appeared on 2019's 11 Pro and Pro Max, all the models in the iPhone 12 range are packing OLED displays, and especially at this size it really makes a big difference. Apple is calling this a 'Super XDR OLED display', and in layman's terms this translates to a clear, bright and sharp screen with excellent color reproduction.
It's a real upgrade for anyone coming from the older iPhones – the display here is startlingly better, and images really pop with color and detail.
Thanks to the thinner bezels around the new iPhone 12 Pro Max display the screen is able to stretch further to the edges of the device, resulting in a 6.7-inch display compared to a 6.5-inch affair on the 11 Pro Max, and it looks really impressive. That extra screen estate is really noticeable next to last year's phone, and adds to the sense of immersion when watching movies or similar.
It's not a huge step forward in terms of brightness – this is a very similar OLED panel to the one we saw on the 11 Pro and 11 Pro Max – but it's pin-sharp, and streamed or downloaded content looks dynamic on the larger display, with high contrast ratios making things like blockbuster action movies and nature documentaries look incredibly absorbing.
Apple has added the Ceramic Shield to the front of the iPhone 12 Pro Max, as it has with others in the iPhone 12 range – this is designed to make it four times less likely to crack in the event of a drop.
We didn't test that claim during our review – partly because we don't want to randomly see if we can smash an expensive phone just to see what happens – but Apple is also claiming the iPhone 12 range is scratch resistant, thanks to a 'dual ion exchange' process.
That's not something we saw in our usage. As with the iPhone 11 Pro Max in 2019, early in our testing small nicks and scratches began appearing on the device. Nothing that's obvious in daily use, but when the screen is off you can clearly see small nicks and scuffs, despite us not putting the phone in a pocket with razor blades (or even keys and loose change).
If you're thinking you can get away without a case when upgrading, the hardiness of the iPhone 12 Pro Max has definitely been improved, but it seems it's still going to show signs of wear and tear if you don't keep it protected.
iPhone 12 Pro Max camera
12MP main, 12MP ultra-wide, 12MP telephoto cameras
Best photography iPhone
12MP front-facing camera
The biggest reason to upgrade to the iPhone 12 Pro Max sits on the rear of the phone: it's the camera array. Three 12MP cameras live here – standard wide, ultra-wide and the 2.5x telephoto zoom – and they've been upgraded from last year too, with Night Mode available for the ultra-wide sensor as well as the main shooter.
While you might think there's not much difference between the 12 Pro Max and the 12 Pro, Apple has set out to make the Pro Max the choice if you want to have the best camera experience on an iPhone.
It achieves that wholly with the huge new iPhone. The sensor is bigger inside (thanks to the larger dimensions) and that results in a camera that can absorb more light and take brighter, clearer pictures, one that once again nibbles away at the reasons you might have to have a separate camera.
The result is simple: if you want to take the best pictures with an iPhone, you can't look anywhere else but the 12 Pro Max.
Apple has been making a big deal about 'computational photography', with the chipset inside the iPhone 12 range intelligent enough to know what it's looking at and alter the resulting image according. Deep Fusion, which debuted last year on Apple's iPhones, analyses images pixel by pixel to create the best possible result post-capture.
The new Smart HDR 3 capability looks for different scenes when the photo is taken, grabbing multiple exposures and stitching them together intelligently to give you the best picture, while Night mode, which requires you to keep the phone still for a varying amount of time (depending on the conditions) can turn a dark, gloomy setting into a rich and vibrant scene.
Image 1 of 10
There's clearly an upgrade over the iPhone 11 Pro Max from 2019, especially in low light. Cropping in on those images taken in darker scenes shows that there's less noise, and the overall picture looks more vibrant.
Smart HDR this year finds more elements of the picture to improve and enhance, and as a result we took multiple pictures that we'd be pleased to put on the wall, with or without editing – that's always a good sign.
We spent hours taking pictures with the iPhone 12 Pro Max alongside the iPhone 12 Pro and the iPhone 11 Pro Max, and some things became really clear during that comparison.
First, the iPhone 12 Pro Max's larger sensor certainly lets in more light compared to the iPhone 11 Pro Max, and the vibrancy, clarity and detail in every photo is a real step forward.
Image 1 of 3
Image 1 of 6
However, despite the Pro Max having a larger sensor than the iPhone 12 Pro, we often found little difference between the results of these two phones, which surprised us somewhat.
Image 1 of 3
Image 1 of 4