The smartwatch segment in India is no longer left behind, thanks to the multiple launches and more useful stuff a wearable can handle, the smartwatch segment is witnessing some sunshine in the past few months. Smartwatches have moved to a different approach as compared to what they were a few years ago. 
The emphasis has now moved on from smartphone notifiers to extended purposes which increase the utility of your watch with features such as fitness, media controls and even calls. Android smartwatches have also gotten a second life thanks to efforts by Samsung and other hybrids. In 2021, we have some really dependable smartwatches that keep our hopes alive in the wearable tech world.
Best smartwatches available in India
While smartwatches haven't seen the pace of revolution that smartphones have, we have still seen improvements ranging from design, battery, software and features. These wearables now make a lot more sense if we compare them with two-year-old watches.
Smartwatches nowadays have neat little tricks up their sleeves. Want to talk to your smartwatch to search for something? Can do! Want to monitor your activities, ranging from walking, running, swimming or just... sitting? Can do! You can even set up an SOS feature on some watches, and if they detect an accident or a fall, they will inform your contacts. 
We have also listed a few good Wear OS smartwatches, which have become a lot better thanks to new updates and hardware. Google is also taking care of Wear OS in 2021. Going forward, we will be seeing WearOS watches from Samsung as well as Fitbit, which should strengthen the lineup. 
Let's take a look at the best smartwatches you can buy in India right now.
Image 1 of 7
Image 2 of 7
Image 3 of 7
Image 4 of 7
Image 5 of 7
Image 6 of 7
Image 7 of 7
The Galaxy Watch 3 comes with a dazzling design, a vivid display, and a bunch of new fitness features to help you track your progress across a wide range of activities, and stay motivated. Samsung has stuck with a traditional-looking circular display shape and a rotatable raised bezel that enables you to physically cycle through on-screen menus. It's tactile, and that click, click, click as you navigate the round interface feels satisfying—It is also pretty addictive.
The Galaxy Watch 3 is better than its predecessor and is also slimmer and lighter. The battery life is on par with the watch but, you'll be stuck with slow charging. The new fitness features improve the activity tracking that you expect to get from a smartwatch in 2020. Samsung has also added stress tracking and SPo2 monitoring. 
If you're looking for the best smartwatch to pair with the Android phone, this could be it - and if you own an iPhone, this may even beat the Apple Watch if you're looking for a circular device rather than Apple's trademark squared design and you like what you see.
Read our full Samsung Galaxy Watch 3 review
Check out the Samsung Galaxy Watch 3 on Amazon | Flipkart
41mm: Rs 25,990 | Rs 34,490 (4G)
45mm: Rs 32,990 | Rs 38,990 (4G)View Deal
Image 1 of 8
Image 2 of 8
Image 3 of 8
Image 4 of 8
Image 5 of 8
Image 6 of 8
Image 7 of 8
Image 8 of 8
The best and cheapest companion to your Apple iPhone is Apple's newest member in the wearable space, the Watch SE. It brings most of the features from the Watch 6 and is priced half of what the flagship model costs. The design of the Apple Watch SE is as familiar as you can get – the same curved edges, rounded aluminium chassis and the Digital Crown on the side.
It sports a bright OLED display, but the always-on display is missing though.  The integration into Apple's ecosystem is immense with Apple apps and services. You can head out of the house without your phone and go running with a wealth of music given that you have an Apple Music subscription and a pair of Airpods. 
You can activate Siri simply by raising your watch to your lips, and for the most part, it worked pretty well. However, the Watch's battery life is just too short to get the best out of it. The fitness capabilities of the Apple Watch SE are likely the key reason you'll be buying this device. The key features here are GPS, 5 ATM water resistance, sleep tracking, and multiple sports tracking. 
Read our Apple Watch SE review
Buy Apple Watch SE on Amazon | Flipkart | Apple.com
40mm - Rs 29,900(GPS) | Rs 33,900(GPS + Cellular)
44mm - Rs 32,990(GPS) | Rs 36,990(GPS + Cellular)
Image 1 of 8
Image 2 of 8
Image 3 of 8
Image 4 of 8
Image 5 of 8
Image 6 of 8
Image 7 of 8
Image 8 of 8
Samsung's wearables are great, but the flagship models often cost as much as a good mid-range smartphone. This is where the last-gen Samsung Galaxy Active 2 comes in handy. The wearable is now available for under Rs 20,000. It draws features like a digital rotating dial, a bigger screen, and an LTE option from the Galaxy Watch 3. This watch also looks more classy as compared to the Watch 3, in our opinion. 
The Active 2 is a solid choice for Android users on the hunt for a smartwatch.  Yes, it can be used with an iPhone, but with limited functionality, so you are better off with Apple Watch SE. You get a good 1.4-inch AMOLED display with minimal bezel. The Active 2 has a dual-core Exynos 9110 chipset clocked at 1.15Ghz. The LTE model also comes with 1.5GB of RAM which is good enough to run the Tizen OS. You also get 4GB of internal storage. 
The watch comes with a good mix of fitness and smart features - you get about 39 sports tracking modes and a bunch of smart features including the ability to respond to messages. With typical use, our Active 2 lasted through two full days, which is great for a smartwatch. 
Read our Samsung Galaxy Active 2 review
Image 1 of 6
Image 2 of 6
Image 3 of 6
Image 4 of 6
Image 5 of 6
Image 6 of 6
This watch is for those who can spend some premium on a Wear OS which in turn gives you battery life better than most other wearables in the market. The TicWatch Pro 3 is a quality smartwatch with three-day battery life, great speed, and a sleek design. It doesn't particularly excel at anything, but it satisfies all your basic workout and message-previewing needs, with a standard Wear OS software setup and a few TicWatch-branded workouts and health apps.
This is a flagship model that costs less than what you'll have to pay for a Samsung or an Apple smartwatch. The TicWatch 3 Pro is also the only watch with the Snapdragon 4100 chipset in the market - which is fast and performs really well. On the front, you get a crisp 1.4-inch OLED display. 
There are the heartbeat and SpO2 sensors on the bottom of the watch case, and two buttons on the right side for navigation shortcuts, but it's the overall look of the smartwatch. The watch is paired with 1GB of RAM and 8GB of internal storage that makes sure you get overall smooth performance. 
Read our TicWatch Pro 3 review
Rs 27,999View Deal
Image 1 of 10
Image 2 of 10
Image 3 of 10
Image 4 of 10
Image 5 of 10
Image 6 of 10
Image 7 of 10
Image 8 of 10
Image 9 of 10
Image 10 of 10
The best overall experience you can get in the segment, the Oppo Watch is one of the best Wear OS smartwatches money can buy in India today — while also being one of the cheapest. The hardware and software combination is commendable here. It does look a lot like the Apple Watch, but there's a lot to like here in terms of its impressive display and fitness modes.
Running on the WearOS platform gives an advantage of being smarter than the other wearables in the segment. You get support for third-party apps, access to Google services and the Play store. The best of all is the ability to respond to notifications from the watch itself. The software is also slightly tweaked as Oppo has added its own flavour which blends perfectly with the Wear OS. 
You'll want to consider its average battery life when you're thinking about buying this, but if you don't mind recharging your watch each night, you're unlikely to be regularly frustrated. The watch can be recharged within an hour thanks to the VOOC Flash charge.
As for fitness features, there's enough power as Google Fit brings 90 plus tracking modes. The Oppo Watch comes in two sizes ー 46mm and 41mm.  
Read our Oppo Watch review
Oppo Watch spec differences

| Specs | 46mm | 41mm |
| --- | --- | --- |
| Display | Curved, 1.9-inch | Flat, 1.6-inch |
| Connectivity | LTE/Wi-Fi | Wi-Fi |
| Battery size | 430mAh | 300mAh |
| Rear surface | Ceramic + plastic | Plastic |
Image 1 of 7
Image 2 of 7
Image 3 of 7
Image 4 of 7
Image 5 of 7
Image 6 of 7
Image 7 of 7
One of the cheapest Wear OS available in the market right now, the Fossil Gen 5E is a watered-down version of the Fossil Gen 5. The Gen 5E offers a single button as opposed to the three buttons as seen on Gen 5. The sole button is also rotatable which means you can scroll through the menus. The Fossil Gen 5E is available in two sizes - 42 mm and 44 mm with 22mm interchangeable strap options. 
Upfront, there is a 1.19-inch AMOLED screen with 390 by 390-pixel resolution. Powering the watch is the Qualcomm Snapdragon Wear 3100 which is designed for wearables. This is paired with 1GB of RAM with which you can smoothly run the UI and there is also 4GB internal storage. As for the fitness features, the Gen 5E comes with Accelerometer, Gyroscope, Off-body IR, PPG Heart Rate Sensor. 
The watch also comes with a speaker and microphone. There's only connected GPS on the Fossil Gen 5E, so it will only record location data for workouts and more if it's tethered to your smartphone. Other features include 5ATM water resistance, battery life up to 24 hours and quick charge support which can charge up to 80% in 50 minutes, Bluetooth 4.2, Wi-Fi, and Google Play store support. 
In case you want three buttons, you can get the Fossil Gen 5 which costs Rs 22,995. 
Read our Fossil Gen 5 smartwatch review
Rs 18,495View Deal
Image 1 of 10
Image 2 of 10
Image 3 of 10
Image 4 of 10
Image 5 of 10
Image 6 of 10
Image 7 of 10
Image 8 of 10
Image 9 of 10
Image 10 of 10
The best smartwatches from Huami are the Amazfit GTS 2 and GTR 2. These are also some of the cheapest wearables on the list. Apart from display and design, most of the specs between these watches are the same. The Amazfit GTS 2 follows the square design pattern while the GTR 2 offers a classic circular design. The GTR 2 comes with a 1.39-inch AMOLED display with 454 x 454 resolution and the GTS 2 comes with a  1.65-inch AMOLED screen with 348 x 442 resolution. 
Both come with a built-in GPS to track outdoor activities like running, cycling and open water swimming. There's also BioTracker 2 PPG optical sensor, which delivers continuous heart rate monitoring, heart rate during exercise and opens up more detailed insights. You also get SpO2 sensors on both to take blood-oxygen measurements. 
Both watches also come with 3GB of storage to transfer over your own music. You also get an Alexa voice assistant. You can even make calls over Bluetooth with the speaker offering decent clarity. Further, these smartwatches are also capable of tracking your sleep and 90+ sports mode which includes outdoor running, walking, indoor cycling, open water swimming, pool swimming, climbing, free training, outdoor cycling, and more. 
Read our Amazfit GTS 2 review
Read our Amazfit GTR 2 review
Image 1 of 8
Image 2 of 8
Image 3 of 8
Image 4 of 8
Image 5 of 8
Image 6 of 8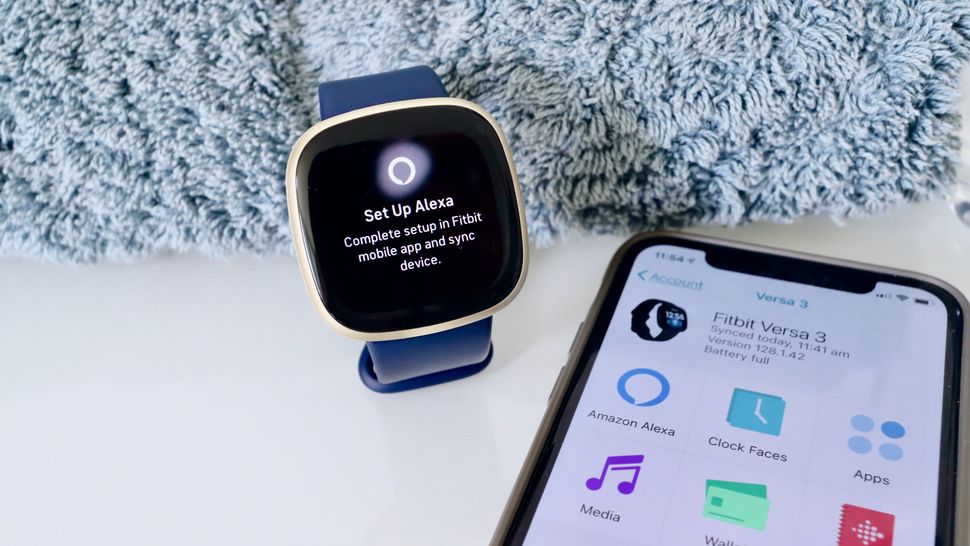 Image 7 of 8
Image 8 of 8
The Fitbit Versa 3 is an excellent upgrade from the last-gen with an integrated GPS and some design tweaks -  the Fitbit Versa 3 is an excellent wearable. However, it's more of a fitness tracker than a smartwatch - more on fitness, a bit less on productivity.
You do get a great battery life, a larger 1.58-inch AMOLED display, and a plethora of fitness statistics, making this a very compelling and affordable Apple Watch alternative. The performance is excellent, as we've come to expect from Fitbit devices. Battery life is about six days on a dim screen setting, but it drops to half that if you have the display set to always-on.
Fitbit Versa 3 also supports Alexa and Google Assistant - making it more useful and smart. Android users can respond to messages via the device, but the options are limited. The iPhone owners can't respond to messages. 
Read our Fitbit Versa 3 review
Image 1 of 9
Image 2 of 9
Image 3 of 9
Image 4 of 9
Image 5 of 9
Image 6 of 9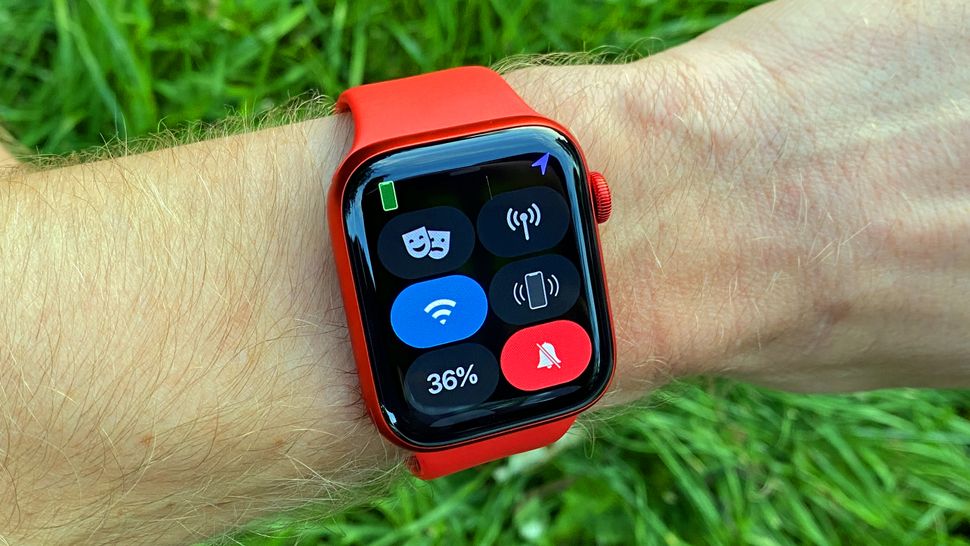 Image 7 of 9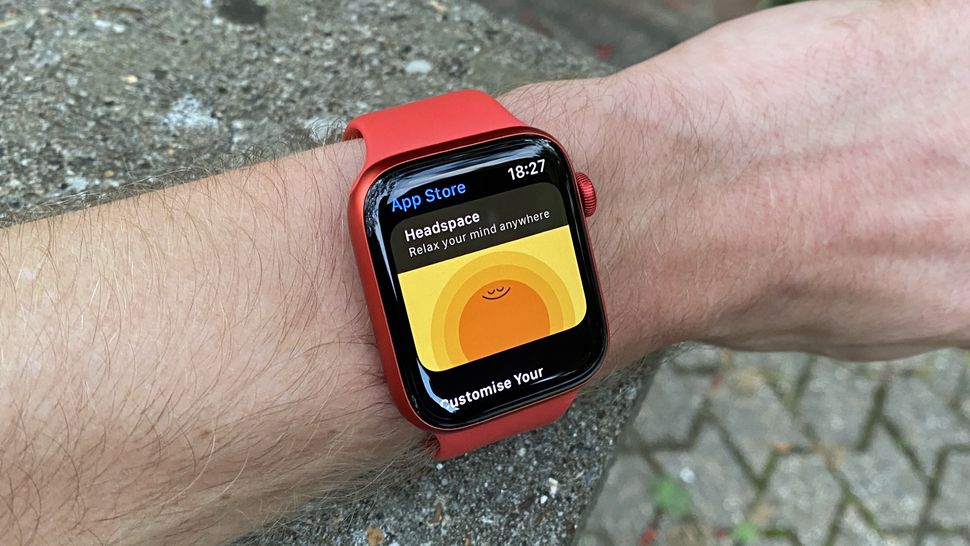 Image 8 of 9
Image 9 of 9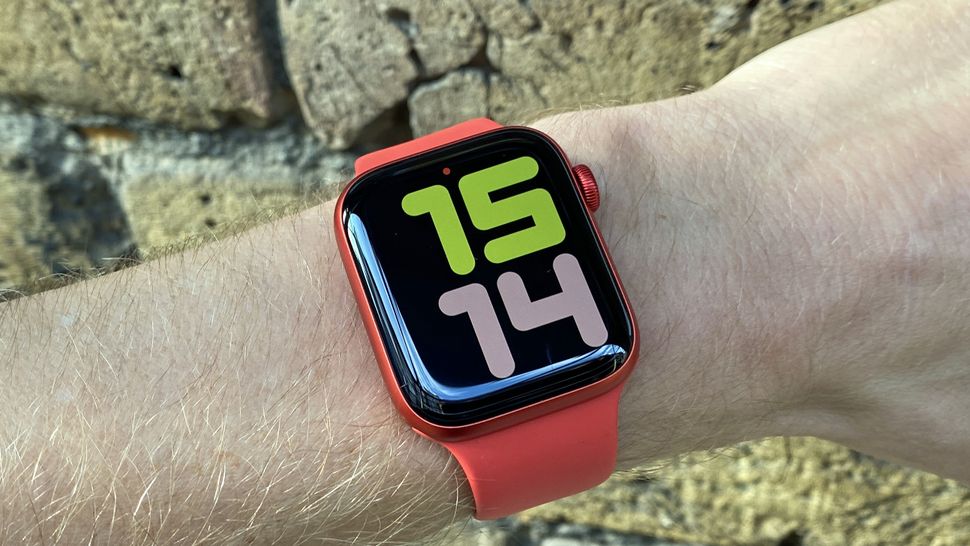 Apple Watches are rising in popularity to the point where most will know that they're small second screens that connect your iPhone to your wearable, and you might be wondering whether the new device offers anything massively alluring; if you're thinking about upgrading from an older model you'll be especially keen to learn what's new here.
Well, here are the highlights: starting at Rs 40,900 for the 40mm version, Apple's new Watch has a blood oxygen sensor inside, new colours to delight (we're into the red) and a more efficient S6 engine at its heart. It's also supposed to have a brighter display in sunny conditions.
Beyond that, the rest of the new features that arrive with the Watch 6, like sleep tracking, hand-wash tracking, and new buckle-less bands, will be made available to older Apple Watches.
On the outside, the Apple Watch 6 continues with the same design language used in previous models – a rounded, metal body with a square display that curves elegantly into the device itself.
The new colours and designs are interesting, with the new blue and red flavours, in particular, appealing on the wrist, the aluminium casing blending nicely with the more striking hues.
Read our full Apple Watch Series 6 review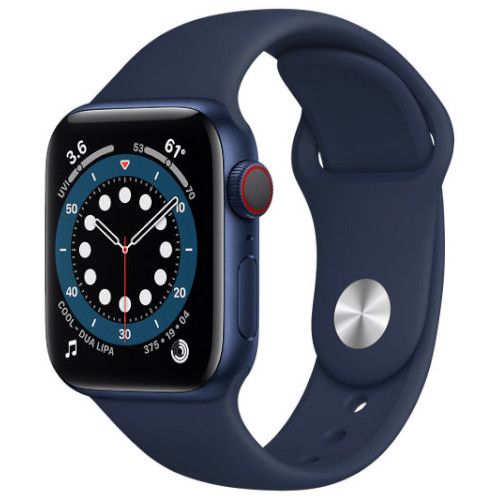 Buy Apple Watch Series 6 on Amazon | Flipkart | Apple.com
40mm - Rs 40,900(GPS) | Rs 49,900(GPS + Cellular)
44mm - Rs 43,900(GPS) | Rs 52,900(GPS + Cellular)View Deal
List of best smartwatches in India 
---
Samsung Galaxy Watch 3
Apple Watch SE
Samsung Galaxy Active 2
TicWatch Pro 3
Oppo Watch
Fossil Gen5E/ Gen 5
Amazfit GTS /GTR 2
Fitbit Versa 3
Apple Watch Series 6
---