The best Asus Zephyrus G14 prices are always a hotly contested area - such is the booming popularity of these excellent 14-inch gaming laptops. With powerful AMD components and Nvidia RTX graphics cards, these laptops really do break new grounds when it comes to offering performance in a relatively small package.
For those on the hunt for one of these excellent machines, you'll find all of today's best Asus Zephyrus G14 prices just down below. As of writing, we're still waiting for the latest 2023 model to land (expected February or March) but you can get some great deals on the 2022 and 2021 models right now - both past entries on our best gaming laptop guide.
We've included all existing iterations in this guide and we'll be updating this page again as soon as the 2023 model lands. Should you wait? Well, the next model will bring the RTX 4000 series of cards and 7th gen Ryzen chips so they're definitely set to push the performance envelope. We don't expect Asus G14 deals on the new models anytime soon, however - and older models will absolutely be better value for the foreseeable future.
Overall, these machines don't offer cheap gaming laptop deals by any stretch of the imagination, but they do offer fantastically powerful performance considering their size. Because there are a few older models on the market now, you'd also be surprised at how big the discounts can be too - up to $400 / £300 over big retail events like Black Friday, in fact. We're right in the middle of what's traditionally the busiest time of the year for discounts so it's well worth keeping your eyes peeled for a cheaper price on one of these outstanding gaming laptops.
The best Asus Zephyrus G14 deals and prices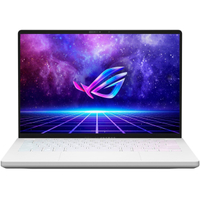 Asus ROG Zephyrus G14 gaming laptop: was $1,649 now $999.99 at Best Buy
Processor: AMD Ryzen 9-6900HS
Graphics card: Radeon RX 6700S
RAM: 16GB
SSD: 1TB
This is the lowest price we've seen on the 2022 Asus Zephyrus G14 - one of the best small form factor gaming laptops you'll find anywhere. At this price, this one is an absolute shoo-in thanks to its gorgeous 14-inch design, 1600p display, and super speedy RX 6700S graphics card. In short, this is a high-end premium machine for a very reasonable price.
The 2022 Asus Zephyrus G14 starts at $1,649 on its AMD Ryzen 9 / RX 6700S configuration, with a high-end RX 6800S model for $2,499 also available. Later down the line we could see more budget-orientated machines with the latest release, which is something Asus has done in the past with previous models.
As you'd expect, these older models are now starting to come down in price now there's a new entry. For example, we've seen the most popular RTX 3060 / Ryzen 9 model from 2021 go on sale for as little as $899 / £999 over the past few months, which is a full $550 / £500 of its launch price. If you spot a price in this ballpark it's definitely worth considering. While a bit older, this spec will still get you great gaming performance for a good few years down the line.
The older 2020 models are still knocking around too, although they are getting harder to get a hold of now as retailer stocks dwindle. Some of these machines have more entry-level specs, like a Ryzen 5 / GTX 1650 Ti, and we've actually seen them go for as little as $899 / £799 in the past. In our eyes, these are still decent machines but for anything above very casual gaming they're definitely showing their age now. If you're looking for performance, look for a 2021 or 2022 model.

In our books, the Asus Zephyrus G14 is extremely competitively priced when compared to other premium laptops, although competition has definitely tightened in recent years with the addition of the new Razer Blade 14 and Alienware x14.
Retailing for $1,999 and $1,599 respectively on their baseline models, both these gaming laptops are very much direct competitors to the G14. Of the two, the Razer Blade 14 is more analogous to the 2021 G14 with its Ryzen 9 chip and RTX 3060 gaming laptop. It's pricier than the G14, but some may prefer its darker look.
On the Alienware x14, a higher-end RTX 3060 / Intel Core i7 spec costs $1,899, which again is slightly pricier than the equivalent spec on the G14. If you're interested in this model, we'd hold off for a price cut - which Dell tends to offer around big sales events like Black Friday and Cyber Monday.
Asus Zephyrus G14 deals and prices: models
It was a foregone conclusion that Asus was going to refresh the fantastic Zephyrus G14 for 2022. What we didn't expect, however, was that the company would be upgrading the specs on these pocket-sized gaming machines to feature exclusively AMD components - in this case an incredibly speedy combination of a Ryzen 9 6900HS and up to an Radeon RX 6800S.
These components are some of the fastest on the market in their respective categories and help the 2022 G14 easily retain its crown as the fastest small-form-factor gaming laptop on the market.
Interestingly, Asus really look to be repositioning the G14 as a higher-end model with these upgrades. While previous entries featured more budget-minded GPUs, the 2022 model is featuring exclusively higher end components at launch. While cheaper options might be coming down the line, it's a bit of a bummer if you were looking for a more budget machine - or one with an Nvidia GPU. This model launches at $164, so get your wallets ready if you want one.
Other key upgrades on this model include a new Asus 'ROG Nebula' display, capable of 2560 x 1600 and 144Hz, a significant upgrade from previous models. You're also getting a full set of speedy DDDR5 RAM, capable of clocking in at 4800Mhz.
2021 saw the release of a second-generation Asus Zephyrus G14 that's essentially the same machine but with a few tasty internal component upgrades for good measure. Packing the very latest fifth-generation AMD Ryzen processors and on the top-end configurations, the new RTX 3060 graphics card has meant these 14-inch powerhouses have got even better - although the baseline model is still featuring the fairly basic GTX 1650 graphics card.
A few other welcome changes are the 120hz (and up) refresh rate screens and a 1TB NVMe SSD - which is now standard on all models, not just the high-end configs. On the outside, however, it's very much business as usual with the 2021 iteration - being simply a refresh of the existing excellent chassis. The Zephyrus G14 remains lightweight, portable, but exceptionally powerful for a 14-inch laptop.
As with the prior 2020 iteration, we'd recommend spending a little bit more to bag yourself the RTX 3060 model if you're really looking for gaming performance and want to make the most of those beefy fifth-gen Ryzen processors.
The 2020 Zephyrus G14 was Asus's first stab at providing an oh-so thin, portable, but absolutely monstrous gaming machine - one that's aimed squarely at those users who value portability as much as outright specs.
Central to the Asus Zephyrus G14's appeal is the utilization of AMD's new (at the time) Ryzen 4000 processors, which made this laptop stand out amongst its Core i5 and i7 equipped competitors. When we're talking about value to price ratio, most premium laptops just can't compete with these G14's - especially if you're lucky enough to catch a deal. That said, the baseline models do only come with a GTX 1650, which isn't the most amazing card on the market. Because of this, if you're looking for a gaming machine that will hold up for a few years, we recommend the more expensive RTX 2060 model.
Looks-wise, the Asus is fairly understated, well, for a gaming laptop at least. The more expensive variants do have a neat customizable LED feature though, which allows a user to create a custom light show on the back panel of the screen. The main appeal, however, has to be the overall weight of this machine, which, thanks to its magnesium alloy chassis clocks in at 3.53 pounds (1.60kg).
Our recent review on the Asus Zephyrus G14 is well worth a read if you're still on the fence and need a good, unbiased appraisal of these neat little machines. Spoiler alert - we gave it five stars out of five, and we think it's the best in class small factor gaming laptop you can buy right now.
Asus Zephyrus G14 alternatives
There are quite a few options in the gaming laptop deals area, especially in the $1,000 to $1,500 price range that the Asus Zephyrus tends to sit at. While not exhaustive, we've added a few of our favorite alternative gaming laptops just down below from a variety of brands.
Dell, Acer, and Lenovo all offer fairly compelling alternatives, although you'll want to keep an eye on those processors, graphics cards, as well as lesser-known specs like monitor refresh rates to find the right gaming laptop for you.

If you need something even cheaper, you could always check out our cheap gaming laptop deals page, where we've scoured the web for those of you who are budget conscious. We've got plenty of options in the $600 / £600 range, all the way up to $1,000 / £1,000, so definitely check it out if you're looking to save some cash.

Where to find more Asus Zephyrus G14 deals
If you'd like to check the best retailers directly we've compiled a list of useful links just down below so you can find the best Asus Zephyrus G14 prices not featured above.

---
While you're here, why not pick yourself up some cheap gaming mouse deals to help you get your game on. Alternatively, if you're just in the market for an inexpensive machine for browsing and shopping, then check out our laptop deals page, where we've got plenty of options.