So the Google Pixel 3 has caught your eye? We're not surprised. Not only is this one of the best camera phones out there (the Huawei P30 Pro still has that accolade) but it also comes from Google meaning excellent Android updates - scroll down to see the best Google Pixel 3 deals.
Much like the devices we are now seeing from companies like OnePlus and Xiamoi, Google Pixel 3 deals are great alternatives to the big ruling three - Samsung, Apple and Huawei.
Having only hit the shelves in November, to say we've been pleasantly surprised by Pixel 3 deals on contract would be a massive understatement. It's now commonplace to see tariffs with cheap monthly bills and getting big data deals for less than £600 over the two year term is an easy feat. Even with the Google Pixel 4 and Google Pixel 3a deals widely available, we're still very much in love
For example, you'll see deals as cheap as £18 a month floating around now, albeit with a pretty large upfront cost. Forget paying over the odds to some 'charming' salesman in a high street store - you won't find better Pixel 3 deals than on this very page.
So what's it like then, the Google Pixel 3? Well take a look at our review and you'll see that we like it - A LOT. In all honesty, it isn't massively different to its predecessor. Those large bezels remain on the regular version - although they've now disappeared for the Pixel 3 XL - but the screen has increased to 5.4 inches and the resolution is cranked up to 1080 x 2160. And it seems a lot of effort in the design has gone into improving the already market-leading cameras. We can't think of a smartphone with a better main snapper.
Price Comparison Chart
Best Pixel 3 deals
Pixel 3 deals: today's best contracts in the UK
Pixel 3 XL deals
Pixel 3 XL deals: best prices on the bigger handset
Google Pixel 3 review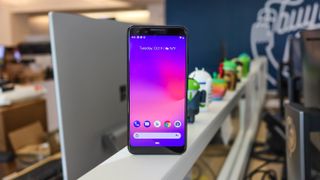 If you're looking for a phone with great camera quality, there is no better choice than the Google Pixel 3 right now. Whether it's the high-quality zoom, world leading night photos or the HD portrait photos, the camera performs all around.
To get such a high-tech camera you do have to take a bit off a hit when it comes to battery life and the processor but the photos coming out of this phone look so good it's easy to forget about that.
Read TechRadar's full Google Pixel 3 review
SIM-free Google Pixel 3 deals
This is where the prospect of the Google Pixel 3 becomes very interesting indeed. The company has been very smart in pricing its flagship phone cheaper than what you'll pay to buy the latest Samsung Galaxy or iPhone. So a brand new smartphone that's cheaper than its nearest competitors...we see what you're doing there, Google.
At least that was the idea in previous years, but the Google Pixel 3 SIM-free price has really shot up this year. But right now you can get the device for around the £650 mark that puts it in the same kind of echelons as the Samsung Galaxy S9. We are starting to see prices drop into the realms of the low £600's but we don't know how long that will last. While a lofty £869 for the Pixel 3 XL is competitive when compared to iPhone XS, but around the same as Samsung's awesome Note 9.
If you have the spare £700-odd available to spend, and know that you just want to buy the phone straight away outright, then we strongly suggest that you take a look at our best SIM only deals page as well (unless you're already sorted for a SIM, of course). But on this particular phone, going for a handset and SIMO may not actually save you anything over a contract.