I've hunted down all the best laptop deals each week at TechRadar for a good while now, so I've got a good idea of what to expect in a $500 laptop. Dell has just gone and blown those expectations away, though, with a fantastic offer on this Inspiron 15.
With $200 off the usual price, you can now get a Dell Inspiron 15 for $499.99 that comes with an AMD Ryzen 7 processor, 16GB of RAM and a 512GB SSD. This trio of components are almost never seen in a laptop at this price and will combine to give you a powerful device for all of your computing needs.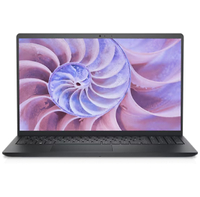 Dell Inspiron 15: was $699.99 now $499.99 at Dell
We rarely see devices at this price with a top-end AMD Ryzen 7 processor, 16GB of performance-boosting RAM and a large 512GB SSD. You'd usually expect to pay at least $600 for this sort of power, plus there's a responsive and bright full HD 15.6-inch screen, so it's terrific value for money. Get it if you need an all-around laptop to blast through your everyday computing work, multitasking and even some more demanding needs.
The Dell Inspiron 15 is a solid everyday laptop that comes in multiple configurations. We haven't reviewed this particular model here at TechRadar, but Dell devices are generally considered to be some of the top laptops you can buy and regularly feature on our best laptops buying guide.
If you've got a decent budget then you won't be disappointed with this standout offer from the latest selection of Dell laptop deals.
The Ryzen 7 processor and 16GB of RAM inside the Inspiron 15 ensure fast boot times and quick loading times for applications. And if you find yourself with multiple browser tabs open, like me, the device won't suffer from slowdown thanks to that extra power.
There's loads of storage with the 512GB SSD, too, which gives you speedy access to all your files and applications – and a lot of room for photos, videos, downloads and more.
And when you're not working, the 15.6-inch full HD display with its smooth 120Hz refresh rate, will give you a satisfying experience if you're just browsing the web or watching TV shows and films from your favorite streaming services.
Overall, I think it's easily the best laptop deal you can buy right now. If you do want to compare it to a few other options, there's more in the latest Dell sale or some top laptop offers from today can be found just below.