Looking for Avocado mattress sales? If you've been searching for them recently you'll have come away disappointed, as the eco-friendly sleep brand's been running an uninspiring promotion offer of up to two pillows with your full-price organic mattress. Thanks, but no thanks.
Fortunately with the Memorial Day mattress sales approaching, Avocado has just upped its game. Its Memorial Day sale is now live, and it gets you 10% off any mattress when you use the HONOR discount code. That'll get you the Avocado Green mattress for $1799,10, which is pretty standard Avocado fare, but still worth the effort if you're set on buying one of the best all-natural environmentally-friendly beds.
That said, if you're interested in a latex mattress there's a better Avocado deal available: it's clearing out the Avocado Latex Mattress at an impressive discount, with a queen size on sale for $2,099. That's $900 off, but don't wait to buy if you're interested, as who knows how long stocks will last.
We rate Avocado as one of the best mattress brands in the US, partly because of its impeccable green credentials (it's definitely one of the best organic mattress brands around), and also because its mattresses provide top comfort and support. Avocado also provides a one-year free trial and free returns, plus a 25-year warranty. Read on to find out about the current Avocado mattress discounts.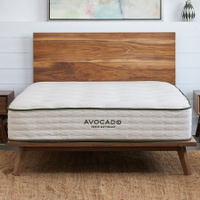 Avocado Green mattress: was $1,399 now from $1,259.10 at Avocado
Avocado's flagship model is its most popular – in fact, it's apparently America's best rated certified organic mattress. This hybrid includes layers of latex and coils, the former being split into zones to ensure you stay properly aligned. It has a medium firm sleep feel, but you can add a pillowtop if you want something a little softer (perhaps a good option for lighter people or side sleepers). It's needle-tufted by hand, rather than being glued. With this deal, there's a price-drop on all sizes, which brings the price of a queen down to $1,799.10.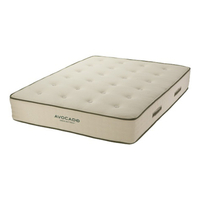 Avocado Latex Mattress: was $2,399 now from $1,679 at Avocado
Latex mattresses don't come cheap, so this sale on the Avocado Latex Mattress is definitely worth a look if you want an eco-friendly step up from memory foam. This hand-crafted organic mattress is great for comfort and motion isolation, with just the right amount of bounce. It's available in a final sale for $2,099 in a queen size; that's $900 off, but move fast as this is a clearance sale, so stock won't last forever.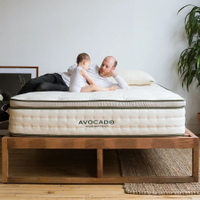 Avocado Vegan mattress: was $1,399 now from $1,259.10 at Avocado
For strictly vegan shoppers, this PETA-approved model swaps wool with cotton, so there are absolutely no animal products involved. The Avocado Vegan mattress is made with GOLS organic certified latex and up to 1,414 tempered steel coils, delivering the perfect balance of firmness, comfort and support. There's 10% off all sizes with the discount code HONOR, which means a queen drops to $1,799.10.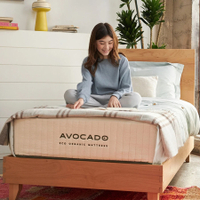 Avocado Eco Organic mattress: was $777 now from $699.30 at Avocado
The eco organic is the most affordable option in the Avocado Green lineup, and great if you want an organic mattress but don't have loads of cash to splash. It features a pared-pack design with coils, a thinner layer of latex with two support zones. It's 9 inches tall and has a medium sleep feel, which means it's better suited to lighter or average weight sleepers.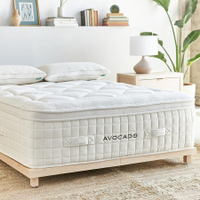 Avocado Luxury Organic mattress: was $2,799 now from $2,519.10 at Avocado
Updated for 2022, the fanciest of Avocado's mattresses has an impressive 17 layers and clocks in at a slightly ridiculous 17" thick if you choose the plush version. Choose between medium and soft sleep feels. Those layers include organic and natural latex, wool, silk, hemp, and cotton, as well as pocketed coils arranged in five zones for support and motion isolation. There's 10% off when you use the HONOR discount code; that'll bring the price of a queen down to $3,509.10.
Which Avocado Green mattress should I choose?
Every mattress in the Avocado range is certified organic and non-toxic, and they all come in a range of sizes; usually from twin to Cal king, although the Avocado Latex Mattress can be bought as a split Cal king, the Luxury Organic Mattress can be had in a split king size, and its Eco Organic Kids Mattress is available from twin to full size. Avocado's crib mattresses only come in one size. And beyond sizing, there are some big differences across the Avocado range.
The Eco Organic Mattress (priced from $799 when not in a mattress sale) is the cheapest in the range, offering a Medium level of comfort that suits back, stomach and side sleepers alike. Slightly more expensive, the Avocado Green Mattress (priced from $1,399) comes in two versions: the Standard (Medium Firm) is a great choice for back and stomach sleepers, as well as average to tall side sleepers. The softer Pillow-Top variation suits side and combination sleepers, along with those who require more pressure relief. You get the same choice with the Avocado Vegan Mattress (priced from $1,399), which is a vegan-certified and PETA-approved hybrid.
For the ultimate in motion-isolating support, try the Avocado Latex Mattress (priced from $2,399). This was previously the company's most expensive option, but it's now been superseded by the Avocado Luxury Organic Mattress (priced from $2,799), which packs in 17 layers of organic and natural latex, wool, silk, hemp, and cotton, plus up to 3,136 pocket coils for support and motion isolation.
More of the best Avocado mattress deals
"America's #1 best-rated certified organic mattress" is how the LA company describes its Avocado Green Mattress. This Medium Firm bed-topper features the same organic latex, wool and cotton found in the Eco Organic, but comes with more pocketed coil springs, which are distributed across five distinct zones for enhanced support. Add the Pillow-Top if you require additional pressure relief and a softer feel.
Fancy this bed in a queen size? If you buy it in the current Avocado Green mattress sale, you'll get 10% off usual price via coupon code HONOR. That'll reduce the cost from $1,999 to $1,799.10. (Add a Pillow-Top and get it for $2,299.10 after discount.)
Avocado Green calls the Eco Organic "the most affordable certified organic mattress made in America". Rated five stars from more than 250 user ratings as of August 2022, this five-layer bed-topper combines organic latex, wool and cotton (sourced from the company's sustainable farms in Guatemala and India) with recycled-steel pocketed coils, resulting in a cosy and breathable sleep oasis that's equally suitable for back, stomach and side sleepers.
The Eco Organic Mattress is in Avocado Green mattress sale, with 10% off when you use the HONOR discount code.
Hailed by the manufacturer as its "most sustainable mattress yet," the Avocado Latex is also the company's most premium sleep offering. This foam-based bed-topper contains nine inches of organic latex, three distinctive zones, bounce-dampening layers and a low profile, all of which combine to deliver the optimum amount of response and bounce.
There's no hiding from the fact that this is an expensive product, and its price tag may well have put people off. Avocado appears to be dropping this mattress from its range and it's clearing stock at a deep discount right now: you can get a queen size model for with $900 off, bringing the price down to a more agreeable $2,099.
We all want our kids to get the best night's sleep possible – one that keeps them both safe and supported. The Avocado Organic Crib Mattress is designed with exactly that in mind; not only does it contain no harmful materials, it's also dual-sided with two age-appropriate levels of firmness. This means you can flip it over when they grow from an infant (firmer) to a toddler (more plush), ensuring they get just the right level of support – and you get great value for money.
The Avocado Organic Crib Mattress sits in the middle of Avocado's range of crib mattresses at $439, and there's 10% off in the Avocado Memorial day sale, bringing the price down to $395.10. It's also backed by a 25-year warranty, which means you can potentially pass it on to your kid's kids.
Do you need an Avocado discount code?
Yes, Avocado mattress deals generally require customers to input a discount code when they get to the checkout. Luckily we've got you covered; see our guide to the best Avocado Mattress coupon codes for to discover all the ways you can save.
Avocado Black Friday deals: what you need to know
Black Friday and Cyber Monday provide a great opportunity to buy bedroom products on the cheap. Traditionally, it brings the lowest prices of the year. So what does the Avocado Green Black Friday sale look like?
Avocado kicked off a 10% off deal across its full site at the end of October – albeit without any Black Friday branding – and it ran all the way into Cyber Monday. It wasn't as underwhelming as it looked though, because over Black Friday weekend proper, the brand discounted its flagship model (the Avocado Green) as well as the Vegan version. Shoppers could then then apply the 10% off to the discounted price. This was the official pricing for all sizes on the Avocado Green on Black Friday 2022:
Twin: $1,197 (MSRP $1,399)
Full: $1,453.50 (MSRP $1,699)
Queen: $1,710 (MSRP $1,999)
King: $2,223 (MSRP $2,599)
In 2021, the Avocado offered a $150 discount on its Avocado Green and Avocado Latex models, and a massive $350 reduction on the Organic Luxury. The year before that, customers could make savings of $200 on the Avocado Latex and Luxury Organic Crib mattresses. Both of those Avocado Green mattress sales also included discounted bedding and furniture.
To stay up to date with all the best discounts, bookmark our Black Friday mattress deals guide and our Cyber Monday mattress deals round-up.