It's no secret that Black Friday and Cyber Monday is the best time to get your Christmas gifts at great prices, and with a huge range of shopping categories including everything from white goods to toys, Argos could be the best place to do your shopping on November 23.
With its quick ordering system and the option to pick up your orders in-store, Argos is sure to be inundated with online orders and in-store purchases on Black Friday, so make sure you're well prepared ahead of time.
To avoid missing out on those all important deals, follow our advice below, and you could bag yourself some fantastic products at a super low price.
How to get the best deals at Argos on Black Friday
If you haven't already, make sure you are signed up for an Argos account so you are ready to go when the deals start appearing on Black Friday - Argos usually start posting them at the stroke of midnight on November 23, so you don't want to be wasting time setting up your account on the day.
Argos also recommends you sign up to its mailing list to be the first to hear about the deals, as well as providing you with information about current deals.
Once you have an account it's well worth making a wishlist so your Black Friday shopping list is ready to go - of course, it can't be guaranteed that everything in your list will be discounted, but preparing ahead of time could save a lot of stress on the day.
If you need to spread the cost of your purchases, you may want to sign up for an Argos Card, which has credit plans ranging from 3-12 months.
Although Black Friday deals will go live at midnight on November 23, Argos say the quietest time for online shopping is typically between 3 and 4 am, so if you want to get your hands on the best deals, it may be worth an extra early start (or pulling an all-nighter).
Unsurprisingly, it's Argos' Black Friday tech deals that are typically the most popular, so if you're in the market for a new TV, games console, or smartphone, head straight to the tech section of the website.
You may also want to keep any eye on the Argos website for vouchers and discount codes, incase there are any further reductions to be had.
Last year, Argos reported a huge 78.5 million visits to the website on Black Friday, so if you have your heart set on a particular product, it's well worth preparing in advance to beat the crowds.
If you're planning on visiting your local Argos in person, the store should be well-staffed, with over 10,000 additional workers expected to be introduced in the lead up to Christmas.
What about Cyber Monday?
If you miss out on all the deals at Argos this Black Friday, fear not - there will be a huge Cyber Monday sale across the website on November 26, which will likely be your last chance to shop with massive discounts before Christmas.
Usually Cyber Monday involves a repeat of deals you'll see on Black Friday, but can occasionally involve even bigger discounts, so if you're strapped for cash you may want to to hold off until then.
Still, with the amount of traffic that Argos is likely to see over Black Friday, don't be surprised if some of the best deals are already gone by then.
The top 5 Argos Black Friday deals last year
Black Friday 2017 was huge for 4K TVs, and this stunning deal from Argos was no exception. Last year, Argos was selling this beautiful, curved Samsung, with 55 inches of 4K UHD screen and HDR support for the sweet price of £579.
One of the biggest laptop discounts from Argos last year was on the Acer Aspire 3 laptop with a 15.6 inch display, Intel i5 Dual Core Processor, and 8GB of RAM, with a drop in price of £160.
Last year Argos offered a brand new PS4 Slim 500GB Black with three games included for just £199 - shoppers got the console, FIFA 18, Gran Turismo Sport and a choice of 1 of 3 Playlink games.
The 2017 Amazon Fire tablets have Alexa built in so you can control your smart home systems or your Fire TV Stick simply by talking to your tablet - and last year Argos reduced them by £10 for Black Friday.
On Black Friday 2017 Amazon had these AKG C50BT Bluetooth headphones for £89 so the Argos price of just £69.99 was a great deal on a pair of really good on-ear wireless headphones from a great brand.
Argos Black Friday deals predictions for 2018
Although Argos is yet to announce its Black Friday deals, we can make an educated guess as to which products are likely to be discounted on November 23.
The retailer has also launched its Christmas hub, where 'trending' gifts include Call Of Duty: Black Ops 4 for Xbox One, the Honor 8X, and the Sega Portable Games Console with 85 games - hopefully some of these items will be discounted on Black Friday.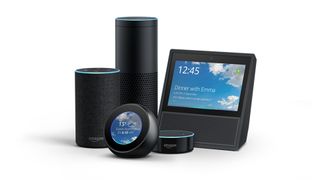 We've seen a huge influx of smart speakers onto the market this year, with Argos reporting that there are more homes with smart speakers than pet rabbits. Argos has a range from all the big names, including Amazon, Apple, Google, Sonos, and more.
2018 has been the year of the 4K TV, and despite the launch of 8K models, 4K or Ultra HD continues to dominate the market. Right now Argos stocks a huge variety, with models from Sony, Samsung, Hisense, and more.
Last year Argos made some huge discounts on its laptops, particularly from its high performance range, with models from Acer especially reduced.
As wireless headphones have become better in terms of audio quality, their popularity has increased, and based on the discounts Argos made last year, we expect to see similar reductions across Bluetooth headphones this year.
STEM toys have surged in popularity over the last year, and we expect to see discounts in this area in Argos' Black Friday 2018 sale. Although toys haven't had the largest discounts in the past, Argos is likely to make some reductions in the hope of tempting parents shopping for Christmas presents.
Reasons to choose or avoid Argos
As one of the most popular places to shop for Black Friday deals, the Argos website will be dealing with a huge amount of traffic, so there is a good chance the website could go down on the day.
To avoid this, try shopping in the early hours on November 23 when the website is expected to be the least busy.
Although the website will be busy, Argos does offer a lot of convenience for Black Friday shoppers, particularly through its Fast Track delivery service, which costs £3.95 for home delivery, or free, faster collection from its stores.
Argos also offers flexibility to shoppers when it comes to payment, so if you're looking to spread out the cost of an expensive purchase like a television for example, you can do so using the Argos card, which works like a credit card.
Stick with TechRadar to get the best deals
We get it - Black Friday and Cyber Monday can feel a little overwhelming, especially when there are so many deals out there from a huge variety of stores and websites. With all these options, it's easy to feel like you're not getting the best deal, and to go for the first deal you see, meaning you could miss out on huge reductions down the line.
That's why we're following all the top retailers, including Argos, and keeping an eye on their Black Friday and Cyber Monday deals so we can report back on the very best discounts on televisions, laptops, toys, and more.
For breaking deals, make sure you follow TR Deals on Twitter so you don't miss out on any incredible Black Friday and Cyber Monday deals at Argos this year.