Smart TVs are so common now that using the word 'smart' almost seems unnecessary. It's rare you'll find a new TV that doesn't come with some form of smart capability, which is why we've put together a guide to the best smart TV platforms you'll find on new sets in 2018.
We've come a long way from the early days of TV smart capability, marked by awful performance, non-existent software updates, and a general lack of manufacturer support.
Can't wait for next year's smart TVs? Our CES 2019 coverage starts January 7
Now, smart TV platforms like webOS, Tizen, Roku TV and Android TV offer a polished and well-rounded interface for navigating the smart capabilities of your television. Today's best smart TV platforms actually enhance the viewing experience, with recommendations, voice control, and more besides to add to your home entertainment.
So, what's the best smart TV platform you can buy? We've ranked the the world's major connected TV platforms, putting equal emphasis on ease of use, functionality, stability and content support. After you've checked out our Smart TV primer, we've gone ahead and listed the best picks in each category below – plus, you can click through to the next page to see a detailed break down of every platform.
Smart TV: The State of the Union
So just where do we stand on Smart TVs? Do you know your Roku TV from your SmartCast? Your Tizen from webOS? If not, this section is for you.
In 2018, there are five main smart operating systems: Android TV, webOS, Tizen, Roku TV and SmartCast that are used by Sony, LG, Samsung, TCL and Vizio, respectively. In the UK, you'll find that Philips also uses Android while Panasonic uses its own proprietary system called MyHomeScreen.
The vast majority of TVs use the operating systems listed above - but not all TVs. At lower price points, you probably won't find any of the above as most TV manufacturers offer a narrow proprietary service instead. These will vary between manufacturers, however, by and large, they're not as good as the ones listed above for the sheer reason that they aren't updated as frequently.
When in doubt, try to buy one a TV with one of the above.
That said, if you're completely undecided on which smart TV to buy, it's worth considering the value of each of these smart systems - which we'll list below.
(Scale: Awful, Bad, OK, Good, Better, Best)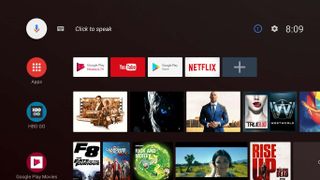 Android TV (found on 2018 Sony 4K and OLED TVs)
Setup: OK | Ease of use: Good | Speed: OK | Number of apps: Better | Universal search: Better
Pros: Recommended content row. Clean layout.
Cons: Most builds are very buggy and prone to crashing.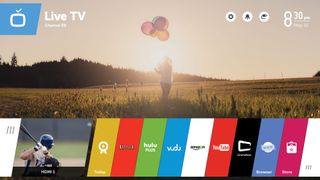 WebOS (found on 2018 LG OLED, Super UHD and some UHD TVs)
Setup: OK | Ease of use: Good | Speed: Better | Number of apps: Bad | Universal search: OK
Pros: Alexa and Google Assistant integration. Fast to navigate.
Cons: The least robust in terms of apps of all the smart TV platforms.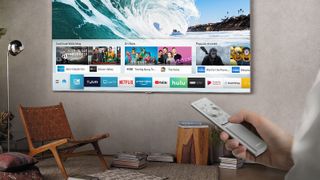 Tizen (found on Samsung 2018 QLED and NU-Series TVs)
Setup: Good | Ease of use: Good | Speed: Better | Number of apps: Bad | Universal search: Bad
Pros: TV Plus offers free channels. Fast to navigate.
Cons: Universal search can be hit or miss.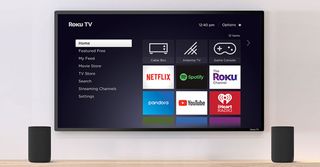 Roku TV (found on 2018 TCL and Hisense TVs)
Setup: OK | Ease of use: Better | Speed: Better | Number of apps: Good | Universal search: Best
Pros: Best universal search. Very easy to use.
Cons: Interface feels a bit plain in 2018.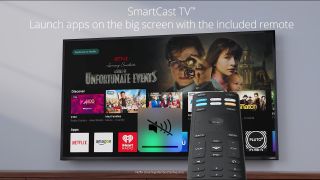 SmartCast (found on 2018 Vizio TVs)
Setup: OK | Ease of use: OK | Speed: Bad | Number of apps: Good | Universal search: OK
Pros: Has Google Chromecast built-in.
Cons: Slower than most other TV operating systems.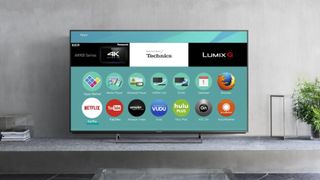 MyHomeScreen (found on 2018 Panasonic TVs)
Setup: OK | Ease of use: Good | Speed: Better | Number of apps: OK | Universal search: OK
Pros: Fast and responsive.
Cons: A bit plain.


What's the best smart TV?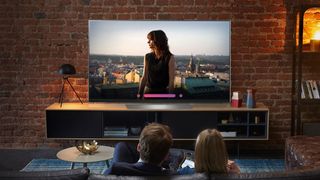 Best Smart TV with webOS
The OLED65E8 provides a huge range of apps and streaming services.
Awesome picture quality
Excellent operating system
Much improved gaming potential
Occasional picture noise
At the heart of the OLED65E8's smart features lies webOS: LG's groundbreaking, oft-copied but never bettered interface. This still does a brilliant job of finding and organizing all the myriad content sources available to modern TV viewers, thanks to its simple, attractive layout, and effortless customizability.
LG provides access to all of the main video streaming apps, including the full 4K, HDR implementations of Netflix, Amazon Prime Video and YouTube. UK users can also benefit from Sky's Now TV platform, as well as Freeview Play, which provides the catch-up TV services of all the main UK terrestrial broadcasters in a handy umbrella interface.
LG in Europe has also recently added Rakuten TV, providing the continent with its first film streaming platform that supports both Dolby Vision HDR and Dolby Atmos sound. The US, of course, can get such streams from VUDU.
WebOS is no longer the be all and end all of LG's smart features, though. There's now a much enhanced voice recognition/control system, for instance, which provides straightforward access both to the TV's features and an exceptionally comprehensive and effective voice search feature. This looks through (some) apps, the internet and the TV listings for answers to your content requests.
The OLED65E8 is compatible with Alexa and (following a recent update) Google Assistant, and even has the potential to monitor and control other devices and appliances on your home network via its ThinQ platform.
Our only issue with webOS is that the single scrolling bar of icons along the bottom of the screen can start to get pretty long once you've added a few of your own apps.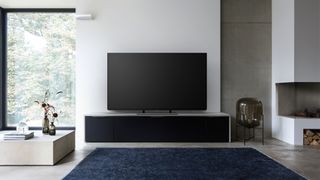 Best Smart TV with My Home Screen 2.0
The winner is the Panasonic TX-55FZ952B OLED TV (UK only)
Superb 4K image quality
Effective HDR performance
Elegant smart platform
No Dolby Vision or Atmos
Panasonic's My Home Screen smart platform is decidedly simple compared to much of the competition, but that's not necessarily a bad thing. Currently on its third generation, it remains largely the same as the Firefox OS on which it was originally based.
When you press the Home button on the remote, you get a choice of three options: Live TV, Apps, and Devices. This simplicity is the platform's greatest strength, making it easy to navigate and find things by helpfully storing all the apps in single location; you can also pin your favorite apps to the home page for quicker access.
Since the smart platform is relatively simple, it doesn't require a vast amount of processing power to operate, which makes it responsive, robust, and free from crashes. My Home Screen isn't fragmented like some platforms, nor does it bombard you with recommendations – it simply delivers all the streaming and catch-up services you need.
Thanks to Freeview Play, a comprehensive list of catch-up services are included, covering BBC iPlayer, ITVhub, All4, My5, BBC News & Sport and UK Play. The iPlayer app supports 4K and HLG (Hybrid Log-Gamma – the broadcast version of HDR), both of which the BBC trialled during the World Cup.
There's also Netflix, Amazon and YouTube, all of which support 4K and HDR, along with services like Rakuten and Chili Cinema. In fact the only major streaming service missing is NOW TV.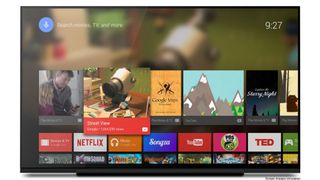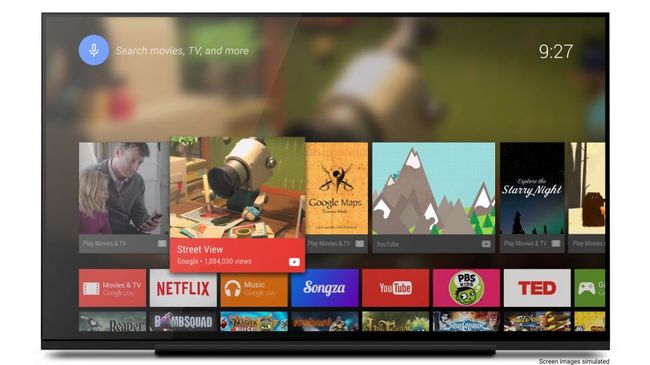 Best Smart TV with Android TV
The winner is the Sony 65-inch A1 Bravia OLED
Stunning image quality
Outstanding audio system
Lean back design
Inevitably expensive
The Bravia A1 OLED combines innovative engineering with stunning design – making it easily one of the best TVs to sport Android TV.
Not only does it look great, but it sounds great, too, despite not having a soundbar. Instead, it uses a pair of sonic actuators, positioned on the rear of the panel which vibrate, creating stereo sound. Bass comes from an 8cm subwoofer in the stand.
As an added bonus, the set's Android smart platform has Chromecast built-in, making it easy to cast content from a compatible mobile phone. Apps include Netflix and YouTube in 4K.
Picture quality is drop-dead gorgeous: you get a Triluminos wide color gamut display, high color vibrancy, and a 4K Reality Pro picture processor that maximizes image detail. Integral to the set's overall image success is Sony's new 4K HDR X1 Extreme image engine, while object-based HDR remastering does a great job too, making regular SDR TV look like HDR.
If you're looking for the top Android TV display, the A1 is the model to beat.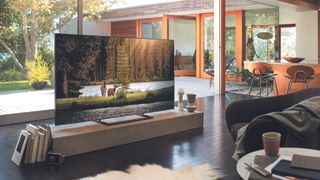 Best Smart TV with Samsung Smart Hub
The Samsung Q9FN is the best Smart Hub/SmartThings TV on the planet
Spectacular HDR picture quality
Good smart system
Cutting-edge gaming features
Limited viewing angles
While the 65Q9FN's Smart TV system is based closely around the Eden platform Samsung has been busy refining for the past couple of years, expect a few tasty new morsels that add to the experience without taking anything away.
For starters there's now compatibility with Samsung's SmartThings platform, which provides an on-screen hub for monitoring and even controlling other smart devices (fridges, washing machines, lights etc) on your network.
There's also much better integration of the TV listings and live broadcasting into the TV's content searching features: there are now hour-by-hour show recommendations, for instance, as well as TV shows getting much more prominence in the content browsing menus.
Samsung has delivered enhanced interactivity with your smartphones and tablets too, as well as some seriously cool new gaming related features.
Overall, a slick, easy to use and helpfully customizable interface belies the impressive sophistication and comprehensiveness of Samsung's latest smart TV engine.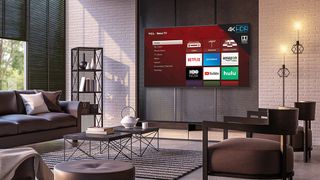 Best Smart TV with Roku TV
The winner is the TCL 6-Series R615, R617 (US only)
Bright, colorful HDR
Roku TV is amazing
Supports Dolby Vision
Upscaling isn't world-class
Once you get this TCL TV up and running, you'll be met with the familiar veneer of Roku TV – an egalitarian operating system that handily retains its top spot as (arguably) the best operating system year after year. It's intuitive to use, if a bit boring, and its lack of ties to a particular streaming platform allow it to point you to all the places content can be found without bias.
That last bit is important, especially if you've ever used an Apple TV or Amazon Fire TV, both of which would much rather have you stream from their ancillary streaming services over any of the third-party ones. Because Roku doesn't have ties to a major streaming service – other than a vague deal to include FandangoNow on the home screen of the OS – it doesn't push you any direction you don't want to go and happily supports everything from Netflix, Hulu, Sling TV and Amazon, to lesser-known channels like Pluto.tv, tubi, Crackle and others.
That's to say nothing of Roku's own streaming service that it launched at the end of last year, which provides its own collection of entirely free movies that change in and out every few months. Most aren't anything to write home about, but you do get the occasional gem in there.
While it'd be nice to see the inclusion of artificial intelligence and personal assistants on Roku TV – similar to what LG is doing with webOS and Samsung has done with Tizen and SmartThings – all things considered, this is still one of the best TV operating systems and a fantastic TV overall.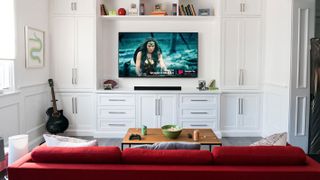 Best Smart TV with SmartCast
Vizio's P-Series TV is slow but effective
Stellar 4K HDR picture
Solid HD upscaling
Affordable price
SmartCast OS is slow
Vizio's 2018 P-Series is a great choice if you're after a TV that performs at an above-average level with great pricing. It has a number of top-shelf features with good black levels, but its operating system is a bit slow.
Thankfully, there's nothing to complain about with the TV's 4K HDR performance. In fact, considering how much work it takes for other screens to come close to natural colors, the P-Series is supremely good right out of the box.