The Google Pixel 2, the 2017 apple of the search giant's smartphone eye, is almost at an end. The Pixel may soon be dead, but long live the Pixel - the Google Pixel 3 is now here and set to replace it altogether.
If last year is a good indicator, then don't expect Pixel 2 deals to be around for much time after its successor sees the light of day. So if you've been fancying the Pixel 2 for a while and really don't want to splash the cash on the much costlier new phone, then you'll have to strike pretty swiftly. And the same goes for the Google Pixel 2 XL.
Whichever handset you covet, you can use our price comparison below to identify the best Pixel 2 deal for you. Google's quest to build a smartphone as popular as the latest iPhone and Samsung Galaxy flagship mobiles took a massive step forward when the original Google Pixel launched last year. And its successor - the aptly named Google Pixel 2 - has continued the stellar work.
Need some more convincing? Use the 10OFF voucher code from Mobiles.co.uk that knocks a tenner off the upfront cost of any deal from that retailer - it's exclusive to TechRadar readers. And there's a summary of our expert review at the bottom of the page.
More options: Samsung Galaxy S9 deals | Samsung Galaxy Note 9 deals | iPhone 8 deals | SIM only deals | Best mobile phone deals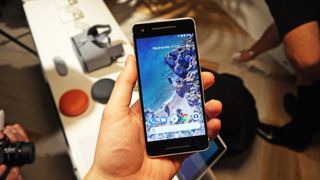 There's no doubt that the Pixel 2 was one of the very finest Android phones out there on release (and, to be fair, remains so), but the Pixel's successor is a familiar story of incremental improvements rather than whole-scale change. The feature that might just get you buying are the top-of the-line cameras for photos and video. While the delightful screen, great-sounding speakers and slick Android operating system will all appeal to a range of smartphone users.
Read TechRadar's full Google Pixel 2 review
Read TechRadar's full Google Pixel 2 XL review