Our roundup of this week's best cheap gaming laptop deals won't just secure you a machine to while away those winter hours on, it'll also save you some big bucks hopefully. We're in a bit of a transitionary period right now for gaming laptop deals, with the next-gen of Nvidia RTX (30-series) toted to start cropping up on new machines soon. Will prices go down for older machines? You bet. In fact, we're already seeing plenty of great prices on GTX 1600 and RTX 2000 series equipped laptops right now - great news for those looking to score a powerful machine on a budget.
Currys, Amazon, Laptops direct, and a whole array of the UK's top retailers are all represented here without our roundup of the best gaming laptop deals, although we're always checking other honorable mentions like Very and Newegg as well to make sure we never miss a prime sale.
We've separated everything out into easy to navigate price brackets, which you can skip to using the handy jumper links provided. We're aiming to cater for budgets ranging from £600 all the way to £1,000, so whether you're looking for a cheap rig for Minecraft or have your sights firmly set on online domination, we're sure you'll find a relevant cheap gaming laptop here.
As previously mentioned, we've just passed the two busiest shopping events of the year - Black Friday and Cyber Monday, and therefore things are starting to quieten down now on the gaming laptop deals front. That said, there are still some great last chance holdout sales on right now if you're worried you missed out. If you're in the US, we also have a dedicated guide for gaming laptop deals under $1000 as well.
This week's best gaming laptop deals
Cheap gaming laptop deal of the week
Cheap gaming laptops under £700
Cheap gaming laptops under £800
Cheap gaming laptops under £900
Cheap gaming laptops under £1000
Frequently asked questions
Where to find the best gaming laptop deals in the UK
The best retailers in the UK for picking up reliable cheap laptops tend to be Amazon, Currys and Laptops Direct. Currys and Amazon in particular have fantastic price cuts all year round and sometimes go even lower on one-off sales events like Black Friday and Amazon Prime Day. Very, Argos and AO.com are also fantastic, as is John Lewis, but they only tend to price match existing deals or reduce clear out stock.
Ebay is another option, although we always recommend picking up a brand new gaming laptop from one of the big retailers instead of at auction. That way you're definitely getting full warranty, as well as an as described laptop.
Here are some quick links to the best gaming laptop deals retailers, in case you want to head over to their sites and check them out yourself.
What should I look for in a cheap gaming laptop?
The answer to this question depends heavily on what games you plan to play. We always recommend checking out the recommended and minimum system requirements of your favourite games to determine the ideal specifications for you.
Just for good measure however, we'd recommend the following as a minimum if you're strictly on a budget:
Minimum - Intel Core i5 (9th gen) / AMD Ryzen 5 (3rd gen) processor or later
Minimum - Nvidia GTX 1050 / AMD RX 560x graphics card or later
Minimum - 8GB of RAM
Optional - 512GB solid-state drive
Optional - 120Hz refresh rate display monitor
If you choose to go lower and the above you may start to encounter issues with frame rates and performance even on the lowest settings in modern games. It's also worth bearing in mind that the latest games also push the boundaries of minimum specs each year, so the higher you go now will pay dividends in the future if you plan on holding off on an upgrade for some time.
How much should I spend on a cheap gaming laptop?
Again the answer to this will depend on what you deem acceptable as a minimum level, but in our opinion the best bang for the buck machines tend to sit at around the £700 to £900 price range.
At this level you get machines that tend to be able to play games fairly well but skip out on the more premium features. That said, value doesn't really tend to hit diminishing returns until the £1,500 point and you'll definitely get a machine that will last a few years at that price.
We'd definitely recommend spending at least £700 if you're comfortable doing so. Any lower and you'll most likely find issues with frame rates and performance or have a machine that will need to be upgraded fairly soon. It can be tempting to pick up a cheaper ultrabook with a Core i7 or Ryzen 7 processor and tons of RAM but remember these don't come with the dedicated graphics card or cooling requirements you'll need for proper gaming.
When's the best time to pick up a gaming laptop deal?
Gaming laptop deals tend to be a fairly regular fixture over at the big retailers all year round so there's always plenty of options if you're looking to pick something up quickly. That said, the big yearly sales events like Black Friday, Cyber Monday, and Amazon Prime day tend to yield great discounts and are definitely worth waiting for if you're willing to be patient.
We always recommend doing the research on the particular model and specs you want then checking in every now and again to see if there's a discount. We update this page regularly, so definitely bookmark it and feel free to check in. We also run dedicated gaming laptop deals spotlights over on our dedicated deals feed.
The best cheap gaming laptops of 2020
As one of the cheapest gaming laptops that will still run games at decent settings, the Acer Nitro 5 is well worth a look if you're wanting to get into PC gaming and play modern games too (just don't expect to be running Battlefield V on ultra settings ok?). The design is a bit plasticy and there are some hefty bezels on the screen, but given the low price and the power of the internal spec inside we're more than willing to look past that to get our gaming fix on the go.
Read our full review: Acer Nitro 5

When you're buying a cheap gaming laptop out of an office supply catalog, you probably shouldn't expect top of the line gaming performance, but the good news is that the Dell G3 15 rises above those low expectations and provides a quality gaming machine at an affordable price point. With an Intel Core i5-10300H processor, 8GB RAM, 256GB SSD, and an Nvidia GTX 1650 GPU, the Dell G3 15 is more than capable of keeping up with most of your gaming needs. There are trade-offs, however. Being built entirely out of plastic, the design of the laptop looks good but feels flimsy with bezels you can fire a rocket through with room to spare.
Read the full review: Dell G3 15

The MSI GF63 Thin looks to set itself out from the rest of the cheap gaming laptops competition by offering a slightly more sophisticated, refined style. It's definitely one of the thinner options, with smaller bezels than you traditionally get at this price point (albeit with a 60hz screen on the baseline model). It's starting specs are also fantastic for the price, with an Intel Core i5, Nvidia Geforce GTX 1650, 8GB of RAM, and a 256GB SSD. One minor quibble here is that there's currently no AMD options, and the upgraded Core i7 model is quite a jump up in price over the baseline model. That said, the MSI GF63 Thin is a great cheap gaming laptop with expensive appointments that belie its low price tag.

The Dell G5 15 is the ever so slightly more expensive brother of the Dell G3 15 already featured in this guide. They tend to retail for around the same basic asking price, although with the Dell G5 15 you've got more wiggle room at the top-end price bracket - with a higher ceiling of possible specs on offer. It's a little bulkier overall to accommodate for the higher-end components but otherwise shares a pretty similar aesthetic. You do, however, have the option for a 120Hz to 144Hz display on the more expensive configurations, which is a great addition, although the base model still only has a 60Hz screen. Note - The listed specs here are for the standard Intel equipped machine, although there is also a special edition featuring exclusively AMD components.
Read the full review: Dell G5 15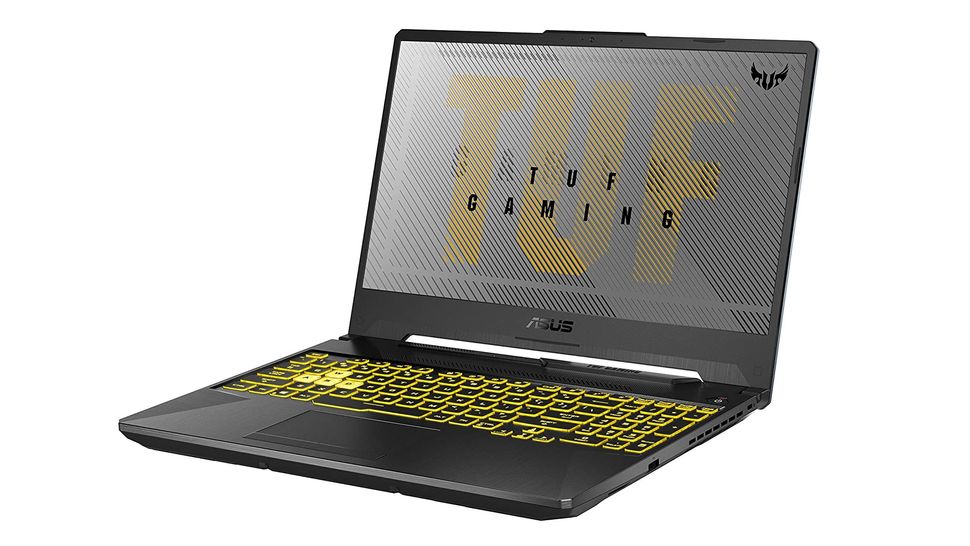 The Asus TUF A15 caused quite a fuss when it was released earlier this year, such is the level of specs on offer for the money. It's one of the first laptops on the market with the latest 4000 series AMD Ryzen processors and also one of the cheapest ways to pick up an RTX 2060 equipped laptop currently, so there's a lot on offer for the money here. Note, it's still very much a budget laptop though, with loud fans, a fairly basic screen, and chunky chassis that is definitely a little more bloated than it's svelte Asus Zephyrus cousins. Don't let that detract from the overall package here however, as you're getting excellent performance for the money for sure.
Read our full review: Asus TUF A15

The HP Pavilion 15 has just received a refresh this year bringing it up to date with the rest of the competition. Being the more budget focused line from HP (as opposed to the more upmarket Omen laptops) means you're getting a fairly stripped back, basic setup, but there's still plenty on offer here. You're getting options for the very latest specifications, with components from both Intel and AMD, and also an aesthetic that definitely stands out from the competition. While the actual design might not be for everyone, HP tends to regularly run sales over on their site which means you can often pick up a great cheap gaming laptop deal if you're lucky.

---