Own a Sonos soundbar? Here's how you can turn it into a surround setup for all budgets
From a soundbar to a subwoofer to surround speakers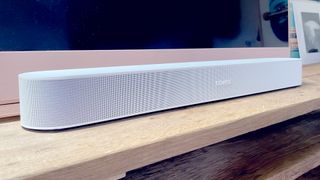 (Image credit: Future)
If you've recently taken the plunge and added a soundbar to your home theater setup, then you'll know how big a difference it can make to your home viewing experience – but where to go from there?
What you might not realize is that at the start of your spatial audio journey, you don't exactly have to rush into purchasing a whole surround sound kit at once. Most enthusiasts will tell you that it's something that takes time. It can be a rabbit hole of technicals, where you can over consider everything, from the materials to the tweeters to the decibels. All of this plays into your buying decision and is an integral part to the sound you hear.
What's great about Sonos' multi-room connectivity is that it allows you to keep adding to your setup in stages. We rate its speakers as some of the best wireless speakers you can buy for their ease of usability and great out of the box sound. It's what makes them a best all-rounder for anyone that's looking to enhance their home setup.
There are tons of speakers to choose from, ranging in different style, connectivity and range, but the most personal part about it is the time you then spend with a certain device to listen to its unique sound. Sonos delivers a great base sound that you can keep adding to just as easily.
Starting with a Sonos soundbar
The first step in anyone's home theater audio journey should be to add a soundbar to their TV or projector. Even if you have one of the best TVs or best 4K projectors, it won't deliver that next-level audio you're looking for. Sure, it's passable and acceptable to non-audiophiles but you're now committed to getting the step above average.
This is when you start considering getting a dedicated device for your sound. The idea with spatial audio is to completely envelop you in sound, which is why you need multiple speakers around you – just like in a Dolby Atmos cinema. And there is a way you can get a step closer to that immersive sound experience without the necessary six speakers.
Some soundbars can virtually simulate surround sound using just a 2.1 speaker setup, and while this isn't admittedly the most convincingly immersive audio, these clever audio tricks can deliver an incredibly wide soundstage. While we said in our Sonos Beam (Gen 2) review that we weren't entirely convinced by the virtual Atmos, we still rate it as the best small soundbar with Dolby Atmos and a great choice if you're in a tight space.
However, if you can afford to spend more on the up-firing tweeters needed for uncompromising spatial audio, then go for the premium Sonos Arc, which we rate as the best Sonos soundbar by a long shot. It is packed with 11 speakers and supports Dolby's TrueHD sound codec, which means it can deliver quality lossless audio in what Sonos calls a 5.0.2 setup.
Improving your audio setup with a subwoofer
As much as the Sonos Beam is an impressive unit on its own, it does – as all speakers do – struggle with presenting a full bass spectrum and that's why if you're trying to bring that cinema experience into your home, adding a subwoofer is the next logical step after the soundbar.
I've been testing the Sonos Sub Mini alongside the Beam and have been impressed by the instant improvement the subwoofer delivers. The Sub Mini does a great job at delivering a deeper and more impactful sound resulting in a much richer listening experience – once I turn the lights down, I feel like I'm at the cinema.
This is also the somewhat cheapest way to extend your sound setup. It's not exactly cheaper than adding one Era 100 speaker for instance but then again you do only need the one subwoofer.
If you're looking to enjoy movies at home with a cinematic feel, you might find yourself stopping comfortably here as the Beam and Sub Mini do a really good job of delivering a full soundstage with strong bass. However, those looking to go to the next step, you might want to consider adding some surround speakers to finish off the setup.
Mixing and matching Sonos speakers
Upgrading from a Sonos soundbar and subwoofer to multiple speakers is the perfect next step to getting that little bit closer to the Dolby Atmos audio we hear in the cinemas. And there are plenty to choose from in Sonos' speaker range.
The Sonos Era 100 is the company's flagship smart speaker, which replaced the Sonos One in 2023 – it also has a more value option in the Sonos One SL. The company's more premium hi-fi offerings include the Sonos Era 300 as well as the heftier Sonos Five. And of course there's its portable range, which consists of the Sonos Roam and the larger Sonos Move.
You can mix and match any of these speakers with your soundbar and subwoofer. Sonos itself has several home cinema setups, some of which we've tested – check out our Sonos home theater guide to find out which surround setups are actually worth buying.
The setup I've been testing is the best mid-range setup, which includes a Beam Gen 2 with two Era 100 speakers for surrounds and a Sonos Sub Mini. It takes a little time to set them up but once they've been connected and calibrated using the Trueplay tuning feature in the Sonos app, which automatically tunes your speakers to the room to get the best ranges from them (this is a crucial step in the setup process), then you'll instantly hear the added room-filling sound.
Final thoughts
Companies like Sonos have made expanding your home audio setup easy by taking a modular approach that allows you to add as little or as many peripheral speakers as you'd like. This is a great option for increasing your sound output over time without breaking the bank.
The Sonos Beam has seven built-in speakers and can produce a pretty decent virtual surround sound experience just on its own. But if you want to expand this with all the options out there, it can be a pretty daunting – and expensive – trial and error experience to know which speakers one should add.
I haven't tested all the different Sonos surround sound setups myself, but the ability to mix and match is a major draw. After all, Sonos makes top-tier products at various price ranges and all are known for delivering superior sound whilst also being super easy to set up.
We have a whole guide on the best Sonos speakers and regularly look for the cheapest Sonos sales and deals so you don't have to. Also, try checking our Sonos promo codes to get a discount.
Sign up for Black Friday email alerts!
Get the hottest deals available in your inbox plus news, reviews, opinion, analysis and more from the TechRadar team.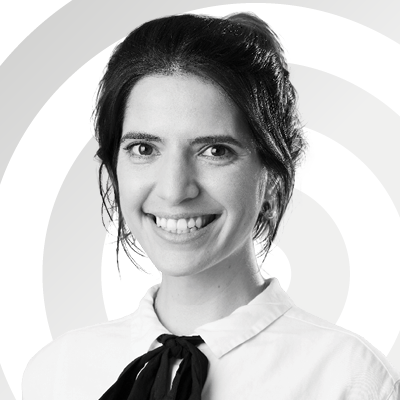 Senior Editor UK, Home Entertainment
Amelia became the Senior Editor for Home Entertainment at TechRadar in the UK in April 2023. With a background of more than eight years in tech and finance publishing, she's now leading our coverage to bring you a fresh perspective on everything to do with TV and audio. When she's not tinkering with the latest gadgets and gizmos in the ever-evolving world of home entertainment, you'll find her watching movies, taking pictures and travelling.