The Samsung Galaxy S10 has been engineered to be a conversation-changer, a phone that's intended to turn everyone's yearly question of "Do I really need to upgrade?" into a more exclamatory "Do I really need to upgrade!"
Our time so far with the Galaxy S10 proves that it does make this case, with some clear caveats.
Update: We've been using our Samsung Galaxy S10 review unit for several days, so keep an eye out for our full review, coming soon! In the meantime we've updated this hands-on look with more information on our latest findings.
It's the 6.1-inch Infinity Display that really sells this phone. It introduces a nearly-edge-to-edge look that stretches top to bottom, with pixels spilling over the curved edges at the sides – there's no room for big bezels on Samsung's 2019 flagship smartphone.
Its new Infinity-O screen – also a feature of the Galaxy S10 Plus and cheaper Galaxy S10e – is so large it actually displaces the front camera, consigning it to a small 'punch-hole' in the screen. All of the important sensors are neatly tucked behind this vibrant and bright Super AMOLED display.
Also behind the glass is the new ultrasonic fingerprint sensor. You won't find a fingerprint pad on the back anymore, or anywhere visibly on the phone. Samsung put its sensor – now invisible – on the front, where we feel it belongs.
The Samsung Galaxy S10 officially makes punch-hole displays a trend after the idea debuted on the Honor View 20, and in-screen fingerprint sensors more mainstream after they appeared on the OnePlus 6T, Huawei Mate 20 Pro and a few Vivo phones.
It's all in the cause of achieving that impressive 93.1% screen-to-body ratio on the front of the phone. And, frankly, we like it a bit better than a traditional notch. It won't bug you after a couple of hours with the Samsung Galaxy S10.
Maximization is also the idea behind the Galaxy S10's rear-facing triple-lens camera. Samsung's camera array has lenses to take normal, telephoto and new ultra-wide photos. The ultra-wide camera is all about capturing more of what's in front of you without having to back up.
Watch our Samsung Galaxy S10 preview video below
Sure, LG phones have touted ultra-wide camera lenses for years, most recently the LG V40, but Samsung's cameras have been more consistent in low-light conditions. The feature is finally in a flagship-level phone you want.
The Galaxy S10 also has features everyone can get. Its Wireless PowerShare feature lets you use the back of the S10 to Qi charge another phone or the new Galaxy Buds, cloning the reverse wireless charging idea in the Huawei Mate 20 Pro, a phone that's not widely available in certain territories, including the US.
The Galaxy S10 is an amalgam of other handsets' single hallmark features packed into one phone, while Samsung pioneers as many technical features as it can cram in – faster Wi-Fi 6 and HDR10+ are both firsts for smartphones. And that's what Samsung does best really.
The Samsung Galaxy S10 marks a decade of Galaxy S phones, and while there's been little innovation in recent years from the most popular smartphone brands, including Samsung (Bixby and AR EMoji don't cut it), the S10 has enough newness to tempt you to upgrade.
Samsung Galaxy S10 release date and price
Samsung Galaxy S10 specs
Weight: 157g
Dimensions: 149.9 x 70.4 x 7.8mm
OS: Android 9
Screen size: 6.1-inch
Resolution: QHD+
CPU: Octa-core chipset
RAM: 8GB
Storage: 128/512GB
Battery: 3,400mAh
Rear camera: 16MP + 12MP + 12MP
Front camera: 10MP
The Samsung Galaxy S10 release date is Friday, March 8. It was officially announced on February 20, with pre-orders opening right away in some countries. In the US, Galaxy S10 pre-orders started on February 21.
There's a hitch or two in Samsung's masterplan to get everyone to upgrade to this particular handset. The Galaxy S10 is expensive, more so than the Galaxy S9, although it's markedly better value than the iPhone XS, which is more expensive and has a smaller 5.8-inch screen.
Then there's the fact that Samsung's biggest competition in 2019 may be Samsung. The Galaxy S10e is cheaper and almost as good, while the Galaxy S10 Plus is the phone you'll want if you can handle its price and screen size – and that's to say nothing of the Galaxy S10 5G and the Samsung Galaxy Fold, which early adopters may look for true innovation at a higher price.
The Samsung Galaxy S10 price starts at $899 / £799 / AU$1,349 / AED 3,199 for the 128GB of storage model, meaning you're spending an additional $180 / £60 / AED 100 on this phone over the S9 launch price.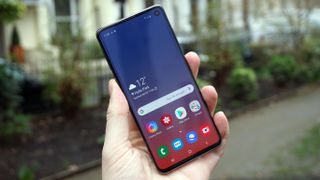 If you need more storage (and don't want to use the microSD slot inside the Galaxy S10) you can opt for the 512GB model which costs $1,149 / £999 / AU$1,699.
If you like the look of this phone but think that price is a tad high realize that Apple charges $100 / £200 / AU$430 more for the smaller 5.8-inch iPhone XS with half the internal storage, 64GB.
Ordering the Galaxy S10 in advance of March 8 will net you bonuses in some countries. In the US, for example, Samsung is offering free wireless Galaxy Buds worth $149 / AU$249 when you pre-order either the Galaxy S10 or Galaxy S10 Plus.