Searching for the best drone you can buy? Good news – we've flown, texted and pixel-peeped the videos and photos taken by all of the most popular drones right now –and the list below contains all of our findings in one handy place. Whether you're a complete novice or a pro snapper who's looking to take their photography skywards, you'll find all of the best drones in our in-depth guide below. (Searching for the best beginner drone? Check out our separate buying guide on that).
Drones have never been as accessible or affordable as they are now – so it's a great time to invest in a new aerial companion. With fast-improving cameras, gimbals, battery lives and automated flying modes, drones have quite literally taken off in the past few years. Photos and videos that once demanded niche professional equipment are now possible for the price of a DSLR or mirrorless camera.
But drones haven't been without their controversies either. You may have seen some high-profile coverage of the world's biggest drone maker, DJI, and its somewhat tense relationship with the US government recently. For drone buyers, the US government's decision to place DJI on its 'Entity List' is a cause for much confusion, but we've explained more about what that decision means in reality below. In short, you can still buy DJI drones in the US as normal and, right now, we're still very happy to recommend them.
Beyond brands, there's also the equally important decision of which kind of drone to buy. Like standalone cameras, there are lots of different types, each with their own strengths and compromises. Lighter drones can sometimes evade registration regulations, giving you more freedom to fly – but they'll also be trickier to control in breezy conditions. On the other hand, heavier drones are able to offer greater stability, as well as comprehensive shooting skills, for a higher price. Recently, we've even seen FPV (First Person View) drones hit the mainstream with the DJI FPV.
Our top pick for best drone at the moment is the DJI Mavic Air 2. It's a fantastic all-rounder that combines impressive image quality, a compact folding design, and lots of beginner-friendly flying modes. But while it's the best option for most people, there might be a drone out there that's better suited to your specific needs or budget. The DJI Mini 2, for example, is brilliant for beginners, while the DJI Phantom 4 Pro V2.0 remains an excellent larger choice for experienced aerial filmmakers.
There are several DJI alternatives available too – from Parrot to Powervision's unique waterproof PowerEgg X. Whatever you're looking for, you'll find the best drone for you in the list below.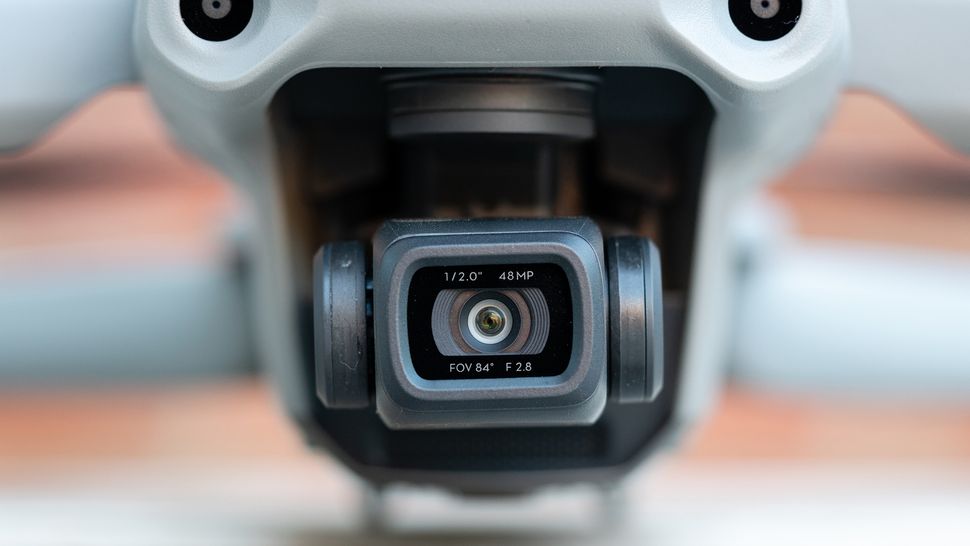 Should you buy DJI drones?
In December 2020, the US government placed the Chinese drone maker DJI on its 'Entity List', which is the same trade blacklist that Huawei found itself on in 2019. So can you still buy DJI drones in the US and, even if you can, should you?
The key thing to note is that DJI hasn't been banned from selling drones in the US – instead, the trade blacklist restricts DJI's access to US technologies. So while it may well affect DJI's supply chains, retailers like Amazon are still selling the company's drones as usual.
The decision of whether or not to buy DJI drones is a personal one, but we are happy to continue recommending its class-leading models as usual. So far, the US government so far hasn't explained exactly why DJI was added to its 'Entity List' and DJI itself has strongly refuted the decision, saying it "has done nothing to justify being placed on the list".
You can read more about the issue in our guide below – but right now, models like the DJI Mavic Air 2 and DJI Mavic 2 Pro remain the best in their class, and we're more than happy to recommend them to anyone looking to step into aerial photography.

The best drone in 2021: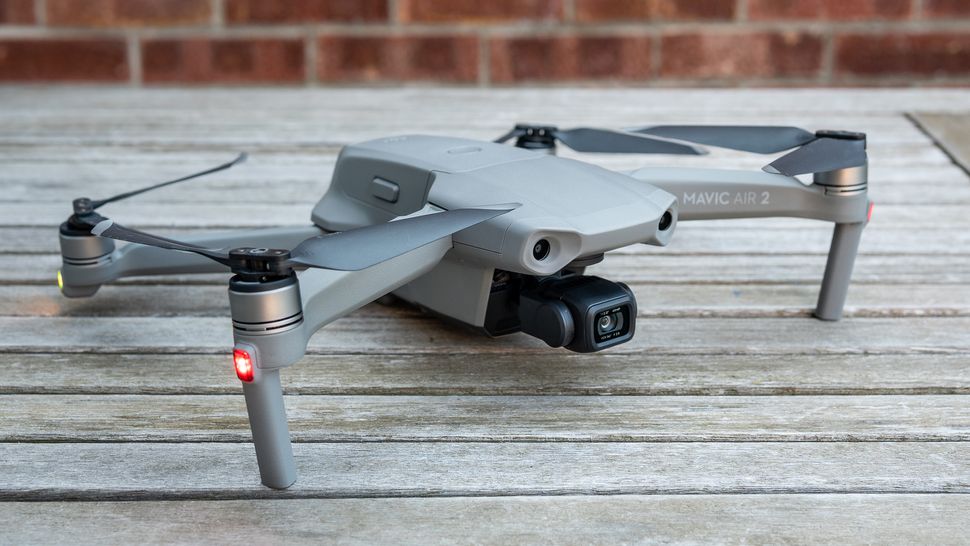 A dramatic improvement on the original Mavic Air, the Mavic Air 2 is the best all-rounder drone for beginners and hobbyists. Like a mini version of the Mavic 2 Pro, it combines the ability to shoot excellent 4K/60p video, a huge range of shooting features, and an impressive 34-minute flight time. A new 1/2-inch sensor ensures better ISO performance than its predecessor and supports slo-mo 1080p video up to 240fps.
The Mavic Air 2's new controller, meanwhile, brings Ocusync 2.0 connectivity, which boosts its range up to 10km and improves the stability of its signal to the DJI Fly app. With subject-tracking and all of the familiar Quickshot automated modes, it's the perfect sweet spot between the more basic DJI Mavic Mini and pricier Mavic 2 series.
Read our in-depth DJI Mavic Air 2 review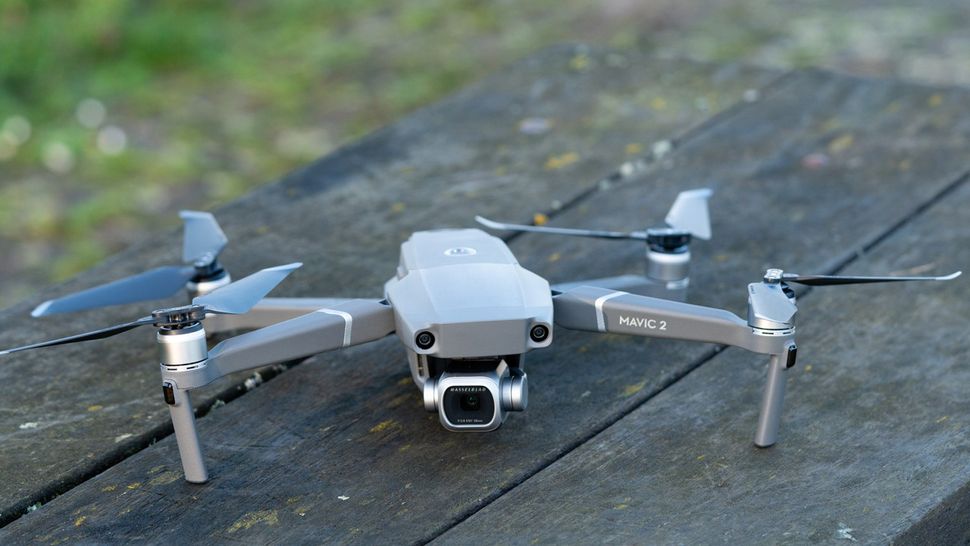 The DJI Mavic 2 Pro remains the best premium drone you can buy for a few reasons – it has a large sensor, is a joy to fly, and the foldable design makes it portable and travel-friendly. If you need zoom or serious portability, then the Mavic 2 Zoom and Mavic Mini are worth investigating. But otherwise, this is a fine all-rounder for those who need a bit more quality than the Mavic Air 2. Its 20MP one-inch sensor is capable of shooting Raw stills and 4K video at 30fps, while the aperture is adjustable between f/2.8 and f/11, which means less need for ND filters.
What's more, despite its impressive skill set, the Mavic 2 Pro is easy to fly and intuitive to control using its partner app, while a range of intelligent shooting and flight modes make capturing cinematic shots a cinch. It also offers some of the most advanced flight and camera tech currently available, making it capable of delivering pro-grade images, yet still accessible even for beginners. Provided you don't need optical zoom, this is pretty much the perfect drone for most people, if you can afford it.
Read our in-depth DJI Mavic 2 Pro review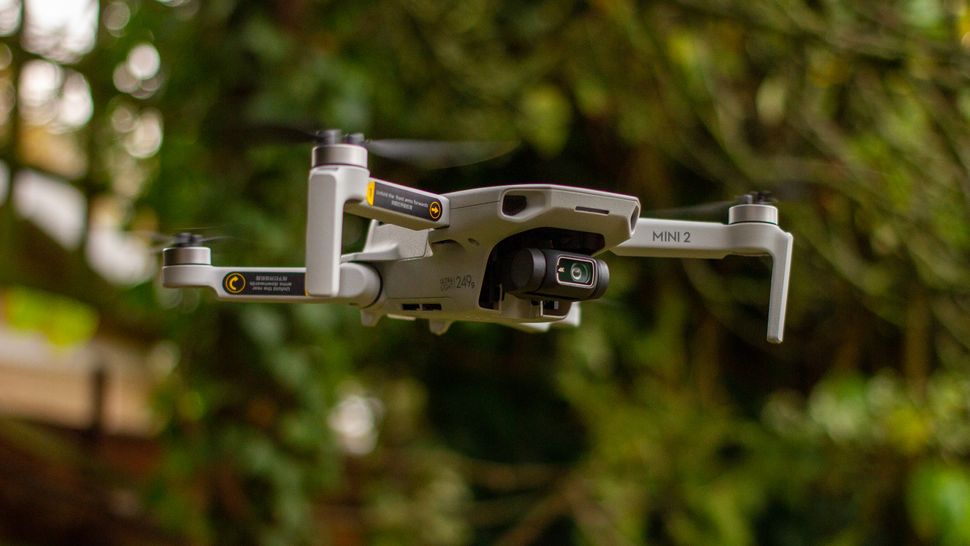 One of our few complaints about the DJI Mavic Mini was that it couldn't shoot 4K video – this excellent successor fixes that, while giving us a few extra treats in the process. The Mini 2 has the same ultra-compact design as before, making it the joint-smallest drone in DJI's line-up, but comes with a new controller that boosts it range (thanks to Ocusync 2.0 connectivity) and delivers a more polished flying experience.
Like the Mavic Mini, it's packed with a generous selection of beginner-friendly QuickShot modes, which see the drone perform pre-programmed moves. But the Mini 2 offers more for pro snappers, too, thanks to the inclusion of raw photo shooting, while 4K video means the arrival of a boosted 100mbps bit-rate. Sure, the Mini 2 isn't otherwise a huge step up from the Mavic Mini, but it's undoubtedly the best compact drone you can buy.
Read our in-depth DJI Mini 2 review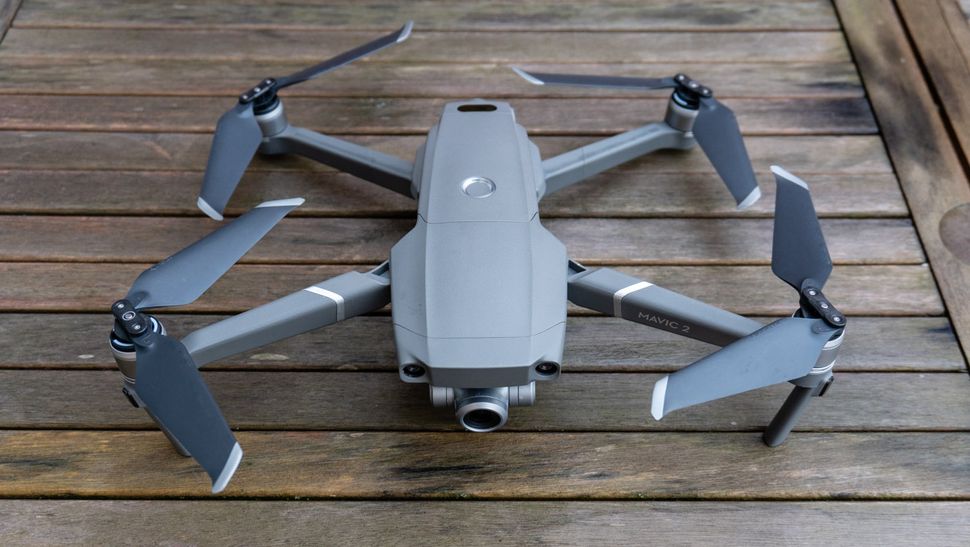 The DJI Mavic 2 Zoom is largely identical to the Mavic 2 Pro, apart from one crucial difference – its camera system. While both drones are incredibly portable, sharing the same lightweight foldable design, and offer a range of high-spec features, the Zoom pairs a smaller 12MP sensor with an 24-48mm optical zoom lens. That means you can capture close-up shots of subjects like people, while still maintaining the safe and legal distance of 50m.
Because of the smaller sensor, image quality doesn't quite match the Mavic 2 Pro and the f/2.8 aperture is fixed, but photos and videos are still more than good enough for professional use. The real boon is that zoom lens, which unlocks a world of creative shooting potential. Range is good, distortion minimal and control is intuitive via the partner app. On top of that, you get all of the intelligent flight modes you'd expect from a DJI drone, including Active Track and Hyperlapse, as well as a decent 30-minute flight time. If you want a drone with zoom, this is the one for you.
Read our in-depth DJI Mavic 2 Zoom review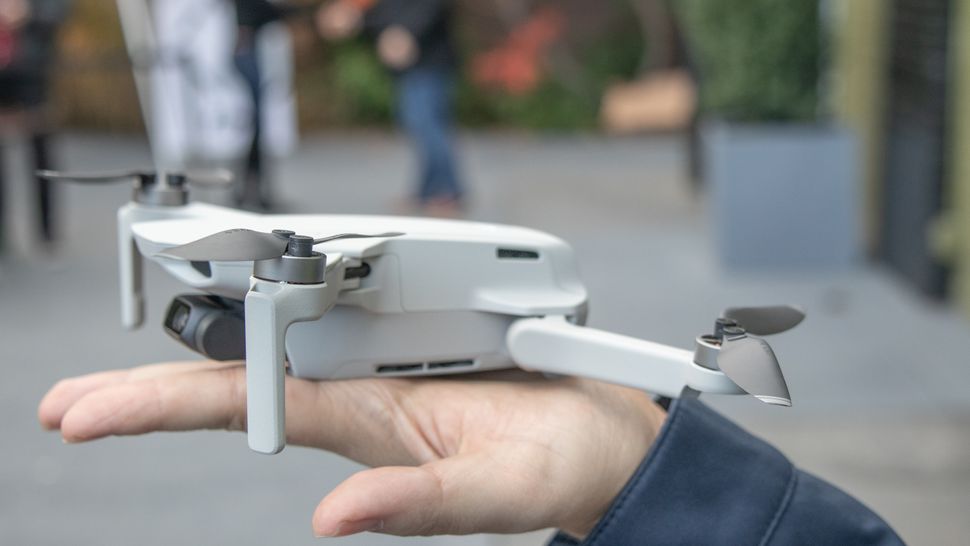 It's now been succeeded by the DJI Mini 2, but this ultra-compact drone will remain on sale – and that's good news for anyone who needs a slightly more affordable palm-sized drone with impressive video quality. Compared to its newer sibling, you miss out on raw photo capture, Ocusync 2.0 connectivity (for improved range) and some new motors, but the Mavic Mini is otherwise very competitive and still streaks ahead of any other drone in its weight category.
Just like on the Mini 2, it's a shame there's no ActiveTrack object tracking or 'follow me' function, but if you're simply looking to take your first step in aerial photography or videography, the Mavic Mini is a great option. We'll be keeping a close eye on its price tag, too, to see if moves further into super-bargain territory.
Read our in-depth DJI Mavic Mini review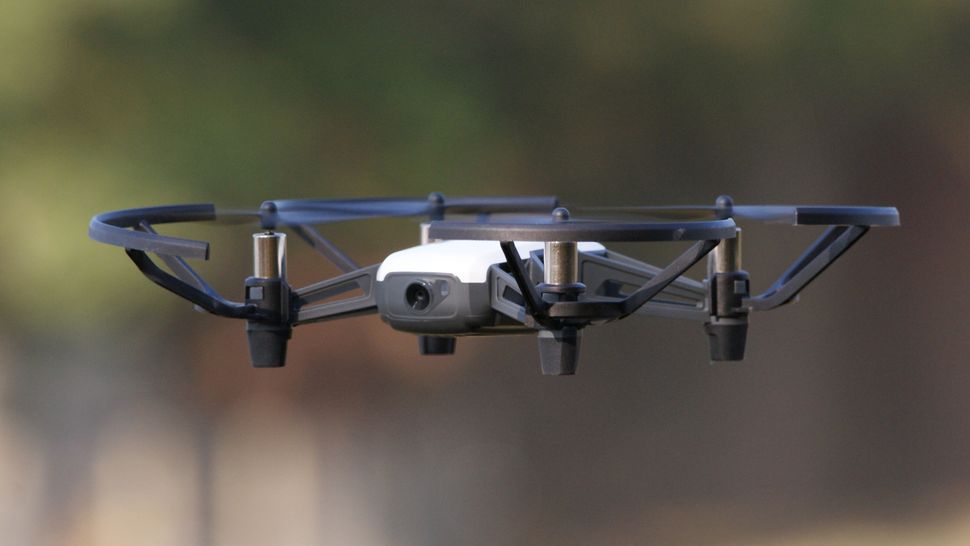 Simple, lightweight and affordable, the Ryze Tello is designed to be a fun drone for first-time flyers. And despite its budget price tag, the Tello offers plenty: the battery serves up a reasonable 13 minutes of flight time, while downward-facing light sensors allow the Tello to hover in place and perform a handful of automated tricks.
Image quality from the nose-mounted 5MP camera is less impressive, with a limited dynamic range and noticeable compression artifacts when streaming 720p HD video. Because video is beamed directly to your smartphone, the frame rate is affected by any drop in connection strength.
That said, the app is refreshingly simple and makes for a straightforward way to pilot the Tello, with an on-screen twin-stick setup that's rewardingly responsive. The theoretical range is 100m, but 30-40m is more realistic – which, given how even the slightest breeze can blow the 80g Tello off course, is not necessarily a bad thing.
The Ryze Tello is fundamentally a fun drone to fly on a calm day, zipping along at a rapid chop and reacting nimbly to intuitive inputs. The limited range is somewhat restrictive but, provided you don't mind choppy video, it's nevertheless the best starter drone around.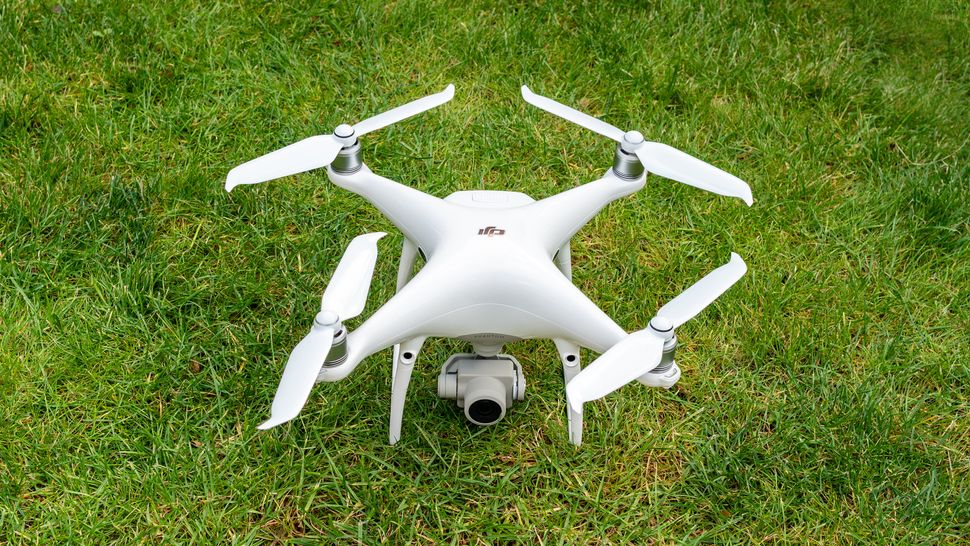 DJI's Phantom range was the series that really took its drones to new heights – and while the Phantom 4 Pro V.20 isn't the newest model in this list, it remains a fine option for professionals who need something sturdy and reliable for windy conditions. Launched in 2018, the Phantom 4 Pro V2.0 was a big upgrade on the Phantom 4, bringing vastly improved obstacle avoidance and intelligent flight modes like ActiveTrack. Its 20MP 1-inch sensor can also shoot impressive raw stills and 4K/60p video at 100Mbps in the D-log color profile.
Of course, the Phantom 4 Pro V2.0's size (it weighs 1,375g) means it isn't as convenient as the foldable Mavic 2 Pro, which also has a 20Mp 1-inch sensor. But it does also bring a mechanical shutter (for avoiding rolling shutter) and boasts a higher 4K frame-rate than its smaller sibling. With some excellent handling and 30 minutes of flight time, it's certainly worth considering if you need to shoot high-quality aerial stills and video in challenging weather that might be too much for the Mavic 2 Pro.
Read our in-depth DJI Phantom 4 Pro V2.0 review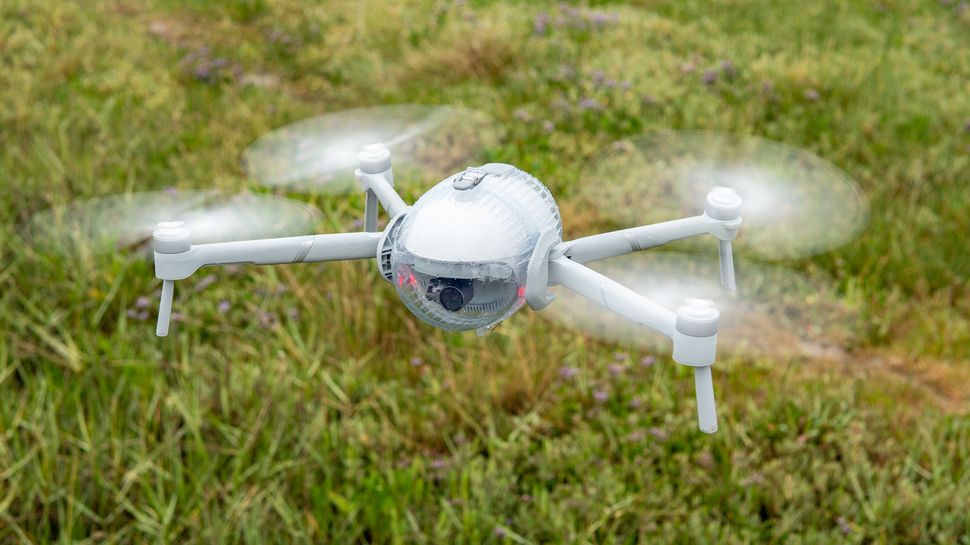 Ignore the culinary name: the PowerEgg X is a flyer, not a fryer. And in a market dominated by drones that don't like water, PowerVision's aerial orb is distinctive in its ability to fly in the rain and land on lakes (with the Wizard bundle). Image quality is affected by the plastic waterproof housing, but being able to operate in – and float upon – the wet stuff opens up a range of creative possibilities.
So, too, does the versatile modular design. The PowerEgg X can also be deployed as a handheld gimbal camera and an autonomous AI camera, which can be mounted to a tripod and controlled with hand-gestures.
The flip-side of the adaptable setup is that it's slower to deploy. It might be lightweight, but removing the protective casing from the body, adding the propeller arms and setting up the controller takes a few minutes.
Image quality isn't class-leading, either. The PowerEgg X does produce decent, detailed 4K footage in bright conditions, but the fixed aperture, fixed-focus 12MP 1/2.8-inch CMOS sensor can't compete with DJI's Mavic drones. It's also not currently possible to record in Raw video formats.
Still, for short, sharp video sequences in bad weather, the PowerEgg X is one of the best options around.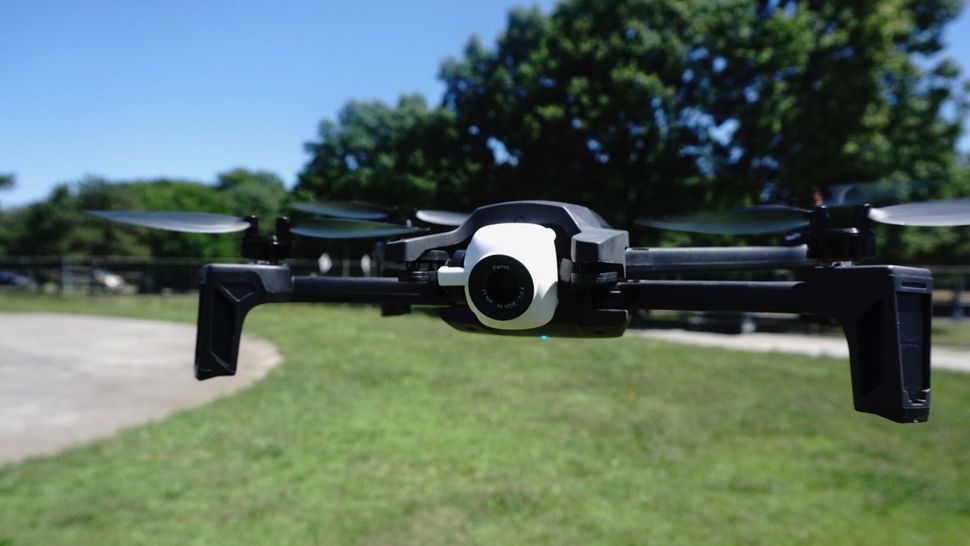 This lightweight, bug-like drone might be small, but its photography chops are among the most impressive around.
Its camera has 180 degrees of vertical range, which enables it to take photos directly upwards - a feat no other drone can match. It also has a 2.8x zoomable lens with no image quality reduction.
The Parrot Anafi is a particularly good choice for selfie fans. Its Follow Me mode tracks your movements, adjusting automatically for more photogenic angles, and its SmartDronies modes - Orbit, Parabola, Boomerang and Tornado - cause the drone to fly around you in various circles and arcs.
The main drawback is the Parrot Anafi's lack of obstacle avoidance, which makes it hard to recommend to new users. It's also a shame that a couple of flight modes are locked away as extra in-app purchases after you've paid for the drone.
Read our in-depth Parrot Anafi review

The DJI FPV is a unique drone that's a great introduction to first-person view flying. Like a combination of a speedy racing drone and DJI's Mavic series, it's a huge amount of fun to fly thanks to its impressive video headset, which gives you the sensation of soaring like an eagle. But it's also comes with a few more limitations than DJI's other drones.
One of the main drawbacks is the laws around flying FPV drones – while this varies depending on which country you're in, most regions require you to have a 'spotter' companion standing next to you as you fly, because the DJI Goggles V2 mean the pilot won't have direct line of sight with the drone.
If you're not planning to fly solo, though, and don't mind this restriction, then the DJI FPV is a fantastic option for first-timers. It's faster and more nimble than any other DJI drone, with a top speed of 87 mph, but also has three different flight modes (Normal, Sport and Manual) to help it appeal to different kinds of flier.
Unlike most FPV drones, it's also capable of shooting very impressive 4K video. The gimbal is only a single-axis affair (rather than the three-axis kind you get on the likes of the DJI Mavic Air 2), but electronic image stabilization steps in to ensure the footage is smooth, and you can also shoot 1080p in a slo-mo frame-rate of 120fps.
If you're looking for automated flying modes, though, then you'll be better off with the DJI Mavic Air 2 or DJI Mavic 2 Pro – this drone is all about the FPV flying experience, with the added bonus of shooting 4K video and 12MP stills. It does that very well, but comes with a learning curve and legal restrictions that ensure it's a little more niche than DJI's other drones – hence it's position a little further down this list.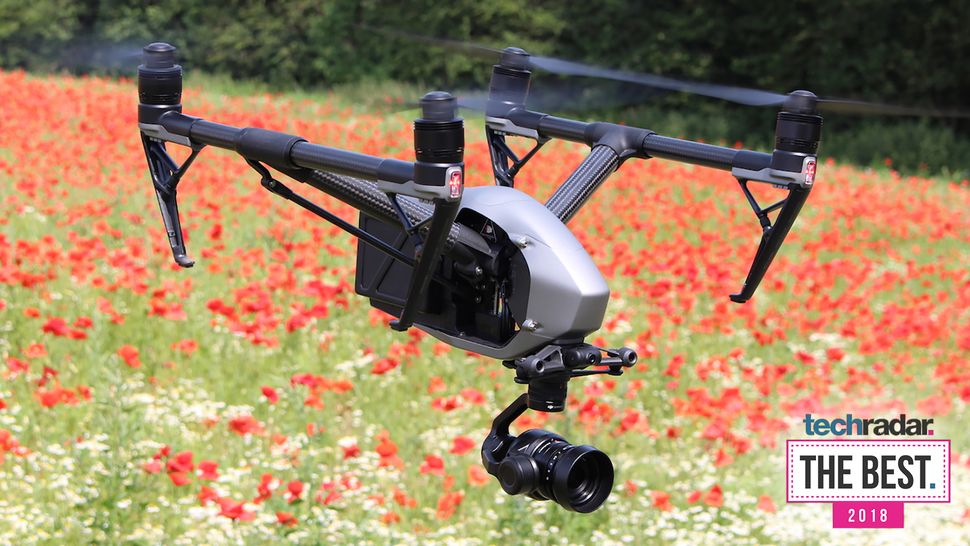 Soundly knocking its predecessor out of this list is the highly impressive Inspire 2. With a sleek metal composite bodywork upgrade, it's a much more attractive piece of kit. What's more, with more advanced object avoidance technology you don't have to worry about that beautiful body getting scratched by you accidentally clipping a tree.
You get more than 25 minutes of flight time out of the twin-battery arrangement, and the ability to swap camera lenses means that professional photographers and videographers have complete control over their images and 5K video.
The fully-featured smartphone app and dedicated remote control make this drone incredibly easy to control, but make no mistake, this is a professional piece of kit.
Read our in-depth DJI Inspire 2 review