This smart plug ended my fear of leaving appliances on, and now it's a Prime Day deal
This smart home gadget ensures I can switch my hair straighteners off even after I've left the house.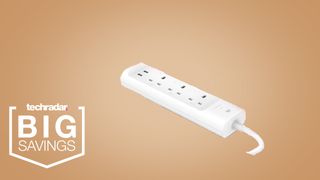 (Image credit: TechRadar)
Some of the best Prime Day deals this year are on smart home gadgets that make it easy to automate your home, and this smart plug is one of them. The TP-Link Kasa Smart Plug Power Strip KP303 can still be picked up for its lowest price ever - $23.99 from $29.99 at Amazon, while in the UK it's been discounted to £21.99 from £29.99.
Smart plugs connect to existing power outlets in your home, and enable you to switch any appliances connected to it on and off, even when you're not at home, via an app.
For me, smart plugs have also helped quash one of my biggest fears when I leave the house - leaving my hair straighteners switched on, which could result in a fire. No matter where I am, I can use the Kasa app on my smartphone to switch the smart plug off.
In fact, I've been so impressed with the TP-Link Kasa Smart Plug Power Strip KP303 that I've just bought another one in the Prime Day deals - I'll explain why below, but first, here are today's best Prime Day smart plug deals in the US and UK...
Today's best Prime Day smart plug deals in the US
Today's best Prime Day smart plug deals in the UK
Not being able to remember if we locked the door, closed the windows, or set the alarm after we've left the house is a regular occurrence. According to a study published in Personality and Social Psychology Bulletin, the human brain can blur intention and action, particularly if it's a mundane task we do regularly, leaving us unable to actually remember performing the action.
Leaving my hair straighteners switched on and leaving the house has always been one of my biggest worries - but more often than not I struggle to remember if I actually turned them off after I've left the house. On one occasion, the anxiety was so intense, I had to ask a retired family member to check for me.
However, using a smart plug with my straighteners has ensured I can check my smartphone at any point to see whether I remembered to turn my straighteners off, and if not, do so it immediately. The reason I prefer TP-Link Kasa Smart Plug Power Strip KP303 over a singular smart plug is that it also ensures I can have the same peace of mind with a curling iron and other electrical appliances in my bedroom.
A smart plug doesn't just ease fears though - as I've mentioned already, I've purchased another P-Link Kasa Smart Plug Power Strip KP303 this Prime Day, but this is to make my life easier.
This second smart power strip will replace a non-smart version, which I use in my home Wi-Fi set-up. Located in an awkward-to-get-to position, buried behind a cabinet that holds my home entertainment set-up, re-botting my router is a nightmare as I need to strip out everything from the cabinet to move it and switch the outlet the router is connected to off. However, using a smart powerstrip in its place means I'll be able to reboot the router with two taps on my smartphone.
More smart plug deals
No matter where you live, you'll find all the lowest prices for smart plugs from around the web right here, with offers available in your region.
More Amazon Prime Day deals
Sign up to receive daily breaking news, reviews, opinion, analysis, deals and more from the world of tech.
Carrie-Ann Skinner was formerly Homes Editor at TechRadar, and has more than two decades of experience in both online and print journalism, with 13 years of that spent covering all-things tech. Carrie specializes in smart home devices such as smart plugs and smart lights, as well as large and small appliances including vacuum cleaners, air fryers, stand mixers, and coffee machines. Carrie is now a copy editor at PWC.