TCL Roku TV puts the most apps inside your television for a small price
We finally know how much the first Roku-infused smart TV costs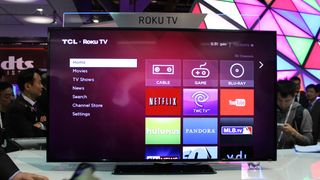 We already went hands-on with the impressive TCL Roku TV that made its debut earlier this year at CES 2014, but left the Las Vegas conference without knowing its price and release date.
That changed today, as the Chinese television manufacturer - known for affordability - announced four models that use Roku as its main interface. Not surprisingly, the prices aren't outrageous for the specs.
Smaller sets are the 32-inch 32FS4610R at $229 and 40-inch 40FS4610R at $329. Scaling up a bit, the 48-inch 48FS4610R TCL Roku TV costs $499.
The biggest TCL Roku TV set is the 55-inch model 55FS4610R at a still reasonable $649.
Hisense, a Chinese rival that's also aggressively moving into the US market, announced its brand of Roku TVs in sizes 40 in., 48 in., 50 in., 55 in. for September. But it hasn't disclosing pricing details.
Not 4K Ultra HD but a great interface
Pre-orders begin right now through Amazon for the TCL sets. The company told TechRadar that other major retailers throughout the US will start selling the televisions in the coming weeks.
Of course, none of the TCL Roku TVs are going to be your first "4K" or "Ultra HD." It's an Direct LEDs with full HD 1080p and 120MHz. The big benefit isn't four times the resolution.
Instead, you're dialing back the next-generation HDTV specs and, importantly, the price for a television with one of the best Smart TV interfaces. Roku 3 boasts the most apps, as do these TCL Roku TVs.
The familiar Roku remote comes with the TVs and a really convenient sleep timer fades the picture to black and the sound to mute gradually, as to not wake you up by suddenly turning off.
We may have to wait until CES 2015 or a later event for the 4K Ultra HD version of these Roku TV sets, but this is a good start for anyone looking for a vastly improved Smart TV interface.
Check out our 4K TV explainer to find out about Ultra HD
Sign up to receive daily breaking news, reviews, opinion, analysis, deals and more from the world of tech.