The best true wireless earbuds 2023: top AirPods alternatives today
Ditch the cable with the best true wireless earbuds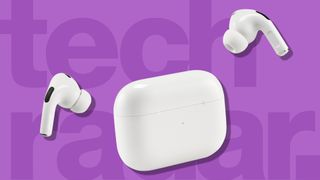 (Image credit: Future)
Editor's note: December 2023
Whether you're researching the best pair of true wireless earbuds for you or hoping to snap up a pair of 'buds to gift this festive season, you've landed in the right place.
The Sony WF-1000XM4 still top our list, but they've been joined by plenty of cheap and cheerful rivals – most recently, the Sony WF-C700N. Noise-cancellation, comfort and quality audio for $100/£100? Yes please.
Have a little more to spend? Look to the Technics EAH-AZ80 with triple multipoint connectivity, solid ANC and top-notch sound.
Becky Scarrott – Senior Staff Writer, Audio
The best true wireless earbuds are packed with high-end features and advanced audio tech. The good news is you no longer need to sacrifice decent battery life, quality sound and excellent active noise cancellation (ANC) to cut the cord.
The top true wireless earbuds are entirely wire-free: no wire connecting to your device; nothing connecting one bud to another. And thanks to their bijou charging cases they're the most convenient and portable styles going – although losing an earpiece is pretty easy, (you've been warned).
We've reviewed hundreds of the best earbuds and channel all of that experience into every pair we test, to recommend the best buds to suit your budget and needs. Plenty of the true wireless earbuds in this list have premium features and a high-end price tag. But other options boast good sound and features at an affordable price. Look at our cheap picks in our best budget wireless earbuds guide if you need only those.
Our selection of the best true wireless earbuds brings you excellent features, including hands-free voice control and noise cancellation, as well as support for Hi-Res Audio codecs such as aptX Adaptive, aptX HD and aptX Low Latency. Several of the earbuds here also rival the picks in our best over-ear headphones guide in terms of quality and comfort.
The best true wireless earbuds for 2023: the list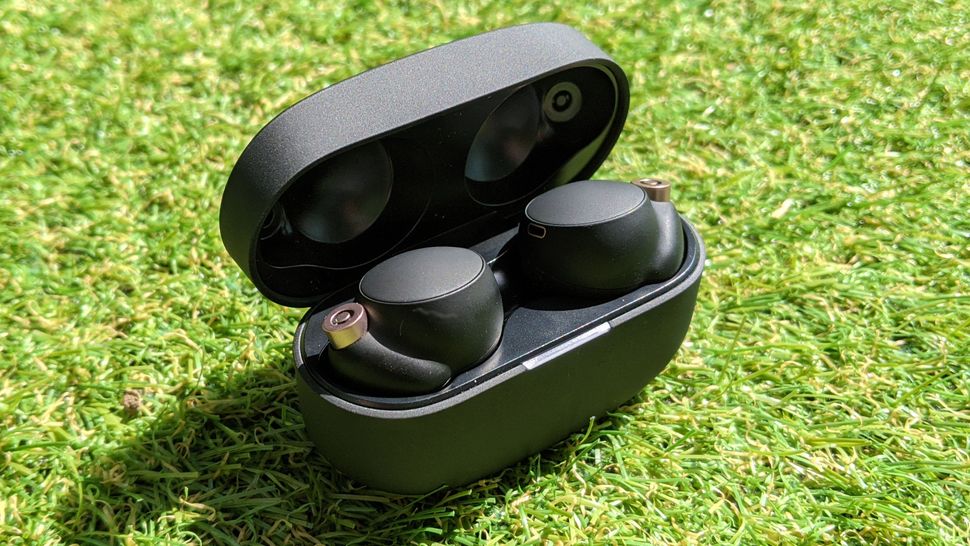 The best true wireless earbuds overall
Specifications
Frequency response:
20-40,000Hz
Battery life :
8 hours (buds) 16 hours (case)
Reasons to buy
+
Rapid, full-bodied and eloquent sound
+
Truly useful features
+
Impressive call quality
Reasons to avoid
-
Unremarkable battery life
-
No aptX support
Sony has created fantastic audio tech over the years and is one of the best brands around for making true wireless earbuds. We found the WF-1000XM4s a joy to review, and with them the company has combined performance, ergonomics, and build quality more effectively than ever before. Compared to their predecessors, the Sony WF-1000XM3 earbuds, we found that the newer wireless earbuds offer enough quality-of-life features to make them worth upgrading to, even if they are more expensive.
A more compact design means that the WF-1000XM4 buds are more comfortable than the XM3s, we found the fit to be great during our testing and suitable for all-day wear. Their accompanying control app makes it easy to adjust the EQ settings of the buds, which means you get a more personalized sound and can tweak frequencies to suit your preferences.
We'd rate the audio quality as among the best you'll get from a pair of true wireless in-ear headphones, and DSEE Extreme upscaling essentially means you'll get an approximation of high-resolution sound from standard-definition digital audio files.
We do think that some other true wireless earbuds surpass the Sony WF-1000XM4 in specific areas – the Bose QuietComfort Earbuds 2 in the list below offer better noise cancellation, for example – but no other model comes close to offering such excellent quality across the board. That's why the Sony WF-1000XM4 are hands-down the best true wireless earbuds you can buy today.
Read our full Sony WF-1000XM4 review
The best affordable noise-cancelling wireless earbuds
Specifications
Frequency response:
Not listed
Battery life :
7.5 hours (buds) 7.5 hours (case)
Reasons to buy
+
Excellent noise cancellation
+
Super audio for the price
+
Great Sony app support
Reasons to avoid
-
No on-ear volume control
-
No hi-res LDAC support
The Sony WF-C700N take most of the features and quality of the WF-1000XM4 at the top of our list, and make them smaller, lighter and cheaper. They're as good as earbuds get for under $100/£100 today. The active noise cancellation is really impressive, for example – in our review, we said "When ANC is on, at my desk, all but the loudest noises are softened, leaving me immersed in my playlists. It's a feat and no mistake."
It's the same story for the sound quality, which we described as "one of the most expansive, three-dimensional and fun soundstages I've heard from a set of earbuds", also noting that "we get an extra ounce of detail and texture through her high belt, too, compared to the competition". More expensive earbuds manage to provide even more detail (and there's no support for CD-quality sound here through aptX or Sony's LDAC wireless systems), but you have to spend twice as much to get even a bit better, really.
There's full support for Sony's app too, through which you can customize the sound and the noise cancelling profiles. There's no auto-pause when you remove them from your ears, and no volume control on the buds, but we can live with that. Especially since the buds are so small and comfortable, unlike most that are so feature-packed.
Read our in depth Sony WF-C700N review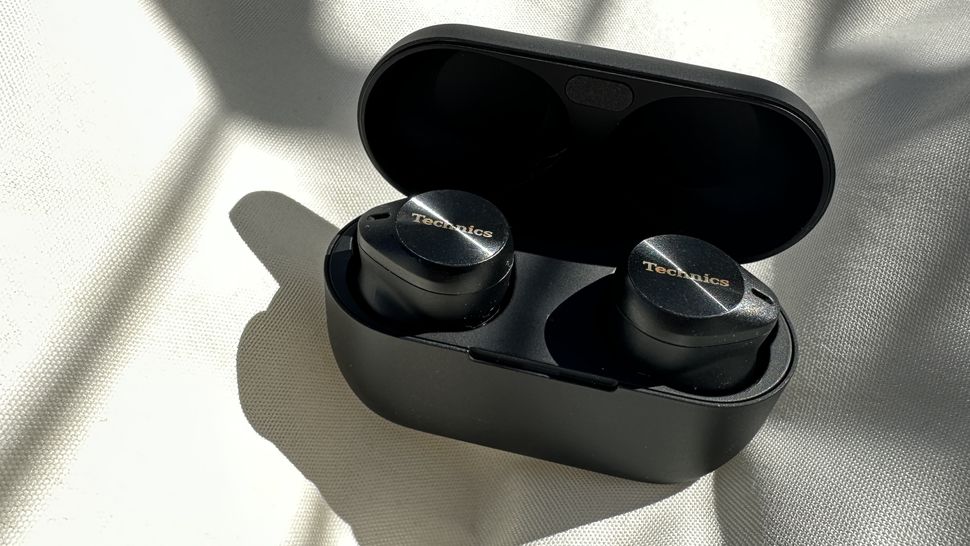 A technically sound pair of in-ear headphones
Specifications
Frequency response:
40-20,000Hz
Battery life:
(Up to) 7h (earbuds); (up to) 25h (charging case)
Reasons to buy
+
Poised, revealing sound
+
Triple-point connectivity
+
Outstanding comms and comfort
Reasons to avoid
-
Noise-cancelling and battery life are nothing special
-
Could conceivably sound more animated
In virtually every respect, the EAH-AZ80 make a strong case for themselves. The triple-point connectivity (a first in a product of this type) proves stable and useful, and thanks to 'Just My Voice' technology these earbuds are far less prone to wind-noise interference than any number of rivals.
The sound they make is also accomplished – it's both swift and accurate, as well as balanced and detailed.
It's not the most energetic sound you've ever heard though. And marginal shortcomings related to battery life and the effectiveness of the active noise-cancellation confirm that Technics has missed the bull's-eye by a tiny margin with the EAH-AZ80. They will be absolutely perfect for some customers, mind you…
Read our full Technics EAH-AZ80 review
The best budget wireless earbuds
Specifications
Frequency response:
20-20,000Hz
Battery life :
9 hours (buds) 41 hours (case)
Reasons to buy
+
Stunning audio performance
+
Great app
+
Easy controls
Cambridge Audio may be best known for its high-end audio equipment, but in recent years the British company has branched out into the world of true wireless earbuds. Its first offering, the Melomania 1, earned a place among the best wireless earbuds thanks to their stellar sound quality. And the newer Cambridge Audio Melomania 1 Plus are better still, putting many other earbuds in the shade with their audio performance, battery life, and ease of use.
The design of the Melomania 1 Plus hasn't deviated too far from its predecessors, but during our testing we found that there's a clear step up in terms of audio performance here. The levels of detail and clarity rival some of the best over-ear headphones you can buy. Add to that, there's a helpful accompanying app, easy controls, and excellent connectivity, which made us love them even more.
The only real downside we found was the lack of active noise cancellation on offer – but when you experience the sound quality here we don't think many people will mind, not least because a permanent price cut means these are even more affordable than before. They cost $139.95 / £119.95 at launch, but the audiophile-friendly earbuds have now been reduced to $99.95 / £99.95 – a fixed discount of $40 / £20.
If the lack of noise cancellation is a dealbreaker for you (but you love the price), take a look at the Earfun Air Pro 3 buds further down in the guide. They're not as cheap as the Melomania 1 Plus but do drown out the world when you want to focus.
Read our full Cambridge Audio Melomania 1 Plus review
Best for Apple phone owners
Specifications
Frequency response:
Not listed
Drivers:
Custom Apple design
Battery life :
6 hours (earbuds) 30 hours (case)
Reasons to buy
+
Astounding active noise cancellation
+
Rich, detailed sound quality
+
Great extra features for iPhone
Reasons to avoid
-
Medium battery life
-
No way to play lossless
Apple's latest buds pack excellent audio performance and upgraded ANC into a compact and comfy true wireless form factor.
The original Apple AirPods Pro are among our choice of the best true wireless earbuds, especially if you have an iPhone, allowing you to take full advantage of the Apple-centric features. But the Pro 2 are a significant step up, offering improved audio performance that's rich and expansive – thanks to new drivers and amplifiers – as well as better ANC, which we found to be extremely impressive during our testing.
As with many true wireless earbuds, there's a transparency mode aboard both models of the AirPods Pro, but this newer version offers adaptive transparency, which makes for more natural and easy conversations when you don't want to remove your buds. Battery life is boosted to 6 hours with an impressive 30 hours from the charging case, which has had its own set of upgrades including IPX4 water resistance for light showers and sweat.
As always with Apple products, the AirPods Pro 2 are best suited to those with an iPhone and a big budget. But if that's you, these are some of the most impressive true wireless earbuds you can buy today, rivalling not only the original Pro buds but also providing a listening experience on par with many of our long-standing favorites, including the Sony WF-1000XM4 Wireless Earbuds.
Read our full Apple AirPods Pro 2 review
The best ultra-cheap true wireless earbuds
Specifications
Frequency response:
20-20,000Hz
Battery life :
8 hours (buds) 32 hours (case)
Reasons to buy
+
Lightweight and comfortable
+
Sounds better than similarly-priced rivals
Reasons to avoid
-
Not the greatest sound you'll ever hear
-
Odd charging cable
These are not the best true wireless earbuds. But they are one of the best pairs of inexpensive earbuds if you're on a tight budget as they're incredibly cheap (under $20 / £20) and, for that price, excellent value for money.
When we tested the JLab Go Air Pop buds, we found the sound to be incredibly impressive considering the price tag. What's more, the battery life is better than anything Apple's currently offering – as well as many other rivals in this list – and their lightweight construction means we found them comfortable to wear for long periods, too.
There are some surprising features included here too, like on-earbud controls and built-in mics that we think are decent enough for making phone and video calls.
The downside is the codecs: these use SBC, the least good kind of Bluetooth audio; there's no support for aptX, LDAC or the like. However, they're perfectly good for audiobooks and podcasts, and while they might not be as clearly musical as their more expensive rivals they're not bad either.
Read our full JLab Go Air Pop review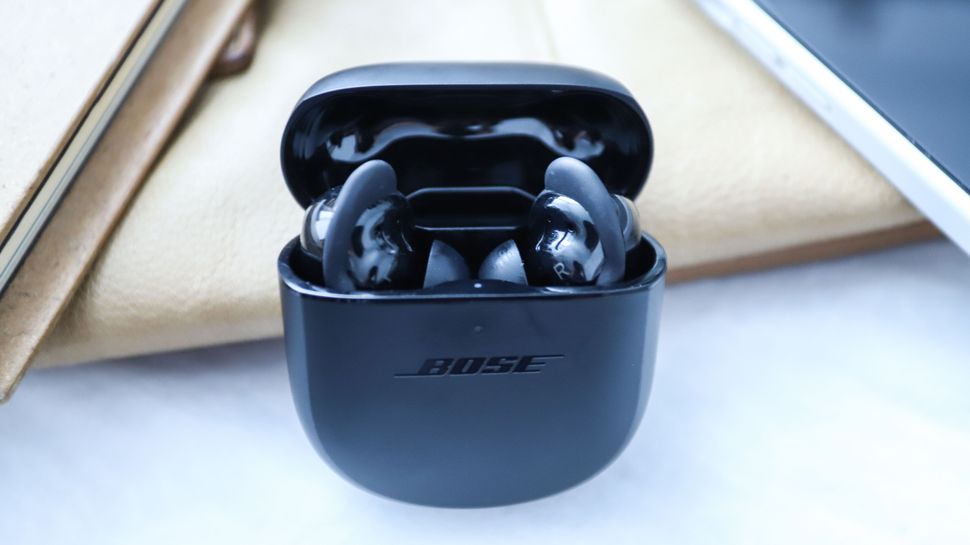 The best true wireless earbuds for noise cancelling power
Specifications
Weight:
6.2g (per bud); 59.8g (charging case)
Frequency response:
Not specified
Drivers:
9.3mm full-range dynamic drivers
Battery life:
6 hours (buds) 18 hours (case)
Reasons to buy
+
Smaller, more comfortable design
+
Best-in-class noise cancellation
+
Beautiful sound
Reasons to avoid
-
Call quality could be better
-
No support for high-def wireless codecs
-
No wireless charging
The Bose QuietComfort Earbuds 2 are probably the best true wireless earbuds you can buy today if we were ranking them on noise-cancelling capabilities alone. They're an upgrade of the original Bose QuietComfort buds and this redesign has improved the noise cancellation considerably, which is really saying something considering the originals were already great. But this isn't at the expense of sound quality. In our review, we wrote: "We can't stress this enough – the sound is very well balanced, with a heck of a lot of details and textures coming through. And if you still find you need to tweak it, you can via the EQ in the app."
But although ANC and sound is great here, they don't take one of the top spots in our list because, as far as true wireless earbuds go, some specs are lacking. For example, battery life is only fine at 6 hours from the buds and a further 3 from the case. There's no support for high-def wireless codecs, which for the steep price is disappointing.
However, if you can afford to splurge and want immersive sound and noise-cancellation above all else, these are an excellent choice.
Read our full Bose QuietComfort Earbuds 2 review
The best super-cheap ANC option