The best true wireless earbuds 2023: top AirPods alternatives today
Ditch the cable with the best true wireless earbuds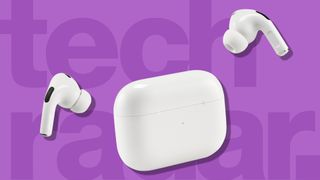 (Image credit: Future)
The best true wireless earbuds are packed with high-end features and advanced audio tech. The good news is you no longer need to sacrifice decent battery life, quality sound and excellent active noise cancellation (ANC) to cut the cord.
The top true wireless earbuds are entirely wire-free. This means no wire connects your devices to your buds, and nothing connects one bud to another. Many prefer this style because it's the most comfortable and convenient. Although we're also told it makes losing the buds easier, you've been warned.
At this point, we've reviewed hundreds of the best earbuds and channel all of that experience into every pair we test. This puts us in a great position to recommend the best buds to suit your budget and needs. Plenty of the true wireless earbuds in this list have premium features and a high-end price tag. But other options boast good sound and features at an affordable price. Look at our cheap picks in our best budget wireless earbuds guide.
Our selection of the best true wireless earbuds in our guide below brings you excellent features, like hands-free voice control and noise cancellation, as well as support for Hi-Res Audio codecs, such as aptX, aptX HD and aptX Low Latency. Several of the earbuds here also rival the picks in our best over-ear headphones guide in terms of quality and comfort.
The best true wireless earbuds for 2023: the list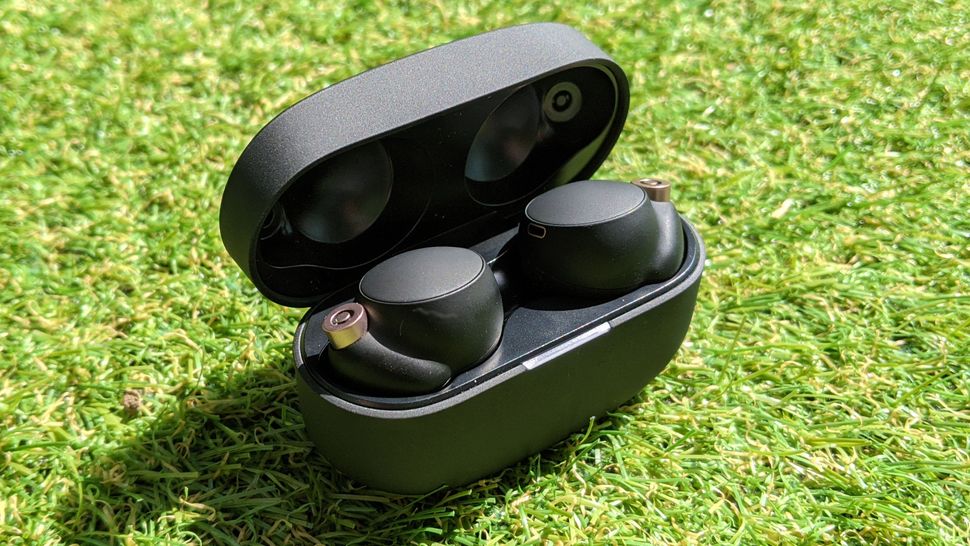 Sony has created fantastic audio tech over the years and is one of the best brands around for making true wireless earbuds. We found the WF-1000XM4s a joy to review, and with them the company has combined performance, ergonomics, and build quality more effectively than ever before. Compared to their predecessors, the Sony WF-1000XM3 earbuds, we found that the newer wireless earbuds offer enough quality-of-life features to make them worth upgrading to, even if they are more expensive.
A more compact design means that the WF-1000XM4 buds are more comfortable than the XM3s, we found the fit to be great during our testing and suitable for all-day wear. Their accompanying control app makes it easy to adjust the EQ settings of the buds, which means you get a more personalized sound and can tweak frequencies to suit your preferences.
We'd rate the audio quality as among the best you'll get from a pair of true wireless in-ear headphones, and DSEE Extreme upscaling essentially means you'll get an approximation of high-resolution sound from standard-definition digital audio files.
We do think that some other true wireless earbuds surpass the Sony WF-1000XM4 in specific areas – the Bose QuietComfort Earbuds 2 in the list below offer better noise cancellation, for example – but no other model comes close to offering such excellent quality across the board. That's why the Sony WF-1000XM4 are hands-down the best true wireless earbuds you can buy today.
Read our full Sony WF-1000XM4 review
The Sony WF-C700N take most of the features and quality of the WF-1000XM4 at the top of our list, and make them smaller, lighter and cheaper. They're as good as earbuds get for under $100/£100 today. The active noise cancellation is really impressive, for example – in our review, we said "When ANC is on, at my desk, all but the loudest noises are softened, leaving me immersed in my playlists. It's a feat and no mistake."
It's the same story for the sound quality, which we described as "one of the most expansive, three-dimensional and fun soundstages I've heard from a set of earbuds", also noting that "we get an extra ounce of detail and texture through her high belt, too, compared to the competition". More expensive earbuds manage to provide even more detail (and there's no support for CD-quality sound here through aptX or Sony's LDAC wireless systems), but you have to spend twice as much to get even a bit better, really.
There's full support for Sony's app too, through which you can customize the sound and the noise cancelling profiles. There's no auto-pause when you remove them from your ears, and no volume control on the buds, but we can live with that. Especially since the buds are so small and comfortable, unlike most that are so feature-packed.
Read our in depth Sony WF-C700N review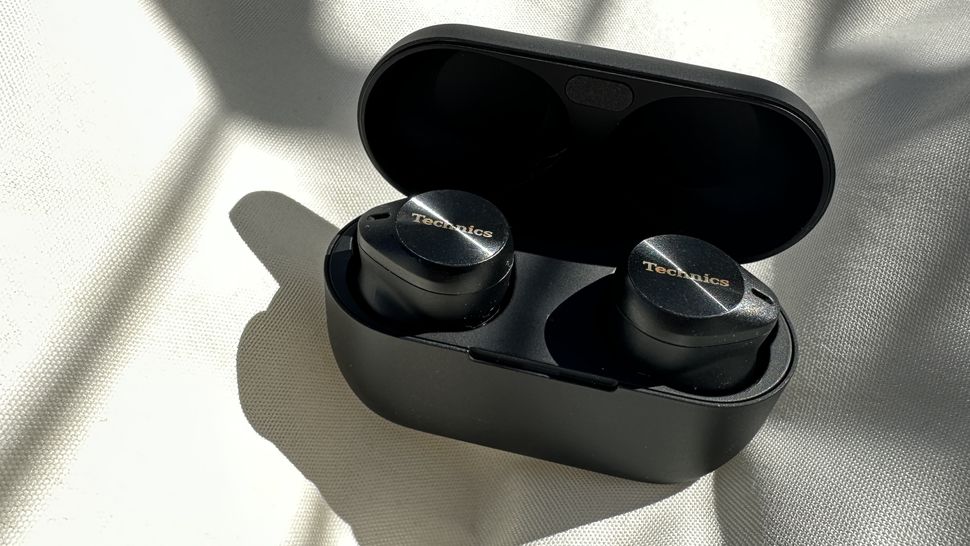 In virtually every respect, the EAH-AZ80 make a strong case for themselves. The triple-point connectivity (a first in a product of this type) proves stable and useful, and thanks to 'Just My Voice' technology these earbuds are far less prone to wind-noise interference than any number of rivals.
The sound they make is also accomplished – it's both swift and accurate, as well as balanced and detailed.
It's not the most energetic sound you've ever heard though. And marginal shortcomings related to battery life and the effectiveness of the active noise-cancellation confirm that Technics has missed the bull's-eye by a tiny margin with the EAH-AZ80. They will be absolutely perfect for some customers, mind you…
Read our full Technics EAH-AZ80 review
Cambridge Audio may be best known for its high-end audio equipment, but in recent years the British company has branched out into the world of true wireless earbuds. Its first offering, the Melomania 1, earned a place among the best wireless earbuds thanks to their stellar sound quality. And the newer Cambridge Audio Melomania 1 Plus are better still, putting many other earbuds in the shade with their audio performance, battery life, and ease of use.
The design of the Melomania 1 Plus hasn't deviated too far from its predecessors, but during our testing we found that there's a clear step up in terms of audio performance here. The levels of detail and clarity rival some of the best over-ear headphones you can buy. Add to that, there's a helpful accompanying app, easy controls, and excellent connectivity, which made us love them even more.
The only real downside we found was the lack of active noise cancellation on offer – but when you experience the sound quality here we don't think many people will mind, not least because a permanent price cut means these are even more affordable than before. They cost $139.95 / £119.95 at launch, but the audiophile-friendly earbuds have now been reduced to $99.95 / £99.95 – a fixed discount of $40 / £20.
If the lack of noise cancellation is a dealbreaker for you, take a look at the Earfun Air Pro 3 buds further down in the guide. They're not as cheap as the Melomania 1 Plus but do drown out the world when you want to focus.
Read our full Cambridge Audio Melomania 1 Plus review
Apple's latest buds pack excellent audio performance and upgraded ANC into a compact and comfy true wireless form factor.
The original Apple AirPods Pro are among our choice of the best true wireless earbuds, especially if you have an iPhone, allowing you to take full advantage of the Apple-centric features. But the Pro 2 are a significant step up, offering improved audio performance that's rich and expansive – thanks to new drivers and amplifiers – as well as better ANC, which we found to be extremely impressive during our testing.
As with many true wireless earbuds, there's a transparency mode aboard both models of the AirPods Pro, but this newer version offers adaptive transparency, which makes for more natural and easy conversations when you don't want to remove your buds. Battery life is boosted to 6 hours with an impressive 30 hours from the charging case, which has had its own set of upgrades including IPX4 water resistance for light showers and sweat.
As always with Apple products, the AirPods Pro 2 are best suited to those with an iPhone and a big budget. But if that's you, these are some of the most impressive true wireless earbuds you can buy today, rivalling not only the original Pro buds but also providing a listening experience on par with many of our long-standing favorites, including the Sony WF-1000XM4 Wireless Earbuds.
Read our full Apple AirPods Pro 2 review
These are not the best true wireless earbuds – not by far. But they're one of the best pairs if you're on a tight budget as they're incredibly cheap (under $20 / £20) and, for that price, excellent value for money.
When we tested the JLab Go Air Pop buds, we found the sound to be incredibly impressive considering the price tag. What's more, the battery life is better than anything Apple's currently offering – as well as many other rivals in this list – and their lightweight construction means we found them comfortable to wear for long periods, too.
There are some surprising features included here too, like on-earbud controls and built-in mics that we think are decent enough for making phone and video calls.
The downside is the codecs: these use SBC, the least good kind of Bluetooth audio; there's no support for aptX, LDAC or the like. However, they're perfectly good for audiobooks and podcasts, and while they might not be as clearly musical as their more expensive rivals they're not bad either.
Read our full JLab Go Air Pop review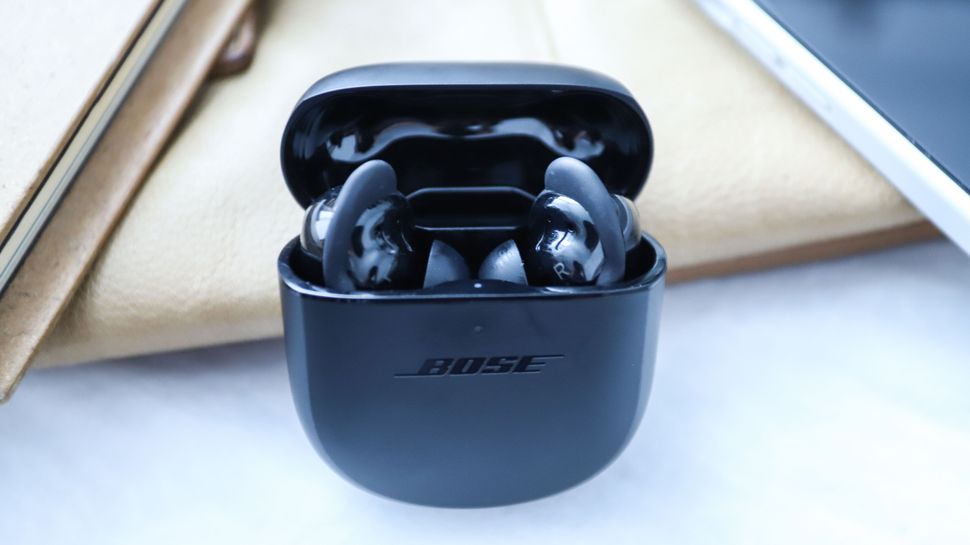 The Bose QuietComfort Earbuds 2 are probably the best true wireless earbuds you can buy today if we were ranking them on noise-cancelling capabilities alone. They're an upgrade of the original Bose QuietComfort buds and this redesign has improved the noise cancellation considerably, which is really saying something considering the originals were already great. But this isn't at the expense of sound quality. In our review, we wrote: "We can't stress this enough – the sound is very well balanced, with a heck of a lot of details and textures coming through. And if you still find you need to tweak it, you can via the EQ in the app."
But although ANC and sound is great here, they don't take one of the top spots in our list because, as far as true wireless earbuds go, some specs are lacking. For example, battery life is only fine at 6 hours from the buds and a further 3 from the case. There's no support for high-def wireless codecs, which for the steep price is disappointing.
However, if you can afford to splurge and want immersive sound and noise-cancellation above all else, these are an excellent choice.
Read our full Bose QuietComfort Earbuds 2 review
If you're looking for a solid pair of true wireless earbuds on a budget with noise cancelling baked in, then we highly recommend the Earfun Air Pro 3.
At the time of writing, these earbuds are only $79.99/£79.99, which makes them excellent value considering they're such all-rounders. You get ANC, good sound, a comfy fit and a whole 45 hours of battery life. We can't think of any earbuds that are currently as cheap as this and yet offer such a range of features. Sure the Cambridge Melomania 1 Plus in the list above are our best budget pick, but they lack ANC. And the JBL Live Pro 2 below perform just as well, but are more expensive.
As well as features, the design also has no business looking so elegant and minimal at this price. Although it is worth mentioning they have a long stem design. We found them comfortable to wear with a good seal – vital for ANC – but did knock them out a few times due to the stem.
These buds also boast support for the new Bluetooth wireless standard, Bluetooth LE Audio. Right now that doesn't mean much as few other devices support it – e.g. major smartphones – but that could make the Air Pro 3 even more of a no-brainer choice in the future.
Read the full Earfun Air Pro 3 review
You can get slightly better Adaptive Noise Cancelling than these true wireless earbuds offer, but it would cost you twice as much money – and you'd be losing the comfortable, all-day fit and excellent sonic performance of these great little all-rounders. Weighing just 4.8g per ear and lasting for 10 hours on a single charge these are great everyday earbuds that deliver a lot for the money.
These buds have an IPX5 rating, which means they're water resistant and will handle some sweat, but they're not fully waterproof and you shouldn't throw them in the bath and expect it to end well. Although the JBL Live Pro 2 aren't marketed for fitness specifically, given that they're secure and have an IPX5 rating, we decided to test them in a few different scenarios. They stayed in place during a yoga class and a light, 30 minute jog. They might not be ideal for intense workouts (the seal they create in your ear canal could be affected if you sweat a lot) but fared well during our testing.
The audio soundstage isn't as wide or as detailed as more audiophile options, but if you're pounding pavements, pumping iron or just daydreaming on the commute they deliver a perfectly pleasant performance with plenty of bass. And unlike some high-end headphones they're so light that they don't become uncomfortable during long trips, workouts or listening sessions.
Read our full JBL Live Pro 2 Review
These cubist, cool, refreshingly different Audio-Technica ATH-SQ1TW earbuds are clear proof that Audio-Technica is going from strength to strength. That's 60 years of hi-fi heritage right there (albeit predominantly in analog audio, rather than these little things) and Audio-Technica has earned the right to confidently go its own way.
AT has not tried to emulate any other earbuds, or indeed any competing brand here and we love the Tokyo audio outfit for it. These buds are available in no fewer than six delicious-sounding colorways (Caramel, Popsicle, Cupcake, Blueberry, Liquorice and Popcorn – try that for size, ice-white-only AirPods) and you're getting Bluetooth 5.0, 20 hours of battery, a beautiful product that fits comfortably, on-ear controls that work well (including volume) plus a low-latency mode, a hear-through function and a sound that's more expansive, clearer and generally better than anything else you can buy for this money.
As long as a lack of companion app and active noise cancellation aren't deal-breakers, these inexpensive earbuds should be on your list. Not only do the looks deliver, but the sound is very, very good for under $80/£80, which is why they're our top pick if you're looking for an affordable pair of true wireless earbuds that also look nice.
Read our full Audio-Technica ATH-SQ1TW review
Given Samsung's formidable reputation in the smartphone and tablet arena, it has long surprised us that the company's Galaxy Buds output never quite hit the mark. But that changed in the best way possible with the Galaxy Buds 2 Pro.
Apple, Sony, Bose and Sennheiser now need to take a good look at what Samsung has done with the Samsung Galaxy Buds 2 Pro. They're good. No, really, they're good.
The headline-grabber, if you own a Samsung Galaxy device (and thus, access to the Samsung Wearable companion app and home-screen widget) is 360 audio with optional head-tracking, thus allowing you to use your phone as the focal point to direct more of that new end-to-end 24-bit high-res audio to whichever ear you prefer.
These smaller, more comfortable and less arrogant true wireless earbuds (remember the rose gold, kidney-bean shaped Galaxy Buds Live? These are nothing like those) are packed full of useful perks such as excellent ANC, voice detect, wearer detection and customizable on-ear controls – all of which work very well indeed – plus IPX7 water ingress protection. All in all, a home run from Samsung – marred only by the disappointing five-hour battery life.
Read our full Galaxy Buds 2 Pro review
If you want an Apple AirPods-style true wireless earbuds experience but don't want to swap from your Android phone to get all of the features, then the Honor Earbuds 3 Pro are some of the best true wireless earphones you can buy today. But they're a weaker choice if you have an iPhone, because there's no iOS app on offer here.
Where many other earbuds mimic the look of Apple's best-sellers, Honor has gone further and replicated many of the features that make them so good – and has seriously surpassed AirPods in one key area: the sound. Honor has implemented the world's first coaxial dual-driver design, with an 11mm dynamic driver that includes a separate piezoelectric ceramic tweeter in the center of it.
In our review, we said the result is "a triumph", making them among the very best wireless headphones you can buy today. And that's before you get into the features that include first-class noise cancelling, a supremely well designed Android app and excellent comfort. We also enjoyed the many Honor-specific features, such as extremely fast pairing if your Android phone is an Honor one.
The biggest downside here is the battery life. While you can get 16 hours of noise cancelling when you use the charging case, the earbuds themselves are only good for four hours of listening with ANC on. Otherwise, everything else about these earbuds is excellent, and the price is good too.
Read our full Honor Earbuds 3 Pro review
On paper, the Grado GT220 earbuds seem to have their work cut out. $259 / £250 / AU$365 for small, humdrum-looking true wireless in-ears with no active noise-cancelling and no control app? But the story here isn't what you see on the spec sheet. It's what you hear in your ears. And when we tested them we found that these earbuds are confident, assured and deliver a sound that's better than the majority of earbuds we've reviewed – and that's really saying something.
The GT220s extract every shred of information from digital files of your favorite music and deliver it with such authority, and in such a complete and coherent manner, that it sounds fresh even if you've heard it a thousand times before. As there's no control app there's no way to fiddle around with the EQ settings, but we didn't miss this feature as the GT220 sound so good as they are. Although they are lacking noise cancellation, too.
The large surface area of the earbuds' housings mean that the touch-sensitive controls are easy to use, and they allow you to control your music playback, adjust the volume, and summon your device's voice assistant, whether you use Google Assistant or Siri.
A 36-hour total battery – while not as impressive as the Earfun Live Pro 3 – means the GT220 have enough staying power to get you though a week's worth of commuting.
Read our full Grado GT220 review
Don't be fooled by how the Sony LinkBuds S look. They're a bit boring and you could easily dismiss them as a pair of cheap buds. But we found them to be surprisingly comfortable to wear – particularly for smaller ears.
Not to be confused with the Sony LinkBuds – which have an unusual 'open' design – the LinkBuds S offer a good fit and are very light at only 4.8g per bud. This makes them a good choice for all-day wear.
They sound good and we think they should suit most purposes throughout the day. Although during testing we did find that their shortage of sonic attack leaves them a little short of satisfaction for the price, they're still good overall.
With that in mind, we think these buds are ideal if you've struggled to find a pair of noise-cancelling buds that fit well and are light and comfortable in the past. These buds really are great for small ears and those who find other buds make their ear canals ache after a few hours of wear. However, if you want fantastic sound for not too much more, check out the Sony WF-1000XM4 at the top of this list.
Read our full Sony LinkBuds S review
True wireless earbuds questions answered
How to choose the best true wireless earbuds for you
If you've got as far as figuring out you really need true wireless earbuds (rather than something over-ear based or even wired) you've determined one key element of the purchasing process.
Now you've got that far, you need to think about how you plan on using them. Some of the earbuds above are more secure in your ear when working out or exercising, while others are better suited to wearing on your commute or while sitting at home.
It's also worth thinking about your priorities. Do you want a pair with great active noise cancellation to keep you focused while you're traveling? Or are you more passionate about great audio quality while you sit at home and listen to a new album?
Whether you need extra features, such as voice assistant controls or an app to tweak, also depends on how you plan on using them. Not everyone needs to be able to tweak an equalizer for themselves but if you're that person, you'll be frustrated by an option that doesn't allow for customization.
Last but far from least, think about your budget. Many of the true wireless earbuds listed here are varied in price and it's important to not spend more than you can afford, but to also not spend too little. Only you know how much you're going to be using them and whether it's worth investing a fair chunk of change into new true wireless earbuds or not.
How we test the best true wireless earbuds
We've reviewed hundreds of true wireless earbuds, including every pair listed above. In each case, we give the product plenty of time in a range of environments before evaluating their sound quality across a variety of music genres, games, movies and podcasts, from several sources, against known class-leaders in the category. Sound quality at TechRadar is, and should always be, a priority when listening to music on the go.
We also consider how comfortable and secure the design is over extended periods of time, the situations the product best suits (running, gaming, audiophile hi-res listening), along with any extra or unusual features offered at the level.
When it comes to additional features, we look at voice assistant integration, on-device touch controls, how comprehensive the companion app is, the efficacy of noise cancellation and anything else that each pair of earbuds provides.
We also evaluate those battery life claims – both in terms of buds and charging case – to ensure we could give an accurate opinion on how long they will last in normal use.
True wireless vs wireless: what's the difference?
Wireless headphones are traditional over-ear or on-ear headphones without the wire – the two earcups are connected by a headband. To learn more, head to our best wireless headphones guide.
Wireless earbuds have existed for a while now, basically since Bluetooth was invented. Though battery-powered and not physically connected to your phone, they have a cord connecting both buds – and sometimes a band around the neck too. Check out our best wireless earbuds guide for more.
True wireless earbuds – the focus of this guide – have no cord whatsoever. While wireless allows us to wear headphones a few feet away from our music players, true wireless cuts the cord between the earbuds, giving us true freedom.
Why do wireless earbuds have such short battery life?
If you've been looking at over-ear headphones, you may notice that battery life is far better with those than wireless earbuds. It's simply down to size. Over-ear headphones are weightier and larger meaning there's more room for a powerful battery.
Earbuds are small and therefore their battery is smaller too. They heavily rely on their charging cases to ensure you won't run out of power while on the move, but that's not always convenient if you need to use them at the same time.
Fortunately, earbud battery life is improving steadily so the majority of users will be able to use them even on long journeys without needing to recharge as often as in the past.
Sign up to receive daily breaking news, reviews, opinion, analysis, deals and more from the world of tech.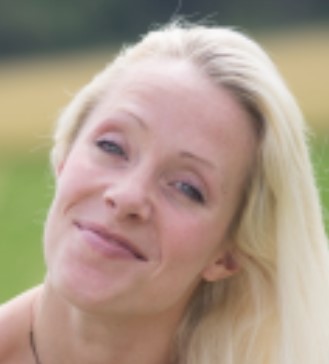 Senior Audio Staff Writer
Becky is a senior staff writer at TechRadar (which she has been assured refers to expertise rather than age) focusing on all things audio. Before joining the team, she spent three years at What Hi-Fi? testing and reviewing everything from wallet-friendly wireless earbuds to huge high-end sound systems. Prior to gaining her MA in Journalism in 2018, Becky freelanced as an arts critic alongside a 22-year career as a professional dancer and aerialist – any love of dance starts with a love of music. Becky has previously contributed to Stuff, FourFourTwo and The Stage. When not writing, she can still be found throwing shapes in a dance studio, these days with varying degrees of success.