Even in our digital age, there's nothing quite like a photo book to capture and relive your cherished memories. However, with so many options, it can be difficult to know which one is best - that's where we come in to help you choose.
Top-quality photo books make a great option for a gift. Gathering your favorite memories with a special someone or documenting a big life event such as graduation, an engagement, or the birth of a baby, a personalized photo book makes a thoughtful present that shows you care. What's more, it doesn't have to break the bank!
It's also important to choose a service with a user-friendly design platform, and especially one that allows for quick, easy photo book creation using premade templates, while also offering more detailed and customized options. Many of us take and store our photos on our smartphones, so the best photo book services listed below let you upload photos straight from your phone, social media sites or computer.
Whether you're looking to keep all your favorite recipes in one place, capture the fondest memories of your travel adventures or gift a precious wedding photo book, keep reading to find out the best photo books online in 2022.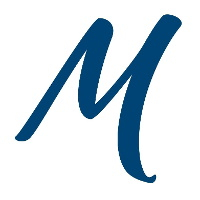 Mixbook is our favorite photo book service
Mixbook truly ticks all the best photo book boxes. It's a dream to use, with loads of customizable options if you want to create something truly special. And the quality you get back is excellent, without having to spend a small fortune.
Use promo code CHEERS23B to get up to 50% off
Best photo book sites in 2023
Why you can trust TechRadar We spend hours testing every product or service we review, so you can be sure you're buying the best. Find out more about how we test.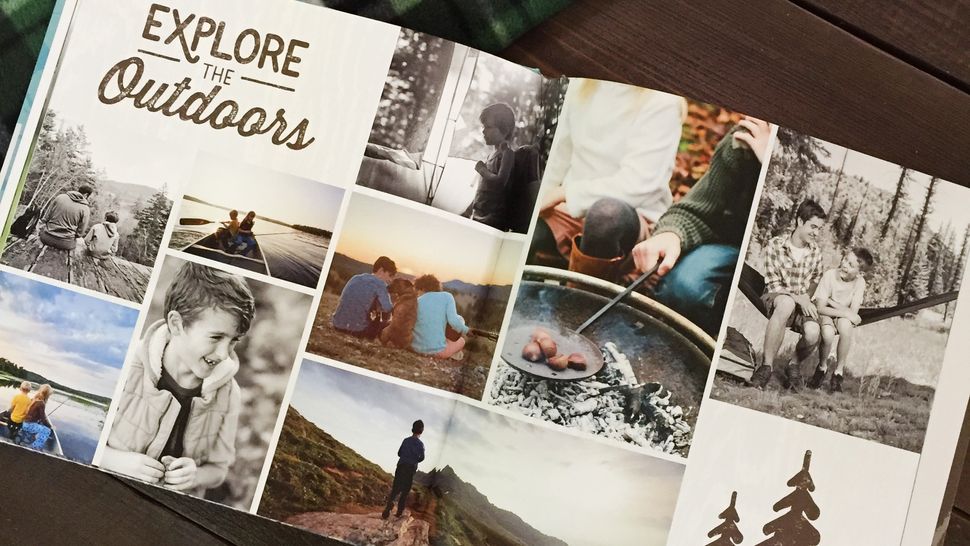 Mixbook is our top pick of all the photo book services on the market. Not only are the products great quality but the creation process is a fun experience, too. The Mixbook software is easy to use and gives you full creative freedom to make a photo book personalized to you.
There are 500+ themes to get those creative juices flowing. Whether it's romance or seasonal, family or everyday, travel or kids, Mixbook has got you covered. And of course, you can customize each theme as much or as little as you like or start from scratch with a blank book.
The freedom doesn't stop there - there are plenty of size, paper and cover options to pick from as well. You can pick the options that fit your budget and your vision. For a more luxe feel there's a faux leather cover option with a dust jacket or go for the classic glossy hardcover for something more simple.
The Mixbook software is simple to use but there is a walkthrough on the website just in case. You can add text and stickers, change the background on the website or app, as well as resize, rearrange, and edit the photos to make your photo book one of a kind.
All the options might seem a bit daunting and can take a bit of time to look through to find the best template for you, however, the end product is full of high-quality prints that make a sentimental gift for friends and family.
Mixbook offers a 100% happiness guarantee and has a live chat feature if you need any help. There's always an offer to be had at the Mixbook website, so make sure you check the website for any discount codes before checking out to save some money.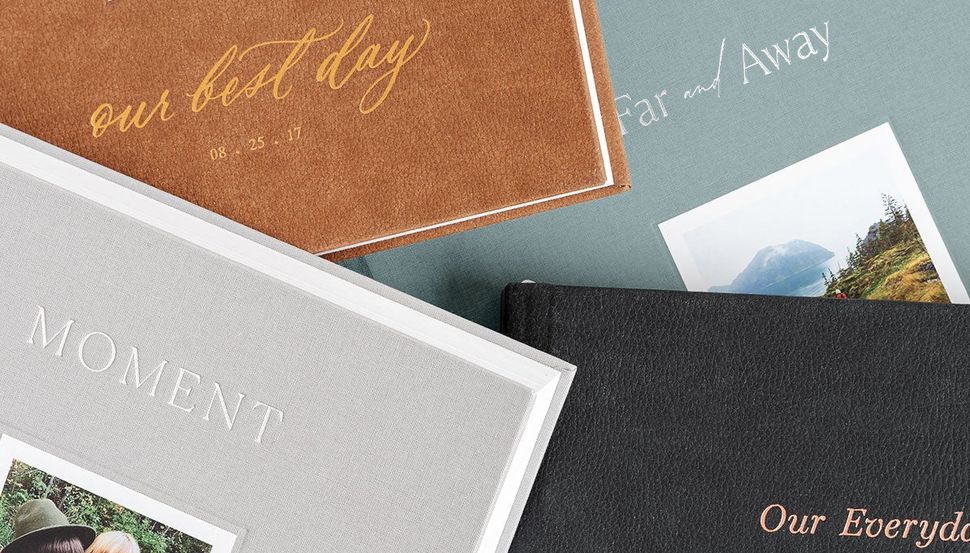 If you're looking for an extra special memento or gift and are more concerned about quality than cost, we'd recommend taking a look at the Artifact Uprising website and browse the luxurious products it has to offer.
The site screams out 'prestige' from the moment you land on it and there's no doubt it's going the extra mile to create something beyond the ordinary. When you take a look at the photo books menu, 'Signature Latflat Photo Album' is front and center. This is no cheap and cheerful product, but it will be a keepsake that you'll want to cherish for years. And if you want to add one last special touch, you can add a walnut storage box as well.
Artifact Uprising does have more affordable products too but its offering of luxurious products is what sets it apart from the rest. The Everyday photo book has premium fabric binding, thick pages, and custom foil stamping on the cover and spine - and that's one of the more basic books! You'll find a huge range of templates to get you started, with excellent options for weddings, baby pictures and other milestone events too.
This option of photo book service isn't as customizable as some but the software will still let you start and finish a photo book in one session. All elements of the stylish designs are fixed but if you're looking for a classic and minimalist aesthetic that has a premium look to it, Artifact Uprising is a great option.
This company is committed to a responsible production process, using recycled materials and powering production with renewable energy. It also uses the press printing method rather than the more traditional one, which is harmful to the environment. So not only will you have a beautifully finished photo book, but you'll be doing good for the environment too.
US customers can check out the super-smart options available at the service's website.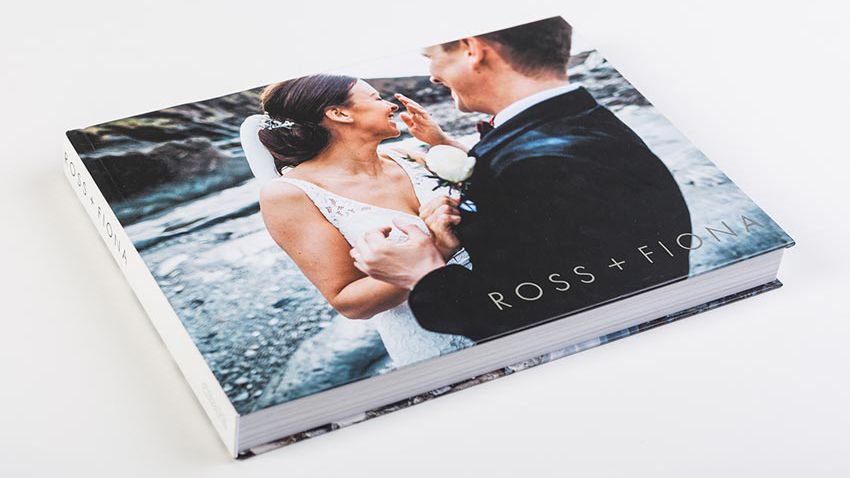 For a photo book service that offers ease of use, template and background options, plus a quality finish, Cewe is worth a look. Previously, this was one of the best options in the UK, but Cewe now offers global shipping, too. From just $8.79 / £5.99 you can get a quality printed photo book, which is easy to build using a desktop or smartphone.
The image quality is crisp and colour accuracy is pretty good, even on the front cover, making for a quality finished product. You can create online, download the Cewe software onto your laptop or install the smartphone app, it really is up to you. But we recommend the Cewe software or app which makes it easier to import images, gives you access to a full suite of advanced editing features and the Creator Assistant.
You can take full advantage of the advanced editing features and template options or let the Creator Assistant do the work for you. This feature on the Cewe website produces a photo book from the images you upload directly from social media or the cloud within minutes. So if you're looking for a last-minute but still thoughtful gift, it's a great option.
This photo book provider is committed to being sustainable, making the Cewe photo books 100% climate-neutral with a net-zero carbon footprint. The materials used by the company are selected with long-term sustainability in mind.
UK customers can use the promo code FREEPOST for free delivery on orders over £30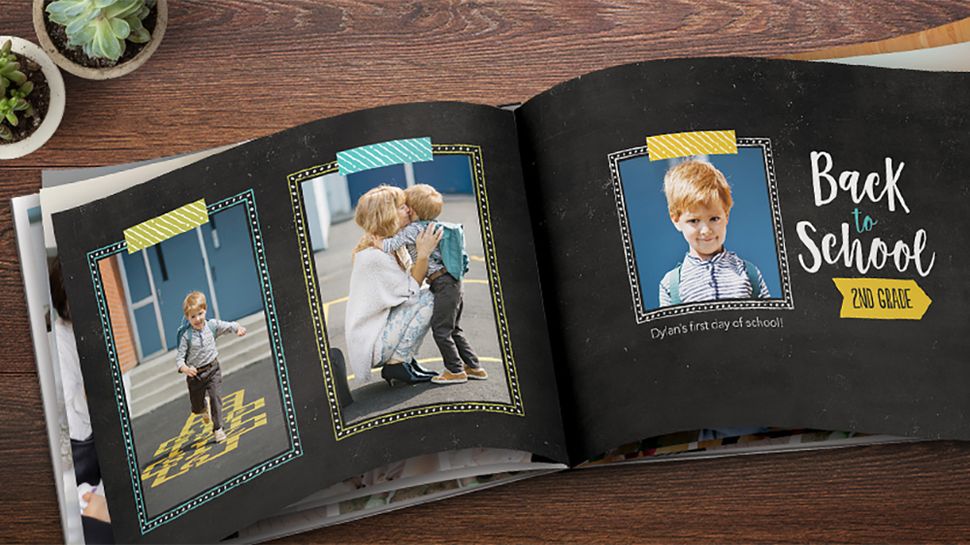 Snapfish is next on our list of the best photo book providers. You can be as hands-on or hands-off as you like with the huge variety of designs, backgrounds, embellishments, and borders to choose from. Design yourself a totally unique photo book or stick to one of the templates for a quicker process.
The over 200 pre-designed templates make it easy to make your own photo book, and once you've sifted through all the options to find the one for you, it's a quick process too. It can be slightly difficult to search through the content but if you don't have the time for that, just use one of the templates suggested in the 'What's Hot' section.
The image quality as a whole is good but some cover photos have been reported as saturated. This is something found to be quite common amongst photo book providers so make sure you pick your photo carefully to avoid looking too orange!
Snapfish tries to keep its carbon footprint down by printing all its photo books locally. But we couldn't find anything more on sustainable practices in the company.
You can usually bag a good deal on Snapfish, so take a look at its dedicated deals page before checking out.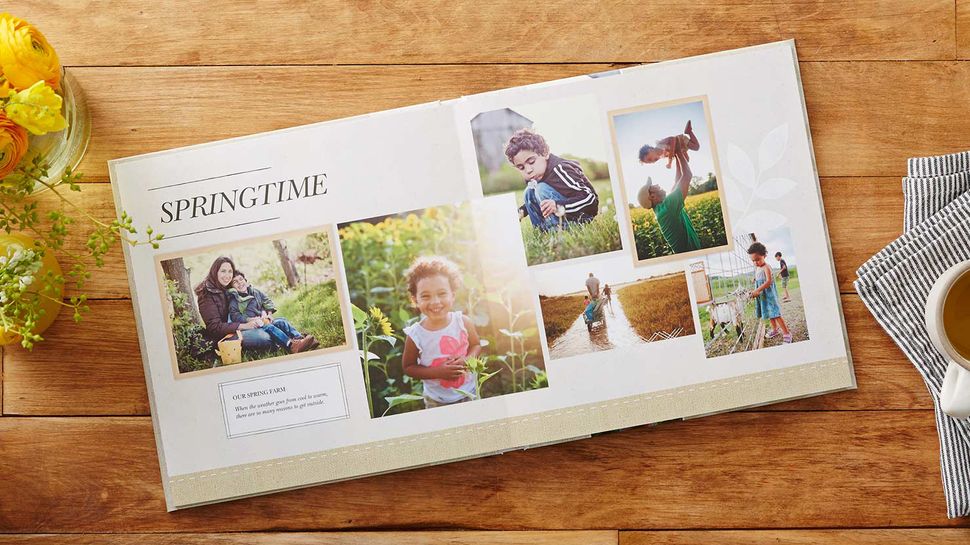 Shutterfly is another option for anyone looking to take a more hands-off approach whilst creating a photo book. Theme and background variations are plentiful so you can still personalize the end product even if you let the Shutterfly software do most of the work for you.
The wide selection of templates is sure to have what you're looking for and if you choose the 'Make It Manually' option, you can customize every aspect of the photo book. The Shutterfly software lets you move and resize images and change font type and color, as well as much more.
If you don't have the time to adjust every detail or simply aren't feeling that creative, Shutterfly offers a 'Make It Fast' option, which gets a designer to do it for you. This option will do all the groundwork, making the photo book in three business days for an extra simple and speedy process.
Whichever option you choose, you can add up to 1,000 photos and have up to 30 images on a page. The photos are generally of high quality but the odd print has been reported to be a bit off in terms of balance.
Shutterfly works with suppliers to reuse and recycle unique press waste used in printing, such as oil filters, ink canisters, and press components. It says that it donates excess materials to local non-profits where possible too.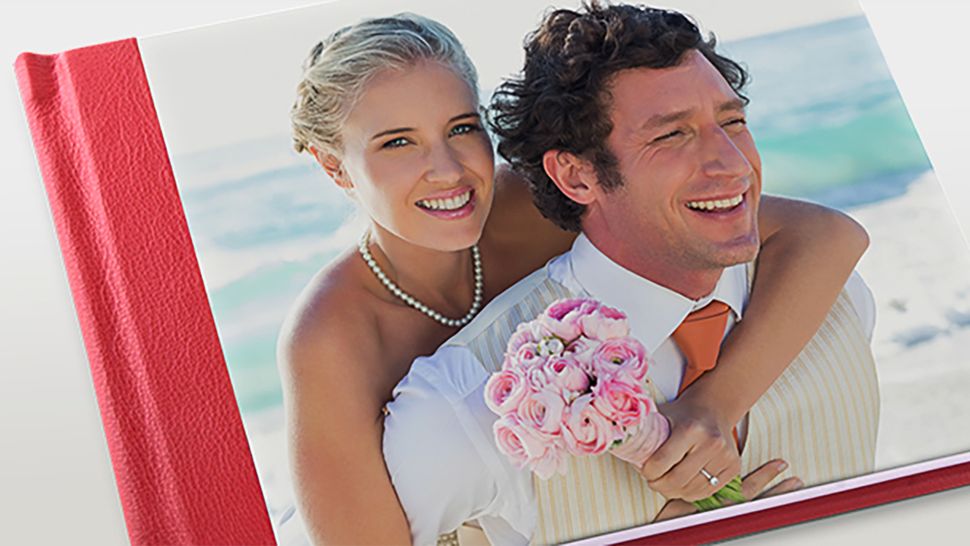 In fifth place we've got Picaboo, which offers some great easy-to-use software with content that facilitates those creative needs. The ability to search through backgrounds and clipart is really useful - especially when there are so many options to choose from. However, the print quality isn't as good as those photo book providers listed above, but it's still better than lots of others out there.
Picaboo has its fair share of themes to look through, including wedding, travel and baby. But if you make the wrong selection and aren't happy with your photo book, the company offers a 100% satisfaction guarantee. You just need to contact Picaboo within 30 days and you'll be eligible for a refund. For more on this, check out Picaboo's Satisfaction Guarantee.
The website is straightforward and easy to use, making it a great option if you want to start and finish your book as quickly as possible. That doesn't mean the end product is compromised though. The project software allows full creativity, with nothing in the templates being fixed, so you can make the photo book exactly how you want it.
There's a dedicated special offers page on the Picaboo site that could save you money before checking out.
---
Photo book FAQ
What is the best photo book of 2023?
Combining an interface that's really easy to use, pricing that won't break the bank and quality that won't disappoint, Mixbook is the best photo book provider of them all right now. It has hundreds of themes to choose from, with specialized designs for wedding snaps, holiday memories, baby keepsakes and more. You can customize them all as much or as little as you wish, to create the perfect photo book to keep or give to a loved one.
Who has the best quality photo books?
If your main priority is sheer quality - getting a photo book that really impresses but might cost a little more - then we'd heartily suggest that you take a look at Artifact Uprising's collection if you're in the US or CEWE if you want a more Euro-centric option. The finish you get is a notch above what most of its competitors can offer, with special touches like foil embossments and walnut presentation boxes on offer, too. And the template designs themselves are genuinely handsome, too.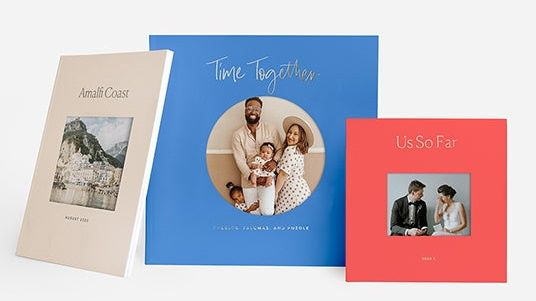 What is the best size for a photo book?
Sorry, we're going to completely sit on the fence on this one and say... it depends! If it's just cheap photo gifts that you have in mind, then keep the costs down by going for not much bigger than 8 x 8 inch. That's more than enough space to create an enduring keepsake.
But if you're after something more special, then crank things up. Taking things up to A4 or even A3 size means that you'll get larger (or more) photos to cherish and can turn your photo book into a stunning talking point to put on your coffee table.
Is Snapfish or Shutterfly better?
These are probably two of the most well-known photo book providers, especially in the US, and both offer a good product and plenty of customization options. There isn't much too choose between them - even their pricing is similar - but in a direct head-to-head, Snapfish has it by a nose. The quality of the finished product is more consistently better, in our view, and it's an absolute doddle to use.
Can I make a photo book on my phone?
We expect the majority of your photos are taken and stored on your phone - who can blame you, there's some pretty good camera phones out there these days - so it only makes sense to make your photo book on your phone. The majority of companies have a smartphone app so you can do just that, including our favorite Mixbook.
Mixbook's app allows you to access and edit any saved projects, upload photos directly from your phone and create a photo book from the palm of your hand. Not only does this mean you won't have to transfer all your photos to your desktop, which can be a bit of a pain, but you can create a fully customized photo book from the palm of your hand.
Of course, there are some advantages to creating your photo book on your laptop instead of your phone. Some people might find the smaller screen of a smartphone harder to work on when rearranging photos or editing your images. If you prefer to work on a bigger screen so you can see more detail, you can always opt for the companies' website instead.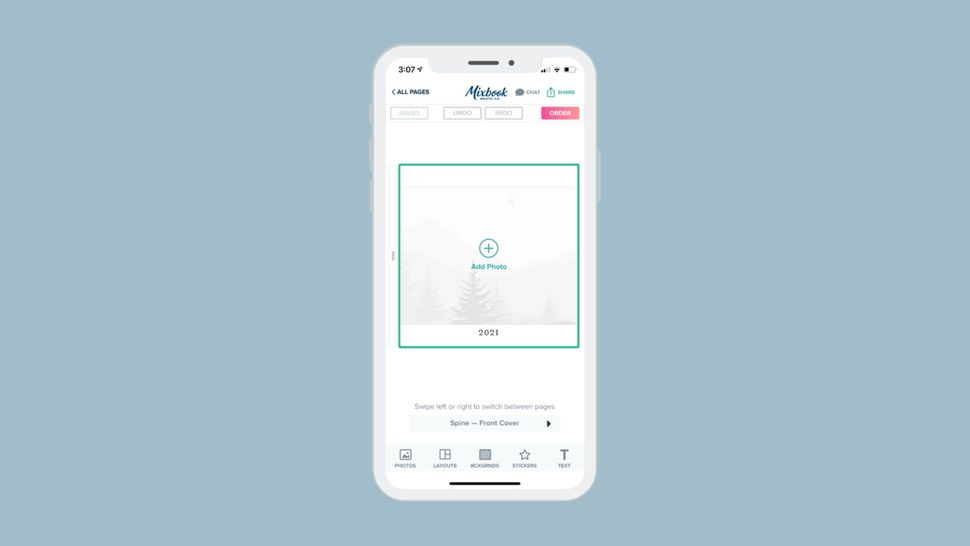 Photo book hints and tips
If you've never made your own photo book album before then it can look like a daunting task. The best photo book sites give you myriad options and features to tailor-make your ideal book and that can be overwhelming at first. But it doesn't have to be...here are some things to keep in mind if you need a bit of direction:
Keep it simple: You could spend hours and hours creating your perfect photo book, with the trimming and bordering of every page and photo custom designed and a different font for every occasion. Could. If you're new to photo book creation, we'd suggest starting with one of the hundreds of themes that each service provides. That way, you still get a beautiful book, but need only think about what photos you want where without having to get hung up on every last detail. Themes usually range through every event you can think of: Christmas, birthdays, holidays, anniversaries, graduations, Bar Mitzvas... the list goes on!
Size matters: As with anything; the more you pay, the more expensive it becomes. And the price really can escalate, especially as your pages mount up. If you just want a keepsake of an event or holiday and are after something tangible rather than scrolling through your photos, then keeping it small can also keep the costs down. But if it's a special holiday you're commemorating, or perhaps a wedding or christening - a book that will live out on your coffee table - you may wish to crank up the size as a photo book can be a very special object to keep forever.
Matte, glossy or lustre: The finish of the pages are purely personal preference, but it can be tricky to decide. Glossy is usually the most affordable option and is most like a traditional photo album of old, so you can't really go wrong - it also makes your colorful snaps look even more vibrant. But going for Matte lends a certain air of luxury to the product and some services will make these pages thicker, too (which is reflected in the cost). If you need to hedge your bets, a few photo book sites will give an option somewhere in between called something like Lustre or Semi-Gloss.
Pimp your photo book: If you're a bit of a photo book pro (or have the time to be a bit more daring), then the likes of Mixbook and Snapfish have some frankly awesome customisation options. Every single detail is at your disposal, from the positions of the snaps, background detailing, front and back cover design and personalised text to accompany each and every photo.
Be careful of timings: In the age of Amazon Prime, we've got all too used to ordering something one day and it arriving the next. Not so with photo books. OK, so you can pay extra for expedited delivery, but generally you're looking at at least a week before your handsome photo book drops on to your door mat. So we seriously advise planning ahead, especially around peak times like Thanksgiving and Christmas.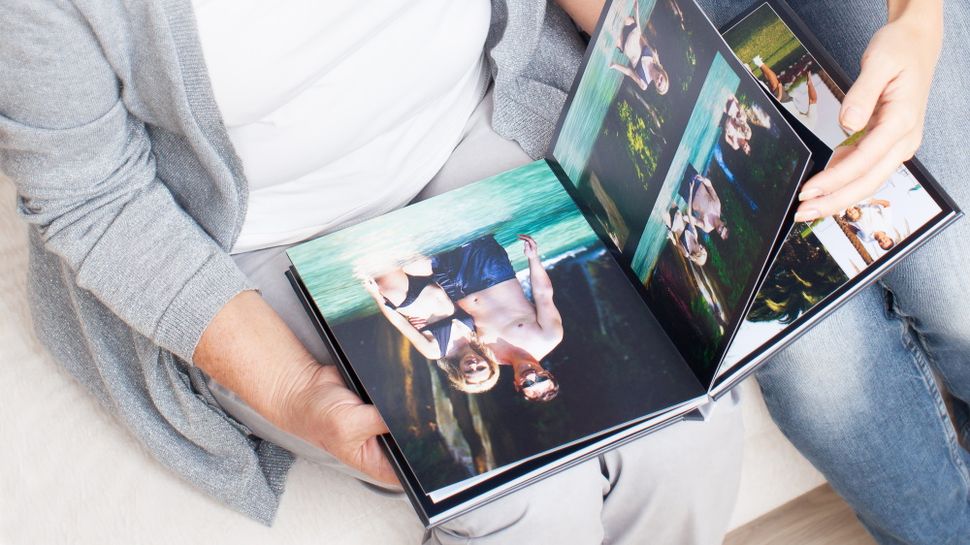 How long does it take to deliver a photo book?
In a world where we've become accustomed to next day delivery, or even same day in some cases, a seven working day wait might seem like a lifetime. However, these photo books are highly customizable, with each one being personal to you so they do take a little longer to be delivered - and by that we mean a few days, which really isn't long at all!
Most services have a delivery time of around a week but you can expect a longer wait for some of the larger and more luxe photo books. Mixbook, for example, delivery ranges from 14 working days for the budget option to five days for express delivery but its standard is 10 working days. You can enter the size, paper and cover type you're looking for and an estimated delivery date will be given to you on the Mixbook website.
What is the best photo book for a wedding album?
A photo book is a great way to treasure those wedding memories but with so many options, which company is the best to go for when documenting your special day?
As it's your wedding you might be looking to splash out on something more premium. In that case, Artifact Uprising offers a hardcover wedding photo book or a wedding layflat photo album. The latter of which has a custom foil stamping on the cover, which gives an extra luxurious feel. However, these photo books aren't as customizable as some of the other options but they are a more prestigious offering.
For something at a more affordable price, Mixbook has over 60 Wedding book templates for you to choose from or you can start from scratch with a blank canvas book. Although these photo books come at a more affordable price, they're still great quality and super customizable too.