The best free office and writing apps for iPhone
Our favorite free iPhone web browsers, calculators, password security tools and writing apps.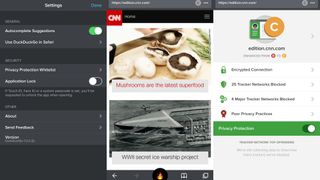 DuckDuckGo Privacy Browser
DuckDuckGo Privacy Browser is a web browser that reasons privacy shouldn't be an optional extra. Instead, it doubles down on giving you control over your personal information as you browse the web, regardless of what you're doing.
By default, tracker networks are blocked, encryption is forced whenever it's available, and searches use DuckDuckGo, which never tracks you. Should you finish doing something confidential, you can prod a single button to erase your entire browsing history – easy. The browser can also give you details on any site's privacy measures, and show improvements it's made on your behalf.
DuckDuckGo Privacy Browser's simplicity and standalone nature mean it might not be a total replacement for Safari, but it's worth installing as a back-up browser – or even just if you fancy checking out the privacy credentials of sites you enjoy using.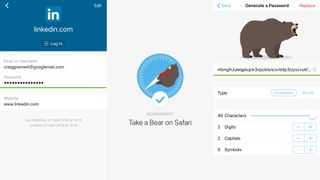 RememBear
RememBear puts a friendly, furry face on password management. Getting started is simple, as is inputting website usernames and passwords. Everything you enter is fully secured behind a master password – or Touch ID if you have a compatible iPhone.
The app can integrate with Safari for iPhone, but has its own built-in browser too, should you want to keep certain passwords and activity away from prying eyes. There's also cross-device sync so you can use your logins across Macs, PCs, and Android devices.
There's less scope here than in the likes of 1Password – RememBear is only for website logins and payment cards, not things like notes and servers. Still, its focus and friendliness make it a great choice if you're not already using a password manager – or if you are, but fancy something simpler.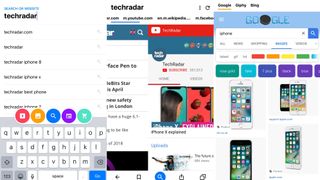 Cake Browser
Cake Browser is a mobile-centric web browser that wants you to skip right to dessert. Instead of presenting you with a list of search results, Cake immediately displays what it thinks is the most relevant page, while others load in background tabs. You then swipe between them (though you can still access a traditional results list by swiping from the left).
There are great ideas in Cake, not least the buttons that trigger searches specifically for video, images, news, and shopping.
The downside is that the search engines and sites Cake uses aren't configurable, and the results it provides aren't always what you want. Even so, that sense of surprise, and not always heading to the same old places, makes Cake worth a look – even if you stick to Safari for the bulk of your browsing.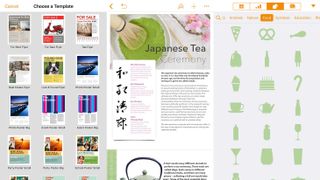 Pages
Pages is a fully fledged and fully free word processor for your iPhone. Word processing might not be top of your list of iPhone-related tasks, but this great app might just change your mind.
Pages includes a wide range of templates, such as reports, letters, cards and posters. Although you probably won't want to create and edit an entire magazine on your smartphone, Pages is user-friendly, with an efficient interface that's suitable for banging out a first draft of a letter, leaflet or poster while you're on the train.
Thanks to iCloud sync, whatever you create in Pages can be opened on a Mac or iPad running the app. If you're resolutely iPhone-only, you can export your work in a range of formats, including PDF and Microsoft Word. If you're really rocking it old-school, you can even send it to an AirPrint printer.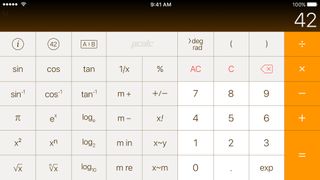 PCalc Lite
PCalc Lite is a version of leading iOS calculator PCalc, aimed at people who aren't keen on spending money. In terms of functionality, it's more stripped back than its paid sibling, but the app's guts are identical.
What this means is PCalc Lite is undoubtedly the best free traditional calculator for iPhone. It's fast, responsive, and friendly, and bundles a small set of useful conversions for length, speed, temperature, volume, and weight.
If you want to bolt on something from the paid version, IAPs exist, such as for multi-line support, or extra conversion options.
When iOS 11 arrived, Apple's built-in calculator proved buggy, leading to people scrabbling around for an alternative. With PCalc Lite installed, that need never happen to you.
Documents by Readdle
Documents by Readdle is a file manager, document reader and PDF editor. From a documents standpoint, the app wasn't made redundant by Apple's Files; rather, it nicely supplements it.
This is because Readdle's app can connect to remote servers, such as WebDAV, SFTP and shared network drives. In-app document management is sleek and simple, and support for Locations in Files means you can via Apple's app access whatever you've stored in Readdle's.
From a productivity standpoint, Documents is handy as a reader for all kinds of files, like Microsoft Office documents, images, movies, and PDFs. With the last of those, you can also search and annotate, making this app an ideal addition to your freebie iPhone toolkit when you need to do work on the go.
Scanbot Scanner App
Scanbot Scanner App is, suitably, a scanner for your iPhone. This might seem unnecessary now Apple's Notes app includes scanning functionality; and, indeed, Scanbot and Notes do have some overlap. Even so, we reckon Scanbot is very much worth a download.
First and foremost, having a separate scanning app is more efficient. Rather than fiddling around setting up a new scan in Notes, embedding imagery, and then sharing your scans, Scanbot has a sleeker user flow.
It also seems faster than Apple's app when it comes to scanning – for which you can scan single or multi-page documents, and then apply effects to the end results.
Scanbot also has an upgrade path, for those who want more. Pay and you gain access to automatic cloud uploads, PDF editing, document encryption, and OCR. But even for free, Scanbot deserves a place on your iPhone.