The best free health, diet and exercise apps for iPhone
Our favorite free iPhone apps for forming great habits, cooking, exercising and meditating.
Oak - Meditation & Breathing
Oak - Meditation & Breathing is a relaxation app with no time for complexity and price tags - two things many rivals revel in, despite their potential to (ironically) increase stress levels. Here, you simply choose between three options: meditate, breathe, and growth.
Breathe provides three exercises, offering techniques for relaxation and boosting alertness. But meditation is where you'll spend most time. There, you choose between mindful, loving kindness, and unguided meditation, pick the instructor's gender, decide on a duration (10-30 minutes), and add background sounds if you like.
It's basic but effective, and the growth section provides further encouragement. Stats and streaks are listed, along with badges that are awarded for hitting achievements.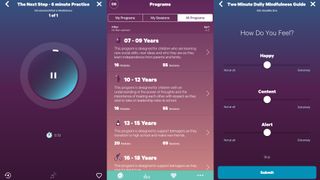 Smiling Mind
Smiling Mind is a straightforward, approachable meditation app that wants you to slow down a bit and embrace mindfulness. It starts off with a simple exercise that introduces the concept, before getting you started with short practice sessions. But if you're already familiar with this kind of thing, you can jump right into a range of programs.
As you use the app, it urges you to input how you feel, and tracks your progress over time. Also, along with providing programs for adults, the app offers exercises designed for children.
Most importantly, though, everything about Smiling Mind feels calming, from the stylish interface to its lack of a price-tag. Whereas rivals go for wallet-thumping subscriptions, Smiling Mind is by a non-profit; it's intent only on relieving you of stress rather than money.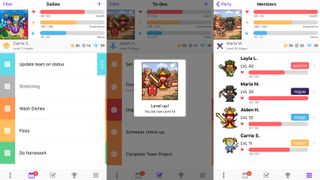 Habitica
Habitica is a to-do list tracker. But before your eyes glaze over, Habitica does something very different in this particular app category, transforming boring lists into a game.
The idea is that you input all the things you need to sort, including one-off items and daily goals. As you check off tasks, your little on-screen avatar gets powered-up, acquiring armor, pets, skills, and quests. Get some friends suitably invested and you can battle monsters alongside them – or just keep everyone honest.
In short, this app makes productivity fun. And while there's some satisfaction deleting an item from a boring bullet-point list, it's a lot more interesting when taking the trash out results in your tiny hero beaming with delight at their shiny new sword.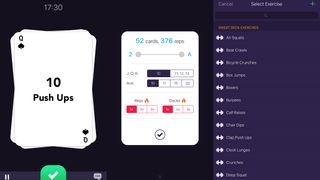 Sweat Deck
Sweat Deck reimagines exercise routines as a deck of cards. You assign exercises to certain suits, and lob in a couple of 'jokers' for good measure. The app then has you define how many cards/reps you want to try your hand at.
The app's semi-random nature keeps you on your toes (or hands and back, depending on the exercise). If you draw a three of spades, that might mean three squats; then a nine of diamonds could mean nine push-ups. It's a novel interface that's a bit different from other iPhone exercise apps.
Sweat Deck could do with a way to switch cards other than tapping the screen (shouting perhaps), but you can always use prodding your iPhone as an excuse to rest for a few seconds, having suitably worked up a sweat by that point.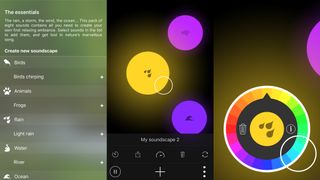 TaoMix 2
There are plenty of ambient noise products on the App Store, designed to help you relax, or to distract you from surrounding hubbub. TaoMix 2 is one of the best, due to its gorgeous interface and the flexibility of the soundscapes you create.
You start off with a blank canvas, to which you drag noises that are represented as neon discs. These can be recolored and resized, and positioned wherever you like on the screen. A circle is then placed to balance the mix, or flicked to meander about, so the various sounds ebb and flow over time.
For free, you get eight sounds, can save custom mixes, and can even import your own recordings. Many dozens of additional sounds are available via various affordable IAP.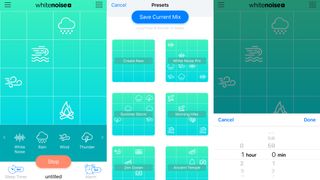 White Noise+
If you need some ambient noise around you, White Noise+ proves an excellent app for blocking out distractions. The free version offers a small selection of sounds to soothe your soul – white noise, rain, wind, thunder, and wind chimes.
To create some ambience, you simply drag one or more noise icons to an on-screen grid; the items towards the top play at a higher volume, and those towards the right become more complex in nature. Happen upon an especially pleasing combination and you're able to save your mix for later use.
The app smartly includes built-in mixes to provide a little inspiration – and to showcase a wider range of sounds that's available via IAP. A single $2.99/£2.99/AU$4.49 purchase also removes the ad bar, unlocks a sleep timer, alarm, and dark mode, and allows you to fiddle with the 15 additional sounds – in both the bundled mixes and also your own creations.
But whether you pay or not, the combination of excellent sounds and a modern, usable interface make White Noise+ a best-in-class product on the iPhone.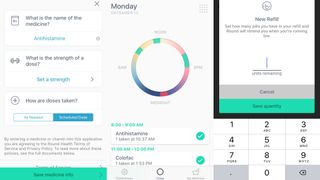 Round Health
You might not associate taking medication with a hip and cool iPhone, but technology can be a boon to anyone with such requirements. Round Health offers great pill tracking and dosage notifications – and it doesn't do any harm that the app also happens to be gorgeous.
It's split into three sections: in My Medicine, you add medications, and for each you can define a name, strength, individual doses, and schedules based around reminder windows of up to three hours. In Today, you view and log the day's medication.
Flexible preferences enable you to set up cross-device sync, push notifications, and to export data - and reminding users to refill will be a real help too.
That the app is free is generous, given the job it does – and how well it does it. Also, the system is flexible enough that Round Health might work as a reminders system for other repeating tasks, albeit one in which jobs are labelled as 'taken' rather than 'done'!
Sleep Cycle Alarm Clock
The science of sleep is something few people delve into. But you know some days that you wake up and feel awful, even if you think you've had a decent night's sleep. Sleep Cycle might be able to tell you why. It analyses you while you sleep, using sound or motion, and provides detailed statistics when you wake.
Additionally, it'll constantly figure out what phase of sleep you're in, attempting to wake you at the best possible time, in a gentle, pleasing manner.
That probably all sounds a bit woo-woo, but here's the thing: this app actually works, from the graphing bits through to helping you feel refreshed and relaxed on waking up.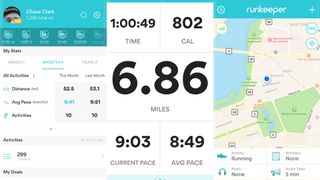 Runkeeper
Runkeeper has been around since the App Store's earliest days, and has gradually transformed from a then-magical means of tracking runs using your iPhone's GPS, to a combination of personal trainer and community, providing everything you need to keep yourself fit.
It still does the basics very well. Head out for a run (or a walk or cycling session), and the app will provide a clear view of your training in real-time. (And we mean that: the stats are in large enough type to see from across the street.)
But it's the other features that make Runkeeper really special: training plans; iTunes integration; custom challenges for friends; and a stopwatch mode for indoor activities and workouts. Unfortunately, it can't actually do the exercise for you – so you'll still have to work up a sweat yourself.