The best free health, diet and exercise apps for iPhone
Our favorite free iPhone apps for forming great habits, cooking, exercising and meditating.
Moodflow: Year in Pixels
Moodflow: Year in Pixels is a free iPhone app that helps you track emotions and wellbeing, but without eating into your day. It keeps things simple, asking you daily to select a happiness rating, tap on moods you're feeling, and optionally write brief notes about things you've done, or your day in general. Ratings are subsequently presented as colored squares on a calendar, potentially enabling you to identify what drags you down.
Just those basics alone would make for a useful app, but Moodflow goes deeper. Your recorded content can also be accessed as a journal or via a statistics page. A dashboard provides the means to create challenges for forming good habits, such as reading five pages of a book daily, or going for more walks.
Moodflow is also hugely customizable, from colors and backgrounds through to the labels used throughout the app. For free, it's a no-brainer.
321FIT
321FIT takes a streamlined approach to workouts. Borrowing from music players rather than exercise apps, it enables you to quickly set up workouts that act like playlists. And just like a playlist in Apple Music, 321FIT lets you customize your workouts to your own tastes.
This flexibility extends beyond choosing from exercises bundled with the app – you can define your own, setting values like reps and time limits. As you do your workout, a pixelated figure amusingly performs the current exercise, while the app emits retro bleeps and bloops to alert you as necessary.
But the main win is the clarity in the workout screen. You at all times know where you are in your workout, and also – thanks to an on-screen 'ETA' clock – when you're likely to be finished.
Oak - Meditation & Breathing
Oak - Meditation & Breathing is a relaxation aid with no time for complexity and price tags – two things rivals often revel in, despite how they can (ironically) increase stress levels. Here, you choose between three options: meditate, breathe, and sleep.
The three breathing exercises provide techniques for unwinding and boosting alertness. Meditation options cater for beginners and old-hands alike, with guided and unguided sessions across a range of durations. And if you can't switch off in bed, a guided breathing session helps you fall asleep.
Oak's sense of elegance and focus is what sets it apart. This is an app that cuts to the chase, and immediately gets you on the path to a better you. And the Growth area helps keep you there, with tracking, stats, and achievements.
Tasty
Tasty gives you a modern spin on cookery apps, through a splash of color, and a large dollop of video.
It starts off much like any other iPhone app: you can filter searches to specific dish types and dietary requirements; all the while, lush photography of tasty treats attempts to lure you in. But when you open a recipe page, Tasty dispenses with convention by immediately showing how the dish is made – in super-fast fashion.
These tightly edited videos are like cookery TV with all the cruft removed, and they beat photographic stills because they show elements of technique.
Smartly, although you can check out vanilla step-by-step instructions, it's also possible to view individual steps alongside a relevant video clip. This should ensure you won't go wrong and cook up a culinary catastrophe.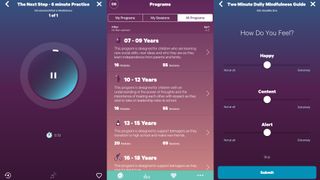 Smiling Mind
Smiling Mind is a straightforward, approachable meditation app that wants you to slow down a bit and embrace mindfulness. It starts off with a simple exercise that introduces the concept, before getting you started with short practice sessions. But if you're already familiar with this kind of thing, you can jump right into a range of programs.
As you use the app, it urges you to input how you feel, and tracks your progress over time. Also, along with providing programs for adults, the app offers exercises designed for children.
Most importantly, though, everything about Smiling Mind feels calming, from the stylish interface to its lack of a price-tag. Whereas rivals go for wallet-thumping subscriptions, Smiling Mind is by a non-profit; it's intent only on relieving you of stress rather than money.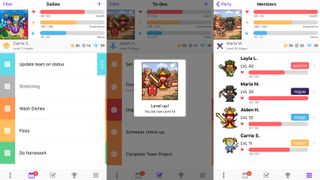 Habitica
Habitica is a to-do list tracker. But before your eyes glaze over, Habitica does something very different in this particular app category, transforming boring lists into a game.
The idea is that you input all the things you need to sort, including one-off items and daily goals. As you check off tasks, your little on-screen avatar gets powered-up, acquiring armor, pets, skills, and quests. Get some friends suitably invested and you can battle monsters alongside them – or just keep everyone honest.
In short, this app makes productivity fun. And while there's some satisfaction deleting an item from a boring bullet-point list, it's a lot more interesting when taking the trash out results in your tiny hero beaming with delight at their shiny new sword.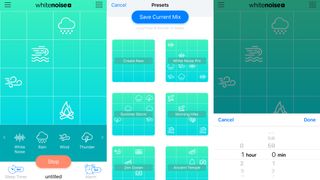 White Noise+
If you need some ambient noise around you, White Noise+ proves an excellent app for blocking out distractions. The free version offers a small selection of sounds to soothe your soul – white noise, rain, wind, thunder, and wind chimes.
To create some ambience, you simply drag one or more noise icons to an on-screen grid; the items towards the top play at a higher volume, and those towards the right become more complex in nature. Happen upon an especially pleasing combination and you're able to save your mix for later use.
The app smartly includes built-in mixes to provide a little inspiration – and to showcase a wider range of sounds that's available via IAP. A single $2.99/£2.99/AU$4.49 purchase also removes the ad bar, unlocks a sleep timer, alarm, and dark mode, and allows you to fiddle with the 15 additional sounds – in both the bundled mixes and also your own creations.
But whether you pay or not, the combination of excellent sounds and a modern, usable interface make White Noise+ a best-in-class product on the iPhone.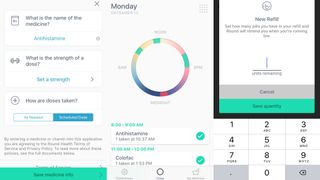 Round Health
You might not associate taking medication with a hip and cool iPhone, but technology can be a boon to anyone with such requirements. Round Health offers great pill tracking and dosage notifications – and it doesn't do any harm that the app also happens to be gorgeous.
It's split into three sections: in My Medicine, you add medications, and for each you can define a name, strength, individual doses, and schedules based around reminder windows of up to three hours. In Today, you view and log the day's medication.
Flexible preferences enable you to set up cross-device sync, push notifications, and to export data - and reminding users to refill will be a real help too.
That the app is free is generous, given the job it does – and how well it does it. Also, the system is flexible enough that Round Health might work as a reminders system for other repeating tasks, albeit one in which jobs are labelled as 'taken' rather than 'done'!
Sleep Cycle Alarm Clock
The science of sleep is something few people delve into. But you know some days that you wake up and feel awful, even if you think you've had a decent night's sleep. Sleep Cycle might be able to tell you why. It analyses you while you sleep, using sound or motion, and provides detailed statistics when you wake.
Additionally, it'll constantly figure out what phase of sleep you're in, attempting to wake you at the best possible time, in a gentle, pleasing manner.
That probably all sounds a bit woo-woo, but here's the thing: this app actually works, from the graphing bits through to helping you feel refreshed and relaxed on waking up.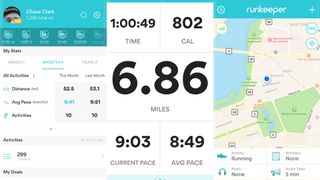 Runkeeper
Runkeeper has been around since the App Store's earliest days, and has gradually transformed from a then-magical means of tracking runs using your iPhone's GPS, to a combination of personal trainer and community, providing everything you need to keep yourself fit.
It still does the basics very well. Head out for a run (or a walk or cycling session), and the app will provide a clear view of your training in real-time. (And we mean that: the stats are in large enough type to see from across the street.)
But it's the other features that make Runkeeper really special: training plans; iTunes integration; custom challenges for friends; and a stopwatch mode for indoor activities and workouts. Unfortunately, it can't actually do the exercise for you – so you'll still have to work up a sweat yourself.