The best free iPhone camera apps and photo editors
Our favorite free iPhone cameras, photo editors and filter effects apps.
Retrica
Retrica is a camera app designed to bring creativity, randomness and character to your iPhone selfies and snaps. It's packed full of filters, which can be manually added live or to existing photos – or randomly if you want to try your luck by prodding the shuffle button.
The filters are varied and interesting, and you can add blur and vignette effects. You can also quickly create multi-shot collages, which are automatically stitched together on a grid. There are GIF and video options too.
Perhaps inevitably, the app has its own a social network, and may as well scream "We really want to be Instagram!" Still, even if you never sign in, Retrica is a superb freebie iPhone camera.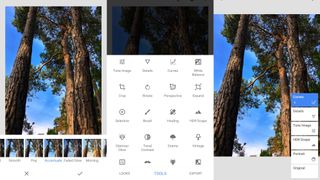 Snapseed
Snapseed is a photo editor that marries simplicity and power. At its most basic, it can be a tool for loading a photo, selecting a filter (referred to here as 'looks'), and exporting the result. But it's when you delve into the app's tools and stacks that its true potential becomes clear.
The tools menu, while a bit cluttered, offers a huge range of options for adjusting your photo. You can crop, adjust perspective, edit curves, and add all kinds of filters and effects.
But stacks are arguably Snapseed's best component. The stack is where your edits live, each of which can be updated at any time.
This offers far more flexibility than editors that 'burn in' each change you make. Furthermore, you can save any combination of edits as a custom look – and use stacks to deconstruct pre-loaded ones. Brilliant stuff.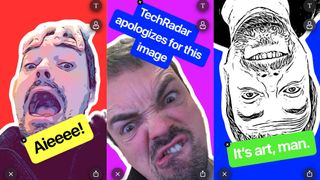 Sticky AI
Sticky AI is all about selfies. Shoot one (or a short video, by holding the shutter button) in the app, and Sticky AI will instantly remove its background – often with a frightening degree of accuracy.
You can then get to work, resizing and rotating your beautiful face, slapping on a text label, mucking about with colors and filters, and then sharing the result to your social networks of choice.
It's naturally geared a bit towards the self-obsessed, but there's plenty here to like: the technology's mightily impressive, for one, but also Sticky AI neatly hangs on to your previous edits, so you can at any time peruse your collection and make a change to a favorite snap.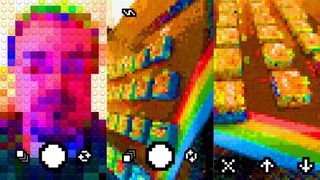 Bricks Camera
Bricks Camera is a novelty camera app that will strike a chord with anyone who has an affinity for plastic building blocks.
The app's essentially a live filter. Through its camera, the world's transformed into a universe of brightly colored 'bricks', the size of which you can adjust with a swipe. Hold down the shutter and you get a short video rather than a still. Also, if you're not feeling the vibe in live mode, you can import a photo instead.
Your blocky masterpiece can be saved or shared – unfortunately only with a three-brick-wide watermark. If that bugs you, a one-off $2.99/£2.99/AU$4.49 IAP banishes watermarks for good. Regardless, this is an entertaining (if admittedly slightly throwaway) camera freebie.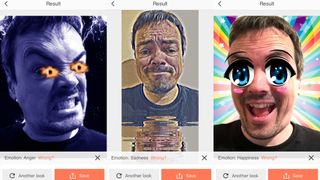 Emolfi
There's no getting around the fact that Emolfi is ridiculous – but it's also a lot of fun. Self-described as the "first empathic selfie app", it has you take a photo of your face, whereupon the app's wizardry attempts to figure out your mood. The app then cuts out the background and adjusts the rest of the image accordingly.
If you're feeling happy, you might be surrounded by bubbles and sunshine. If you're angry or scared, you'll get something that looks like a horror movie, or a massive spider on your face with your eyes animating towards it in worried fashion.
It certainly beats yet another app unconvincingly transforming you into characters from fantasy and comic-book movies.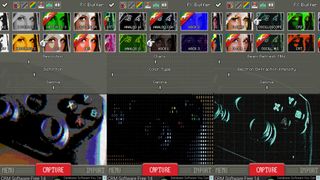 Famicam 64
If you wonder what your iPhone would be like if graphics technology hadn't moved on from the age of the C64, Famicam 64 can enlighten you. This camera app uses live filtering to replicate the visuals you might once have seen on a classic games system – or other old-school kit like oscilloscopes.
Filters can have their properties adjusted, and you can add text, retro-oriented stickers, freeform scribbles, and borders to a photo, before sharing the results.
Note that some options are limited in the free version, and output adds a Famicam 64 banner to the bottom of the image. You can get rid of all that with the PLUS IAP ($0.99/£0.99/AU$1.99), but in either incarnation, Famicam 64 is a fun, quirky, usable way to do something different with your camera.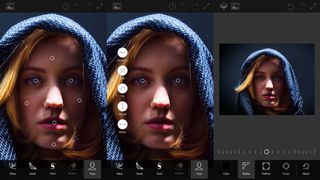 Adobe Photoshop Fix
Although creative giant Adobe doesn't seem keen on bringing its desktop software to iPhone in one piece, we're nonetheless getting chunks of its power reimagined as smaller, more focused apps. The idea behind Adobe Photoshop Fix is to enable you to rapidly retouch and restore photos on your iPhone – using the power of Photoshop.
Some of the features aren't anything outside of the ordinary: you get commonplace tools for cropping, rotation, and adjustments. But Photoshop Fix has some serious power within its straightforward interface, too, as evidenced by excellent vignette, defocus, and color tools.
The best bit, though, is Liquify. Using this feature, you can mash a photo to bits or make really subtle changes, depending on the subject matter. And if you're facing a portrait, you can specifically fiddle with features, in a manner usually associated with high-end PC software.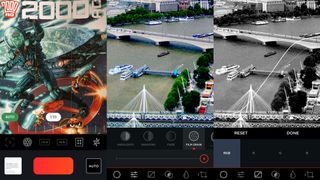 MuseCam
MuseCam dispenses with the gimmickry seen in many iPhone camera apps, instead concentrating on manual control over shutter, ISO, white balance and focus. There's no means to use a volume button for the shutter, nor RAW support, but otherwise it's a solid camera.
The app is also an editor. You select a Camera Roll item, add film-inspired filter presets, and make further adjustments. Again, this feels like serious fare, but MuseCam wisely provides enough tools for pro-oriented iPhone photographers while remaining accessible enough for newcomers.
Interestingly, edits made on Camera Roll items remain accessible in MuseCam regardless of whether you export your final work, meaning you can later return to and update in-progress projects.
All in all, MuseCam feels refined and mature. That it's free (bar the option of splashing out on additional presets by way of IAP) and also ad-free is remarkable.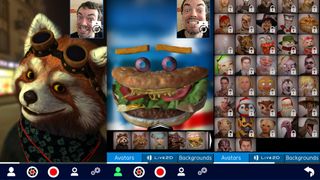 FaceRig
Following in the footsteps of MSQRD, FaceRig enables you to embody a virtual character by controlling it with your face.
Everything happens entirely automatically – you just select a character and background, gurn into the camera, watch a seemingly sentient floating hamburger mirror your very expression, and have a little sit down to think about the terrifying advance of technology.
For those not freaked out by the hamburger to the point that they hurl their iPhones into the sea, FaceRig provides plenty of characters, unlocked using tokens earned through regular use or bought using IAP.
You can also snap and share photos of your virtual visage, or record entire videos where you pretend you've turned into a sentient goggles-wearing raccoon, an angry dragon or a slightly irritated-looking turkey.
Prisma
Prisma wants to turn your photos into tiny works of art. Doing so is almost disarmingly simple: shoot or select a photo, crop your image, and choose an art style. (Options in the vast library of filters range from classic paintings through to comic book doodling.)
The app within a few seconds then transforms your photo into a miniature Picasso or Munch, and it's instantly better than most of us could ever hope to achieve with Photoshop.
On trying Prisma with a range of imagery, we found it almost never comes up with a duff result, thanks to some insanely smart processing. But if you find the effects jarring, a slide of your finger can soften your chosen filter prior to sharing your masterpiece online.