The best free iPhone camera apps and photo editors
Our favorite free iPhone cameras, photo editors and filter effects apps.
Darkroom
Darkroom is a photo editor from the classy end of the spectrum. It also doubles down on productivity.
As soon as you open Darkroom, it has you select an image from your iPhone to work with. You can then set about making it look extra fabulous by way of cropping tools, adjustment sliders, or – if you're feeling a bit lazy – one-tap filters.
Whatever you create can overwrite the original, or be saved as a copy. In the former case, edits are non-destructive, as are they when using the app itself. This makes it easy to experiment without fear of ruining your original image.
For $9.99/£9.99/AU$14.99, you can upgrade to unlock a curves tool, a color tool, and dozens of extra filters. But even for free, Darkroom is a prize app.
Pixel is Data
Pixel is Data is technically a photo editor. We say technically on the basis that this app doesn't really play by the rules. Instead of letting you crop, mess around with levels, and the like, it instead treats each individual pixel as an element to be controlled and rearranged.
What this means is that with the subtlest nudge of a slider in the app's parameters screen, you can turn your photographic masterpiece into glitch city. A few more prods and drags, and you may well have a piece of modern art.
Pixel is Data doesn't hold your hand. It has presets, but using its parameters is opaque. However, you'll have a lot of fun experimenting, and finding out what happens when your image's pixels are rearranged in new and exciting ways.
sok-edit
sok-edit is a collage app that doubles down on immediacy. Instead of neatly aligning photos to a grid, it's the digital equivalent of hacking photos to bits with scissors, and sticking them on other photos for purposes of amusement and creativity.
The app is tactile and noisy. You drag to cut out elements, which can then be rotated, resized, cloned and flipped. Most actions come with sound effects. It's all a lot of fun.
The only minor snag is if you have too much fun – in the sense of using three layers – you have to watch an advert to add another object, or plump for the 'pro' IAP. Mind you, even the latter is a mere US$0.99/99p/AU$1.49, which seems like a bargain for unlimited collage larks.
Visionist
Visionist has quite a lot in common with Prisma, in that it's using neural networks to transform photos into something resembling art. The main differences with Visionist are that it affords you a level of control Prisma does not, and it doesn't drown you in IAP and endless filters.
In fact, you get just 10 (60 more sit behind a one-off US$1.99/£1.99/AU$2.99 payment), but even those have a range that can turn the dullest snaps into something pretty amazing.
This is largely because you can adjust abstraction levels and how images interact; there's support for Portrait images (and depth data is retained during export); and styles can be mixed and merged. It's a world away from Prisma's more simple interaction.
For bringing a little artistry to your photos, Visionist is well worth a download, then, whether you stick with the free version or plump for the IAP.
Infltr
Infltr started out as a photo filter app for people who considered choosing filters too much effort. You simply dragged your finger across the screen, and the chosen filter updated live. Simple. Fast. Random.
That tool still exists, but today it's just one of several in a photo editor that increasingly has much in common with Snapseed. Now you can make all kinds of adjustments, from fiddling with brightness through to subtly altering perspective. Edits are non-destructive, and can therefore be reverted or changed later.
There are some limitations unless you're willing to subscribe: no HD export, only saving three custom filters (rather than an unlimited number), and the odd locked tool. But the free version is nonetheless a must-have for iPhone photographers who fancy a great toolset with a dash of chance.
DailyFocus
DailyFocus wants you to spend five minutes every day becoming a better photographer. This is achieved by way of super-fast lessons – short videos that outline how to succeed regardless of what you face when armed with a camera. (We're not kidding – at the time of writing, the day's lesson was about lenses, but an upcoming one was "capturing eggs and bacon in motion".)
The app gamifies your viewing, listing a daily streak total, and offering further encouragement by way of optional notifications – although be mindful those are sent 24 hours after you last used the app.
Also, DailyFocus emphasizes the 'daily' bit. There's no archive – miss a video and it's gone for good. This is likely because DailyFocus is in part a teaser for a CreativeLive subscription; but for the camera-curious and pro photographers alike, it's a fab freebie too.
Retrica
Retrica is a camera app designed to bring creativity, randomness and character to your iPhone selfies and snaps. It's packed full of filters, which can be manually added live or to existing photos – or randomly if you want to try your luck by prodding the shuffle button.
The filters are varied and interesting, and you can add blur and vignette effects. You can also quickly create multi-shot collages, which are automatically stitched together on a grid. There are GIF and video options too.
Perhaps inevitably, the app has its own a social network, and may as well scream "We really want to be Instagram!" Still, even if you never sign in, Retrica is a superb freebie iPhone camera.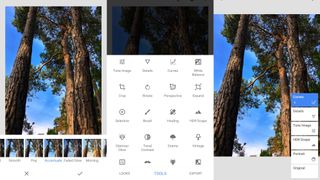 Snapseed
Snapseed is a photo editor that marries simplicity and power. At its most basic, it can be a tool for loading a photo, selecting a filter (referred to here as 'looks'), and exporting the result. But it's when you delve into the app's tools and stacks that its true potential becomes clear.
The tools menu, while a bit cluttered, offers a huge range of options for adjusting your photo. You can crop, adjust perspective, edit curves, and add all kinds of filters and effects.
But stacks are arguably Snapseed's best component. The stack is where your edits live, each of which can be updated at any time.
This offers far more flexibility than editors that 'burn in' each change you make. Furthermore, you can save any combination of edits as a custom look – and use stacks to deconstruct pre-loaded ones. Brilliant stuff.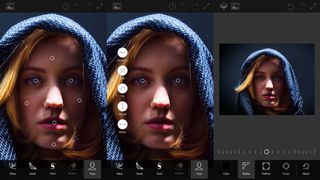 Adobe Photoshop Fix
Although creative giant Adobe doesn't seem keen on bringing its desktop software to iPhone in one piece, we're nonetheless getting chunks of its power reimagined as smaller, more focused apps. The idea behind Adobe Photoshop Fix is to enable you to rapidly retouch and restore photos on your iPhone – using the power of Photoshop.
Some of the features aren't anything outside of the ordinary: you get commonplace tools for cropping, rotation, and adjustments. But Photoshop Fix has some serious power within its straightforward interface, too, as evidenced by excellent vignette, defocus, and color tools.
The best bit, though, is Liquify. Using this feature, you can mash a photo to bits or make really subtle changes, depending on the subject matter. And if you're facing a portrait, you can specifically fiddle with features, in a manner usually associated with high-end PC software.
Prisma
Prisma wants to turn your photos into tiny works of art. Doing so is almost disarmingly simple: shoot or select a photo, crop your image, and choose an art style. (Options in the vast library of filters range from classic paintings through to comic book doodling.)
The app within a few seconds then transforms your photo into a miniature Picasso or Munch, and it's instantly better than most of us could ever hope to achieve with Photoshop.
On trying Prisma with a range of imagery, we found it almost never comes up with a duff result, thanks to some insanely smart processing. But if you find the effects jarring, a slide of your finger can soften your chosen filter prior to sharing your masterpiece online.